Bethany Lutheran Church welcomes new pastor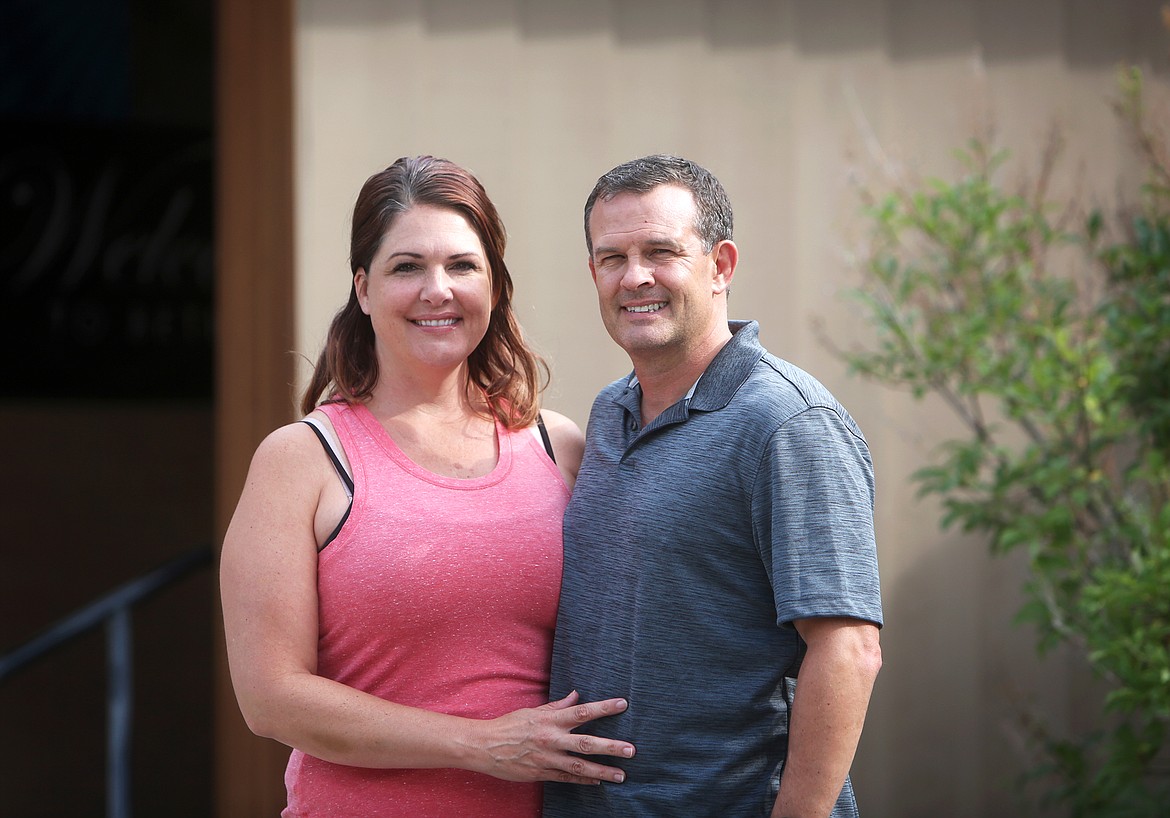 Pastor Shawn Osborne and his wife Karen are pictured outside of Bethany Lutheran Church in Bigfork.
|
August 12, 2020 1:00 AM
Two weeks ago, Pastor Shawn Osborne, his wife and three kids loaded up their belongings — and the family's three cats — to make the three-day drive from Illinois to Bigfork where he had accepted a position as pastor of Bethany Lutheran Church. It was a big move for the family, but they're no strangers to starting anew. Osborne comes to the church with a military background and a career that has taken him from the shores of Hawaii, to Arizona deserts and alongside members of the Navy's SEAL Team 17.
Osborne's first foray into military life was a six-year stint in the Air National Guard. He later switched branches to fulfill a dream of becoming an Army Ranger — an elite faction of special forces soldiers. From there, he had hoped to pursue a career in law enforcement, but Osborne said he felt called to ministry.
"All the way through college, I was partying a lot and I was the lead singer in three bands," he explained. "Long story short, I hit rock bottom after really another bad night of drinking and that was the morning that I turned to my Bible and started reading it."
That experience set him on a new path, one that soon led to seminary and eventually, a position as a Navy chaplain. He worked at the U.S. Marine Corps Officer Candidate School in Quantico, counseling future military leaders, then at U.S. Marine Corps Air Station Yuma and most recently with SEAL Team 17. All the while, he used his passion for physical fitness as a way to minister to military men and women who might not otherwise seek out his counsel directly. And Osborne can keep up with the best of them — last summer he completed SERE training — Survivor Evasion, Resistant and Escape — and worked his way up to the black belt level in the Marine Corps Martial Arts Program.
"It's kind of nice having a second skill set with physical fitness," he said. "It got around the boats, 'Hey you need to make weight? Go see chaplain Osborne.'"
Osborne helped a sailor that came to him with suicidal thoughts over not being able to make weight. Osborne trained with him for two hours a day, five days a week and enlisted help from a friend who was well-versed in nutrition. When the sailor successfully shed 22-pounds, more and more sailors began reaching out to Osborne, paving the way for his ministry work.
"He did the same thing in Illinois for teenagers in our garage," said Osborne's wife Karen. "We have a 17-year-old boy and he would invite everyone into the garage to work out and it would just grow from there. Some of those kids ended up going to his youth group."
Osborne's innovative approach to ministry is a practice he's carried through the many twists and turns his life has taken — the latest of which landed him here in Bigfork.
He wasn't really looking to transition from the Illinois suburbs to a rural Montana community, but the town found him — perhaps, he acknowledged, with a little help from the man upstairs. Months ago, Osborne was on the cusp of a deployment as the chaplain for SEALTeam 17 when a recruitment email caught his eye. Most the fodder he'd received previously advertised church leadership openings in locales that, to put it nicely, weren't exactly on the top of his list (think: Kansas and Nebraska). But Montana was a different story. Intrigued, he responded to the ad, and what began as a casual inquiry turned more serious.
At the same time, preparations for his impending deployment were ramping up, and Osborne knew he'd be gone for at least six months. Finally, the call he knew was coming arrived. Osborne was told to be ready within 48 hours, but the very next day, the operation came to a screeching halt — at least for him. The Navy told him he was too close to retirement to deploy. And as that door closed, another one opened.
"Just like that, they pulled the plug. And the first thing I thought of was Bethany Lutheran — I've got to call them and let them know what's going on," Osborne said. "I called them up and said you're not going to believe this — I can't deploy. They came back with, 'How soon can you get out here to check out the church?'"
The family spent three weeks in Bigfork — two in quarantine and one getting to know the congregation and community at-large. And the longer they were in town, the more they warmed up to leaving suburban life behind for rural Montana.
"How can you say no to this?" he said, of Bigfork.
As the new spiritual leader of Bethany Lutheran, Osborne hopes to breathe new life into the church with fresh music and by bringing in more young families. He and his wife, Karen, have been successful at growing churches before. The couple helped build a congregation in Yuma, Arizona, on those same principles.
"When we were in Yuma, there were eight people at that first service and no kids," he said. "We ended up growing it to about 60-some regular attenders … We're going to try and get younger families in. We've talked about this a lot." ■
---