Outdoor restrooms fall through cracks of COVID guidance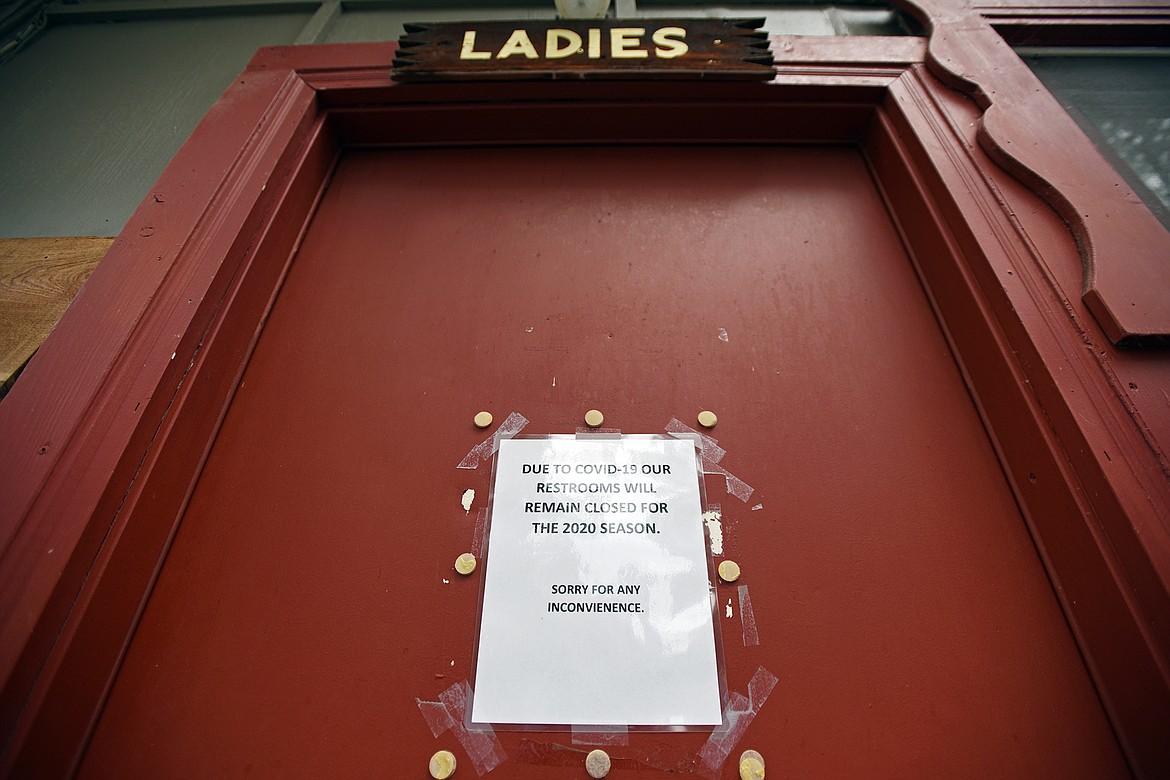 A sign is posted outside the ladies restroom at the Spruce Park On the River RV Park & Campground in Evergreen on Thursday, Aug. 6. (Casey Kreider/Daily Inter Lake)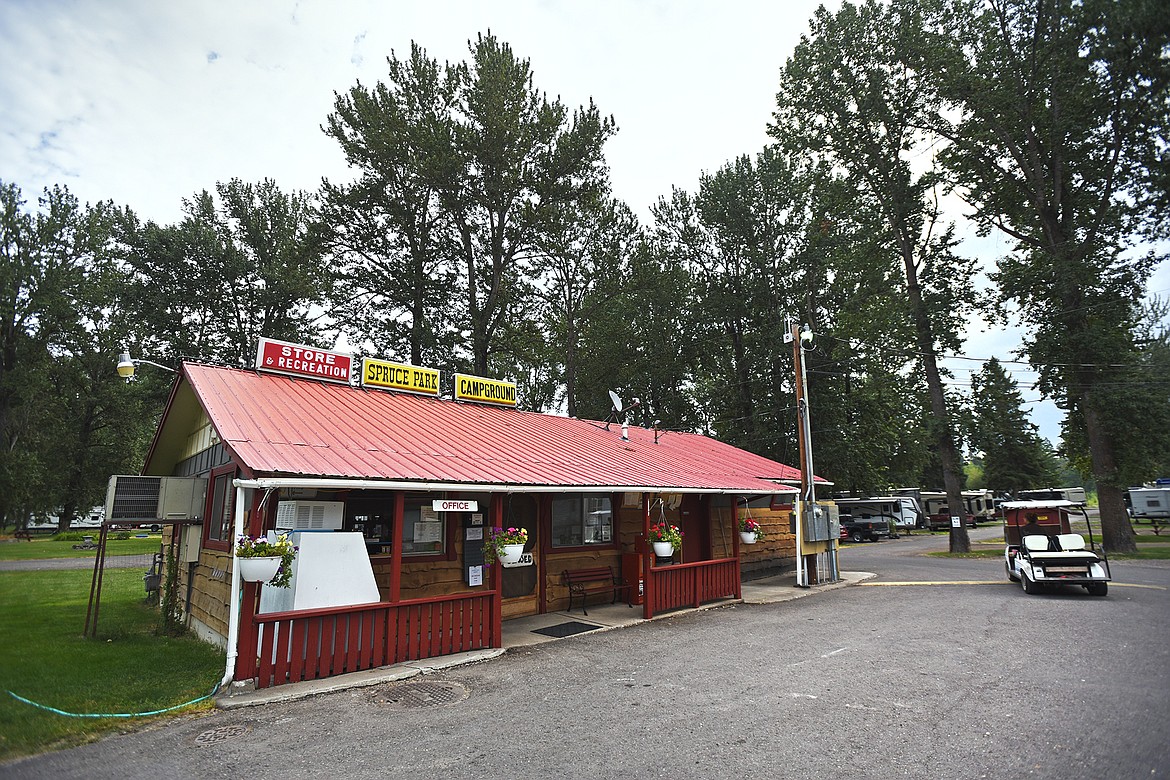 The store at the Spruce Park On the River RV Park & Campground in Evergreen on Thursday, Aug. 6. (Casey Kreider/Daily Inter Lake)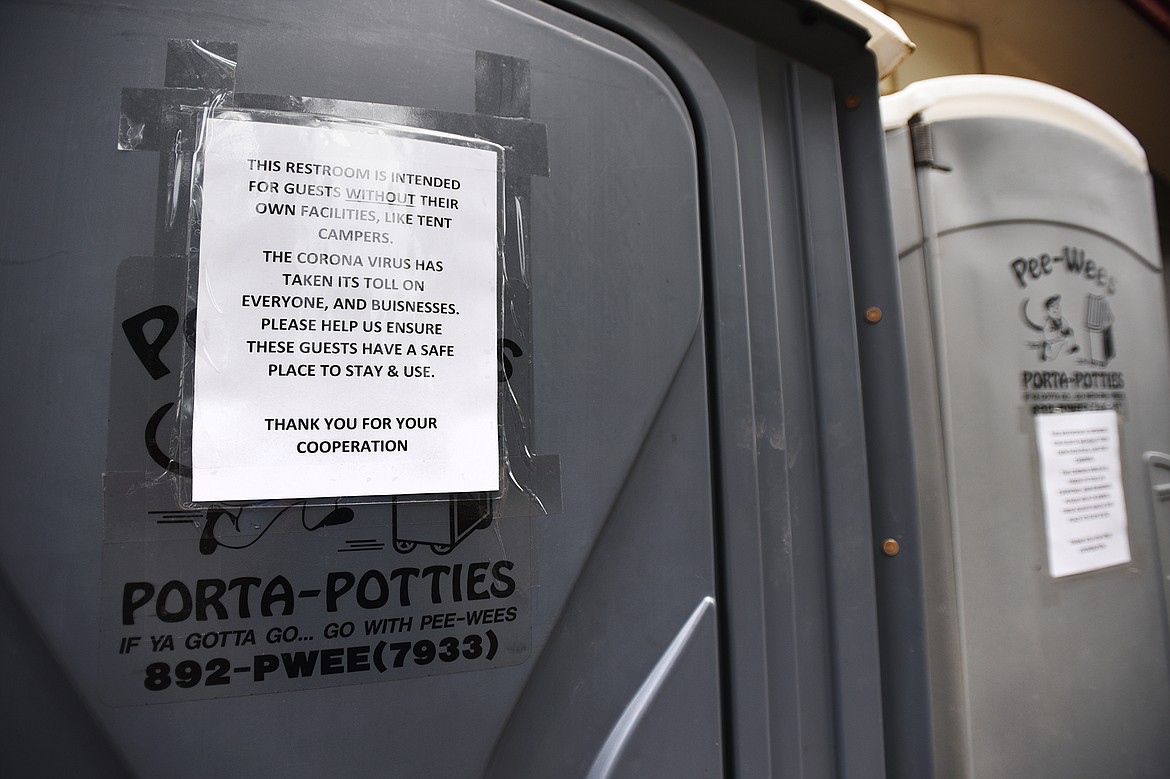 Porta-Potties outside the Spruce Park On the River RV Park & Campground store in Evergreen on Thursday, Aug. 6. (Casey Kreider/Daily Inter Lake)
Previous
Next
by
BRET ANNE SERBIN
For the Eagle
|
August 12, 2020 1:00 AM
The COVID-19 pandemic has created quandary for restroom use at campgrounds and trailheads, where management must decide how best to keep facilities clean, staff members safe and visitors satisfied.
"There are a lot of gray areas," said Michele Clatterbuck, a camp host at Spruce Park RV in Kalispell. The RV park opted to close its restrooms and showers when the season started in April. "It was really hard to tell if what we're doing is right," she said.
The biggest challenge, Clatterbuck explained, has been a lack of clear guidance for restroom facilities at campgrounds and similar outdoor locations.
Clatterbuck said the Spruce Park crew pored over different directions, but there didn't seem to be any definite guidelines. Spruce Park ended up closing the restrooms based on "the crazy increase in COVID cases and lack of available cleaning supplies," Clatterbuck said.
But that decision led the campground into weeks of back-and-forth negotiations with the Flathead City-County Health Department.
At first, Spruce Park received an 'A' rating when a health inspector toured the site, closed commodes and all. But after a disgruntled guest complained to the Health Department about the shuttered restrooms, the campground was given a one-week ultimatum to reopen the facilities or be shut down. Finally, both parties settled on keeping the bathrooms closed as long as the campground stopped hosting tent campers.
Clatterbuck—who cleans the restrooms herself—was relieved to reach a reasonable accommodation for the campground staff and its 100-plus guests.
"We felt having travelers from all over the country—Texas, Florida, California, Arizona, etc.—our guests and workers would be safer if they used their own restrooms in their RVs," Clatterbuck explained.
The uncertainty over opening restrooms mostly seems to be a question of different designations.
Christine Hughes, a registered sanitarian with the Health Department, explained there are specific definitions for a campground, a trailer court and an RV park, per Montana Code Annotated and Trailer Court and Campground Administrative Rules of Montana. The location of each site plays a determining role, too, since some campsites and trailheads fall under the jurisdiction of city, state, federal or private entities.
As for sites licensed by the Montana Department of Health and Human Services— the state branch that works with the Flathead City-County Health Department— Hughes said requirements haven't changed as a result of the pandemic.
Hughes recognized the current conditions can present some challenges for maintaining normal operations. She suggested management could put up signage to encourage social distancing and inform visitors about when the last restroom cleaning took place. She also encouraged the use of hand sanitizer where running water isn't available.
But aside from this conventional wisdom, it seems most campground leaders are left to take their restroom approach into their own hands.
"There wasn't a lot of information on campgrounds," noted Cathi Iversen at Outback Montana RV Park & Campgrounds in Bigfork. "We really didn't get any guidance."
Iversen resorted to calling similar entities, like state parks, and using her own experience running a daycare to craft her plan for combating COVID-19 at the campground. She closed the restroom facilities at the camp during the beginning of the season and opened all but one stall in June. She's also increased her cleaning regimen from twice a day to three times per day.
It isn't easy to keep up with demand since the campground recently surged in reservations, with about 300 campers on the grounds during most weekends in July. Even so, Iversen said her strategy seems to be working out well enough so far. She said most campers were understanding about the closures and respectful of protocols.
"It works out for my camp fairly well," Iversen said. "I haven't had anybody yell at me."
Things seem to be going relatively smoothly at trailheads along the Whitefish Trail, too, even though the Whitefish Legacy Partners had an equally difficult time determining the best course of action.
The Whitefish Trail's vault toilets were gradually opened through a phased process, with all seven of the sites finally opening by the end of July. The Whitefish Legacy Partners also added signage advising visitors that toilets are cleaned weekly and switched up their hand sanitizer dispensers since there was a shortage of the gel sanitizer.
Margosia Jadkowski with Whitefish Legacy Partners said the organization is fortunate to be surrounded by "a strong community of recreation managers" to share information, since the vault toilets seemed to fall through the cracks of official guidelines.
"There was a bit of a hole," when it came to their specific setup, Jadkowski said. "The guidance didn't clearly address facilities like ours."
The Centers for Disease Control, for example, gave out separate instructions for managing indoor and outdoor spaces, but the Whitefish Trail facilities seemed to fall "somewhere in between" those definitions. So like Iversen, Jadkowski said her team consulted other nearby agencies and "we came up with a good balance for the safety of our staff and the public."
Reporter Bret Anne Serbin may be reached at (406)-758-4459 or bserbin@dailyinterlake.com.u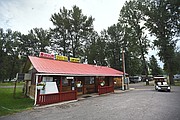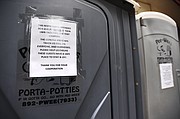 ---