Senior wrestlers to lead on the mat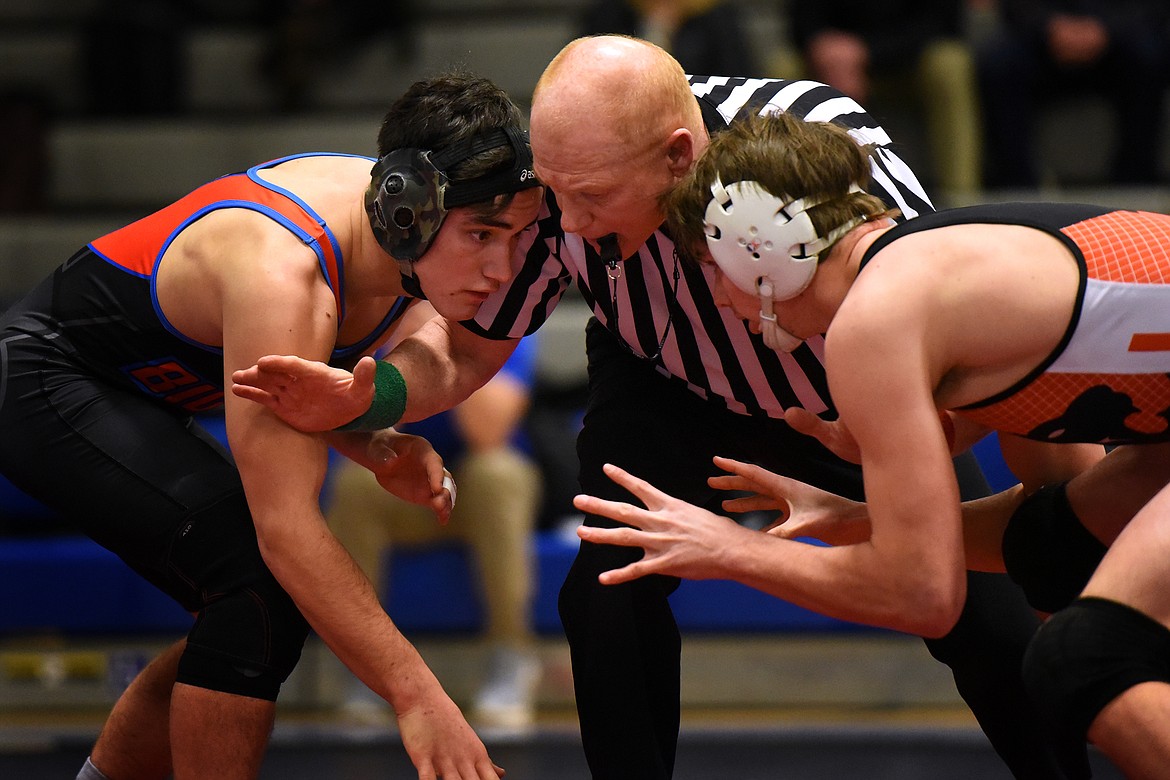 The referee seperates Bigfork's Archie Brevik and Eureka's Hank Dunn during the first round of the Bigfork quad meet last season. (Jeremy Weber/Bigfork Eagle)
by
JEREMY WEBER
For the Eagle
|
December 23, 2020 2:30 AM
The Vikings wrestling team will be looking for leadership from its upperclassmen this season as the Bigfork squad will feature seniors in its lineup for the first time in three years.
The senior trio of Archie Brevik, Eli Tidwell, and Shelton Woll will take to the mat for the Vikings, bringing with them considerable experience including a trip to the state meet by Brevik in 2018 and Woll.
"We haven't had a senior on the team for the last three years, so it will be nice to have that leadership this year," head coach Shawn Hall said. "Plus, the seniors we have are really good kids who happen to be some pretty decent wrestlers as well."
Brevik missed most of last season with a knee injury, but will look to pick up where he left off as he wrestles in the 160-pound division in 2021.
With Brevik and Woll serving as team captains, Hall's team will also feature a number of talented younger wrestlers as Hall anticipates being able to fill 12 of the 13 weight classes this season, including a total of seven wrestlers returning from last year.
"We've been trying to boost our number through our feeder program and we are finally getting some of those younger kids filtering into the high school," he said. "For the first time in a long time we should be able to come close to filling a whole lineup this season as we should have 15 kids on our roster in 12 of the 13 weight classes. This will be the most experienced team BF has fielded in recent years and I am excited about the level of our competition. "
Those younger team members will include sophomore Joseph Ferrier, who qualified for the state meet in the 170-pound division last season. Returning underclassmen for the 2021 season include Ryder Nollan, Vaughn Pendlay and Dale Relgea as well as the team's newest wrestler, Patrick Wallen.

The 2021 squad will also feature three freshmen in Angus Anderson, Traic Feinter, and Evan Tidwell, filling weight classes that have been vacant in recent years.
The team will also have some new faces on the sidelines this year with the addition of assistant coaches Clayton Woll and Wayne Bennett.
Like all coaches in 2020, Hall says he has already been having to deal with COVID-19 related setbacks, but he is determined to make the best of this unique season.
"I'm just like every other coach right now. You wake up every morning not knowing how many kids are going to be able to practice," he said. "I'll be interested to see how the matches go with all of the changes made for this year."
Those changes for the 2021 season include a ban on tournaments as teams are limited to mixers and duals only. Wrestlers can only participate in two matches per day with breaks between meets to sanitize the mats. Wrestlers must also change uniforms between matches and spectators will be limited to two per player. Teams will be allowed only 18 competitions for the season, meaning the maximum number of matches possible for each wrestler will be just 36, instead of the usual 45-50.
"All the changes are going to add some time and confusion to the process of matches, but we will work our way through it," Hall said.
The Vikings are scheduled to open the season at Anaconda Jan. 2 as they take on Whitehall and Anaconda, but all matches are subject to change.
---