My Glacier Village helps seniors age in place
by
Mackenzie Reiss
|
July 22, 2020 1:00 AM
Getting older doesn't have to mean leaving home. The folks behind the community organization, My Glacier Village, want to help seniors age in place during their sunset years by providing services such as transportation, group activities and assistance with home projects in the Bigfork area. The concept is modeled off the Beacon Hill Village, which was founded for seniors, by seniors in Boston in 2002. The objective was to create a community support system for seniors to help them age at home so they wouldn't have to rely on government agencies or assisted living facilities for care. Instead, a pool of trained, local volunteers that were often seniors themselves would step in to provide that helping hand.
Not everyone is able to age at home, but some seniors are able to manage activities of daily living and just need an extra hand around the house or ride to the doctor's office. Many also want opportunities for socialization to prevent the loneliness that sometimes accompanies aging. And that's where the village comes in to meet those needs.
Eight years after the inception of the first village, the founding members launched the Village to Village Network to give other towns the models and tools to create village communities of their own.
My Glacier Village already has a presence in the Flathead Valley with 21 active members and 36 volunteers in the Kalispell area and are in the process of expanding into the Bigfork, where they've identified a need for services.
"There's been really great interest," said co-founder Jenn Prunty. "We are just so grateful that despite everything that's going on, people keep showing up and showing interest and they're committed."
She's held a few meetings in Bigfork to gauge community interest — not just for membership in the organization but for volunteers to make it all possible. She hopes to recruit and train at least 15 to 20 volunteers in order to get the program off the ground. Eight have gone through training thus far. Prospective volunteers have to fill out an application, be interviewed, submit to a reference and background check and attend a 90-minute training session. Members are also vetted — two retired nurses with the village will meet with interested parties to make sure that their needs match with what the village can provide.
Once approved, members pay a $35 monthly fee for up to five service calls, which can be requested through the community's website or by phone. In the past, these have included anything from repairing latticework that was damaged in a wind storm, taking recycling to an appropriate facility, delivering meals and transporting members to appointments. Volunteers have also delivered flags on Fourth of July, homemade soup in February and May Day baskets in May just to let the members know that they're thinking about them.
In addition to offering assistance, the village hosts activities like brunches, lectures, a weekly walking group and outings, although for the time being, many of these gatherings have been put on hold due to the coronavirus.
My Glacier Village is not meant to be a substitute for regular upkeep services like lawn mowing, house cleaning or snow removal, but does have a directory of vetted providers they can refer members to for those particular duties.
Prunty explained that she feels it's important for seniors to age in place whenever possible.
"We're living a really long time and it's not like it used to be, where everybody stays together," she said. "Things that used to feel really small like changing light bulbs and fixing loose railings… they just start to get big if you lose that support team."
Aging at home also keeps seniors in the communities that they know and love, and is more affordable than assisted living, which averages between $3,500 and $4,000 per month in the state of Montana.
As people do less and less for themselves, they can lose their sense of independence and self confidence, Prunty said. The village concept helps preserve those things. And the volunteers also get a lot out of the experience, she noted. Some volunteers get involved to help others and then transition to being members when the time comes.
"I think what's most important … is you feel like you're part of something bigger than yourself," she said. "It's supposed to be for them, by them — we're just putting the pieces together."
To get the village up and running, Prunty is looking for people to help with the development of the program. To get learn more about My Glacier Village, email myglacier2019@gmail.com, call (406) 250-8784 or visit www.myglaciervillage.com. ■
Editor Mackenzie Reiss can be reached at editor@bigforkeagle.com or (406) 758-4433.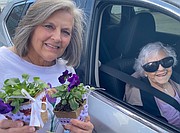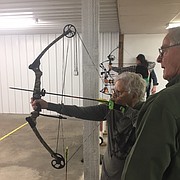 ---