Bigfork businesses react to mask directive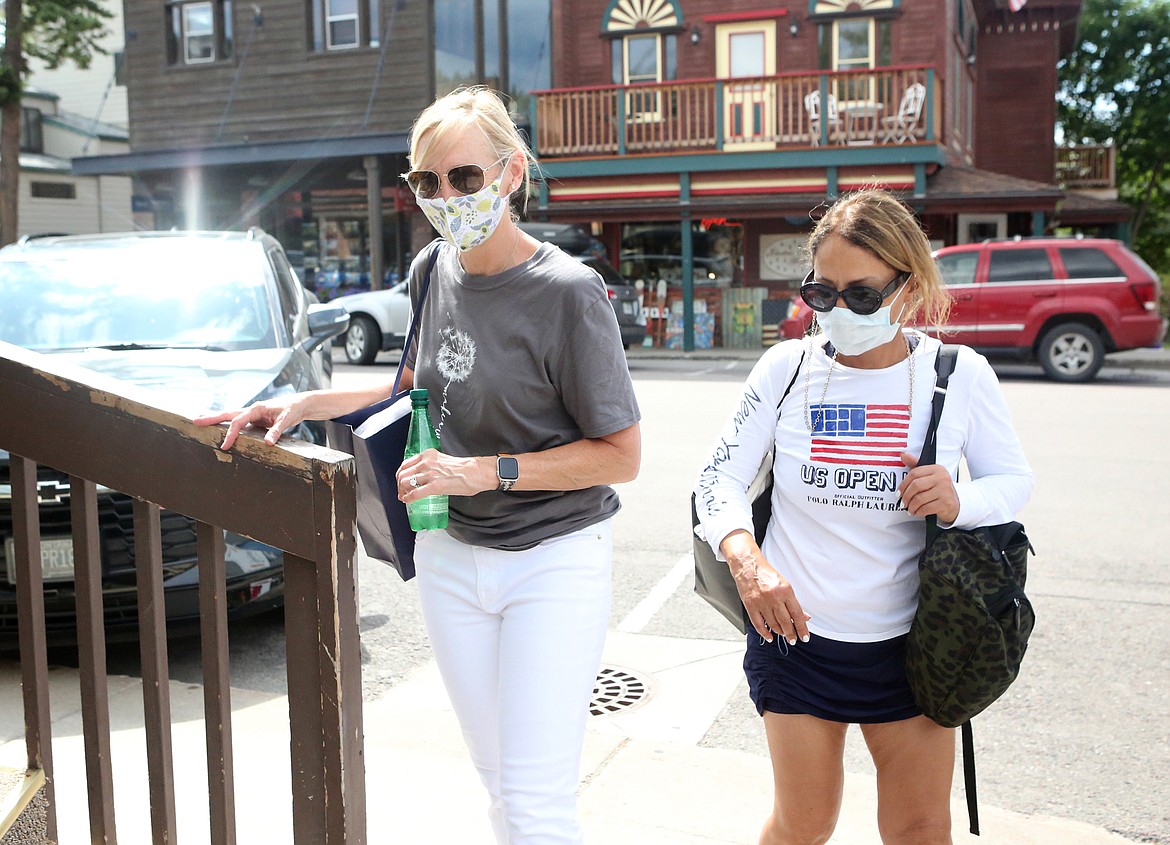 by
MACKENZIE REISS
Bigfork Eagle
|
July 29, 2020 1:00 AM
Laura Hodge dons a colorful cloth face mask as she makes her way through the sparsely-occupied gallery at the Bigfork Art and Cultural Center.
"I don't like it, but I'm doing it," she said, of wearing a mask, which became mandatory at indoor spaces and at outdoor gatherings of 50 or more as of July 15.
"I've been doing it a long time because I think it's for the greater good. There are plenty of things that the government decides is for the greater good," like wearing seat belts or not smoking in restaurants, she noted. "I would rather wear a mask than have anybody get sick."
But not everyone is on board with Gov. Steve Bullock's directive. Responses from Bigfork business owners and their customers have spanned a spectrum, ranging from a man who punched a plexiglass wall in anger to proprietors who required masks long before the mask mandate went into effect.
Montana is still in Phase 2 of reopening with most businesses permitted to operate, albeit with limited capacity and sanitation measures in place. Bigfork Schools is on track to hold in-person classes this fall and while many events have been called off, some summer events are proceeding with caution. The state has taken several steps toward normalcy, but in the past month, cases of the coronavirus have skyrocketed nationwide and in Montana, which now has 3,381 COVID-19 cases. In June, there were fewer than 60 active cases in the state, and as of July 28 there were more than 1,200.
In Flathead County, there have been 190 confirmed cases to date, 121 recoveries, two deaths. In response to rising numbers, Gov. Bullock issued the mask mandate for all counties with four or more active cases — Flathead County has 67, so the directive applies here. The mandate put the onus on businesses and organizations to ensure that those who enter indoor facilities are wearing face coverings. Many Bigfork business owners said that the use of masks is important to protect their staff and visitors even if they don't particularly enjoy wearing them. However, one local store owner, who refused to speak on the record, said they doubted the effectiveness of wearing masks and did not support the directive.
Ben Storest of Fieldheads Coffee said his employees have been wearing masks for months before the directive took effect simply to create a safe environment for their customers.
"We don't like it. It's not fun, but we're doing it because that way if someone is concerned, they walk in and see us being safe, they don't have to worry as much," Storest said.
Since the mandate, he's put up a sign stating that masks are required inside the shop and has cloth face coverings available for sale, which he said are "selling like crazy." Customers who decline to wear a mask can call in takeout orders.
Storest was grateful the mandate was put in place because it set a clear guideline.
"We appreciated it really because there were a few different times when different customers would come in and be either trying to respect social distancing and masks while others were not and they were getting mad at each other," he said. "I'd hate to see it go back to where it did where they shut down dining because that hurt everybody."
Buffalo Lodge owner Mike Kiel said his establishment is also following the directive and said he's lucky that his restaurant has a large outdoor area that makes social distancing easy.
"We haven't had any confrontations ...people seem to be understanding," Kiel said. "Our bar is where people want to come to relax."
Harvest Foods co-owner Marcus Balgos said he believes there is conflicting information about the effectiveness of cloth face coverings and is "doing the best we can."
Balgos initially handed out masks to his employees and instructed them to wear the face coverings when in close contact with customers, but has shifted that policy after getting clarification from the Flathead City-County Health Department that masks are required for everyone inside the store. However, he is not "policing the customers."
"We're not officers of the law," he said. "If somebody comes out, yelling at me, I can take some yelling, but if somebody swings at me ...over a mask, that's a bit much."
The mask versus no mask debate has heated up locally between the shoppers themselves. Two people - one of whom was not wearing a mask - got into an altercation outside of Super 1 Foods in Whitefish after one person coughed on the other. Multiple altercations between people who refuse to wear masks and those who are in favor of masks have been reported to local law enforcement.
Sara Highmore, owner of Sugar and Spice, said her employees witnessed one display of mask-related aggravation first-hand. Highmore installed a plexiglass window before reopening in April and provided her staff with reusable face coverings once the directive was established. In the weeks to follow, she received text messages from two of her employees explaining that a man had punched the plexiglass barrier after having trouble hearing them through the window and their masks.
"These are very confusing and hard times for everyone," Highmore wrote. "But these incidents show you are damned if you do and damned if you don't. The lack of human consideration and decency being displayed in some cases isn't in the spirit of Bigfork."
Laura Hodge at the BACC said most guests have been compliant with the directive and has only witnessed one person without a mask enter the center. The sole maskless woman told Hodge on her way out, "I'm not wearing your stupid mask."
On the whole, Hodge said, the directive has been a positive thing and has taken the pressure off of businesses.
"I think it makes it easier for business owners as it is a polarizing issue," Hodge said. "Why would anybody give a person who's just working and doing their job a hard time?"
For Dave Vale, owner of the Pocketstone Cafe, masking makes sense.
"To me, the issue of masks is not political. There are two competing facts of nature: Masks slow the spread of the coronavirus and masks are uncomfortable to wear," he wrote. "As the number of cases has surged in both Montana and the U.S., I believe slowing the spread has become more important than the discomfort."
As with other restaurants and cafes, customers are required to don masks upon entering and must wear them until they are seated. Once at their table, they can remove their masks, but have to wear them if they leave their table, like when using the restroom or exiting the restaurant.
"I understand the difficulty in imposing a mask mandate as I encountered some hostility when I first imposed the staff mask requirement. But I thank the governor for the directive as most of that hostility has now been shifted to him," Vale wrote. "I am aware that some local businesses have been less compliant with the directive. I suppose it can be viewed as a classic confrontation between the public good and individual freedom. But, bottom line, the more we can do to minimize the spread, the better off we are. Our efforts won't eliminate the spread, but at least they'll slow it down."
Bigfork Area of Commerce Executive Director Rebekah King said she's observed different responses from businesses across the valley and has received multiple calls and emails about specific businesses in Bigfork who are allegedly not complying with the directive.
"I would hope that all the businesses in Bigfork would play by the same rules," King said. "I would hate to see any division among our business community."
Countywide, 60 mask directive violations have been reported, according to Malia Freeman with the Flathead City-County Health Department.
"We can neither confirm nor deny the names of any businesses that have been reported," Freeman said. "Our Environmental Health Department has a process in place to follow up with businesses that may be in violation."
The health department is tasked with following up on complaints and the process often starts and ends with education, such as clarifying specific points on the directive for an individual business. If an establishment still refuses to comply, it's up to the county attorney to determine whether charges are necessary.
Flathead County Sheriff Brian Heino said officers may respond to a business only if it reports people not wearing masks, asks them to leave and they refuse.
"A person would be warned and asked to leave," Heino said. "If someone returns to a business, doesn't wear a mask, refuses a request by the owner or manager to leave and an officer responds, a ticket could be written."
The charge would be a misdemeanor.
"There is definitely a feeling amongst some businesses that it's not legally enforceable and businesses are making decisions based on what they feel their responsibility is," King noted. The chamber does have signs available that provide instructions on masks in dining establishments, common dos and don'ts and one sign that simply states that masks are required.
"It's just reminding consumers that this wasn't anybody's personal choice," she said, "including employees and business owners."
---