Fredrick Leroy Leas JR, 51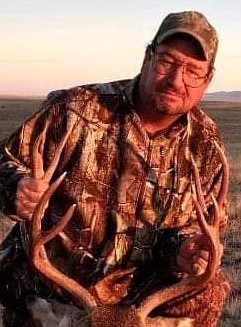 On Nov. 5, 2019, at approximately 11:05 a.m., the world lost a very loving husband, father and grandfather. Fredrick Leroy Leas JR passed away at his home surrounded by his immediate family, after an 18-month battle with cancer.
Fred, known as JR to his loved ones, was born on Jan. 19, 1968, in Apple Valley, California. JR was the oldest of seven siblings, taking care of each and every one of them himself at some point in his life. JR spent most of his life with a career in the drywall business. Eventually creating a great name for himself in the Flathead Valley with Leas Drywall and Custom Interior Finishes.
In his free time, he enjoyed fishing, hunting, snowmobiling, rafting, and spending quality time with family and friends. He devoted much of his time to his 4-year old granddaughter Harper. For those who knew him, they will always remember his strength and wit, his jokes, and his generous, yet at times, ornery nature. He liked to act tough, but was really a big softy.
JR is survived by his wife, Dawn, of 28 years, daughter Haley (Jacob) Gray, son Dylan, parents Theresa Leas and Fred Leas Sr., sisters Deanna, Audrey, Sonia and Heather, his brothers Scott and Shane, and his only granddaughter, 4-year-old Harper, whom was a strong light in his life; as well as many friends who loved him dearly. The family wishes to thank the Home Options Hospice Care family for their role in bringing comfort to JR in his final days. As well as everyone's constant and continued prayers.
"I want to apologize for the delay in getting JR's obituary submitted, as I know a lot of friends and family have been waiting for this to be listed. My life was turned upside down by his death and I am just now starting to feel like myself again. I want to thank all my friends and my family for helping me get through this." — Dawn M. Leas
---