Schools transition to online learning, continue meal program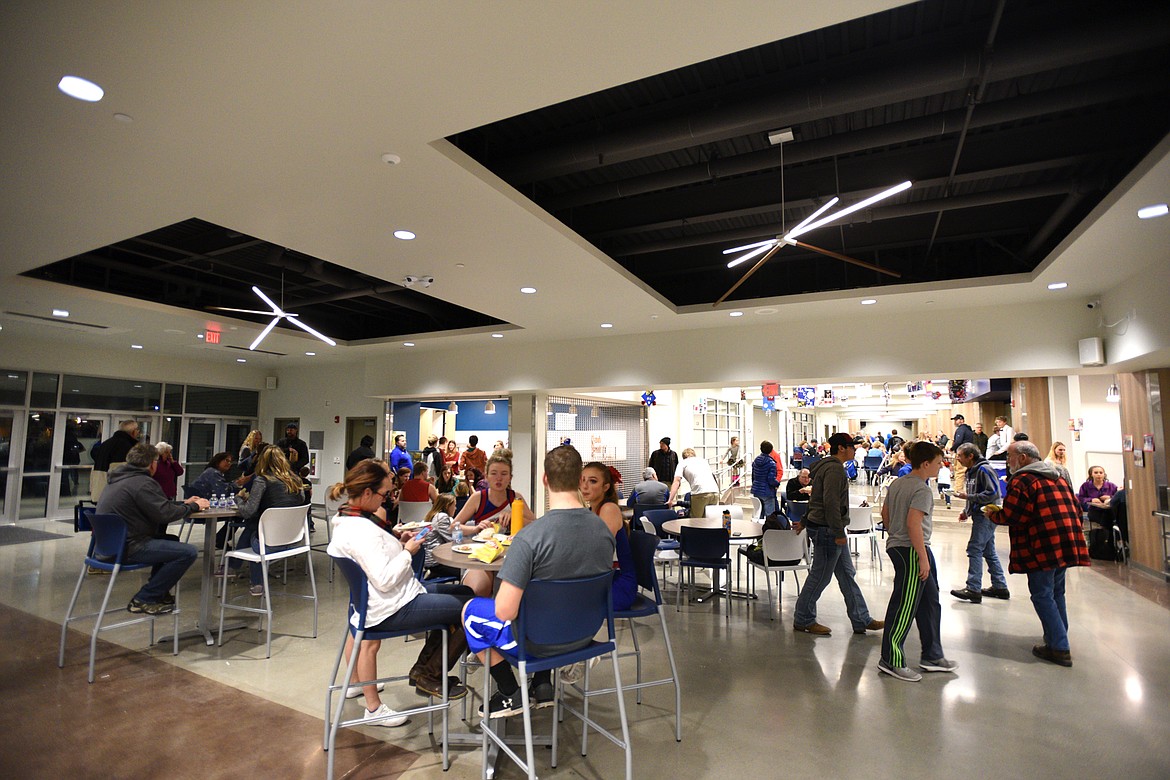 by
Mackenzie Reiss
|
March 18, 2020 10:33 AM
Bigfork School District 38 will begin online education for students in grades 5 through 12 today, March 18, while the campus will remain closed through March 27 in line with Gov. Steve Bullock's directive that all Montana public K-12 schools shut their doors for two weeks in an effort to slow the spread of the novel coronavirus, COVID-19. As of Tuesday, nine cases of coronavirus have been reported in Montana, according to the Montana Department of Health and Human Services. To date, no cases have been confirmed in Flathead County.
The White House released coronavirus guidelines Monday, March 16, which recommended people avoid discretionary travel, social gatherings in groups of 10 or more along with eating or drinking in bars and restaurants. Working from home whenever possible and practicing good hygiene, including washing hands regularly, was strongly encouraged. These social distancing practices, along with school and large event closures, are intended to slow the spread of the coronavirus, according to the Centers for Disease Control and Prevention.
As the end of the governor-mandated school closure approaches, the school will reevaluate whether continued closures are necessary, should that option be on the table.
"We will reevaluate as a board," said Bigfork School District 38 Board Chair Paul Sandry. "The hope is that we'll know a little bit more then about this virus, how it spreads, where it spreads to, what the risks are, so we can evaluate whether to open the campus — and that's if we're allowed to do it."
School Superintendent Matt Jensen said teachers were thankful to be working and were busy planning for the weeks ahead.
"Our goal is to, despite the circumstances, continue to provide the most rigorous academic instruction as we can," Jensen said.
Students in grade 5 through 12 will be working off Chromebook laptops at their homes and attending classes using Google Classroom in accordance with the school's usual bell schedule. The school is currently working with families to identify any students who may not have access and will provide those students with traditional paper and pencil work as an alternative.
For those attending class online, a typical day will begin with students entering the virtual classroom, receiving instruction from the teacher following by independent work time. Students will also be able to communicate with the teacher and other students by using the microphone and camera on their device. Students who don't have wireless internet at their home will be able to call into the sessions by phone. Classes will be held Monday through Thursday, with Fridays off to give teachers time to collaboratively plan for the coming week.
Educators will be sending paper materials home for students in kindergarten through fourth grade, Jensen said. They'll also post a few instructional videos throughout the week per grade level for parents to review with their children. Teachers will have the option to present from their residences or to utilize the school if they have internet connectivity issues at home.
"We're going to continue to assess how we think kids are progressing," Jensen said.
The school's chief goal is to ensure that students acquire the skills and knowledge necessary to progress to the next grade level, despite circumstances, during this remote learning period. Depending on the length of the closure, Bigfork Schools is also considering the possibility of extending the school year into the summer for the younger grade levels with time split between learning and summer activities.
The district is also finalizing plans to use the school bus system to deliver food for students on the free or reduced lunch program. In addition to meals, drivers would also be able to drop off students' belongings that were left at the school, such as band instruments or books. Bigfork Schools also has a surplus of toilet paper, which can be delivered by request as part of this program. Parents are asked to visit the school's website and fill out a form, which is linked at the top of the site, to request delivery of student belongings, meals or toilet paper. Routes will run this Thursday and Friday and resume after spring break, with likely at least two runs per week. The schedule is still being finalized, Jensen said.
Students who don't ride the bus will be assigned a time to pick up those items, which will be posted on the school's website.
The school will also continue sending updated information to parents. Current and previous mailings have also been posted to the school's website, www.bigforkschools.org.
Reading support staff, who can no longer perform their jobs due to the closure, have transitioned to operating the food and supply delivery program.
"Our goal as a district, is to keep everybody working and everybody getting paid," Jensen said.
Jensen is also meeting regularly with the superintendents from other schools in the valley and "sharing our best ideas," he said.
"From our perspective, we're planning like this could be eight weeks," Jensen explained. "We're hoping and praying that it's not, but we will definitely follow the lead of the governor and health officials on what they believe is best to do."
The school closures had many parents scrambling to arrange last-minute childcare or take time off from work to look after their children.
Beth Woods, of Bigfork, who has a daughter in second grade and a son in daycare, said she knew the closures were "a matter of if, not when."
With many daycares closing in step with schools, Woods reached out to a couple other parents and organized what she calls an "ad-hoc daycare system," where a couple of parents rotate childcare between themselves.
"My husband has a job where he gets paid sick leave so he's taking a couple days sick time. We had a friends child today while I went to work. Tomorrow the same thing will happen," Woods said. "…I do think that the two weeks is just a start."
In line with school closures, ACES After-School Program, which provides after-school care for more than 100 children has shut its doors, but will continue providing its dinner meal service in a grab-and-go format. Meals will be available for pickup at the ACES building between 4:30 p.m. and 5 p.m. on weekdays and are available to anyone — not just program participants.
"It's open to anybody that wants to come, regardless of whether they're in ACES," Hay explained. "They don't have to be low income, they don't have to be anything … it's open for everyone, not just students."
Director Cathy Hay said the nonprofit's policy is to follow the lead of the school when it comes to closures.
"That just sets a precedence and guideline for us that we're being safe," Hay said.
ACES also made the difficult decision of canceling the Cowabunga variety show, their biggest fundraiser of the year. The event typically yields around $15,000, which is split between ACES and the Bigfork Playhouse Children's Theatre.
"The economic impact is huge right now," she said.
However, the organization is planning to move forward with their summer programs, which are nearly two-thirds full as of Monday afternoon.
There may be some relief in sight for working parents. Last Saturday, the House passed the Families First Coronavirus Response Act which would provide two weeks of paid sick leave at 100% of the employee's salary, up to $511 daily, for workers at companies with fewer than 500 employees. The bill would also grant up to 12 weeks of paid family or medical leave at a 67% of a worker's usual pay, at a maximum of $200 per day. The bill, which was endorsed by President Donald Trump, is expected to pass the senate this week after a planned recess was cancelled so senators could vote on the issue, according to the Washington Post.
Information and guidelines related to the coronavirus pandemic are constantly evolving. For the latest on the outbreak from the CDC, visit www.cdc.gov/coronavirus.
For the most up to late local information, visit www.flatheadhealth.org/novel-coronavirus-covid-19. The Flathead City-County Health Department has also established an information-only hotline to provide community updates which can be reached at (406) 751-8188. ■
The President's Coronavirus Guidelines
• Listen to and follow the directions of your state and local authorities.
• If you feel, stay home. Do not go to work. Contact your medical provider.
• If someone in your household has tested positive for the coronavirus, keep the entire household at home.
• If you are an older person, stay home and away from other people.
• If you are a person with a serious underlying health condition that can put you at increased risk (for example a condition that impairs your lung or heart function or weakens your immune system) stay home and away from other people.
Things you can do to support yourself
• Take breaks from watching, reading, or listening to news stories, including social media. Hearing about the pandemic repeatedly can be upsetting.
• Take care of your body. Take deep breaths, stretch, or meditate. Try to eat healthy, well-balanced meals, exercise regularly, get plenty of sleep, and avoid alcohol and drugs.
• Make time to unwind. Try to do some other activities you enjoy.
• Connect with others. Talk with people you trust about your concerns and how you are feeling.
Call your healthcare provider if stress gets in the way of your daily activities for several days in a row.
If you, or someone you care about, are feeling overwhelmed with emotions like sadness, depression, or anxiety, or feel like you want to harm yourself or others call
• 911
• Substance Abuse and Mental Health Services Administration's (SAMHSA's) Disaster Distress Helpline: 1-800-985-5990 or text TalkWithUs to 66746. (TTY 1-800-846-8517)
---