Tennis star focuses on faith and future in light of lost season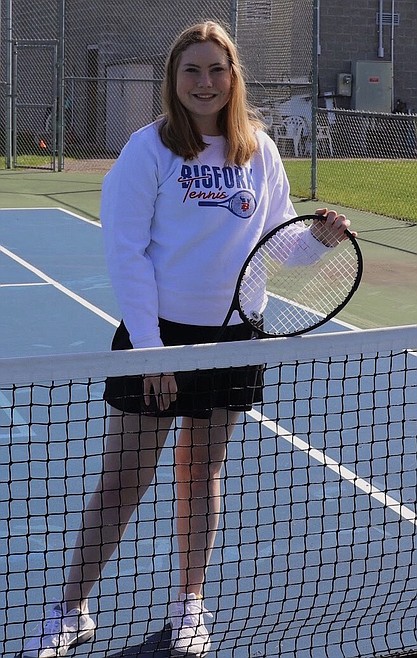 by
Jeremy Weber
|
May 6, 2020 1:00 AM
Bigfork High School senior Meredith Bedford participated in several activities during her time as a Valkyrie, but tennis was easily her favorite.
A four-year basketball player for the Valkyries, Bedford was also on the varsity cheer squad as a freshman and sophomore and also earned a black belt in taekwondo at age 14.
While she says she enjoyed it all, nothing else quite lived up to tennis in her eyes.
"I am a huge fan of sunshine and fresh air, and therefore, love the fact that tennis can be played outside," she said. "Furthermore, there is no better feeling than hitting a hard forehand or backhand that your opponent is unable to return. I really appreciate the fact that it's a sport you can play into old age and I definitely plan to."
A singles and doubles player as a freshman, Bedford concentrated on doubles the next two seasons, making it to state as a sophomore and taking fourth with her partner as a junior last season.
Bedford said she learned a lot while playing sports for the Valkyries, including many lessons she will take with her as she goes forward in life.
"My participation in sports has taught me that there will be ebbs and flows, not just in my athletic performance, but also in life. That's why it is important to have perseverance even when things aren't going your way," she said. "They have also taught me that every person on a team has an important role, and even if the role isn't exactly what you expect it to be, it is still crucial to the dynamic of the team. The lessons I learned through my sports careers will most definitely benefit me in the future because I understand the value of hard work and indomitable spirit."
Also a member of the National Honor Society, the Interact Club and the Fellowship of Christian Athletes, Bedford says she is trying to remain positive despite losing out on the end of her senior year due to COVID-19.
"It can be really tough at times to acknowledge that a lot of my senior year experiences have been compromised. However, I always try to remain positive and be thankful for all of the great things in my life," she said. "At the end, God is in control and I put my faith in him. That has helped me get through these tough times. I will admit that I am pretty bummed that we aren't having prom because I was going to bring my best dance moves."
Bedford is hoping to attend Whitworth University in Spokane after high school, where she hopes to be a part of the tennis team while seeking a double major in environmental science and journalism. After completing her bachelor's degrees, she would like to go on to law school to become an environmental lawyer while also writing a blog about U.S. National Parks.
Whatever the future holds, she is grateful for her time in Bigfork.
"I would just like to express my gratitude towards my family and all of the teachers, coaches, and friends I have had the pleasure of knowing throughout high school," she said. "This may not be the senior year I expected, but because of these people I can say without a shadow of a doubt that I had a great high school experience." ■
---