Viola Janette "Dolly" Bunyea Evenson, 92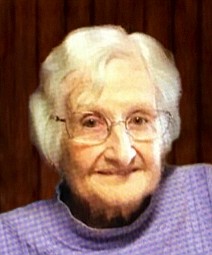 Dolly Evenson slipped quietly away from us on April 29, 2020, just short of her 93rd birthday, at Kalispell Regional Medical Center. Dolly was born May 4, 1927, in Kalispell to Charles S
Bunyea and Theresa Furcht Bunyea. Dolly spent her whole life on Swan River Road, within sight of her childhood home.
On May 16, 1946, she married Russell, one of the Evenson boys from next door. She graduated from high school that same evening. When Russell left to fight in WWII, she was just a girl, but when he
returned, she had grown to a lovely young woman who captured his heart.
While Dolly and Russell had no children, they enjoyed their large extended families. They spent many hours fishing and enjoying each other's company. Dolly had a wry sense of humor and you always knew where she stood. She had a quiet inner strength and a frankness that endeared her to those who knew her. She will be remembered for her famous popcorn cakes, the potent homebrew they sometimes produced, and her enjoyment of rum soaked watermelon and Friday night fried chicken at the Schlegels.
Dolly was preceded in death by her husband, Russell William Evenson in 1991, her parents, and siblings Vernon Bunyea, Renna Clapper, Ethel "Muggs" Clapper, Lorraine Bunyea, and Francis
"Bud" Bunyea.
She is survived by nieces and nephews Nancy Fryer of Oregon, Charles Eugene "Gene" (Barbara) Bunyea of Bigfork, Dave (Cathy) Evenson of Bigfork, Dorothy McMillan of Tacoma, Washington, Kenneth (Rosemary) Evenson and Nancy Evenson of Kalispell, Carol Smith of Arizona, Susan (Paul) Hunter of Texas, Carla Kahn of Swan Lake, and Cathy Ream of Columbia Falls.
She will also be missed by a myriad of great-nieces and nephews, as well as her childhood best friend, Jeanette Belmore of Bonners Ferry, Idaho.
Special recognition and thanks to Dave and Cathy Evenson, with whom Dolly resided for her last year, and to Gene and Barbara Bunyea for their special attention to her.
The family is being cared for by Johnson-Gloschat Funeral Home. Viewing took place Thursday, May 7 from 11 a.m. until 5 p.m. Graveside services were held Friday May 8 at 1 p.m. at Conrad Cemetery.
---