Down to business: Playing tourist in my backyard
by
Rebekah King
|
May 27, 2020 1:00 AM
I spent the weekend with a friend who has just returned to Montana from living abroad — after the required 14-day quarantine of course. Sunday she wanted to go to The Raven. It was not a warm, sunny, Raven type of day. It was cloudy and cold. It ended up raining on us before we were done, but it did not matter. We sat on the deck, enjoying our appetizers while being entertained by a group of kayakers. As she took pictures of a view we have both seen a thousand times, something shifted. Instead of rushing through the experience to get out of the weather, I intentionally sat back, appreciating how spectacular my surroundings were. I wondered if this is how a visitor feels, seeing Flathead Lake for the first time; or perhaps how my friend must have felt, returning home after being gone too long. And the sprinkling of rain just added to a beautiful Montana afternoon.
I would speculate that many of us have gotten away from experiencing where we live. We know we are lucky to live here, but how often do we take advantage of it and play tourist in our own town? It hit me this weekend that we don't — or at least I don't. Perhaps this year, we should try to look at our days off in Bigfork as a vacation, even though we live here. I know our businesses would appreciate it.
Love them or hate them, there are three million people that choose the Flathead Valley as their vacation destination each year. According to tourism surveys conducted last year, those visiting Bigfork spent more than $1,000 each on lodging, food, retail and guide services. This year is going to look very different and presents an opportunity for us to take advantage of where we live.
When was the last time you went on a guided fly-fishing trip? Or rented a boat for a trip to Wild Horse Island? Booked a family fishing charter? What about llama trekking in the Swan Mountains? A performance at the Bigfork Summer Playhouse? Rafted along the border of Glacier Park?
When was the last time you sat on the patio of a new restaurant and enjoyed a leisurely glass of wine and chartreuse board? Or went out to breakfast mid-week? There are so many things to do in Bigfork — the opportunities are endless.
As we enter Phase Two of reopening Montana, the Bigfork Area Chamber is shifting our focus to local tourism. We are reaching out to our neighbors down the road and across the state, asking them to explore their own backyard. We invite you to do the same. Bigfork is full of niche businesses that depend on tourism. These businesses are the fabric of our community, adding to its uniqueness and personality. The recreation they provide is why we live here. Why not take advantage of it this summer?
To help inspire you, visit the "Things to do outside the Park" page on www.Bigfork.org. You should also follow the Bigfork Chamber on Facebook for an upcoming series of fun and budget-friendly staycation ideas. On Sunday, something shifted in my perspective of leisure time. I hope it does for you too. My friend and I are meeting up again in two weeks. I am not sure what adventure may be in store for us. We might choose to Loop the Lake or appetizer hop from restaurant to restaurant. However, neither of us has been fly fishing before or spent quality time with a llama, so who knows … What I do know is we will choose to intentionally act like a tourist every chance we get — and so should you. What do you have to lose?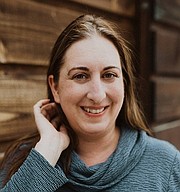 ---