Vikings fall to Mustangs in Class B playoffs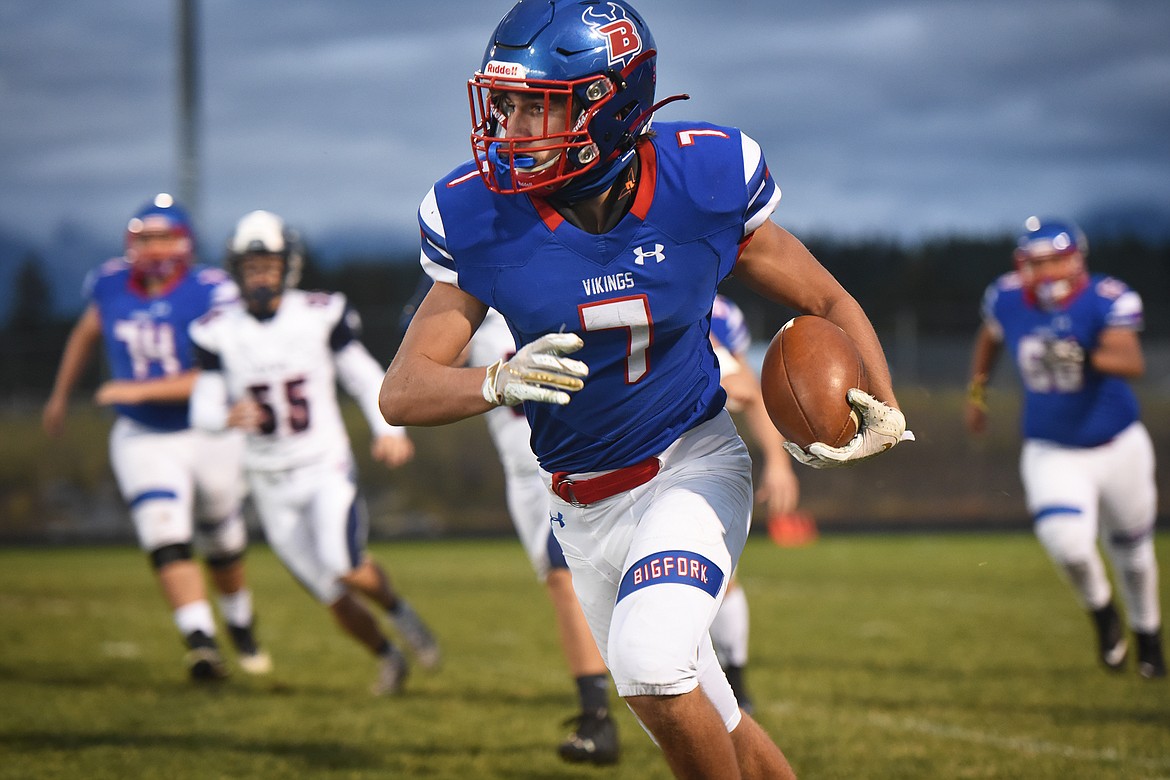 Cormac Benn finds open room to run in the opening minutes against Loyola Friday. (Jeremy Weber)
by
JEREMY WEBER
For the Eagle
|
November 4, 2020 2:50 AM
One of the stranger football seasons in Montana history came to a close for the Bigfork Vikings in Malta Saturday as they fell to the Mustangs in the opening round of the Class B playoffs, 30-14.
After a close battle in the opening half, the Mustangs scored 22 straight points to put the game out of reach for the Vikings in the second half.
We did some good things and moved the ball fairly well at times, but it was a tough game," head coach Jim Benn said. "I am really proud of our kids and how they fought through all the craziness that was this year. I have really appreciated their attitude and their effort. They have been a really fun group to coach."
Led by Cormac Benn's 118 rushing yards and two touchdowns, the Vikings finished the game with 223 yards of total offense, but with their strong second half the Mustangs finished with 391.
Malta took the lead on the Mustangs' opening possession of the game, driving 60 yards on 14 plays to score on a 5-yard run.
A 2-point conversion put Malta up 8-0, but the Vikings answered in the second quarter, putting together a 15-play drive that drove 63 yards to score on a 3-yard run by Cormac Benn. Quarterback Patrick Wallen found Isaac Bjorge with a pass for the 2-point conversion to tie the game at 8-8 heading into halftime.
Trailing 30-8 in the fourth quarter, the Vikings' final touchdown came after a 20-yard pass from Wallen to Cormac Been and a defensive facemask call set up Bigfork at the Malta 4-yard line. Cormac Benn made his way to the end zone on the next play to make the final score 30-14.
Wallen finished the game 5 for 9 passing for 74 yards while Cormac Benn had three catches for 36 yards and Bjorge had one reception for 34 yards.
Bjorge led the Vikings defensive effort with 13 tackles, including 11 solo tackles, three tackles for a loss and a sack. Fletcher Postlewait had six tackles and Cormac Benn, Bryce Gilliard Wyatt Herd each had five and a half.
With the threat of COVID-19 hanging over the season from the first day of practice, the Vikings overcame quarantines and injuries to finish the year 5-4 in head coach Jim Benn's first year at the helm.
"I think we learned a lot from adversity this year. What didn't kill us will make us stronger and all that stuff. It's been a tough year that was pretty stressful at times with all the cancellations and trying to pick up games, but the kids handled all of it well. I"m really going to miss our seniors. They were really great leaders this year and it will be hard to see them all go," coach Benn said.
"The administration and the community really had our backs this season and I am happy the MHSA fought to let us have a season this year. A lot of memories were made on the football field this year that would not have been made if the kids had been locked in their houses. Sports is one of those things where you want to win, but what we are doing is about a lot more than that. I'm proud of the kids and the lessons they learned this season. It was fun and I am looking forward to more of it."
VOLLEYBALL
The Valkyries volleyball team finished out the regular season with a non conference game at Whitefish last week before going 1-1 in the district tournament to earn third place.
Bigfork closed out the regular season with a three-set loss to the Class A Lady Bulldogs in Whitefish Monday, October 26, falling 25-21, 25-23 and 25-17.
Complete stats were not available at press time, but Allie Reichner led the Valkyries in digs with nine while Keyera Mauro added seven. Inga Turner, Shaney Fox and Dana Saari each had one block for Bigfork.
The Valkyries opened the district tournament with a loss at Eureka Thursday, falling to the Lady Lions 25-19, 25-18 and 25-13.
Reichner again led the defense with 11 digs while Frey had one solo block and combined with Saari for another. Maddison Chappuis and Olivia Ellison also had blocks for the Valkyries.
Bigfork bounced back with a sweep of Mission in the district consolation game Friday, downing the Lady Bulldogs 25-14, 25-22 and 25-12.
Reichner finished with 21 digs while Frey, Dana Saari, Alexis Saari and Myranda Gray finished with half a block each.
The Valkyries begin play in the divisional tournament in Anaconda Thursday as they face Loyola Sacred Heart at 2:30 p.m.
---