Air Force veteran recounts career as Security Forces member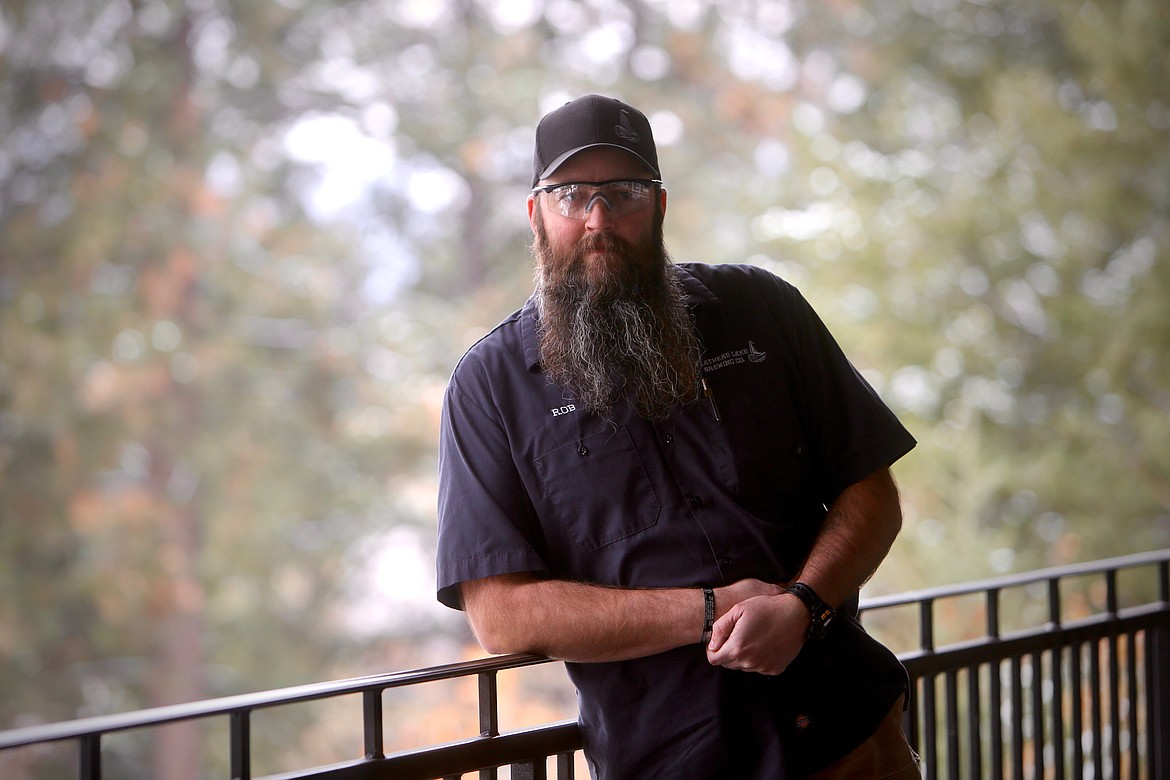 Rob Gambino at Flathead Lake Brewing Company Mackenzie Reiss
by
MACKENZIE REISS
Bigfork Eagle
|
November 11, 2020 2:30 AM
Rob Gambino is no stranger to wearing a uniform.
He dons one for his job at Flathead Lake Brewing Co. where he's worked as a brewer since February. But for many years before that, he wore even more distinctive attire, that of the United States Air Force.

His father was a tank commander in the Army National Guard and shared stories about his service throughout Gambino's childhood. And after spending three semesters in college without a clear direction, Gambino decided it was time to switch gears and join up instead. At 18, began his career as a member of the USAF Security Forces.
On any given day, his job could consist of guarding a 200-yard section of tarmac, securing airplane hangars or more traditional policing duties such as checking IDs at the base entrance or writing tickets.

"There were a lot of times in which you were the only person sitting out on 200 yards of flightline with three planes and nobody else for 12 hours," Gambino recalled. "For me it was an honor to have that kind of responsibility."
His position was one that demanded integrity. He could be at a location for over 10 hours unsupervised and it was up to him to stay alert and on task.

"Having the motivation within yourself to do what's right all the time can be a struggle for some people. For me, that was the way I was raised," he said.
Gambino's first duty station was a good spot to put that theory into action — he was sent to the Azores Islands, a remote post off the coast of Portugal that served as a fueling point and rest stop for aircraft and their crew members. But then 9/11 happened and things shifted. Personnel quadrupled seemingly overnight in response to the elevated threat at the islands and other U.S. military institutions across the globe. Gambino worked a 14-day stretch without a single day off and despite the grueling hours, his passion for military service only grew.
"It kind of sparks a fire inside of you. We went from being a near peacetime force to now our military has a sense of purpose," Gambino said.
His plan to get out after four years dissipated — he was looking for a higher sense of purpose and he had found it. In training and beyond, Gambino found himself thrown into leadership roles, not because it was something he was chasing but because his superiors recognized his innate maturity.
It was on the Azores Islands that he also met his wife, Jessicca, a fellow Security Forces member. The Air Force granted the couple five days leave, which was enough time to get married, but didn't allow for the luxury of a honeymoon. Instead, the couple was deployed to the Philippines for a three-month stretch where Gambino provided security for an airfield and hotels where military members were housed. American forces had been deployed to assist with a rescue mission after three missionaries had been taken hostage by terrorists.
Gambino's next tour was set for Kyrgyzstan, but tragedy struck before he could deploy.
"I got back from my pre-deployment training and I got a call that two of my friends were killed in Iraq," Gambino said.
Air Force Security Forces members Jason Norton and Brian McElroy were riding in a Humvee together when their vehicle was struck by a roadside bomb. While both men were friends of Gambino, it was Norton that he was closest to. They worked together while stationed in Alaska and Gambino often joined Norton, a military service dog handler, on patrols after his work was done for the day.
"Jason Norton, he was one of my best friends up in Alaska. We hung out together all the time and we worked together nearly every night," Gambino said. "My daughter took her first steps in his house; we'd hang out on Thanksgiving and watch NASCAR together."
Norton and McElroy died in 2006, but Gambino maintains relationships with mutual friends and the men's families. For the 10-year anniversary of their passing, he flew out to Oklahoma to visit Norton's wife and is planning a trip to McElroy's family in honor of the 15-year mark.
"You have a different family in the military that you have a different kind of closeness with. They know all of your deepwater darkest secrets … they know more about you than your family does… and that's something that you can never get rid of," Gambino explained.
His military career was cut short due to medical reasons after nearly 16 years. Part of Gambino's job involved carrying 70 to 80 pounds of "worst-case scenario gear" with him on each shift — equipment such as heavy armor and a helmet in addition to his daily supplies. Over time, the weight took a toll on his knees, eventually to the point where he no could no longer deploy. When the Air Force was called on by Congress to make cuts, Gambino, then a master sergeant, was medically disqualified.
It was a tough pill to swallow, but Gambino didn't allow himself to wallow — he turned his focus onto what was next in his future.
"It was time for me to grow up, if you will, and find out what I was going to do with my life," he said.
He set his sights on the Flathead Valley, where his parents had moved to seven years prior. And when he saw an advertisement on social media for Flathead Valley Community College's new brewing science program, the avid home brewer knew it was the right move. He transitioned out of the Air Force in late June and was sitting in the classroom by August.
Since graduating from the program, Gambino has worked at Great Northern Brewing Co., Sacred Waters and now, Flathead Lake Brewing Co. in Bigfork. While he resides in Kalispell, Gambino is heavily invested in Bigfork. He is an Assistant Scoutmaster with Boy Scout Troop 1923 and is Senior Vice Commander of Bigfork VFW Post 4042.
Today is Veterans Day and the Bigfork VFW will be hosting a free spaghetti dinner for local veterans. In a normal year, there'd also be a number of veterans recognition events at local schools, but those, like many large gatherings this year, have been called off due to the pandemic. However, Gambino said there is still one easy way to celebrate the holiday: thank a veteran.
"We see eye-to-eye no matter what branch we are. We joke with each other all the time — "my branch is better than all of the other branches" — but at the end of the day … We have respect for each other because we all signed that same paper. We're ready to provide that sacrifice if need be," Gambino said.
"Not every veteran has had the same experiences that I have and my experiences have been small in comparison to other veterans. The Vietnam veterans, their return home was horrible. The thanks that they got was very disappointing. [Veterans Day is] an opportunity for people to make right some of those wrongs … It's not that much to ask to just tell them thank-you."
Reporter Mackenzie Reiss may be reached at 758-4433 or mreiss@dailyinterlake.com.
---