Bigfork Elves to carry on holiday decorating tradition with a few changes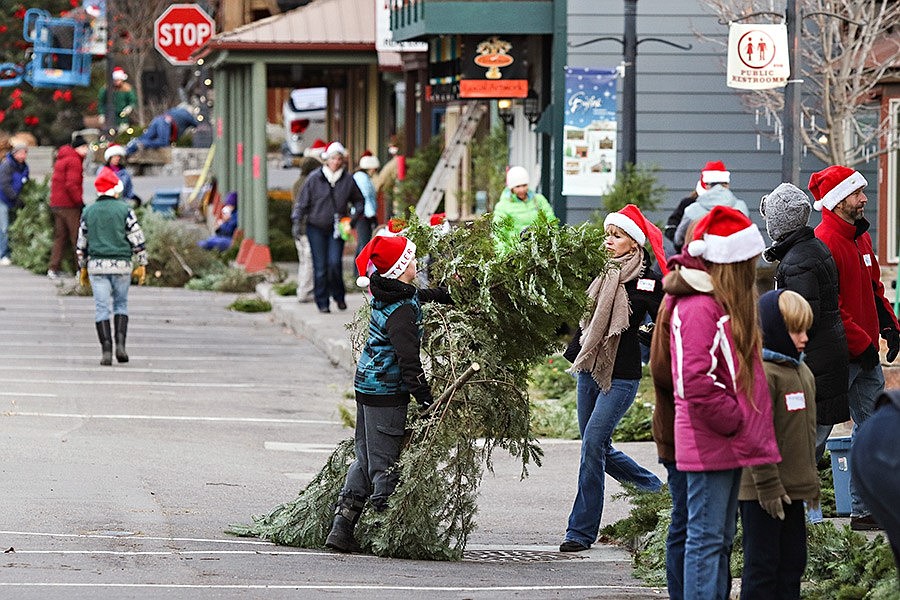 Bigfork Elves decorate downtown Bigfork. Courtesy Bigfork Area Chamber of Commerce
by
MACKENZIE REISS
Bigfork Eagle
|
November 11, 2020 2:35 AM
There is no other wholesome holiday tradition quite like that of the Bigfork Elves. These decorating do-gooders have been transforming downtown Bigfork into a veritable Christmas wonderland each holiday season for decades. Each year, hundreds of volunteer "Elves" convene on Electric Avenue to hang garland, lights and place bow-laden trees on merchant storefronts. Decorating Day begins with breakfast outside of the Bigfork Inn followed by a primer on decorating techniques and then it's off to the races. Decorating usually lasts until midday after which, the Elves gather for a group chili feed.
Bigfork locals Frank Crain, Don Thomson, Edd Blackler first launched the idea of dressing up their town in 1982 and the tradition has continued to the delight of visitors and locals alike. Elves who return year after year have the opportunity to advance in rank from second lieutenant all the way up to a full bird colonel.
"I'm a big fan of Christmas," said Head Elf Michele Shapero. "[Decorating Day] gives me something to look forward to every year and I love seeing downtown Bigfork decorated."
There will be changes to this year's celebration, but organizers hope to keep the original spirit of the elves alive while adapting to COVID-19 precautions.
Prior to the main event Decorating Day on Saturday, Nov. 21 is Bulb Twisting and Tree Gathering. This Saturday, Nov. 14 at 8 a.m. at the Bigfork VFW, volunteers are invited to help prepare this year's decorations by readying strings of lights, making bows and harvesting Christmas trees.
Over the years, the incandescent lights which were prone to breaking, have been replaced with more modern LED counterparts so "it's really no longer bulb twisting day -- It's untangling light string day," Shapero noted.
The Bow Babes, under the direction of Toot Sward, go through bag upon bag of red holiday bows, fluffing old ones and tying new ones, while others head out with Rick Trembath to harvest trees for the downtown corridor.
"They're basically tied to everything that can get something tied to them - it's anywhere from 800 to 1,000 of these little trees," she explained.
The day begins with breakfast, but instead of the traditional buffet-style offering, this year guests will be served plates of food and asked to sit at tables with no more than eight people.
"They're minor changes in the scheme of things," Shapero said. "It's what we had to do to have this event, otherwise the county would not have allowed us to do it."

There are changes in store for Decorating Day, too. The usual group photo where hundreds gather on the front lawn of the Bigfork Inn is likely off this year due to conflicts with maintaining social distancing and volunteers will be staggered throughout the course of the morning to limit crowd size. People won't gather around the firepit before decorating begins and instead of donuts, the Elves will munch on prepackaged danishes. Coffee will be distributed by volunteers and any refills will need to be taken in a fresh cup. The post-decorating chili feed is still a go, but guests will follow restaurant COVID-19 rules including wearing a mask while walking to and from the table.
But Shapero would rather make adaptations to the traditional process than axe the event altogether.
"The health department would shut us down and if they shut us down Bigfork doesn't get decorated and there goes Montana's Christmas village," she said. "I'm just happy that we figured out a way to do this and keep it happening."
Due to the coronavirus pandemic, Shapero is expecting a drop in volunteer numbers this year and hopes that enough Elves show up to get the town holiday-ready.
"I'm holding my breath, i'm crossing my fingers and I'm just saying, 'Santa help. The elves need your help,'" Shapero said.
Volunteers don't need to sign up to participate -- simply show up for either weekend or both to lend a hand. For those who do join in, there will be free holiday facemasks provided and plenty of work to go around. Volunteers who choose to opt out this year can still make a difference by making a tax-deductible donation to the Elves, which is funded solely by contributions.
"Anything helps because this year we're digging into our reserves because donations are down," Shapero said. "We're just going to do our best to make sure that this happens."
---