Soccer team advances to state playoffs for the first time in a decade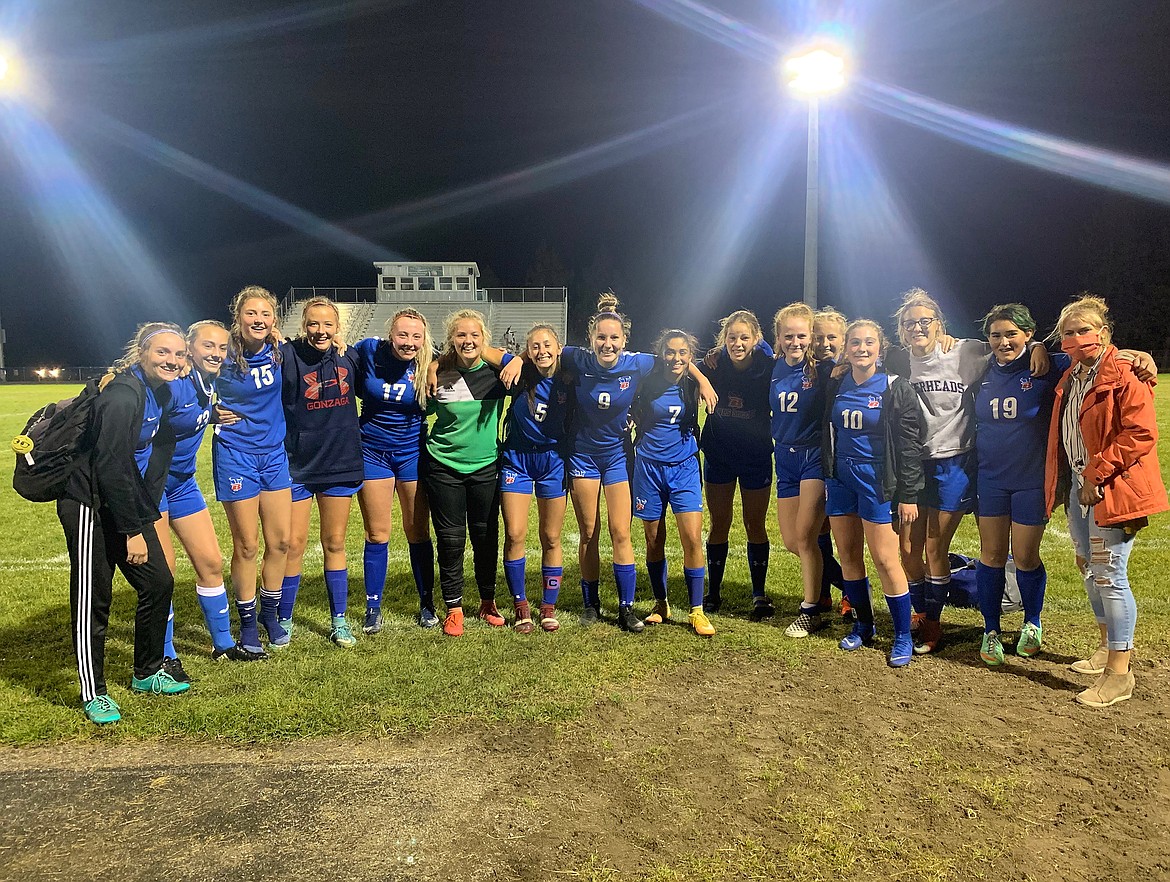 The 2020 Valkyries soccer team made the playoffs for the first time in a decade. From left, they are Mackenna Sellers, Callie Gemballa, Anika Ranson, Haley Schara, Scout Nadeau, Catherine Panor, Audrey Buenz, Brette Guenzler, Calista Wroble, Danika Bucklin, Olivia Kirby, Ava Hall, Zoe Guffin, Nya Schara, Soraya Brevik and Ashlyn Savik. (photo provided by Maddy Jones)
by
JEREMY WEBER
For the Eagle
|
October 28, 2020 2:00 AM
The Valkyries soccer team knows a thing or two about overcoming adversity.
When the girls finished the 2018 season without a single win, it would have been easy to walk away from soccer to pursue glory in other sports - but that's not how these Valkyries think. Two years later, through dedication, determination and teamwork, the Bigfork squad overcame the uncertainty, quarantines and craziness of 2020 to do something no Valkyries soccer team had done in a decade and advance to the Class A state soccer playoffs with a 4-5-1 record - no small feat for one of the few Class B girls soccer teams in the state.
Expectations were again low at the start of the season for second-year head coach Tim Guenzler, but the veteran youth soccer coach knew he might have something special brewing with this year's squad.
"It is so great that this group of young ladies can do something that, honestly, nobody thought we could. Maddy (Assistant Coach Maddy Jones) and I had coached these young kids in the summer a few years back, so we knew what we had coming into the program and felt we could field a pretty tough team, but nobody else really gave us a chance," he said. "It just goes to show that, with hard work and dedication, you can achieve great things."
With Audrey Buenz as the team's only senior and half of it's 18-player roster filled with freshmen, Guenzler said other teams around the conference contacted him before the season and offered to not play their best players against his young squad, but he politely declined.
His young squad made a statement in their opening game of the season August 29 as they battled Whitefish to a 4-4 tie. Heading into this weekend's state title game, Bigfork remains the only team to earn a tie against the undefeated Lady Bulldogs.
Over the course of the season, Guenzler's squad continued to take opposing teams by surprise. With a physical style of play, great communication on the field and a group of strikers with a knack for scoring from long range, the Valkyries found themselves in unfamiliar territory - in the playoff hunt.
"We have some amazing long-range shooters. Dani Bucklin, Haley Schara and Brette Guenzler all scored goals on shots from outside of 30 yards, including a goal off the kickoff by Brette. Long-range shooters, the bomb squad, whatever you want to call them, that's a great luxury to have as a coach," coach Guenzler said. "We are all about ball striking and technique. We are all about the technical skills it takes to win a game. Those three, along with Scout Nadeau, are some amazing ball strikers. Couple that with veteran leadership from players like Audrey and Nya (Schara) and you have a recipe for success."
Though the recipe for success may have been in place, Guenzler still needed his players to put in the work and commit to overcoming whatever obstacles lay ahead as the season continued. It was a challenge that Buenz and her teammates were more than willing to take on.
"I am really excited for the program that we are developing. We used to have open fields and there would be maybe me and two boys playing. Now, we have girls that are here even more than I am kicking the ball around before and after open field time, and that's awesome," Buenz said. "Our coaches have put in so much time and effort to help our program develop and they are so committed to helping us get better and have fun while doing it."
With freshman Catherine Panor defending the goal and junior Nya Schara playing through the pain of torn labrums in both hips, the Valkyries continued to battle not only their opponents on the field, but also the unexpected twists and turns of 2020.
When Panor and fellow freshman Danika Bucklin were pulled from the bus headed to Libby for a game on October 2 and put into COVID-19 quarantine, the team adapted and persevered. With players shifted to unfamiliar positions, the team relied on its trademark communication to spoil the Lady Loggers homecoming with a 2-1 victory and stay alive in the playoff chase.
"One of our major strengths is our communication and how well we work together as a team," coach Guenzler said. "The girls really watch out for each other and let each other know what they need to do. I always tell them to catch each other doing it right. In sports, we do have to look at the things we are doing wrong to get better, but we like to build on our strengths and look at what each player is doing right so they will have the confidence and support to continue improving."
Even with the win, times were tough for the Valkyries as they kept in touch with their quarantined teammates, placing signs in their yards and even writing a song to show their support.
Freshman starter, Zoe Guffin, who had never played soccer until this summer, says it was that kind of camaraderie and friendship that helped the team succeed this season.
"We're a close-knit team and we really believe in each other. I think that has really helped us get through everything we had to deal with this year, and there was a lot to deal with," she said.
Though the team handled it well, junior Brette Gunzler said the situation was still hard.
"It's tough to see people getting pulled off the bus and being told to stay at home for two weeks. Losing a core part of your team is always tough, but this year has been crazy," she said. "Not only do you lose them on the field, but you have to not see them or get to hang out with them for two weeks. It's been a hard year."
The team was finally back together for the first time in weeks October 18 as the squad traveled to Laurel for the Valkyries first soccer playoff game since 2010. Bigfork put up a valiant effort against the defending state champions, but wound up falling 4-0.
Despite the loss, the future still looks bright for the young Valkyries team.
"It's been quite a journey for several of our players who went from a winless season to making the playoffs in only two year," Coach Guenzler said. "We were not only a young team this season, but there was a lot of rebuilding and getting to know each other. I'm so proud of what this group was able to accomplish and I can't wait to see what the future holds for us."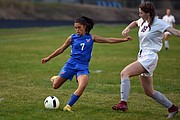 ---