Vikings conquer Cutbank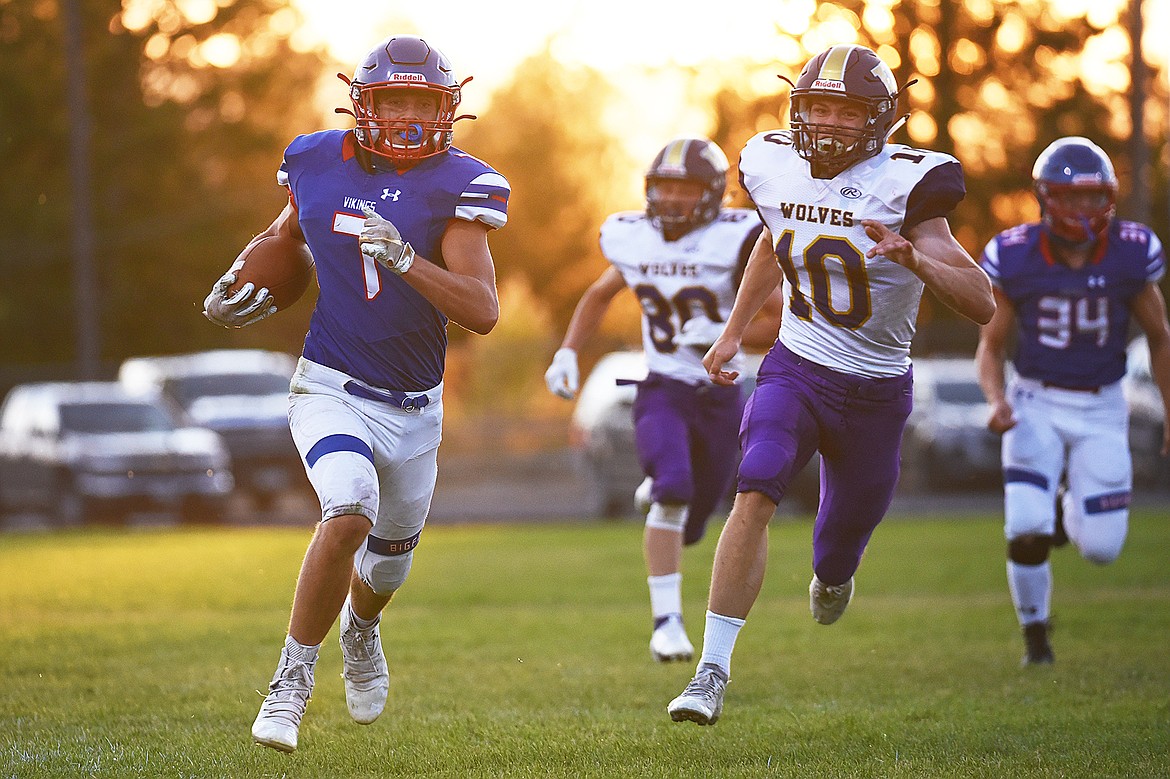 Runningback Benn Cormac leaves Cutbank's defense in the dust as he runs down the field during their matchup last Friday in Bigfork.
Casey Kreider
by
JEREMY WEBER
For the Eagle
|
September 9, 2020 2:30 AM
Vikings 59 - Cut Bank 7
After earning an impressive win to open the season against Townsend in week one, the Bigfork Vikings football team looked even more dominant in their second game Friday as they cruised past visiting Cut Bank 59-7.
Led by Cormac Benn's 262 rushing yards and four touchdowns, the Vikings picked up 482 of their 493 yards on the ground while holding the Wolves to just 144 yards of total offense.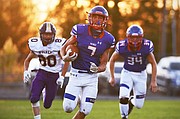 The only score of the opening quarter came on a 3-yard run by quarterback Patrick Wallen to cap a 20-play Vikings drive that covered 90 yards and ate nearly six minutes of clock. Benn added the 2-point conversion to put Bigfork up 8-0.
The Vikings opened things up in the second quarter, scoring 27 unanswered points to grab a 35-0 lead before the Wolves finally got on the scoreboard to make the Bigfork lead 35-7 at halftime.
Wallen got the second quarter assault started for the Vikings, finding Walker Fisher with an 11-yard touchdown pass before hooking up with George Bucklin on the 2-point conversion. Benn scored the next three touchdowns for Bigfork on runs of 21 and 62 yards before picking off a Wolves pass and returning it for another score.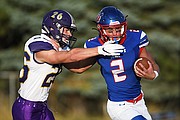 The Vikings added four more rushing touchdowns in the second half, including one from Benn, two by Wyatt Herd and a 44-yard scoring run by Levi Peterson.
Along with Benn's 262 rushing yards for the Vikings, Peterson added 56, Levi Taylor had 42, Jackson Nelson had 36, Herd had 25, Wallen had 19, Jackson Abney added 16, Bucklin had 15, Ryder Nollan had seven yards and Cole McManaway and Wyatt Johnson each had two.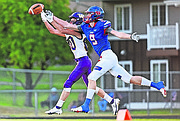 Wallen led the defense with three solo tackles and assisted on another three while Taylor and Jordan Betts contributed three tackles each.
The Vikings will look to stay undefeated Friday as they host Florence at 7 p.m.
---