Robert 'Bob' Rost, 87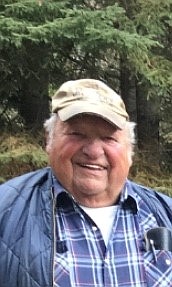 |
September 9, 2020 2:05 AM
Robert 'Bob' Rost
Robert 'Bob' Rost, 87, passed away August 3, 2020. Bob was born March 28, 1933, in Bigfork, Montana to Clarice Chapman Rost and Ludvig 'Happy' Rost. Bob was born at home on the Swan River and was the fifth of seven children. Bob's surviving siblings include Madeline Utter, Maynard Rost and John Rost. Bob was preceded in death by Carroll Rost, Lee Rost, and Lavina Eslick.
Bob married Mo Rost in 1963. Bob's children include Mike Rost, Cindi (Rich) Johnson, Michelle West, Shannon (Scott) DeWandel, and Mark (Brandi) Rost. Bob was preceded in death by his son Mike and his wife Mo.
Bob Rost served in the Korean War on a Navy ship between 1952 and 1956. After the military, Bob studied at the University of Washington in Pullman Washington and got his doctorate in veterinarian medicine. During college Bob acted as a research biologist on the Pribolof Islands in Alaska studying fur seals. That began his love of Alaska. Bob and Mo moved to Fairbanks Alaska in 1967 and homesteaded in the Goldstream Valley near Fairbanks. Bob worked on the Trans-Alaska pipeline as a millwright and throughout Fairbanks, Alaska as a carpenter.
Bob and Mo returned to Bigfork, Montana in 1979 and started Mo's Greenhouse on Swan River Road. In 2003 they moved to Ronan, Montana and both continued their education by taking courses in the Salish – Kootenai Tribal College. Bob discovered his love of creating native American tools using traditional methods. Bob and Mo returned to Bigfork in 2013. Mo passed away in 2014 leaving Bob alone. Bob penned this tribute to her: 'across the years I will walk with you, in deep green forests or shores of sand, and when our time on earth is through I will remember; the finest thing I've ever done is simply loving you.'
Bob's final years were spent in Bigfork at Rising Mountains Assisted Living Facility. He created a
wonderful botanical area and spent many happy days watching birds and his garden area thrive. He had many close friends throughout his life; Bob was always a huge presence to everyone who knew him. He was entertaining, stubborn, educated. Bigger than life. He was so very loved and will be missed forever by those that loved him.
A memorial and grave service will be conducted at some point in the future. Rost family reunions are usually held every other year at the old homestead on Swan River. The current pandemic prevents the service being held in 2020. A future time has not yet been determined but will hopefully occur in July 2021.
---