Runners tackle challenging course at home XC meet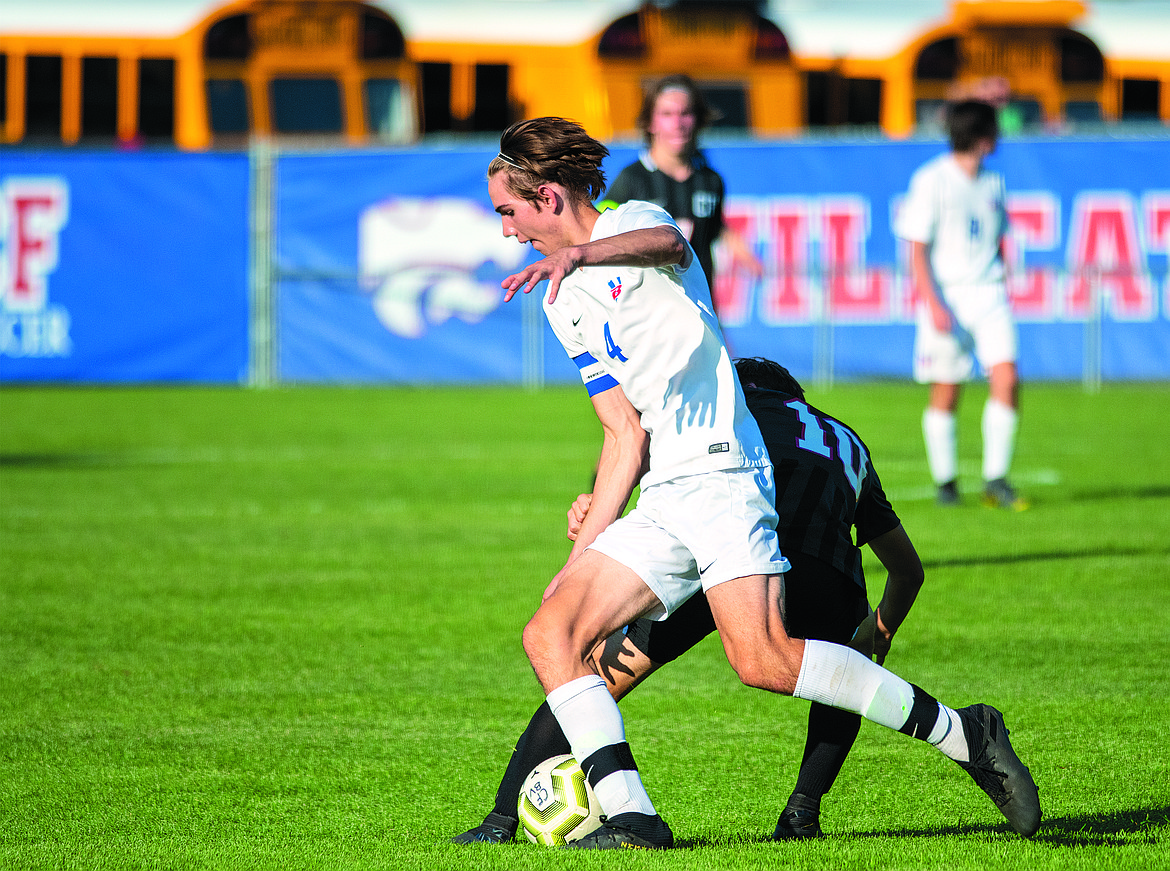 Ben Pilskalns fights for possession against a Columbia Falls defender. (Chris Peterson/Hungry Horse News)
Chris Peterson
by
JEREMY WEBER
For the Eagle
|
September 16, 2020 2:55 AM
Several of Bigfork High School's sports teams were in action close to home last week as volleyball and cross country hosted events while the Vikes and Vals soccer teams played in Columbia Falls.
Cross Country
According to head coach Beau Wielkoszewski, the home cross country meet Saturday was only the second such event hosted in Bigfork in the past 40 years as the Vikings and Valkyries runners welcomed Mission and Thompson Falls.
With several new trails in place for its residents, Wielkoszewski said the Saddlehorn Community was the perfect location for Saturday's races.
"They invited us many times to come use those trails and we have been there running a couple of times a week, so it was the perfect place for us to be able to host a meet," he said. "It was kind of an intimidating course, but the high schools designed it themselves and they enjoyed it."
With a mix of asphalt roads and single track trails that featured quite a bit of elevation change, the course was a departure from what most Montana high school cross country runners see these days.
"A lot of these kids only run on golf courses these days - definitely not the kind of cross country that I or many of today's coaches grew up running," Wielkoszewski said. "So many meets these days are held on golf fairways, which gets pretty old after a while. There were no personal records set on this course this time around, but that was pretty much by design. It was a challenging course for sure."
The Vikings runners put together a strong performance, coming in just behind winner Thompson Falls to take second as a team. Elliot Sanford led the way with a third-place finish with a time of 20:33 while Colton Ballard was sixth at 21:06, Colton Wroble was seventh at 21:17, Shelton Woll was ninth at 23:18 and Elijah Albert earned 13th with a time of 25:03.
The Valkyries did not have enough runners in the field to earn a team score, but Grace Stewart took third with a time of 24:50 while Tabitha Raymond was fourth at 25:14.
The Bigfork junior high team took first at the meet as Noah Hamilton-Dixon took first, Zach Flink was second, Nic Gustavson was third, Bradley Wood was sixth and Jacob Whitley finished eighth.
For the junior high girls, Hadley Nollan took first place, Sasha Steeyee was fourth, Anna Kirby finished seventh and Amelia Flink was ninth.
If the smoke clears from the area, the Bigfork runners will be in action again next week as they compete at the Thompson Falls Invitational on Thursday.
Volleyball
The Valkyries were at home Friday as they fell to Anaconda 19-25, 23-25 and 7-25.
Jessa Newton and Mackenzie Holton combined to record all 11 of Bigfork's assists in the contest as Newton finished with six and Holton added five.
Jessy Frey had seven of the team's 17 kills and also led in blocks with four while Myranda Gray added six kills.
Allie Reichner recorded 12 of the team's 25 digs and Holton led in aces as she had four of the team's five in the contest.
The Valkyries play at Mission Thursday before hosting Eureka for their Homecoming contest Tuesday.
Soccer
It was a rough evening for the Valkyries soccer team in Columbia Falls Friday as they fell to the Wildkats 5-0 in a non conference matchup.
Head coach Tim Guenzler said his team put up a good fight against a Wildkat squad that made it to the state semi finals last year, but the experience level of the Columbia Falls squad won out in the end.
"They're great competitors and they are well coached. We learned a lot from the game, though, and we will learn even more from it when we go over the film. We are a really young team and we got some valuable experience," Guenzler said. "We had some moments where we really played well and I saw a lot of good things, despite the loss."
In boys action, the Vikings also fell to the Wildcats 5-0.
Both squads are scheduled to host Libby Saturday, if the smoke clears from the area. The Valkyries are set to begin at noon with the Vikings playing at 2 p.m. Both teams are also scheduled to play in Columbia Falls again Tuesday for conference games with girls beginning at 5 p.m. followed by boys at 7 p.m.
Football
Keaton Potter scored his second touchdown of the game in overtime and Class A Lewistown upended Bigfork 22-14 Saturday in a non-conference football game.
The Western B Vikings (2-1) were on the verge of nailing down a third straight victory when they lost a fumble, setting Lewistown up at the Bigfork 31-yard line with 3:41 left in the game.
The Eagles, who had an earlier fourth-quarter drive end on downs at the Bigfork 7, got a 1-yard touchdown run – and the two-point conversion run – from quarterback Seth Norslien with just 1:15 left.
The Eagles got the ball first in overtime and were able to punch in with Potter, who also added the two-point PAT run. Bigfork's possession ended with an incomplete pass by Cormac Benn from the 4-yard line.
Bigfork outgained Lewistown 336 yards to 283.
Benn ran 29 times for 126 yards and a TD; George Bucklin added a 6-yard scoring run and picked up 79 yards on 10 carries. Quarterback Patrick Wallen rushed for 81 yards.
Potter picked up 123 yards on just 12 carries, including a 38-yard scoring burst. Norslien threw for 121 yards and ran for 54.
Levi Taylor led the Bigfork defense with 11.5 tackles. Isaac Bjorge made 8.5 stops.
Lewistown 0 6 0 8 8 – 22
Bigfork 8 6 0 0 0 – 14
B – George Bucklin 6 run (Bucklin pass from Patrick Wallen)
L – Keaton Potter 38 run (Isaiah Marquart pass from Seth Norslien)
B – Cormac Benn 4 run (pass failed)
L – Norslien 1 run (Norslien run)
L – Potter 1 run (Potter run)
Reporter Fritz Neighbor contributed to this report.
---