Bigfork volleyball takes two week hiatus due to COVID-19 concerns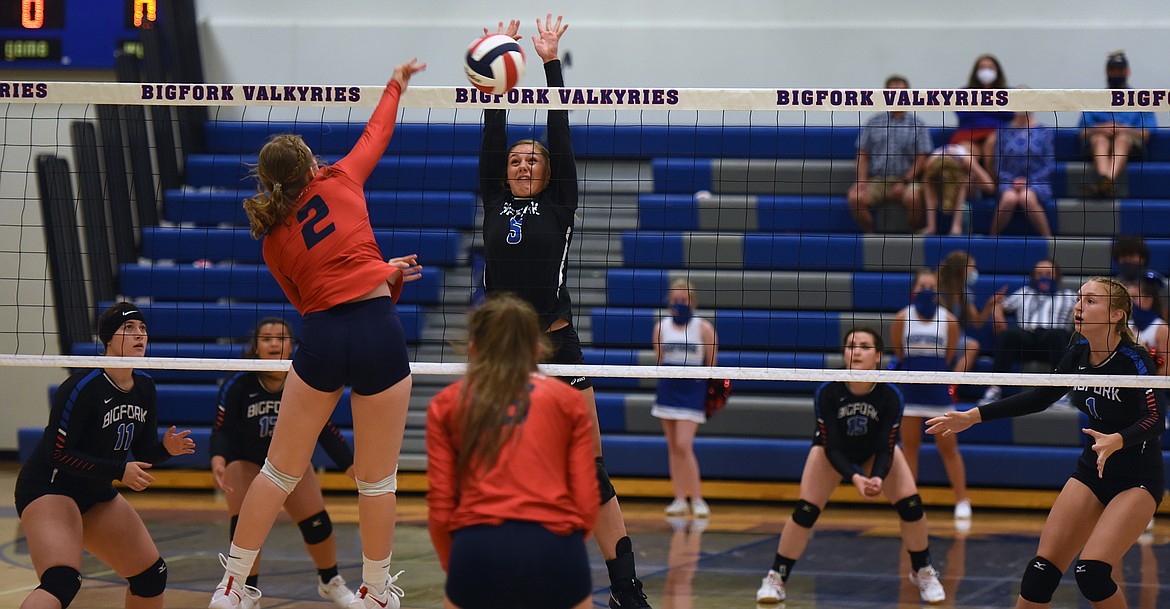 Valkyrie Madison Chappuis blocks a shot from Loyola's Natalie Clevenger during action in Bigfork in early September.
Jeremy Weber
by
JEREMY WEBER
For the Eagle
|
September 23, 2020 2:00 AM
Bigfork High School's volleyball team will be off the court for at least the next two weeks due to COVID-19 concerns after several players were put into quarantine over the weekend.
The decision comes after one player tested positive for the virus and the county found that she had significant contact with several other members of the team.
The quarantined athletes leave the Valkyries short of enough active players to participate in competition at the moment, with just two senior varsity players and three sophomores available for the next two weeks.
"We had a positive case and it impacted some of the volleyball players, so we're just unable to muster up a team at this time," Bigfork Athletic Director Matt Porrovecchio said. "It's unfortunate, but I think we all anticipated it happening at one point or another."
According to Porrovecchio, the students affected are healthy and taking all necessary precautions.
"Right now it is just contact tracing. Right now the kids are all healthy and doing well. We just have to be careful. It is what it is," he said.
The situation comes directly after the Valkyries had picked up their first sweep of the season, taking down conference foe Mission in three sets Saturday.
"I had been telling the girls from the beginning this year that we have no idea how long we will get to play this season and we should play every game like it could be our last," head coach Ariel Stallknecht said. "I'd like to think that we will be back playing in two weeks, but you never know."
As of right now, the Valkyries have been forced to cancel upcoming matches against Eureka, Troy, Whitefish and Thompson Falls - including their homecoming contest Tuesday - but Porrovecchio says any lost conference contests will not count against the Valkyries and will be rescheduled at a later date.
"We are working on rescheduling conference games and doing the best we can, but there is just no way around it. We will not be penalized for it, though," he said. "We don't take any day that we get to play sports for granted. We are lucky to be out there and we need to enjoy it as much as possible."
---