Vikings show solidarity with other schools through practice dedications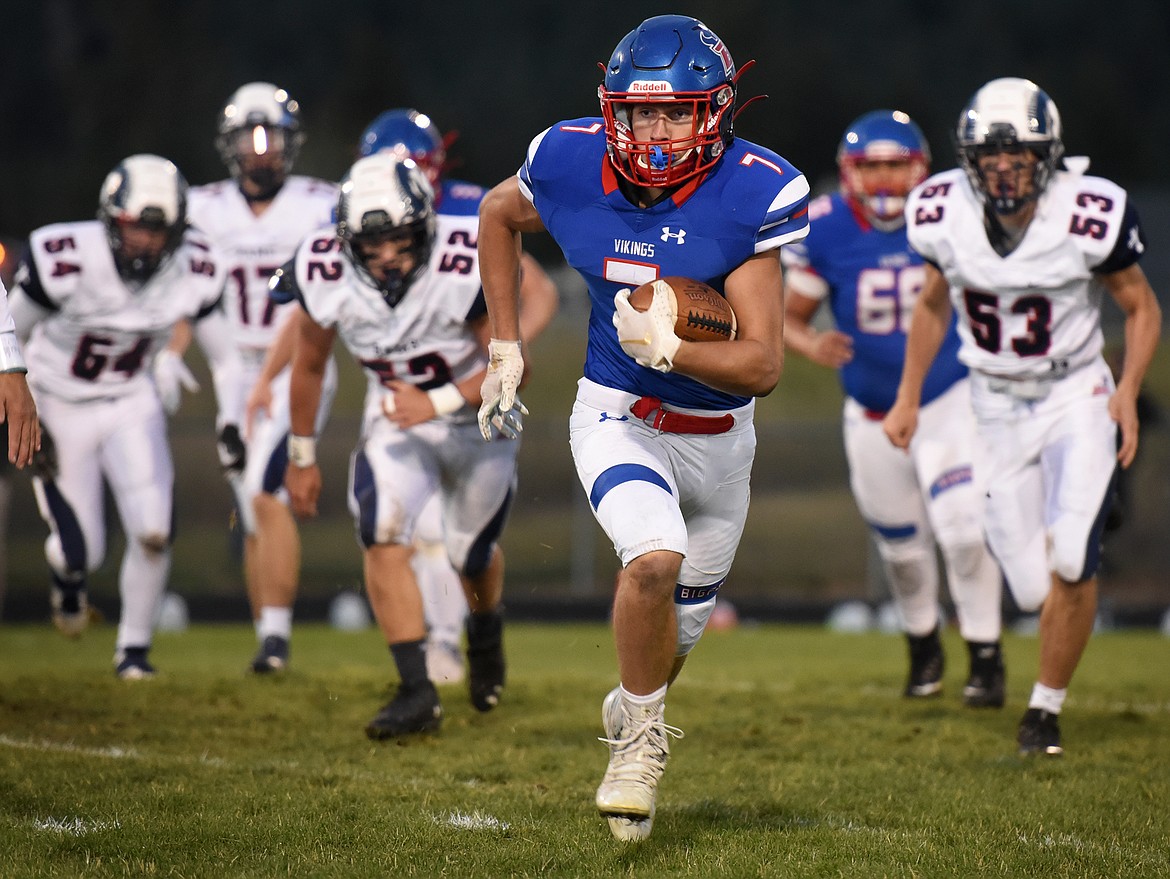 Cormac Benn leaves the defense behind as he runs for a big gain in the first quarter against Loyola Friday. (Jeremy Weber)
by
JEREMY WEBER
For the Eagle
|
September 30, 2020 2:05 AM
As COVID-19 continues to have an effect on sports teams around the country, Bigfork High School football coach Jim Benn and his Vikings are going the extra mile to show their support for their fellow athletes.
Since practice began in August, Benn and his players have been using Twitter to dedicate their practices to teams -both high school and college - around the country who are unable to take the field at this time.
From California's Ripon Indians and Davis Blue Devils (who won't get to play football until January at the earliest) to Washington D.C. based Catholic University Cardinals, the Plymouth, Minnesota Providence Academy Lions and beyond, Benn and his Vikings have been sending messages of support and camaraderie to let their fellow athletes know they are not alone in what they are facing during these tough times.
"Things are not normal and there are a lot of kids around the country that would love to be in our place right now, getting to have practices and play games. One of the great things has been seeing some of the teams we have dedicated practices to later getting to go out and start playing themselves," Benn said. "I don't know if what we have done has had any kind of impact on what happens in other places, but we just want to give those teams hope - hope that they too will get the chance to play."
While some of the teams they have dedicated practices to have finally been able to get their seasons underway, several have not.
For first-year Vikings coach Benn, whose son Cormac is a senior on the football team, the idea for the dedications started forming back in the spring, when Cormac and he were missing out on track season at Loyola in Missoula, where Jim was also the track coach. When the time came to start football practice, Jim wanted to show support to other schools while also letting his players know how lucky they were to be able to play.
"With it being my son's senior year and not even knowing if we were going to get to have a season, we knew that is something that teams around the country are having to face. We wanted to recognize that in some way. The idea was really born out of frustration," Jim said. "It's easy to get angry when you are missing out on things, but we are trying to stay focused and stay positive. There is so much negativity in the world right now that I want to make sure our kids here can highlight the positive things."
While Jim did research to pick some of the teams his practices have been dedicated to so far, several others had a more personal meaning for him. His parents both graduated from Ripon High (the defending California small-school football champions, while his uncle lives in Davis California, home of the Blue Devils.
This last week marked the first time this season that the Vikings did not dedicate their practices to another team, last week was reserved for the handful of Bigfork players that have been taken off the field after being quarantined for possible COVID-19 exposure.
"We have been doing this for other teams, but it was time to play for our own players that are out because they are quarantined. They don't even know if they are going to get sick or not, but they can't come to school and see their friends. We played for them," Jim said.
The Vikings played well, picking up a 43-0 Homecoming win over Loyola Friday.
With the support of his fellow coaches, players and their parents, Jim says he wants to keep the dedications going as the season continues, he just needs to find more teams to recognize.
"I really do want to keep this going moving forward. I just need some help finding teams to dedicate to. I have been doing research and looking for new teams, so I really do want to keep this going," he said. "It's small things like this that are cool about sports and keeps us connected. It's so much more than just showing up and playing a game. Sports help us create relationships that affect our lives. It's not so much about Friday night as it is about all of the little moments in between each Friday night."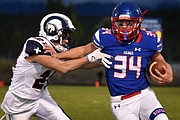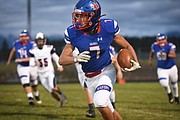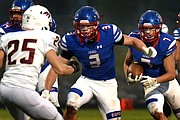 ---