Track teams face strong winds in Kalispell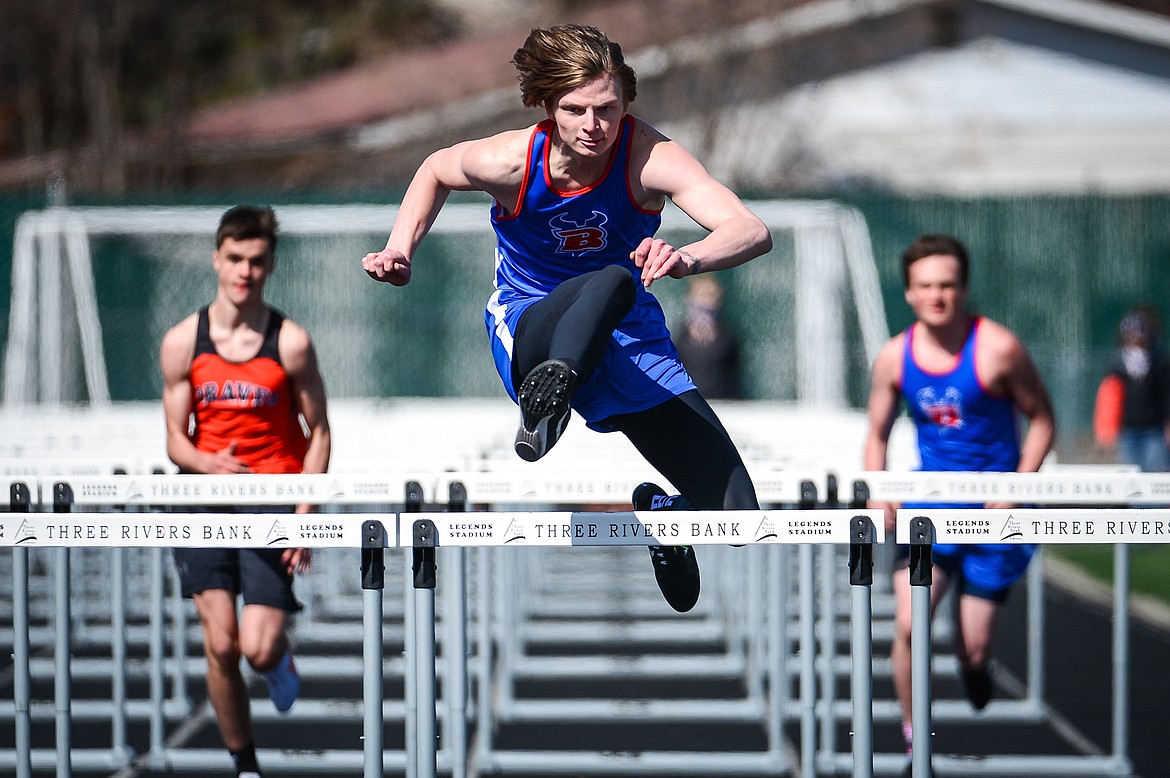 Bigfork's Wyatt Duke competes in the 110 meter hurdles during a track and field meet with Whitefish and Flathead high schools at Legends Stadium on Tuesday. (Casey Kreider/Daily Inter Lake)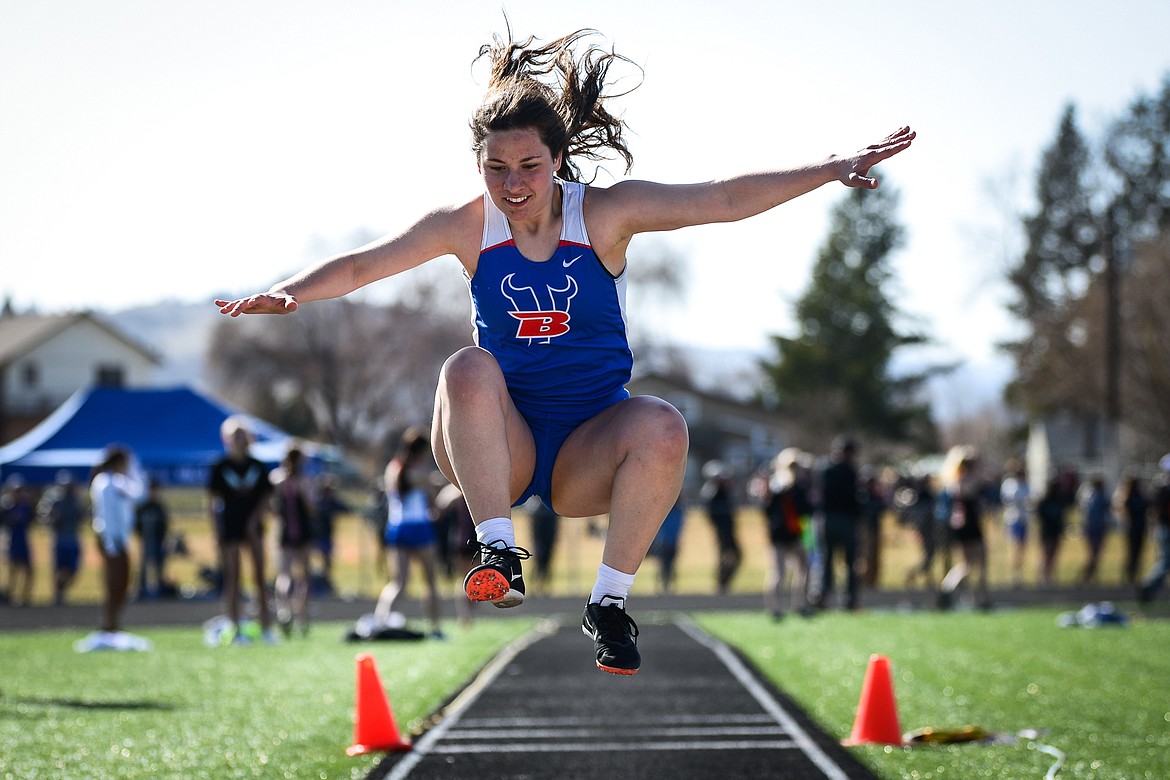 Bigfork's Olivia Pendlay competes in the triple jump during a track and field meet with Flathead and Whitefish high schools at Legends Stadium on Tuesday. (Casey Kreider/Daily Inter Lake)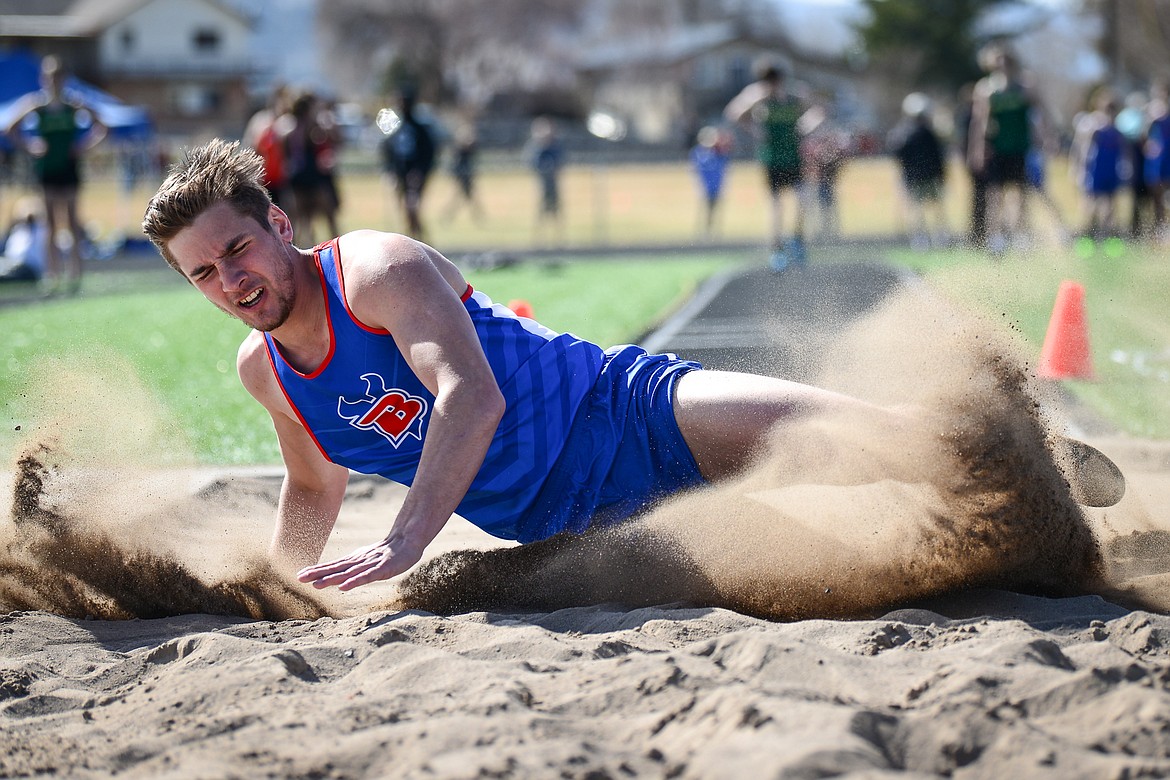 Bigfork's Cormac Benn competes in the long jump during a track and field meet with Flathead and Whitefish high schools at Legends Stadium on Tuesday. (Casey Kreider/Daily Inter Lake)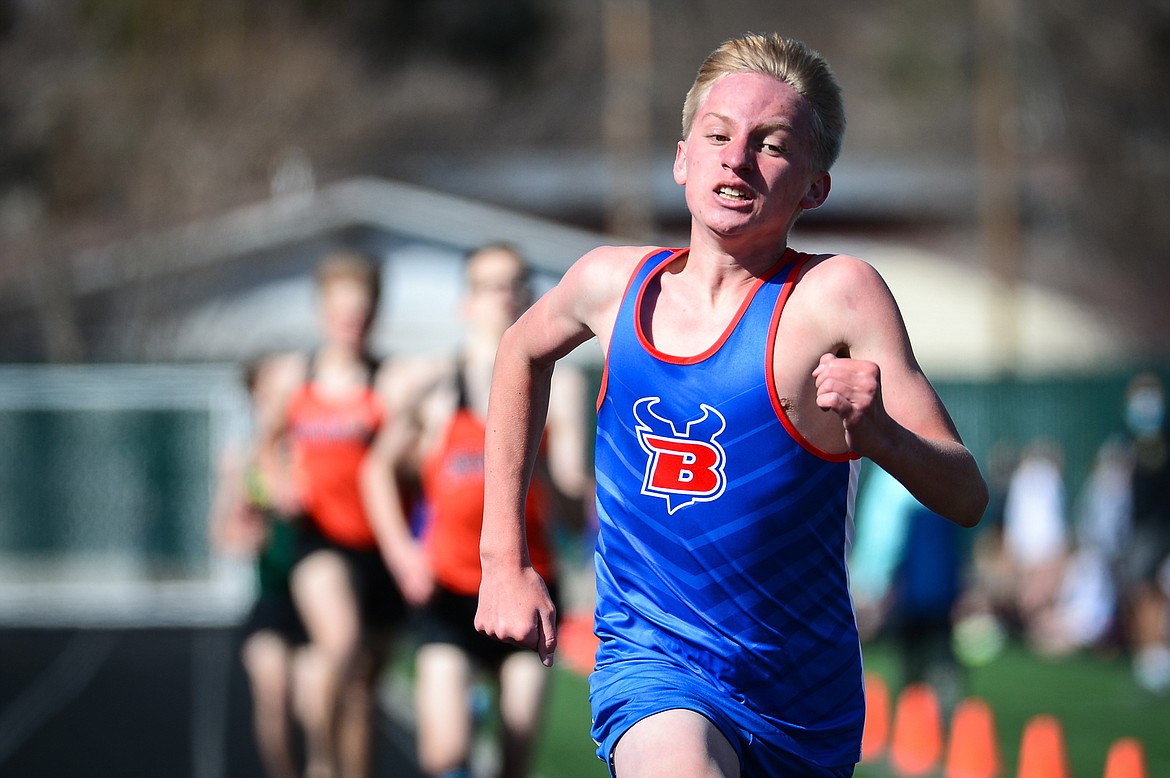 Bigfork's Jack Jensen approaches the finish line in the 1600 meter run during a track and field meet with Flathead and Whitefish high schools at Legends Stadium on Tuesday. (Casey Kreider/Daily Inter Lake)
Flathead's Alec Thomas and Bigfork's Noah Kinslow approach the finish line in the 400 meter relay during a track meet with Flathead, Bigfork and Whitefish high schools at Legends Stadium on Tuesday. (Casey Kreider/Daily Inter Lake)
Previous
Next
Bigfork's track teams continued to do well in a busy second week of competition last week with a meet against Flathead and Whitefish at Legends Stadium in Kalispell Tuesday followed by a much larger meet at Frenchtown Friday.
The Vikings and Valkyries battled extremely windy conditions in Kalispell Tuesday as the boys had 30 top-5 finishers while the girls, battling sickness, had 11.
"I was quite impressed with everyone's performance overall, since the wind was so awful," head coach Sue Loeffler said. "I thought we did really well, considering the conditions."
Vikings athletes recorded 10 personal bests at the meet and took first place in nine events Tuesday, led by Wyatt Duke's pair of top finishes in the 110 hurdles and the high jump and Cormac Benn's wins in the 200 meter dash and long jump.
Duke ran away with the 110 hurdles, winning the event by nearly two seconds with a time of 17.86 seconds while Jordan Betts took second for Bigfork.
Duke cleared 6 feet, 8 inches in the high jump to easily win the high jump while teammate Elliot Sandford cleared 5 feet, 9 inches to take second.
Benn set a new personal best of 24.56 seconds to win the 200 meter dash and also set a personal record of 12.37 seconds in the 100 to take fourth while Joseph Farrier was second at 12.33 seconds. Benn's new personal best of 20 feet, 8 inches won him first in the long jump.
Jack Jenson had a strong day for the Vikings, winning first in the 1,600 with a time of 5:04.61 and second in the 800 at 2:15.90.
Wyatt Johnson was a winner in the 300 hurdles, posting a time of 45.35 seconds, while Betts was second at 47.66.
Farrier, Levi Peterson, George Bucklin and Noah Kinslow took second in the 4X100 relay with a time of 46.12 seconds while the team of Shelton Woll, Jackson Abney, Jeremiah Venegas and Benn was second in the 4X400 meter race.
Levi Taylor recorded a personal best toss of 46 feet, 2.5 inches to win the shot put while Silvestre Rodriguez was third in the discus with a personal best toss of 97 feet, 8 inches. Shelton Woll was third in the javelin with a toss of 128 feet, 5 inches.
Seth Osborne won the pole vault after clearing 11 feet while Woll was third at 9 feet, 6 inches.
The short-handed Valkyries had four top-three finishes Tuesday as Addison Reichner was second in the 100 hurdles and the pole vault while Olivia Ellison was third in the discus.
The 4X100 relay team of Audrey Buenz, Chloe Ratts, Afton Lambrecht and Danika Bucklin took third in their race.
Both teams saw much more competition Friday as Bigfork competed as one of 21 teams at the Frenchtown Invite.
The Vikings had six top-three finishes at the meet and compiled 56 points to finish third.
Duke had Bigfork's lone first-place finish at the meet, winning the high jump after clearing a height of 6 feet, 9 inches. The Vikings swept the top three in the event as Benn was second and Sanford took third.
Benn was also second in the triple jump while Osborne was second in the pole vault and Johnson was third in the 300 hurdles.
The Valkyries had a strong day with 21 finishes in the top 10, but only in the top three twice.
Aubrey Buenz was third in the 200 with a time of 28.30 seconds while the 4X400 relay team of Buenz, Ratts, Coralyn Shillam and Lambrecht was third with a time of 4:25.81.
With a grueling week of competition behind them, Loeffler says she is pleased with how the season is coming along.
"We are moving along in the season and I am getting excited because this is the first week we will get a full week to practice with our kids. That is something we really need as we have a lot of things that we need to practice, but just haven't been able to," she said. "This is our opportunity to work on the conditioning and technique that we need to."
This week's practices will also give Benn and Duke the opportunity to work on additional events, as Benn has already qualified for state in the long jump and high jump while Duke has also qualified in the high jump.
"I'm pleased with everything. We are figuring out what the kids are capable of and filling in the gaps that we need to," Loeffler said.
The teams will be in Ronan this weekend as they compete at the Dilly Bar Invitational before traveling to Whitefish Tuesday.
---