Women-led team revamps Electric Avenue restaurant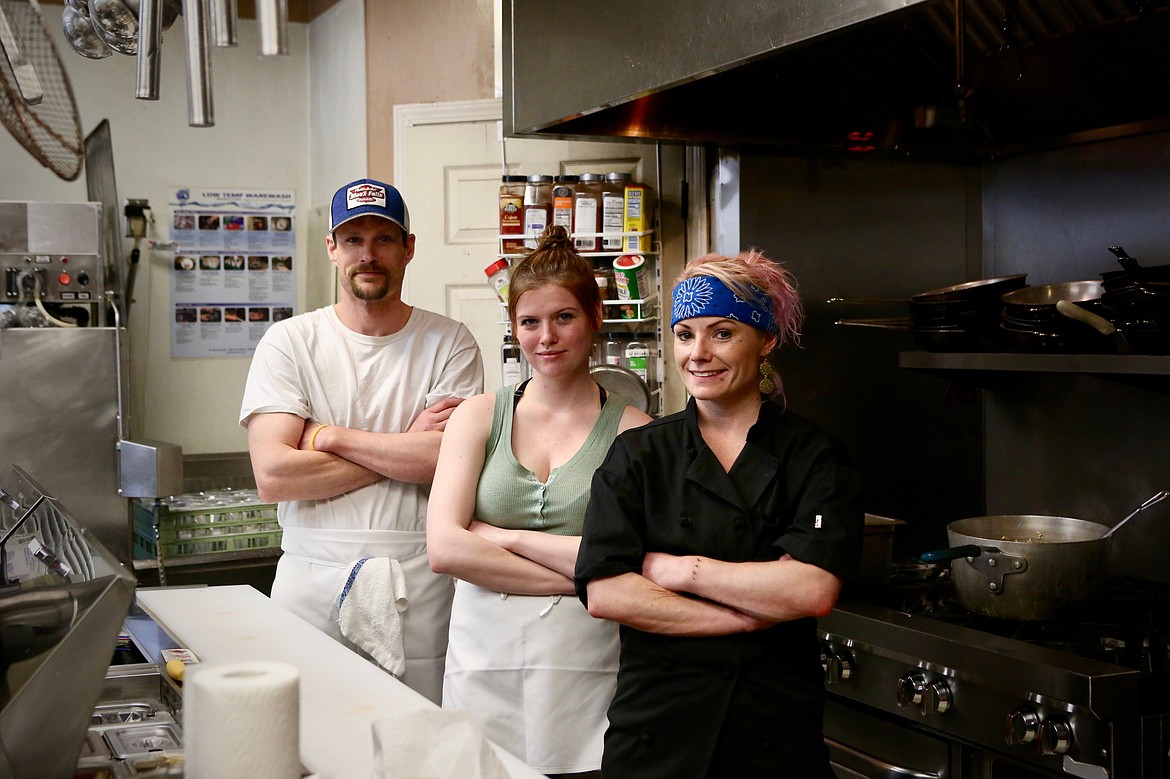 Grille 459 kitchen staff from left to right include line cook Phil Diehl, sous chef Haley Doss and head chef Shanita Lundin. Mackenzie Reiss/Bigfork Eagle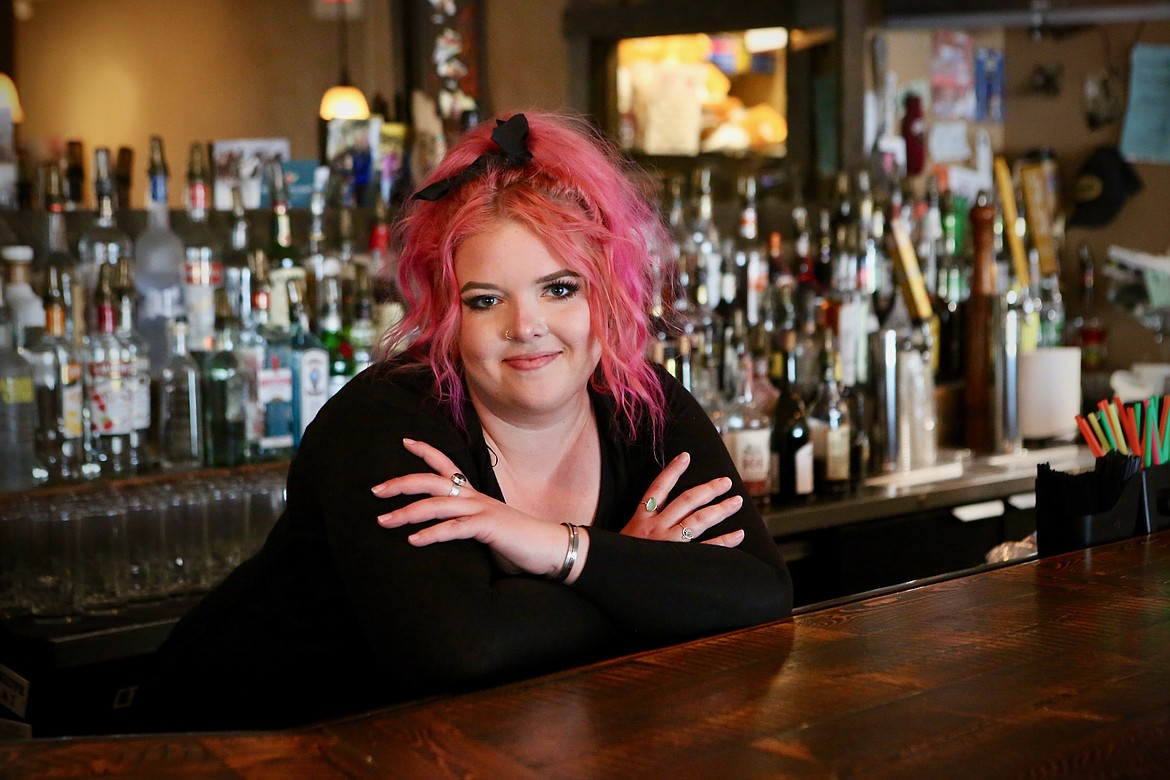 Assistant manager of Grille 459, Maddie Offerdahl, poses for a portrait in front of the bar on Monday. Mackenzie Reiss/Bigfork Eagle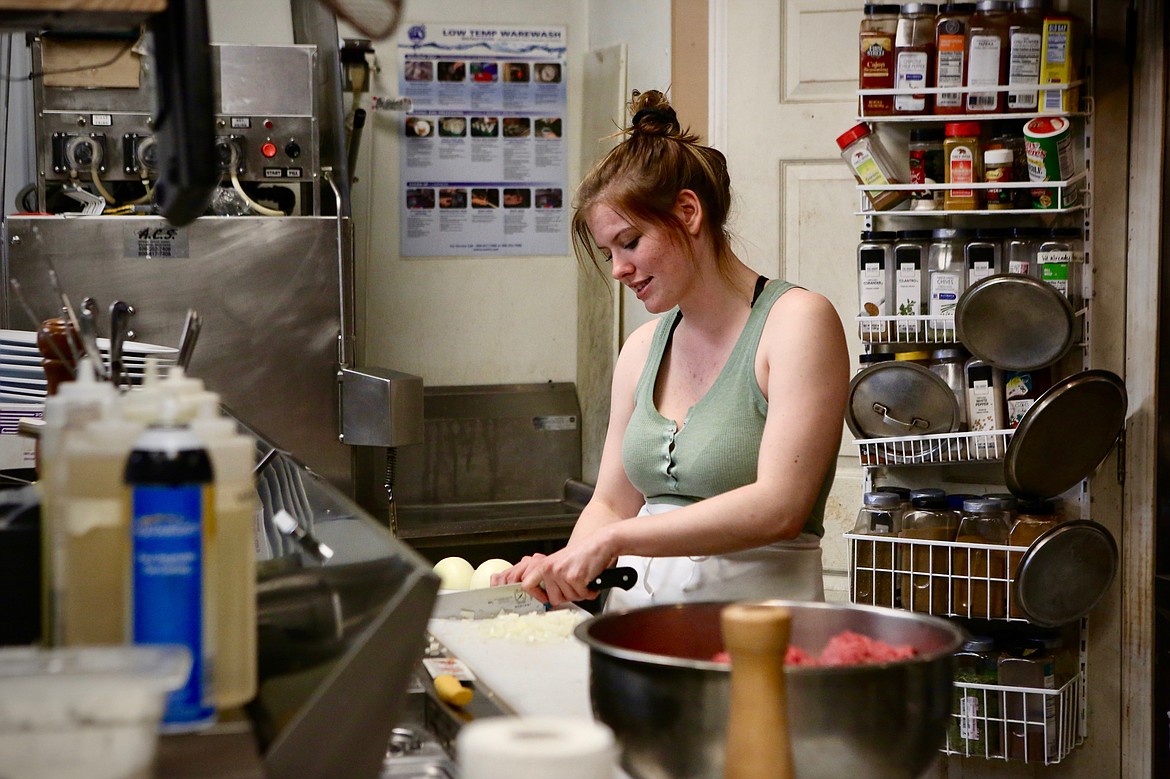 Sous chef Haley Doss chops onions prior to the dinner service on Monday night at Grille 459. Mackenzie Reiss/Bigfork Eagle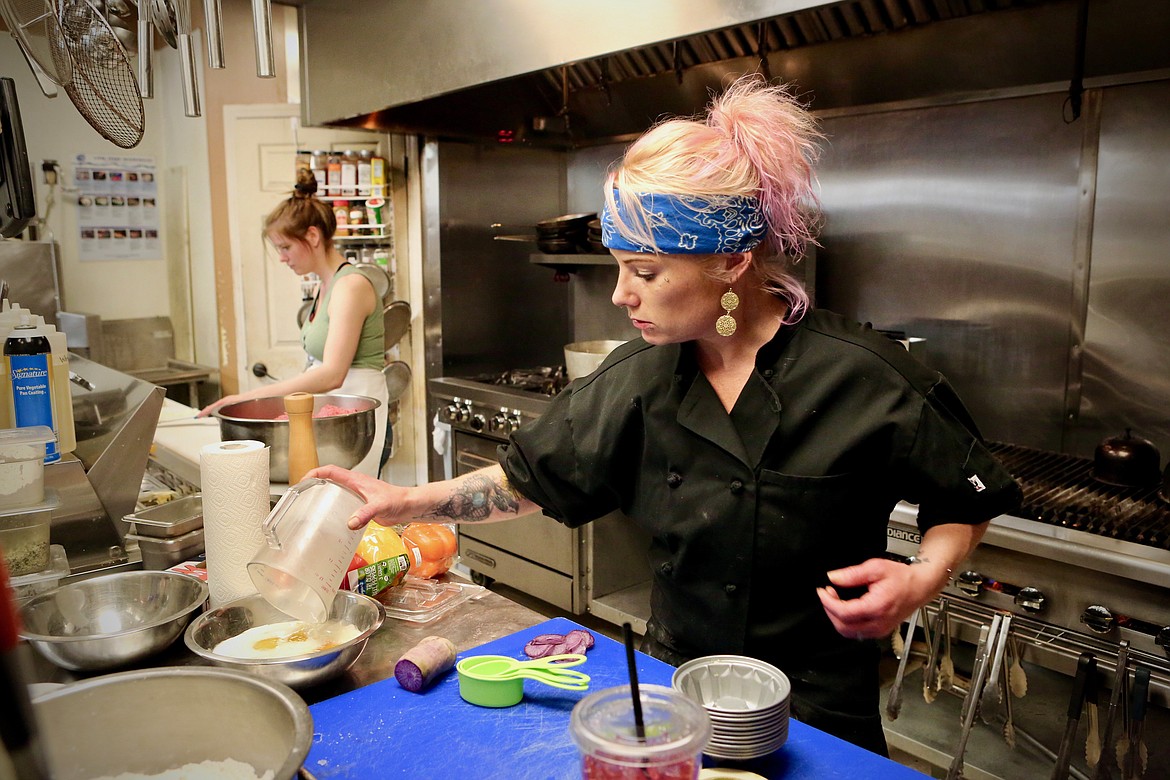 Head chef Shanita Lundin mixes ingredients for a pineapple upside down cake at Grille 459 on Monday afternoon. Mackenzie Reiss/Bigfork Eagle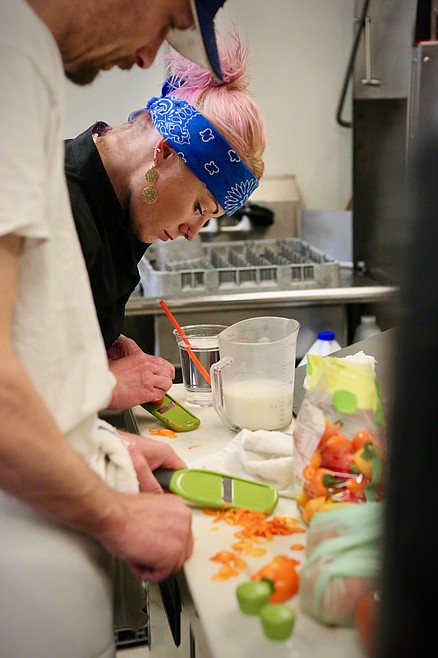 Head chef Shanita Lundin shaves mini bell peppers alongside line cook Phil Diehl. Mackenzie Reiss/Bigfork Eagle
Previous
Next
by
BRET ANNE SERBIN
For the Eagle
|
April 21, 2021 2:25 AM
There's something different about Grille 459 these days.
Maybe it's the aroma of new dishes, like chicken and waffles, wafting out of the kitchen from the Electric Avenue standby.
Maybe it's the sight of Shanita Lundin, the Grille's new chef, darting about the place with her head wrapped in a bandanna like the captain of a ship.
Or maybe it's the chorus of women's voices ringing throughout the establishment, running Grille 459 from front to back.
"A lot of kitchens are male-dominated," observed assistant manager Maddie Offerdahl.
Not Grille 459.
Last fall, Offerdahl's cousin and the restaurant's owner, Joel Haegan, embarked on a revamp of the Bigfork restaurant.
He gave the reins for the front-of-house to Offerdahl, who spent six years working part-time before moving into a leadership role.
He also brought on Lundin as head chef, giving her the freedom to overhaul the menu in her vision.
"Joel needed a change," Lundin recalled. "He was ready for something different."
Nearly everything about Lundin could be called "different."
The Libby native takes a grassroots approach to her cooking. Even though she's been the head chef at Grille 459 for months now, Lundin doesn't have the formal training you might expect of others in her position. She's a self-trained cook on track to officially earn a culinary degree in August. Her partnership with Haegan, she said, was simply "serendipitous."
"The industry is ever-changing," Lundin pointed out. She and Haegan seem to agree that a fresh perspective was just what Grille 459 needed.
Instead of the meat-and-potatoes tradition Haegan took with the restaurant, Lundin wants to highlight fresh produce with experimental flavors and eye-catching visuals—adding meat isn't the default in her cookbook, it's an add-on.
She has plans for a versatile menu that isn't found anywhere else in the Flathead. Some of her ideas include pulled pork sliders, deep-fried banana bread, pad thai and other exotic Asian offerings.
"Our summer menus are going to shock people," Lundin promised.
One of her main goals for Grille 459 is to keep things as local as possible. Lundin is working on partnering with Flathead Valley growers to supply as many of the menu staples as she can. She said she'd like to reach a point where just about everything in her kitchen comes from within a 20-mile radius.
Supporting the community is more important to her and her crew now than ever before.
Offerdahl credited loyal customers from around the valley for helping sustain the restaurant throughout the turbulence of the last year, despite Bigfork's heavy reliance on seasonal tourist business.
In fact, the past winter seemed to be the busiest off-season in Offerdahl's six years at the Grille.
"Locals got us through this winter," she said.
Some of their success might also be thanks to the restaurant's unique makeup.
Grille 459 stands out for its female leadership, and the entire staff consisted entirely of women during the fall and winter.
Both Lundin and Offerdahl said it was a new experience, and a positive one, working alongside so many other ladies.
"That's unheard of," Lundin said. "It definitely changed the dynamic. It created such a bond."
Offerdahl agreed. She said the all-woman team communicated exceptionally well with one another, and it felt like some of the normal pressures and expectations of restaurant work lifted off of the staff.
The seasonal summer workforce at Grille 459 is mixed-gender, but the leading ladies there said the new hires bring something helpful to the table, too.
"Change is inevitable," Offerdahl pointed out, reiterating the philosophy that's been guiding Grille 459 for months. "This summer, I think, is going to be so fun."
---