Whitewater Festival returns this May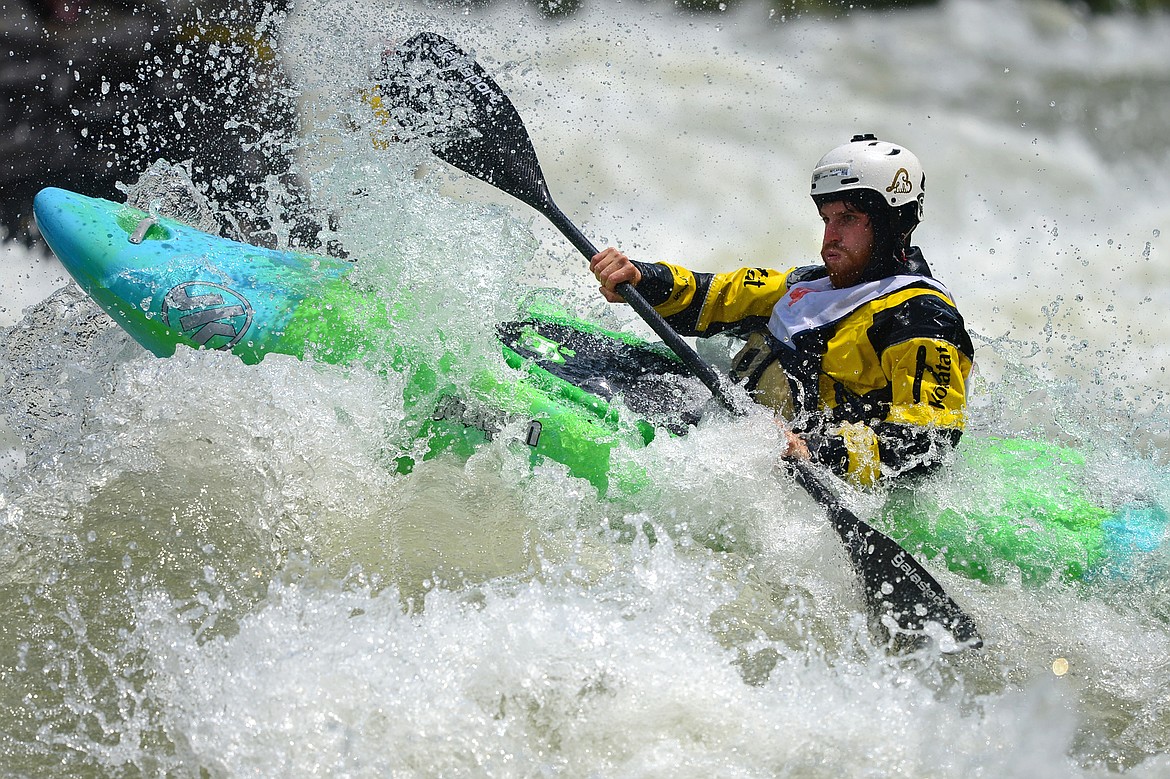 A kayaker paddles down the Wild Mile in Bigfork.
River runners rejoice — the Bigfork Whitewater Festival is back on next month after a one-year hiatus due to COVID-19. The festival, now in its 46th year, takes place on a turbulent stretch of the Swan River, known as the Wild Mild for its Class IV rapids and lures kayakers from Montana and beyond. Paddlers tackle world-class whitewater in a variety of events, such as the slalom where racers pass through a series of gates while heading down steam or the down river event, an all-out sprint to the finish line. The festival is Bigfork's longest running event and will take place the weekend of May 28-30. Excellent viewing opportunities abound for spectators along the Swan River Nature Trail — most notably near Big Rock. The majority of racing action takes place Saturday and Sunday, with a few special events on Friday evening to get the adrenaline pumping before the festival's main acts. One to watch is Friday's Boater-X event, where 20-25 boats careen down the Wild Mile at once. The upper slalom and giant slalom events include varying numbers of obstacles and the most intense whitewater action, while the lower slalom features class II and III rapids and is designed for advanced beginner to intermediate boaters.
Whitewater Festival Champion will be awarded to the individual with the fastest combined time of the upper slalom, down river and giant slalom races.
Back on this year's agenda is the stand up paddleboard race around Bigfork Bay, which will be held Saturday according to race organizer Sarah Peterson.
"That's a nice option to get more community involvement —There's no whitewater — anybody can enter to participate in that," Peterson noted.
Female paddlers will also be eligible to win just as much prize money as their male counterparts, a move that Peterson hopes will encourage more women to compete on the water.
"We have a smaller group of female paddlers that attend the festival, and it's growing every year," she explained. "They're running down the same river … we feel that the prize money should be equal."
The vendor area will be dispersed throughout downtown Bigfork this year, in an effort to limit congregating in one central area.
"Luckily this is an outdoor event, primarily, and there's a lot of room to spread out along the river corridor to watch," Peterson explained.
This year, Peterson said, interest in the festival is high. Local and regional paddlers are excited for a chance to compete, although they won't see much of an international presence this year due to the continued closure of the Canadian border.
The Bigfork Whitewater Festival got its start more than 40 years ago and was born out of post-kayaking conversation at the Garden Bar.
"I think it just started with people doing it on their own. They'd head to the Garden Bar after running the race and somebody there got to talking and said let's have you guys race down the Wild Mile and for the fastest kayaker, I'll buy pizza and beer," Peterson said.
Over the years, the field and prizes have grown and the whitewater has continued to draw paddlers of all levels.
"It's kind of amazing to have such a world-class river right here in our little town," she said.
---