Vikings aim for improved season as practice begins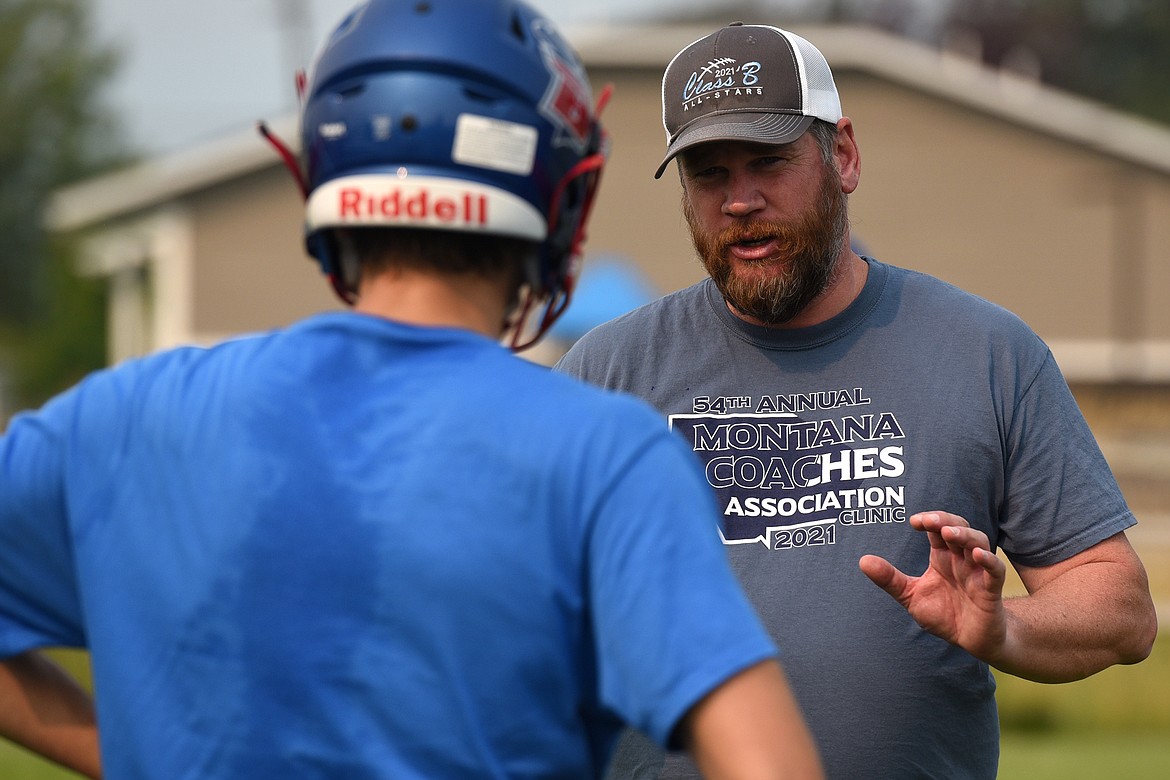 Vikings head coach Jim Benn gives instruction during the first day of football practice Friday. (Jeremy Weber/Bigfork Eagle)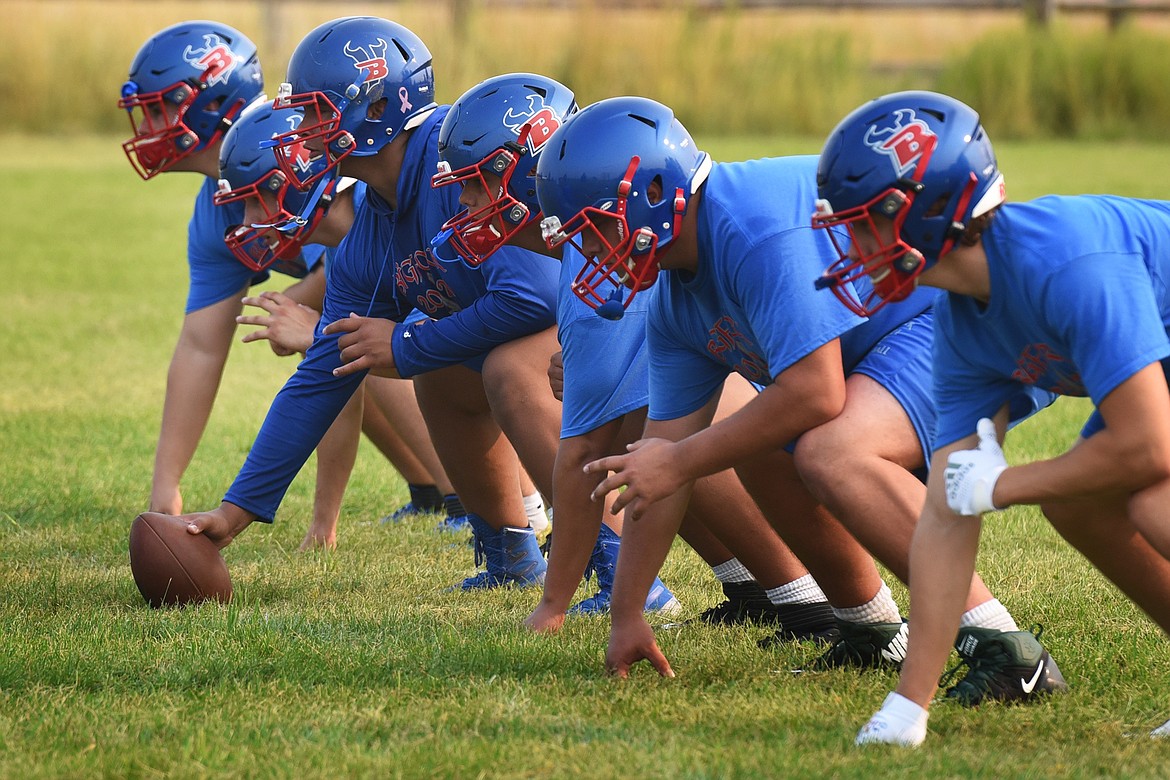 The majority of the Vikings offensive line will be returning this season. (Jeremy Weber/Bigfork Eagle)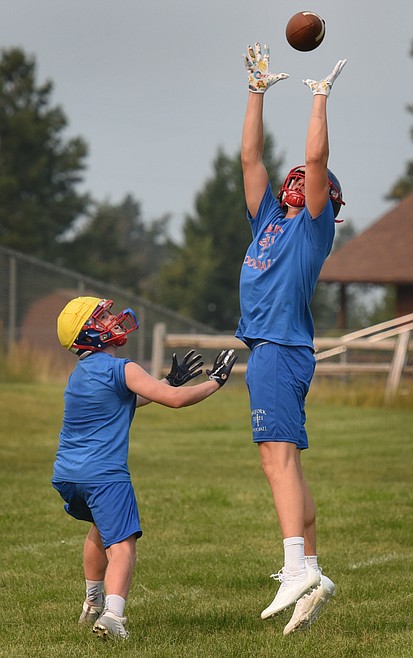 Nick Walker jumps over Thomas Eberly to catch a pass during seven-on-seven drills at the Vikings first football practice Friday. (Jeremy Weber/Bigfork Eagle)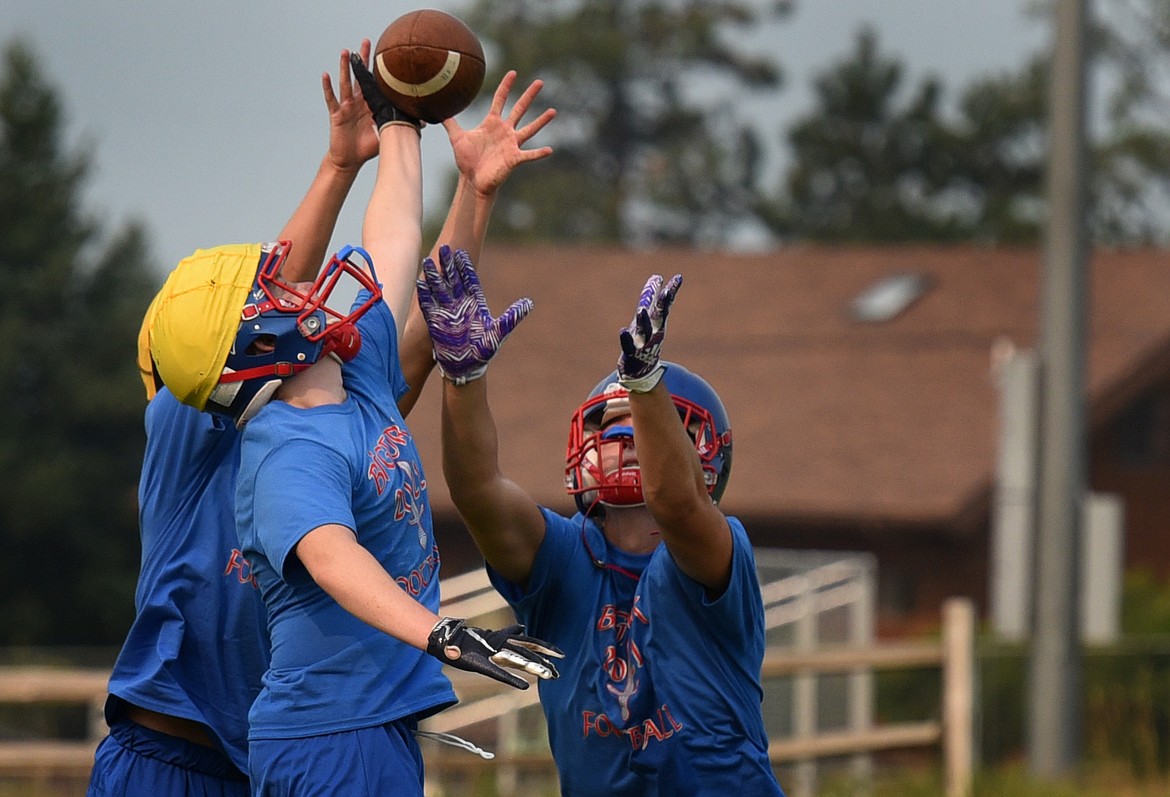 Two defenders knock down a pass from a would-be receiver during seven-on-seven drills at the Vikings first football practice Friday. (Jeremy Weber/Bigfork Eagle)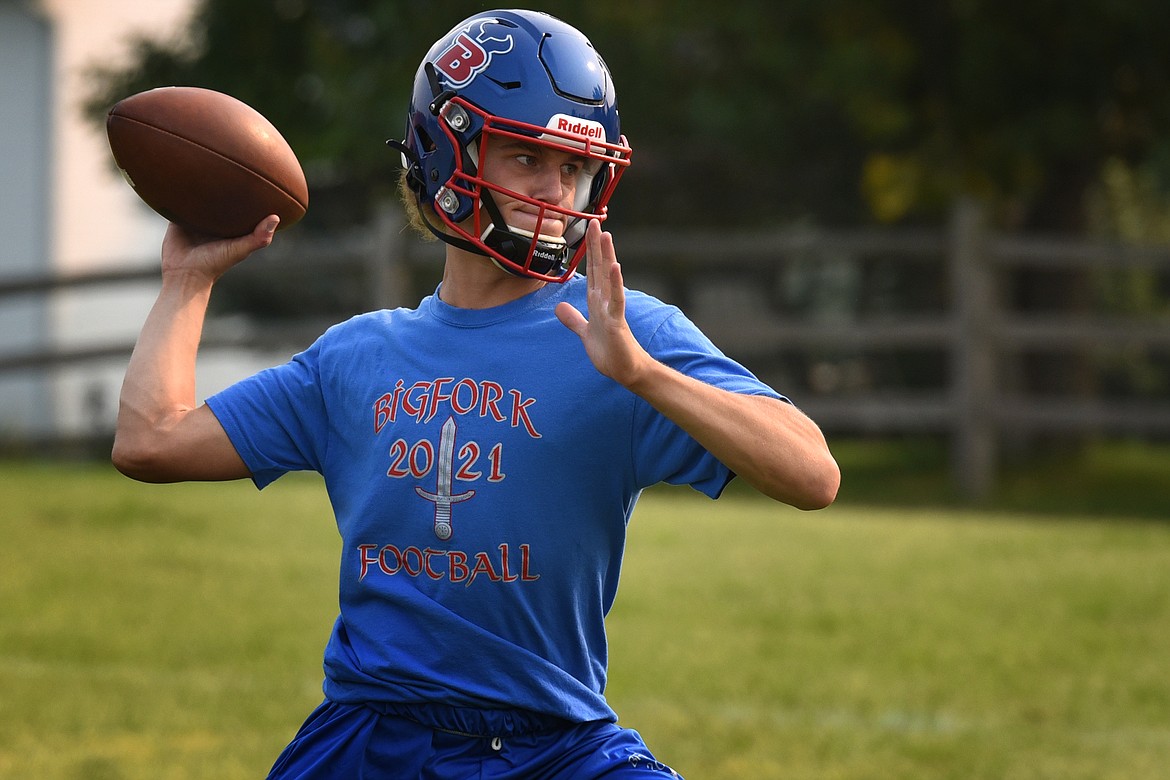 Quarterback Patrick Wallen will be returning for his third year as a starter for the Vikings this season. (Jeremy Weber/Bigfork Eagle)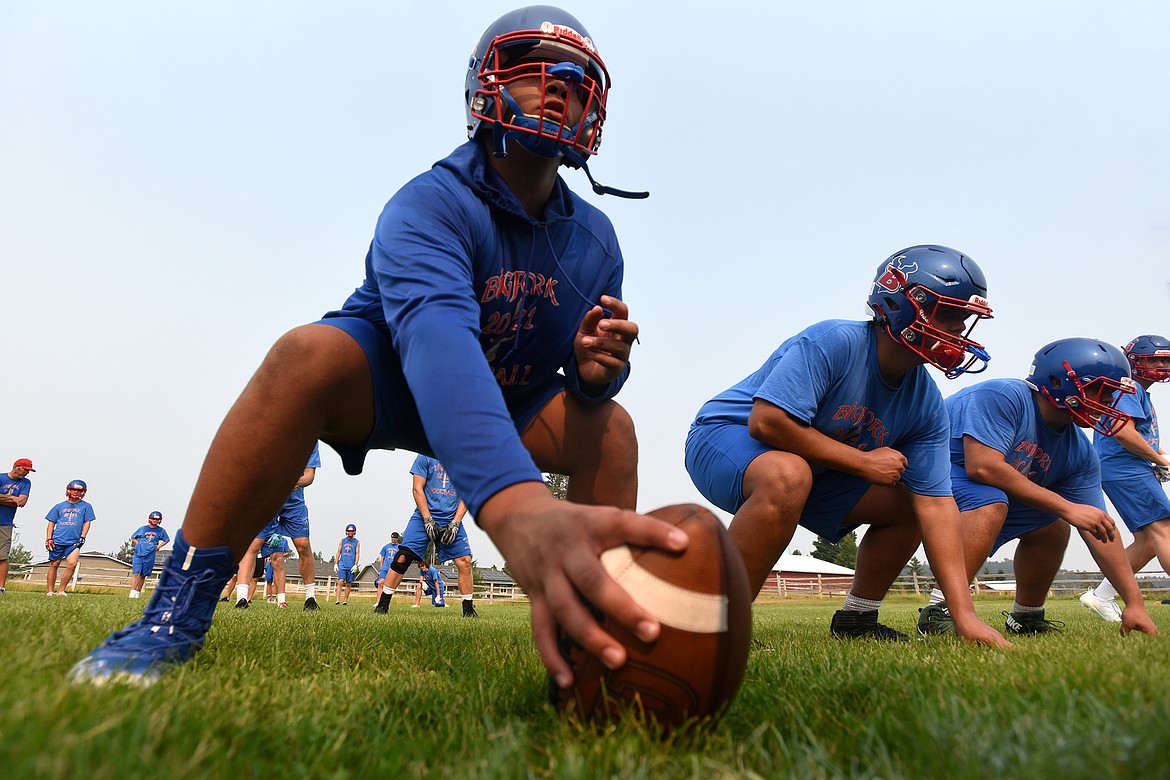 George Brown prepares to hike the ball during Vikings football practice Friday. Brown and the majority of last season's offensive line will be back in 2021. (Jeremy Weber/Bigfork Eagle)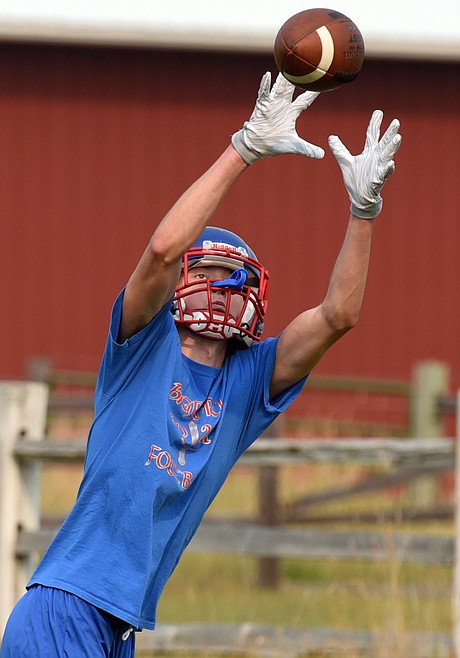 Isak Epperly goes up to catch a pass during Vikings football practice Friday. (Jeremy Weber/Bigfork Eagle)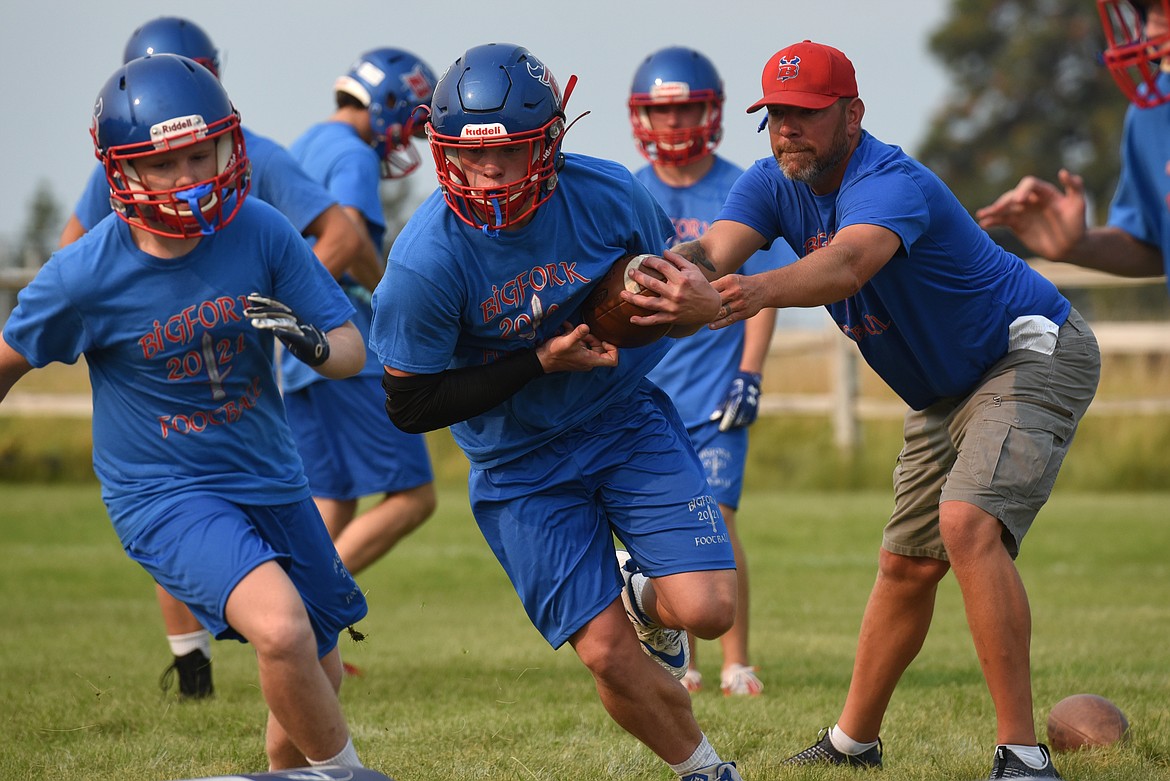 Fullback Levi Taylor is the Vikings top returning rusher from the 2020 season. (Jeremy Weber/Bigfork Eagle)
Previous
Next
by
JEREMY WEBER
For the Eagle
|
August 18, 2021 1:00 AM
The Bigfork Vikings are looking to improve on their 6-4 season from a year ago as the football team hit the practice field for the first time Friday.
The Vikings are coming off an unconventional 2020 season that saw the team make the Class B playoffs despite several Covid-induced schedule changes and a number of quarantined players throughout the season.
As the new season gets underway, Head Coach Jim Benn is optimistic.
"We are prepared for this season. We had an actual offseason and we know what to expect as this season gets started," he said. "The pandemic isn't looming over our heads as much and the kids are getting used to me. I got the job pretty late last year, so I feel much more prepared heading into this year."
The Vikings will be looking to fill the hole left by Cormac Benn, who led the state of Montana in rushing with 1,934 yards and 25 rushing touchdowns as a senior last season. His 214.9 rushing yards per game as a senior ranks second all-time in Montana high school history, and his 381-yard performance vs. Polson is Montana's fifth-highest single-game total all time.
At the helm again this season will be three-year starter at quarterback Patrick Wallen for his senior season. Wallen threw for 269 yards in 2020 and ran for an additional 147.
Joining Wallen in the backfield will be fullback Levi Taylor, the team's second-leading rusher last season with 783 yards. Taylor also recorded 35 tackles as a linebacker on defense for the Vikings in 2020.
Making running lanes for Taylor and his fellow running backs will be an experienced group of offensive linemen, including George Brown, Braeden Guse, Ethan Rodriguez and Sylvester Rodriguez.
On the defensive side of the ball, Bryce Gilliard will be looking to build on his 36 tackles from last season while Wyatt Herd finished 2020 with 28.
The Vikings open their 2021 schedule against a trio of teams that struggled last year as they face off against Cut Bank on the road Sept. 3 before Conrad at home the following week and hosting Jefferson Sept. 17.
The three teams combined to go 5-16 last season.
Bigfork will celebrate Senior Night Sept. 24 as the Vikings host Whitehall, which went 6-3 last year.
The Vikings will be at Loyola Sacred Heart Oct. 1 before returning to Bigfork to celebrate Homecoming against Anaconda Oct. 8.
The Vikings will be on the road for their final two games of the regular season as they face Lincoln County in Eureka Oct. 15 and Florence-Carlton Oct. 22.
With three weeks until the regular season begins, Benn says his Vikings are focusing more on themselves than worrying about their opponents.
"We want to have a great attitude, great effort and great enthusiasm. Those are the things we can control," he said. "We can't control the smoke, we can't control what is going on in the world and we can't control anyone else by ourselves. With that in mind, we are going to focus on what we can control."
---