From pandemic unemployment to receiving "Best Chef" in Bigfork, Schafer's Jeans Matheros reflects on his journey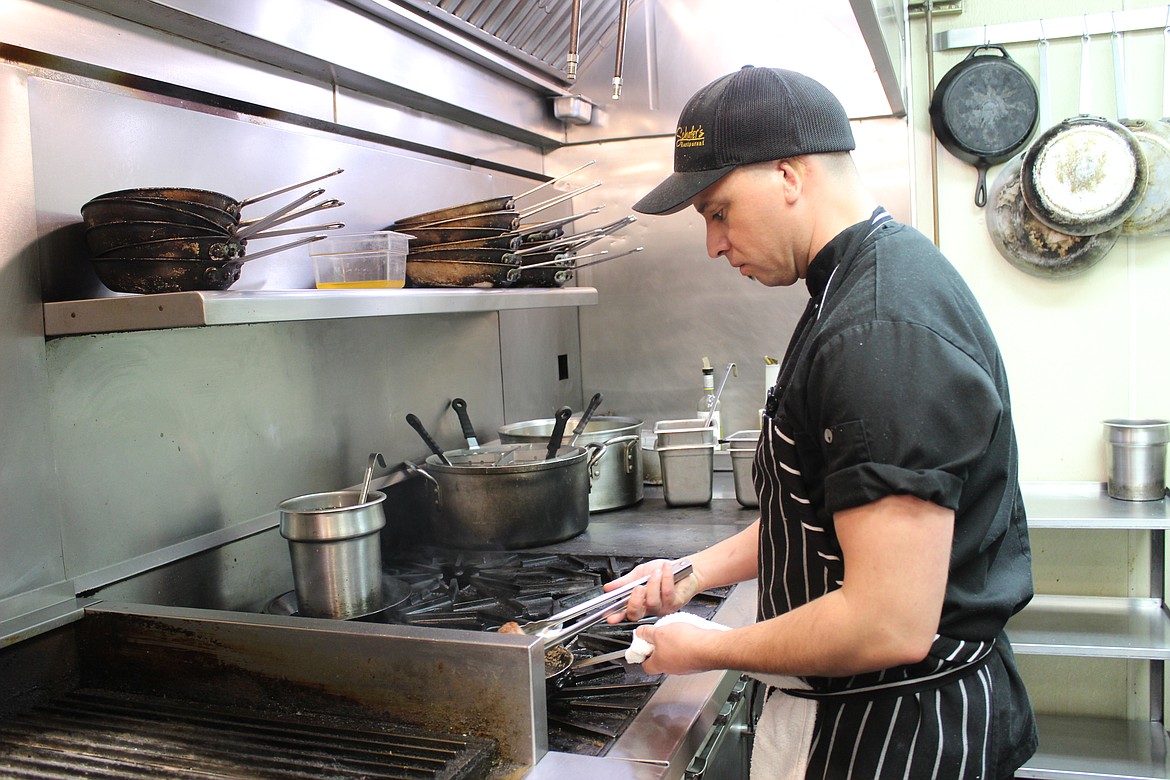 Matheros cooking at Schafer's
by
TAYLOR INMAN
Bigfork Eagle
|
December 15, 2021 12:00 AM
Schafer's Restaurant chef Jeans Matheros was living a very different life in Los Angeles before the pandemic hit.
After being laid off due to mandatory shutdowns, he never thought he would become an executive chef in Bigfork, Montana, let alone win "Best Chef," in the annual Best of Bigfork awards.
Matheros was a sous chef at the Vice Royal Hotel in Santa Monica when Covid-19 shut down restaurants all across the country. After being furloughed, Matheros, his wife and their young daughter moved to his wife's parents' house in Bigfork. He said he was out of work for nearly six months and struggled to support his small family with unemployment pay. Luckily, another job opportunity presented itself.
"The guy who mows the lawn at my in-laws' house is actually one of the owners of Schafer's," Matheros said. "He got to talking to my father-in-law and he was telling him about his business and how he didn't have enough staff, and he was looking for an executive chef. So my father-in-law recommended me and I ended up accepting the job."
In south central Los Angeles, Matheros said he grew up with mostly Spanish cuisine because his father is from Mexico and his mother is from Nicaraugua. He said he originally wanted to go to school to become an anesthesiologist, avoiding cooking because so many people on his father's side of the family were chefs and in the hospitality industry, including his father, grandfather and uncles. But he remembers the moment when he changed his mind at age 18.
"It was Christmas break. I was going to visit my dad in Missouri...my uncle was the executive chef at Harrah's Casino and he happened to have the day off and wanted to hang out, and said 'why don't you help me cook something?' So he pulled out this recipe and we were cooking together, and he said 'you're pretty good at this, have you considered doing it as a career?' and it just sort of hit like a light bulb. I went back to California and told my mom that I wanted to go to culinary school," Matheros recalled.
Once he got into culinary school, he studied traditional French cooking, but worked in many Japanese and American restaurants after graduation. After that, he went back to his roots and started focusing on Spanish cuisine again. He said those kinds of flavors are what he wanted to bring to Schafer's menu.
"I love to cook what I know...there's not a lot of great ethnic food in Montana, so I'd like to take that and bring it here. I'd like to bring those different flavors, so people can be educated and taste those great flavors and realize there's so much great food out there besides meat and potatoes," Matheros said.
THIS IS Matheros' first executive chef position. In that role, he is in charge of creating the menu for Schafer's and Riley's Pub, creating the specials they serve, helping to hire staff, and managing day-to-day operations at the restaurants, not to mention cooking.
"It's great here, it's great to hear people's approval of your work. It's amazing and especially when I come up with these specials, and people say 'wow, I've never had that flavor in my mouth, I've never tasted anything like that,' it's such a rewarding feeling and makes it all worth it.
"It's not the pay; you know culinary is not the highest paying career, but it can be very rewarding feeding somebody and seeing them enjoy it so much...I love that," he said.
Matheros won Best Chef in this year's Best of Bigfork awards, an annual showcase of businesses and individuals voted on by community members and hosted by the Daily Inter Lake and Bigfork Eagle. Matheros said he was elated to hear he had won first place.
"It just felt like, that everything I've been doing is what I'm supposed to be doing. I just felt so happy and ecstatic," he said. "Especially in my first year as an executive chef in a brand new town I've never lived in before, and doing it around people who don't really know me. But they come for the food,"
Matheros said he couldn't deliver on the food without the help of his team at Schafer's. He didn't know what to expect when he was hired, but was happy to find they already had great crew members working in the kitchen. They've added two more team members since he became executive chef.
"I'm so thankful for the team that I have at Schafer's and at Riley's. They all do such great work, and they're all so receptive to my ideas, and they bring their own ideas to the table and we all work together, it's great," he said.
Bigfork is a far cry from Los Angeles, but Matheros said he prefers being away from all of the people and enjoys the solitude away from all the hustle and bustle. He said he wanted to move to Montana to find a way to provide for his family without having to struggle to get by, and with a stroke of luck and hard work at Schafer's, it seems he's found a way to do just that.
Reporter Taylor Inman may be reached at tinman@dailyinterlake.com.
---