Swan River students learn the basics of pickleball at the Jewel Basin Center
by
TAYLOR INMAN
Bigfork Eagle
|
December 15, 2021 12:00 AM
Students at Swan River Schools got the opportunity to learn how to play pickleball at the Jewel Basin Center in Bigfork on a school field trip this month. The students also got to enjoy some bowling at Pick's Bowling Center as well, taking turns bowling and playing pickleball. Barry Woods is with the Two Rivers Pickleball Club and said he is in charge of their junior program. He taught Physical Education in schools for his entire life. He said he believes pickleball is the perfect sport for any age, but especially for seniors who want to stay active. He said he was introduced to pickleball after living in Arizona and after moving back to Bigfork and joining the pickleball club, he said he would like to see it played in schools. So he reached out to Swan River Schools and they organized this field trip.
"I went to the school on Monday, again I have portable nets, and so I did that with the P.E. classes. I taught them some fundamentals at school and then today they came in and got to learn a little more," Woods said.
Pickleball is a paddleball sport that combines elements of table tennis, badminton and tennis. The sport shares features with these and other racket sports, with the layout of a badminton court, with a paddle and a ball that's akin to a wiffle ball. The rules of the games are similar to tennis, but have several modifications. It was invented in the 1960's as a children's game, but spread quickly throughout the country due to its popularity in community centers, P.E. classes and retirement communities.
The Jewel Basin Center in Bigfork has four indoor and six outdoor courts for pickleball, and it's where the Two Rivers Pickleball team meets. The club opened for play six months ago and has up to 500 members. Anyone interested in joining can download the CourtReserve app and search for Two Rivers Pickleball to sign up.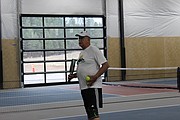 ---