Bigfork bars thrilled at return to normal hours, capacity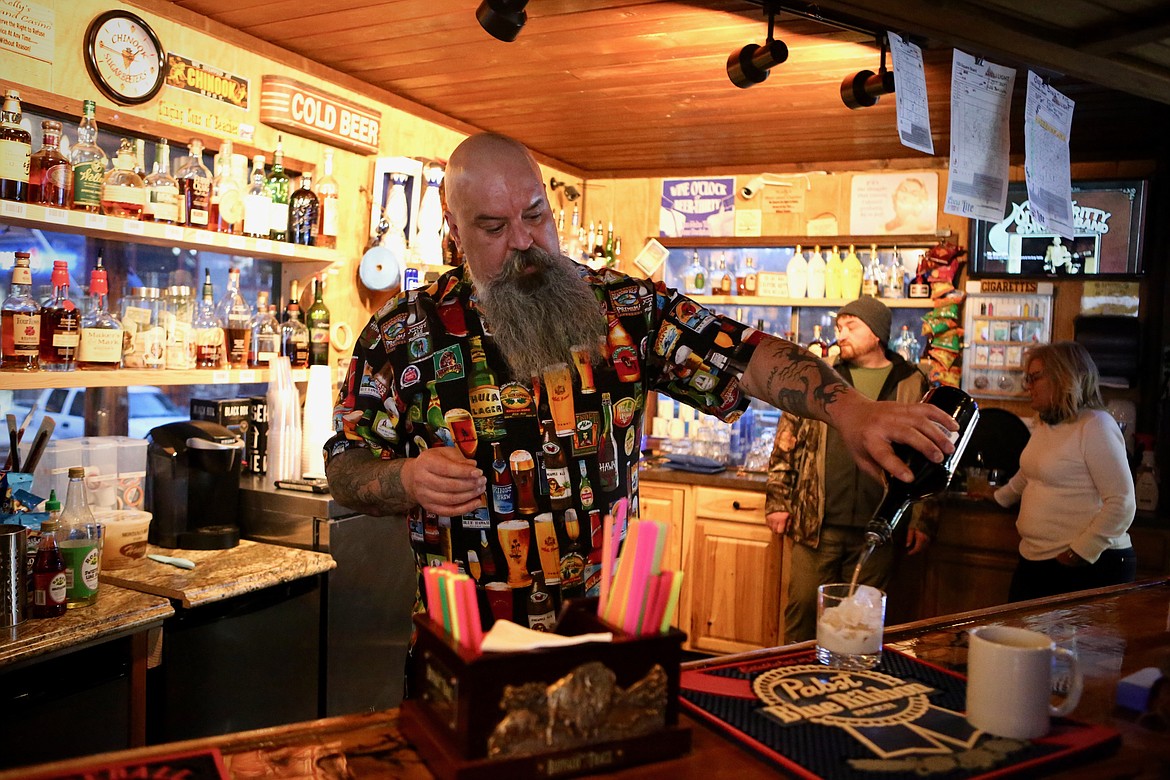 Bartender Hamilton Lockwood mixes an adult beverage at Kelly's Casino in Bigfork. Mackenzie Reiss/Bigfork Eagle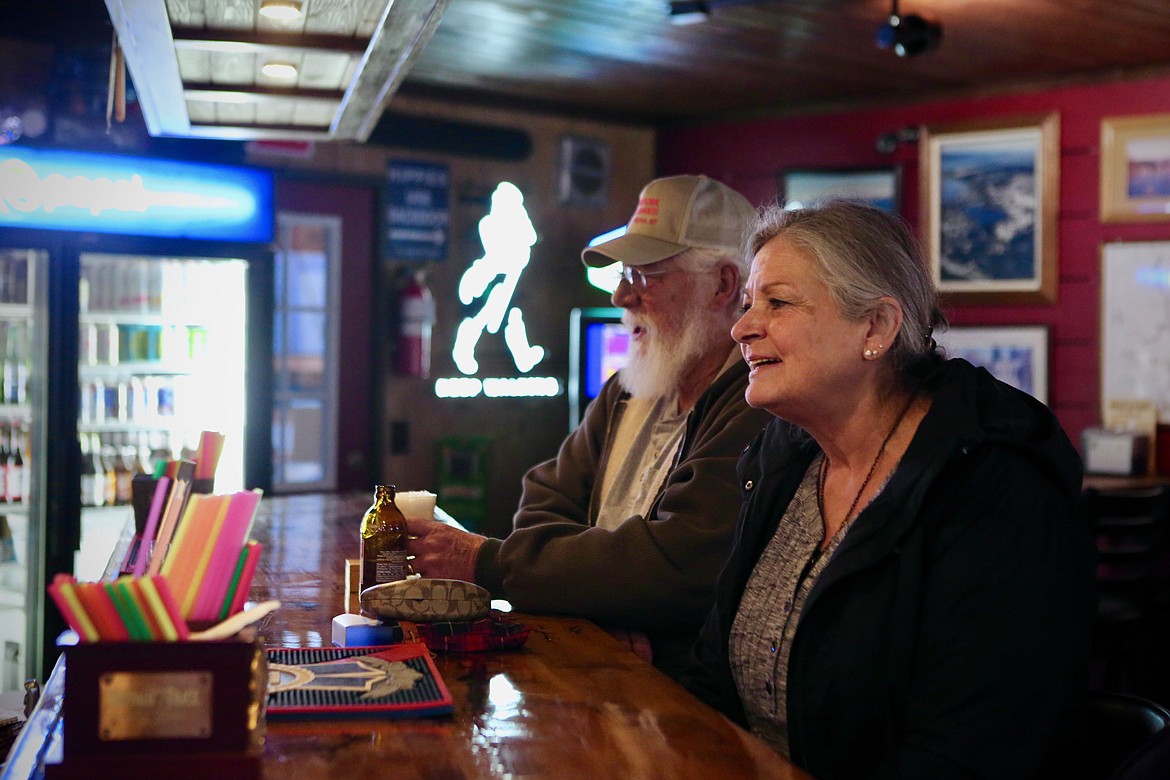 Jennifer and Tad Groenke emjoy a cocktail at Kelly's Casino on Monday evening. Mackenzie Reiss/Bigfork Eagle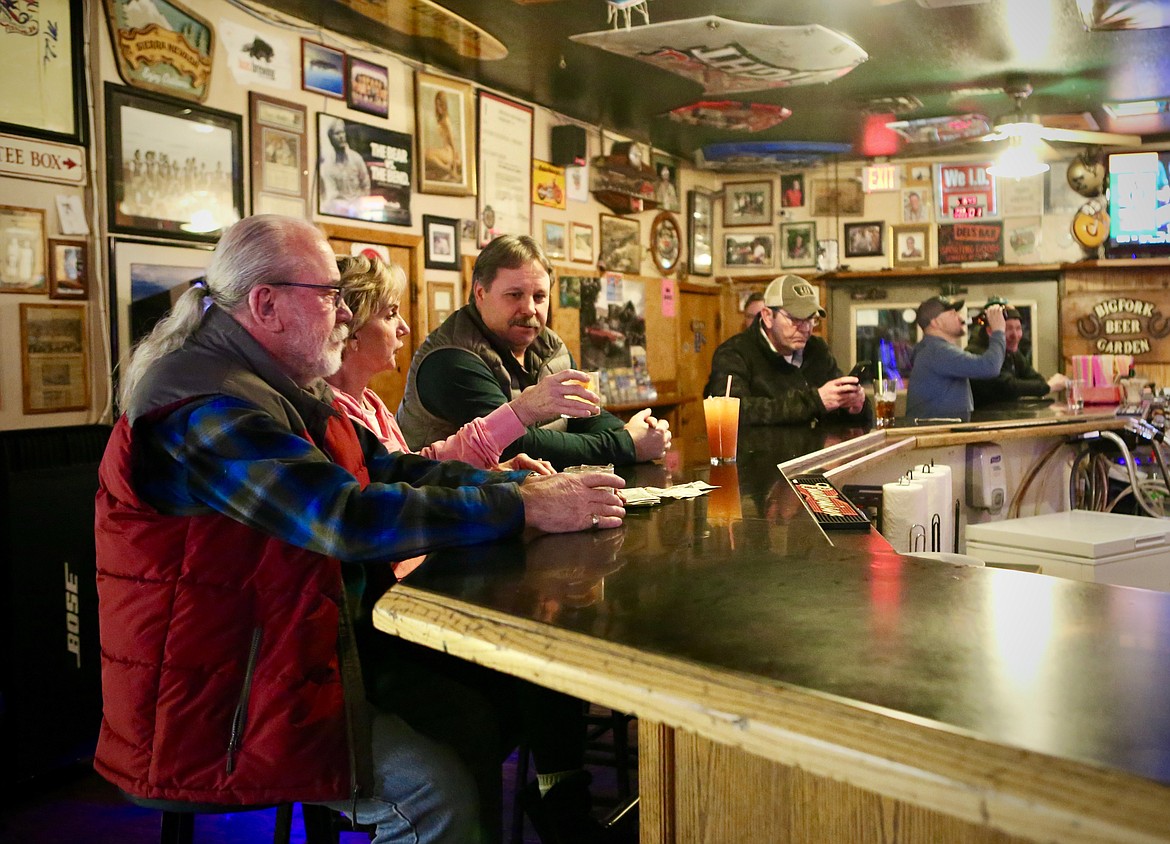 Patrons enjoy an after-work drink at The Garden Bar on Monday night. Roughly a dozen people milled about the bar, which is now able to stay open until 2 a.m. at 100% capacity. Mackenzie Reiss/Bigfork Eagle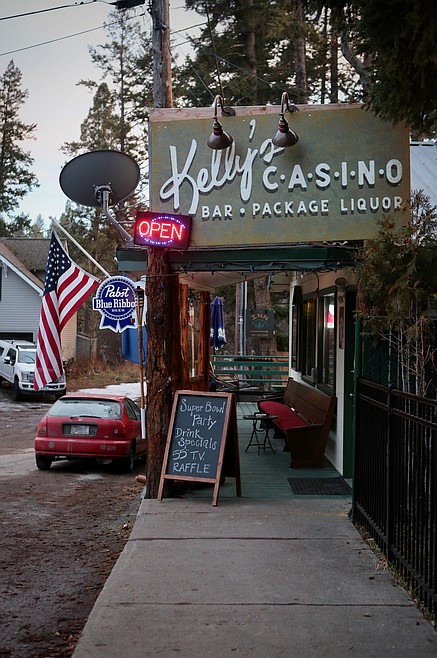 Kelly's Casino is pictured the evening of Monday, Feb. 1 in downtown Bigfork. Mackenzie Reiss/Bigfork Eagle
Previous
Next
by
MACKENZIE REISS
Bigfork Eagle
|
February 3, 2021 2:50 AM
It's just after 6 p.m. on a Monday night and a dozen or so patrons mill about the Garden Bar in downtown Bigfork. It's mostly the after-work crowd decompressing from the day, grabbing a causal beer — or two — with friends.
The scene at Kelly's Casino across the street is similar. A couple sidle up to the bar to chit chat with proprietor Kelly Paulson, while another patron exclaims from the gambling machine in the corner, delighted with a lucky game.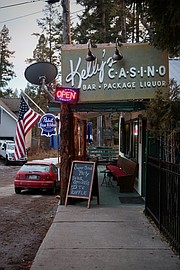 The weekends, Paulson explains, are a very different story. The bar is busy later, enjoying a steady flow of traffic between 10 p.m. and 2 a.m. as local service industry workers gather to swap stories from their evenings over pizza and drinks.
"We're just a lot happier that everything's open 'til 2 a.m.," she said.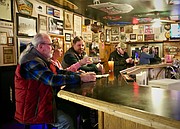 As of Jan. 13, Montana bars and restaurants have been able to remain open until 2 a.m. and at full capacity, thanks to Gov. Greg Gianforte's new directive which replaced previous measures that limited operating hours to 10 p.m., capacity to 50% and public gathering to 25 people. Former Gov. Steve Bullock initiated these restrictions in November 2020 in hopes of limiting the spread of COVID-19 as case numbers rose substantially throughout the state. The statewide mask mandate remains in place.
Many Bigfork bar and casino owners say they are happy to have the restrictions lifted and look forward to welcoming more customers into their establishments. Medical experts remain cautious and continue recommending the use of masks, hand hygiene and regular disinfection of frequently touched surfaces. And multiple studies have shown that bars and restaurants are significant sources of COVID-19 outbreaks. A June 2020 study by Johns Hopkins University using data from 30 million credit card holders found that higher spending in restaurants was associated with a higher rate of infections three weeks later.
However, business owners have been faced with challenging circumstances since the pandemic broke out last spring -- bars and eateries were ordered to shut down their indoor dining areas last March and have since faced a wake of restrictions centering on capacity and service hours limitations.
Paulson opened Kelly's just a few months into the pandemic which was "an inopportune time" to say the least. When bars and casinos were required to close by 12:30 a.m. Paulson wasn't worried, but the 10 p.m. cap did cause her concern. Now that things are heading back toward a new normal, she is confident that patrons can "police themselves."
"Coronavirus doesn't stop moving after 10 p.m. at night," she noted. "If they're really worried about the virus then maybe they can just choose not to go out."
Bret Richmond, a customer at the Garden Bar, said he treaded carefully when the hours were extended and waited a couple weeks before hitting the town. However, he noted that he typically goes out for a drink or two after work — not during late-night hours.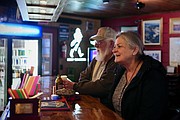 "We played it safe because it was so new, so we were cautious," Richmond said.
Bradley Henderson, a bartender at the Bigfork Inn, said he's noticed steady traffic in the downtown corridor since operating hours and capacity were expanded in mid-January.
"There has been a decent amount of traffic this month. We were pleasantly surprised," Henderson said. "We are hoping that it just stays steady for the next few months. That's all, I think, every business can hope for."
Trent Halstad, a bartender at the Sitting Duck in Woods Bay, has observed more drastic changes calling the return to normal operating hours "massive." Previously, he'd been forced to refuse customers for Sunday bingo due to capacity restrictions, but won't have to turn business away at the door any longer.
"On our bingo days we've been able to pretty much be at full capacity which has allowed us to have more people to play bingo," Halstad said. "I think the only thing that remains for people is the masks. I think once the masks are lifted, I think everything will be perfect."
Gabe Spencer, head distiller at Whistling Andy Distillery, said that the lack of capacity restrictions has allowed the distillery to bring back more bar seating. But the benefits extend beyond the tasting room.
"Having bars and restaurants open again to full capacity, we should be able to sell more of our spirits to local bars and restaurants. That's something we rely on," Spencer explained. "Having more people visiting those bars are going to help us."
He added that despite the steps forward for local establishments, the community is still in the midst of a pandemic.
"We still need to wear our masks and all that stuff," Spencer said. "We're happy to be open for business and we're happy to have people visit our tasting room. We operate safe and want to make everybody feel welcome, no matter where you stand on everything."
---