Berreth takes charge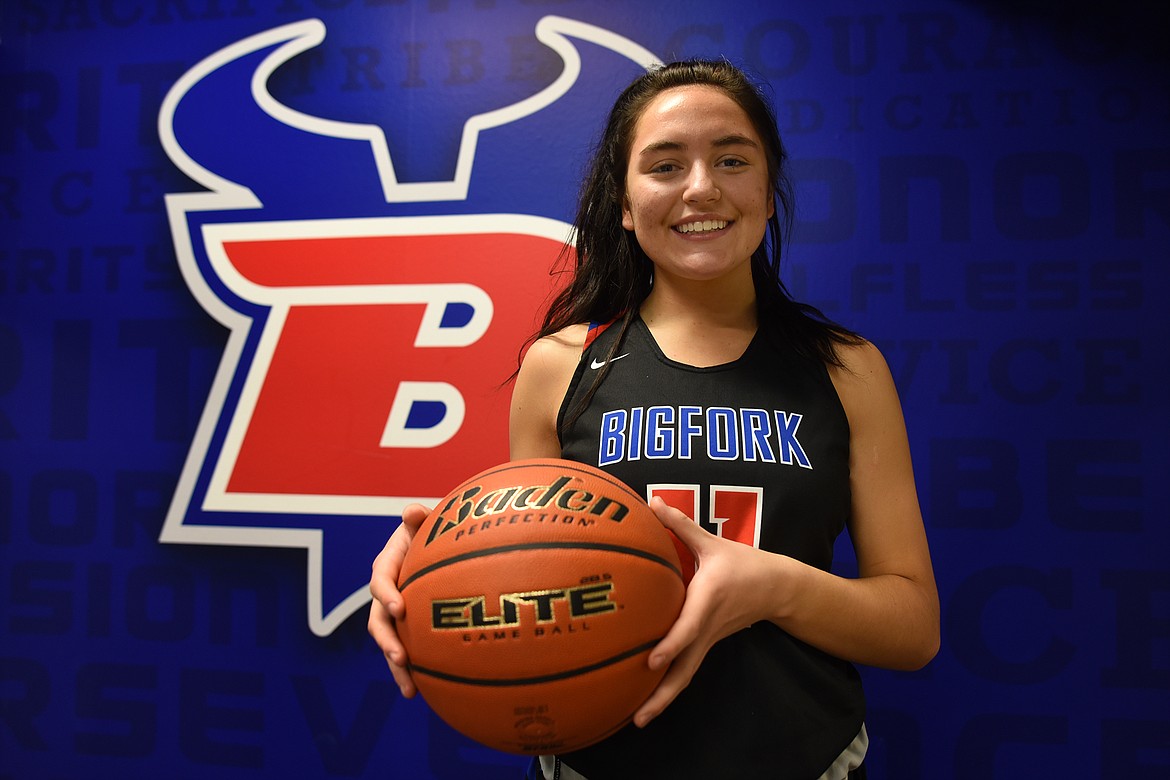 Junior Emma Berreth is leading the Valkyries basketball squad in scoring this season averaging 18.3 points-per-game. Jeremy Weber/Bigfork Eagle
by
JEREMY WEBER
For the Eagle
|
February 17, 2021 2:40 AM
In a strange season filled with COVID-19 cancellations and games with few spectators, this year's young Valkyries basketball team continues to see success behind the leadership of junior guard Emma Berreth.
With 268 of her 705 career points coming on the court this season, Berreth is leading the conference at 18.3 points per game for the Valkyries (along with 7.8 rebounds and 4.1 steals), who are looking for a repeat trip to the state tournament in March.
For head coach Cortnee Gunlock, Berreth's emergence as the Valkyries floor general has been a pleasant surprise.
"I don't know if this team really had a leader at the beginning of the year, but she has grown into that role quite nicely," Gunlock said. "She's fearless, strong and a natural leader. She's really starting to come into her own and is now realizing how to get her teammates to follow her lead. The growth I have seen in her in just this year alone has been amazing."
For Berreth, the love of basketball came naturally. Given a small basketball as her first toy when she was a child, Berreth's love of the game grew quickly and hasn't waned over the years. After spending several years playing with her older sister's traveling team, Berreth led a traveling team of her own in middle school before making the move to the varsity level as a freshman with the Valkyries.
According to Berreth, there is just something about walking into a crowded gym that gets her going.
"I love the energy of playing in a packed gym. It's just addicting to me. I love the family that you create with your teammates as you spend time together on and off the court. There is just never a dull moment in basketball," she said. "My dad was really into sports as a kid, so that was something that was passed on to my sisters and I. Sports have always been a family thing for us. Basketball most of all."
An undersized post coming into her freshman year, Berreth quickly made the transition to guard, and eventually point guard, but says it took a crash course in ball handling to get there.
"My ball handling skills were definitely lacking when I made the switch to guard, luckily Cortnee was very patient with me and helped me get my skills to where they needed to be. Now, it's my free throw shooting that needs work," she laughed.
Even with her extensive experience on the court, Berreth says she was nervous taking the floor for her first varsity game as a freshman just over two years ago, but she quickly learned a lesson that continues to guide her today.
"I was just so nervous in that first game that I wasn't sure what to do," she admitted. "I just got out there and tried to have fun. That's what Cortnee told me to do, so I tried to focus on that. That is what I have tried to do every game ever since."
Just having fun helped Berreth and the Valkyries to a second place finish at divisionals last year and earned them a trip to the state tournament, something the team would like to do again this year.
The Valkyries have already accomplished one feat this season that the current coaching staff and player had never done before as Bigfork earned a win over Loyola January 30.
"Going into the locker room and hearing all of the girls yelling and screaming and super happy after that win has been one of the highlights of my basketball career," Berreth said. "It was such a huge win for us and totally amazing."
When she is not cooking up a recipe for success on the court, Berreth says she enjoys spending time with her friends and mastering her favorite hobby, baking.
"I know, it's really super random, but I just love to bake," she said. "Cupcakes are my specialty. I just love making cupcakes and frosting."
With her senior year still ahead of her, Berreth had a lot of big decisions in her future, but says she would like to pursue a degree in elementary education so she can be a seventh grade English teacher. If there is a basketball scholarship involved in that, it would make the college experience even sweeter.
For now though, she is content with working with her teammates to find even more success on the court while continuing to chase her dream of scoring 1,000 points before she graduates.
"I couldn't do what I am able to do on the court without my teammates," she said. "If the bond we all have can carry into my senior year, I am really hoping for big things. This year isn't over yet either though."
---