Down to business: Small business owners are people too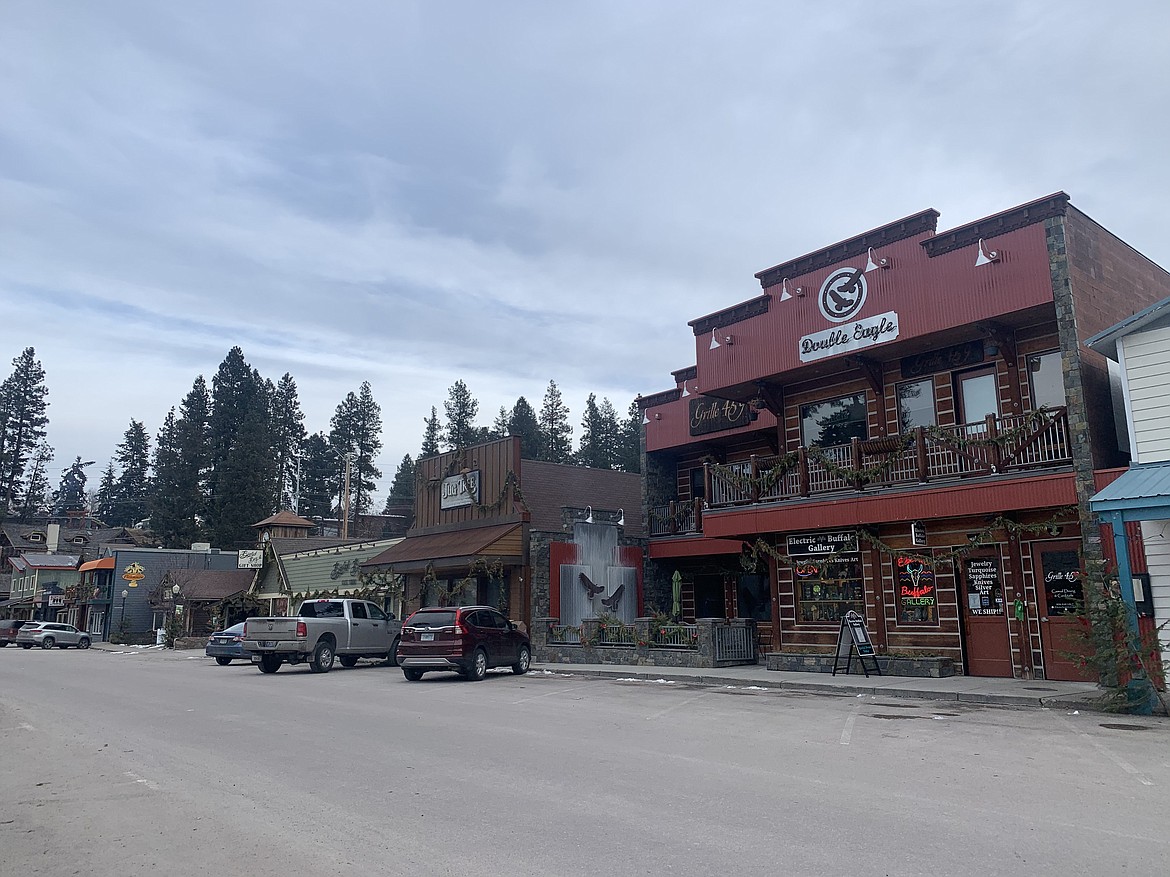 Downtown Bigfork is pictured on an overcast afternoon on Thursday Jan. 21. Mackenzie Reiss/Bigfork Eagle
|
February 24, 2021 2:30 AM
When you were young, what did you want to be when you grew up? A teacher? A doctor? An astronaut? I wanted to be a psychologist; although given my penchant for winning an argument, most who knew me would have said attorney. Whatever the dream career was, I bet most of us did not end up there. I would also wager that, outside of a few fantasies of a CEO on a private jet, most of us never said "I want to own my own business." Yet that is exactly where many of us landed.
I went to college for criminal justice. Two years in, I switched to art history. I funded my recreational college career as a barista. And then, almost accidentally, I was a small business owner — of coffee shops, of course! There are more than 120,000 small businesses in Montana that employ 65% of the population (2020 SBA Montana Small Business Profile). These business owners are living the dream , working 50-, 60-, and 70-hour weeks. Their job encompasses that of the manager, bookkeeper, marketing director and plumber, to name a few.
Owning a business is not easy. Every decision made is scrutinized by the owner themselves and others. There are sleepless nights, analyzing how the slightest situation should be handled. It is deep-seated, personal frustration when an employee does not work out — there is never a bad hire, just a bad hiring decision. Then there is the customer. At times they are your most vocal champion and others your most critical adversary. You see as a customer, there is no way to explain the impact you can have on a business owner, good and bad.
Recently, while visiting a business, the owner was visibly distracted. When I inquired, she shared a rather vicious email she received. This company has manufactured its principal product for years and named it, quite innocently, based on how it was originally created. The customer's email took offense to the name, something the owner would never have considered. The owner was now considering spending a significant amount on rebranding the product and throwing away years of established name recognition. Never wanting to offend a customer, this owner was taking the criticism as personally as if it had come from a spouse or parent.
Another friend, several years ago, purchased an existing business on the verge of closing. Payroll cost was analyzed, and senior staff was given the choice of accepting pay cuts or being laid off until the business could support them again. Many, understandably bitter, choose the latter. Daily operations were also changed to streamline services and provide a better customer experience. Despite the improvements, a small group of patrons, with a misplaced sense of loyalty, vocally boycotted the business cheering for its failure. When I spoke with the owner, they shared the frustration with the exorbitant cost they had assumed, as well as their sorrow at the departure of the experienced employees they had hoped would be a part of their success. Most troubling to them was the sadness over the loss of customers who had no interest in understanding why the decisions had to be made.
We have spent the last several months advocating kindness to frontline workers. Perhaps we have overlooked the people behind those jobs. Our small business owners bear a weight of responsibility not only to themselves but to the communities they serve and the 235,000 people they collectively employ. Each decision is their best attempt to balance the health and safety of their staff, the financial well-being of the company, and the pleasure of the consumer.
Next time you find your favorite menu item removed or a policy you do not agree with, consider the why of the decision from the owner's perspective. Or better yet, ask them! Perhaps most of all, choose to respect their decision. Remember, small business owners are people too! And that fantasy of flying on a private jet is more likely the reality of a broken toilet in need of repair.
---