Heading into 2021 with goals and sense of optimism
by
Rebekah King
|
January 27, 2021 2:50 AM
Happy New Year! It is a bit late, I know, but still important to say. We made it! 365 days ago, I shared with you all the events that were planned for the upcoming year. That is not a mistake I will be making again. We are optimistic that some of the favorite events will take place and uncertain of others. Instead, this year, let me share some of the New Year's Resolutions that your Chamber has made.
My year has started out surprisingly well. I know we are only a few weeks in but, there seems to be a renewed sense of energy on optimism throughout the community. I know I am feeling it. I think a large part of it has to do with the recent transformation of my office by Hydrangea Home Staging – and yes, that is an endorsement. Who knew an Expert Psychological Stager was a "thing" and that hiring one would increase productivity? No more racing to my house for an appropriate background for a zoom meeting or remote interview. It has also inspired my first resolution, the lost art of letter writing, in the form of a personal, handwritten thank you note to renewing members. I hope my appreciation for each member is felt in the written words.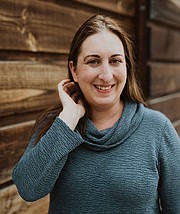 The energy level can also be seen in the new businesses I have had the pleasure of welcoming to Bigfork. Resolution #2 is to send welcome letters to all new businesses opening in Bigfork. The decision to open a business, especially now, is a brave one. That so many new entrepreneurs are investing in Bigfork shows a vote of confidence in our community. We have new owners to say hello to at CrossFit Bigfork, Snowbird Storage, and Gotcha Covered Blinds. We also have new businesses. Stronghold Design chose to make their home in Bigfork, as did Markie at Swan Highway General Store and Barber Shop, next to Echo Lake Cafe. With in-person networking events not taking place, I encourage you to reach out and welcome them to Bigfork.
This brings me to resolution #3, networking in COVID! Networking is one of the most beneficial parts of chamber membership. The lack of in-person events means getting creative with meaningful email, phone and/or Zoom introductions. So, if you are a business in need of making connections, let me know, as I have figured out a few tricks!
The fourth and final resolution is to recognize and appreciate the victories, no matter how small. With that being said, I would like us all to take a minute and give ourselves a collective pat on the back. We survived the most treacherous year most of us have ever experienced. Traditionally I am an advocate for self-reflection on what can be improved in the new year. This year it does not matter. We did it! Some of us with grace and dignity. Others with uncertainty and trepidation and, still others, moved fearlessly forward, re-inventing with each new directive. Most of us experienced 2020 with a deftness we did not know we possessed, taking some things in stride while shrinking from others. And, in the briefest moment of reflection, there is one fact I know to be true. Regardless of how you feel the last year went, we are here together now, ready for 2021 and that is a victory that deserves recognition.
---