Sunnie LeBlanc makes art accessible with easel talks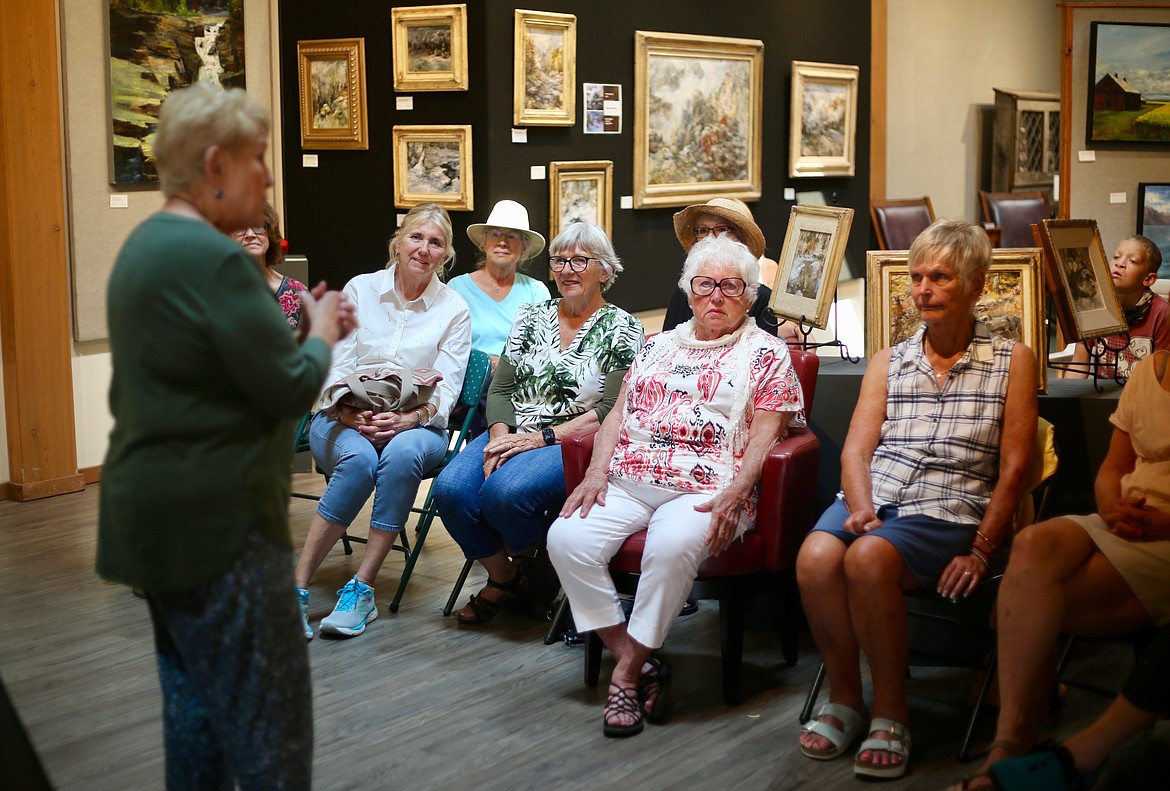 A dozen attendees listen to artist Sunnie LeBlanc speak about her oil paintings during an easel talk at the Bigfork Art and Cultural Center Thursday, July 16. Mackenzie Reiss/Bigfork Eagle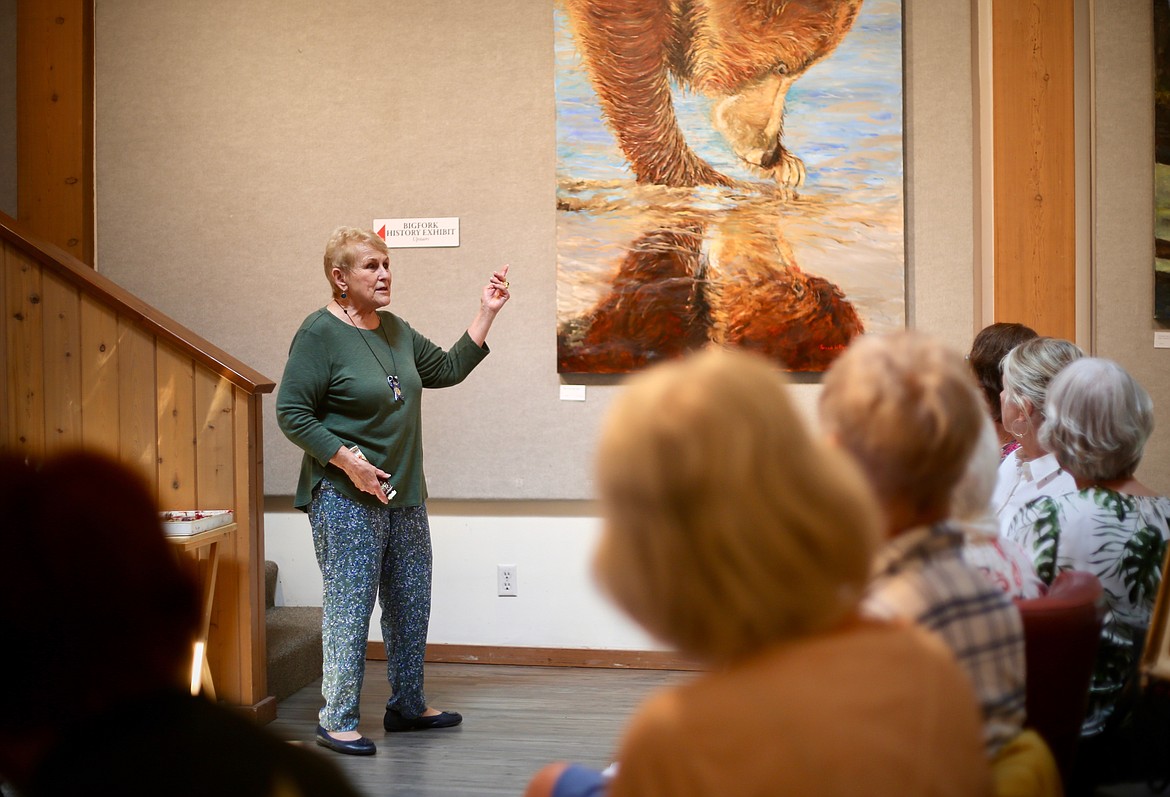 A dozen attendees listen to artist Sunnie LeBlanc speak about her oil paintings during an easel talk at the Bigfork Art and Cultural Center Thursday, July 16. Mackenzie Reiss/Bigfork Eagle
Previous
Next
by
MACKENZIE REISS
Bigfork Eagle
|
July 21, 2021 2:10 AM
A dozen sets of eyes were trained on artist Sunnie LeBlanc as she moved about the gallery inside the Bigfork Art and Cultural Center last Thursday afternoon. Though small in stature, the Kalispell oil painter had a commanding presence, engaging the crowd of artists and aficionados with insightful stories about the painting process, her challenges and inspirations with a humble humor that made her at once both relatable and admirable.
"Somebody last week asked me, 'How do you know when a painting is done?' There's no one answer. It could be, you're tired of it, you've run out of time or you just know that there's no stroke you could do to improve it. To me, they're never done, but at some point I have to sign it," she said, earning a chuckle from the crowd.
For the past several Thursdays, LeBlanc has hosted a two-hour easel talk at the BACC, where she offers a painting demonstration followed by a presentation that is more of a conversation than an outright lecture. She unpacks her own paintings — a variety of vivid landscapes and wildlife — while also offering insights into the work of her counterpart, Marnell Brown, with whom she has jointly exhibited "Art in the Time of COVID," on view through Aug. 7.
"Swivel around," she told the crowd again. "I'd like to talk about this."
And LeBlanc pointed to a scene on McDonald Creek, noting the use of a Rembrandt-inspired technique to draw the viewer into the work.
A few moments later, she floated to the next painting — a cloudy, late fall depiction of Lake McDonald.
"Nothing replaces these," she said, pointing to her eyes. "Can I do a [painting from a] photograph of a place I've never been? Yes. But if I've been there, felt the air, smelled the trees — all of that comes in. It's all about, not just the scene on Lake McDonald, but how I was feeling when I painted it."
Plein air painting, from LeBlanc's perspective, can be quite the adventure. She recalled once, while painting Mount Brown, a bear came upon her party and she and two other artists fled to their cabin where they used pots and pans to chase the animal off. Other moments were indeed less dangerous, but equally emotive. She once finished a painting in a break-neck six hours, so moved she was by the surprise of an October snow and the colors that came with it.
LeBlanc, of Kalispell, has been a museum docent at the Amon Carter Museum of American Art in Fort Worth, Texas, for over 40 years and hoped to bring attention to the BACC by offering easel talks during the month of July.
"If I'm not painting, there's nothing I love doing better than talking about painting," she said. "I love showing them things in the painting that might be otherwise overlooked."
She'll infuse her chats with information about the history of oil painting, colors and other notable developments in the plein air world. It's part of creating a conversation with her audience. It's an exchange that goes both ways.
"I learn things about art from people every day — I never know who's in my audience," she noted.
LeBlanc cut her teeth in the art world as a studio artist, specializing in still lifes and portraits. But when she moved from Texas to Montana, LeBlanc discovered all the natural wonders the Big Sky State had to offer, and with them, a passion to capture those scenes on canvas. Her current projects include paintings of Glacier Park's Wild Goose Island and another showing a grizzly sow helping her cub feast on a cherry tree — a scene LeBlanc witnessed in her own backyard.
"Forget about still life — I just don't enjoy it as much anymore," she said. "It's Montana, the landscapes, that's what did it."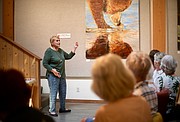 Get Involved
Attend one of two remaining easel talks with Sunnie LeBlanc from 3-5 p.m. on Thursday, July 22 or July 29 at the Bigfork Art and Cultural Center at 525 Electric Ave.
---