Tourism guide to offer local insight on Bigfork attractions
by
Rebekah King
|
March 24, 2021 2:15 AM
My friend Jenny, who owns Max's Market, closed her business for two weeks in February and took her family on a sun-cation. At the time I thought it was genius. It is something I used to do regularly. Each year around my birthday, facing negative temperatures and snow, I would purchase a last-minute ticket in search of the sandy beaches of North County, California. I have never been much of a planner. Impromptu excursions have resulted in some of my most incredible adventures. That, coupled with a twinge of lingering jealousy over Jenny's recent sun-cation, is likely what led to the decision four days ago to take my daughter to San Diego for spring break.
I have visited the area countless times. I adore the quirky personalities of the beachfront communities and have favorite haunts in each. Encinitas for coffee, Carlsbad for sushi, shopping in Solana Beach, and sunsets at Mission Beach. This time though, this time is different. I will be traveling with a teenager and I have no idea what to do! The plausibility of angsty teenage boredom inspired something I have never done before — planning.
Planning is difficult. Sunday, when I should have been finishing this column, I was instead scouring tourism websites, blogs and social media posts for the San Diego area. This rabbit hole of adventures and daydreams inadvertently served a dual purpose. It helped ensure our last-minute trip would be unique, memorable, and of course, cool. It also allowed me to analyze how Bigfork's tourism tools compare to other tourist destinations.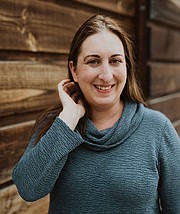 You may not know this, but the Bigfork chamber office also functions as the area's visitor center. We assist thousands of visitors each year in planning their vacation.

From phone calls and emails, months in advance, to guests in our office with a free afternoon, they all want the same thing — the perfect trip.
The most comprehensive tool we have in this effort is our website, www.bigfork.org. Last year nearly 300,000 people visited it looking for things to do and places to stay. As I searched ways to visit San Diego like a local, with a teenager, and how to find its hidden gems, I was reassured by the quality of content Bigfork.org. I, of course, found things that could be improved on and made notes. Luckily, Bigfork.org is ever-changing and evolving.
What stood out to me the most, both in my planning and recent conversations with visitors is that people seem to be shifting away from the traditional, popular, and busy tourist destinations and activities. People are looking for simpler, more genuine experiences. It is these more candid encounters that our Bigfork visitor's guide, coming out in May, will focus on.

Local guides have shared their favorite ways to spend a day in Bigfork. Visitors will be instructed on how to dine, drink and shop like a local. Not-to-be-missed local products and activities will be featured.
It is Wednesday and we are off on our sun-cation, in search of remarkable experiences that might make my daughter love San Diego as much as do. Perhaps the barista at The Pannikin will share the perfect store with her. Or the server at Sugoi will let us in on their favorite hike. Don't get me wrong, I know we are tourists, but to truly experience the area is to love it. The same is true in Bigfork. With the coming summer season, let us welcome the visitors that keep our stores and restaurants open and lodging establishments full. Go ahead, let them in on some of your favorite things to do. I promise they won't tell.
---