Art galleries struggle in changing times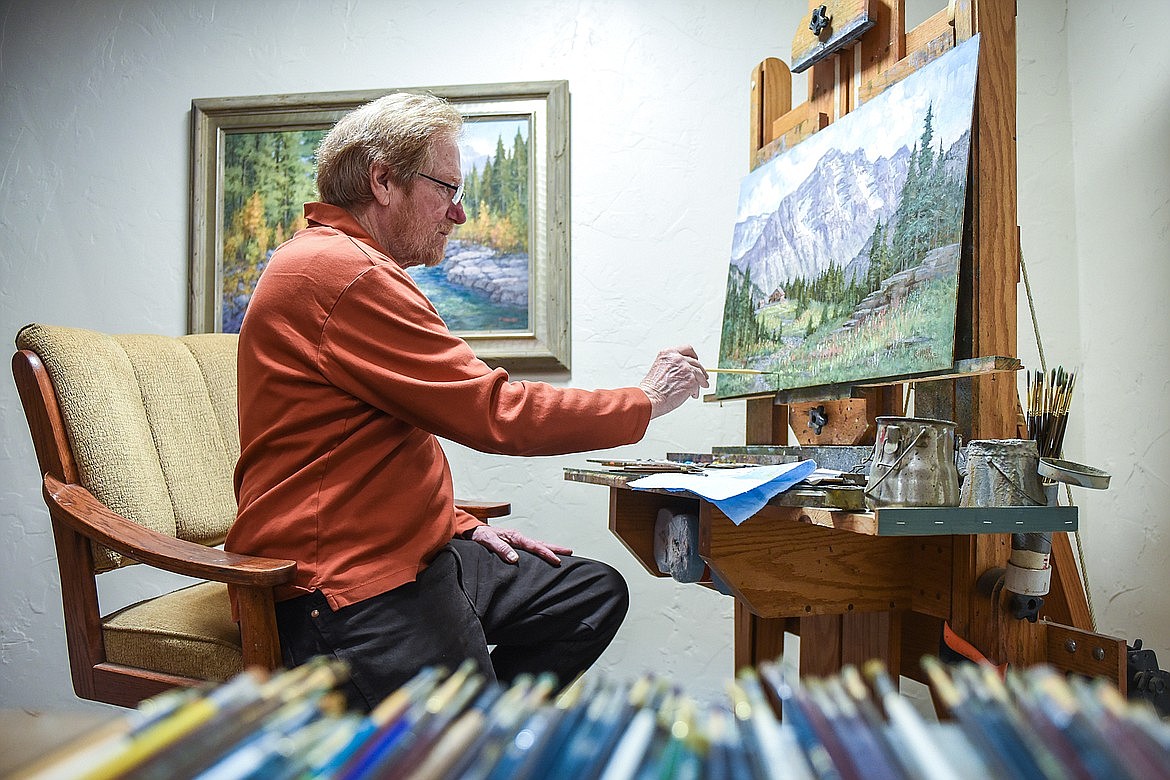 Artist Mark Ogle works on a painting in his new studio adjoining his residence in Kalispell on Thursday, March 25. (Casey Kreider/Daily Inter Lake)
by
BRET ANNE SERBIN
For the Eagle
|
March 31, 2021 2:20 AM
Art show season is just around the corner, but many familiar galleries won't be reopening their doors this spring.
The worldwide art market shrank about 22% over the course of last year, according to the Art Basel annual report published March 16. And the disappointing results of the global market analysis came as no surprise to many in the Flathead Valley art community.
"How many [galleries] are left downtown?" wondered Mark Ogle as he considered the remains of the downtown Kalispell art scene last week. "Not too many."
The renowned Kalispell painter is part of the artist exodus. After almost a decade running his gallery next to Sykes Diner on Second Avenue West, Ogle relocated to a home studio this year.
"This time last year, I would've said you're crazy," Ogle said, reflecting on the past year.
But throughout the span of the COVID-19 pandemic, walk-in traffic — the gallery's lifeblood — virtually disappeared.
"My business was not predicated on walk-ins anymore," he said. "I just decided I didn't need to be downtown anymore."
Ogle said he enjoys the opportunity to work from home, and he has stayed busy with commissions and orders from art collectors.
"The art world is still kicking along," he reported. "I wouldn't say it was kicking…as it once was."
If anyone knows how the art landscape has changed over time, it's Ogle, whose art career spans four decades. As a Flathead Valley household name, Ogle no longer needs a visible central location to introduce art enthusiasts to his work.
Many of Ogle's colleagues are in a different position, however.
"Since I'm a brand-new gallery, getting established in a brand-new town is pretty hard," lamented Tammy Phillips, the artist and owner behind Phillips Art Gallery in the Kalispell Center Mall.
Phillips, like Ogle, creates landscape artwork of Glacier National Park and various scenes around the valley. She's no stranger to the area, having grown up in the Flathead, but since she moved back home from Alaska last year, she's had to build her following from the ground up.
Opening her gallery at the end of March 2020 didn't make that journey any easier.
"It's pretty quiet," Phillips acknowledged. "It's been a challenge."
She's grateful the doors to her gallery are still open a year after the inopportune timing of her start-up.
"I'm trying to establish myself here as well as promote art into the valley from other local artists who are in my same boat," Phillips said. "We want to become those Mark Ogles."
That goal seems to be getting a little closer as summer approaches. There's reason to believe her gallery's second summer will be busier than the last, now that social distancing guidelines have been relaxed, the coronavirus vaccine is being distributed and Glacier National Park's east side has reopened.
"I already kind of see more foot traffic coming into the mall and into the gallery," Phillips noted.
But that progress is "not leaps and bounds," and Phillips said the next few months will be crucial to determining the fate of Phillips Art Gallery.
"I'm still planning to stay, as long as we get out of this sooner rather than later," she said.
Uncertainty continues to hover over artists who depend on heavy summer traffic to sustain them year-round, such as Bigfork sculptor Eric Thorsen.
"We're all anticipating a pretty big year in terms of numbers of people, based on what the park is telling us," said Thorsen's wife Cindy.
But, she pointed out, "numbers of people don't always turn into dollars spent."
The past year in particular taught Thorsen and his family to adapt their business and embrace unpredictability.
"We had no idea what we would experience," Cindy recalled.
Eric Thorsen Gallery went most of the year doing business by appointment only. Cindy said they were "quite pleased" with how well that strategy worked out, but they'll try to "teeter between" a mix of regular hours and set appointments during the upcoming season.
Cindy attributed the tight-knit Bigfork community to helping her husband's gallery weather the past year's challenges. "Being part of the community and an artist, we've received really wonderful support back," she said.
She encouraged patrons of the arts—whether visual, music or other styles—to support local artists, especially those who aren't as well-known or well-connected as Thorsen.
She urged the artistic community and its supporters to join forces in preserving the arts amid the lingering pandemic. As Phillips said, "it takes a village."
Opportunities to support local artists this summer include the Whitefish Art Festival in Depot Park July 2-4, Kalispell's Arts in the Park July 16-18 and the Whitefish Gallery Nights, the first Thursday of every month, May through October. All of these art events are back on the calendar for 2021.
Reporter Bret Anne Serbin may be reached at 758-4459 or bserbin@dailyinterlake.com.
---