Leading from the front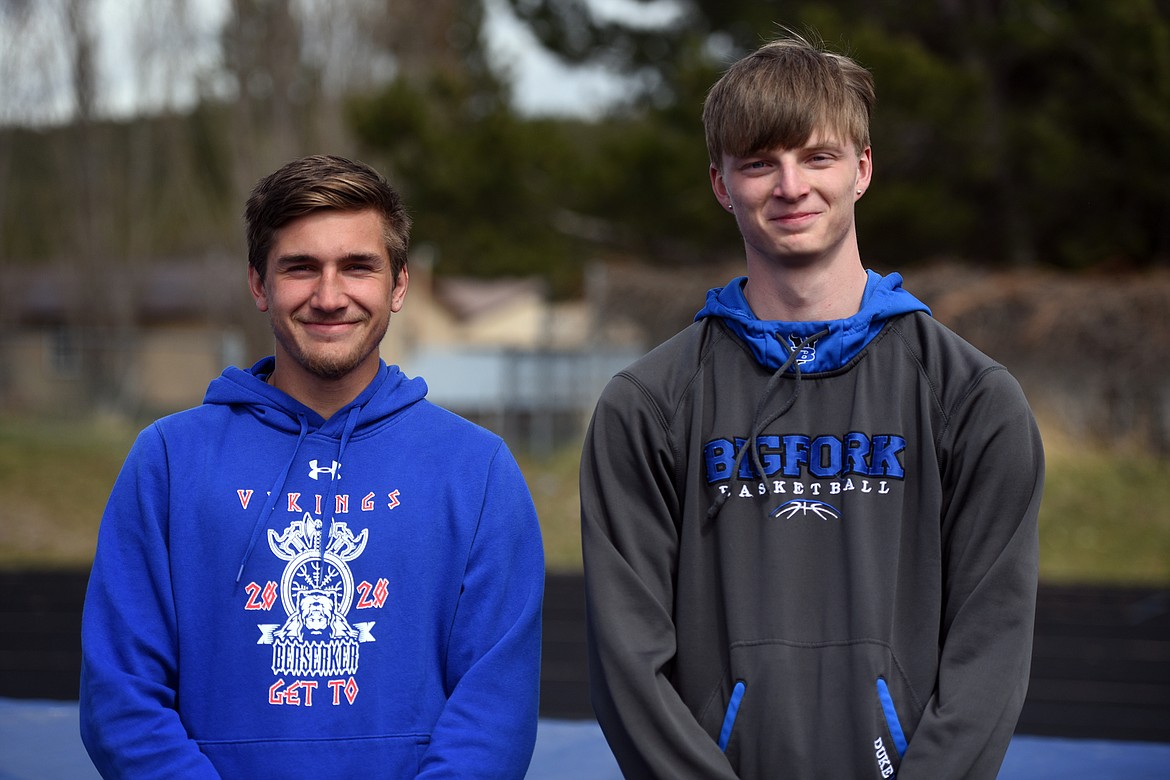 Vikings seniors Cormac Benn (left) and Wyatt Duke are hoping to help lead the track and field team to a state title this season. Jeremy Weber/Bigfork Eagle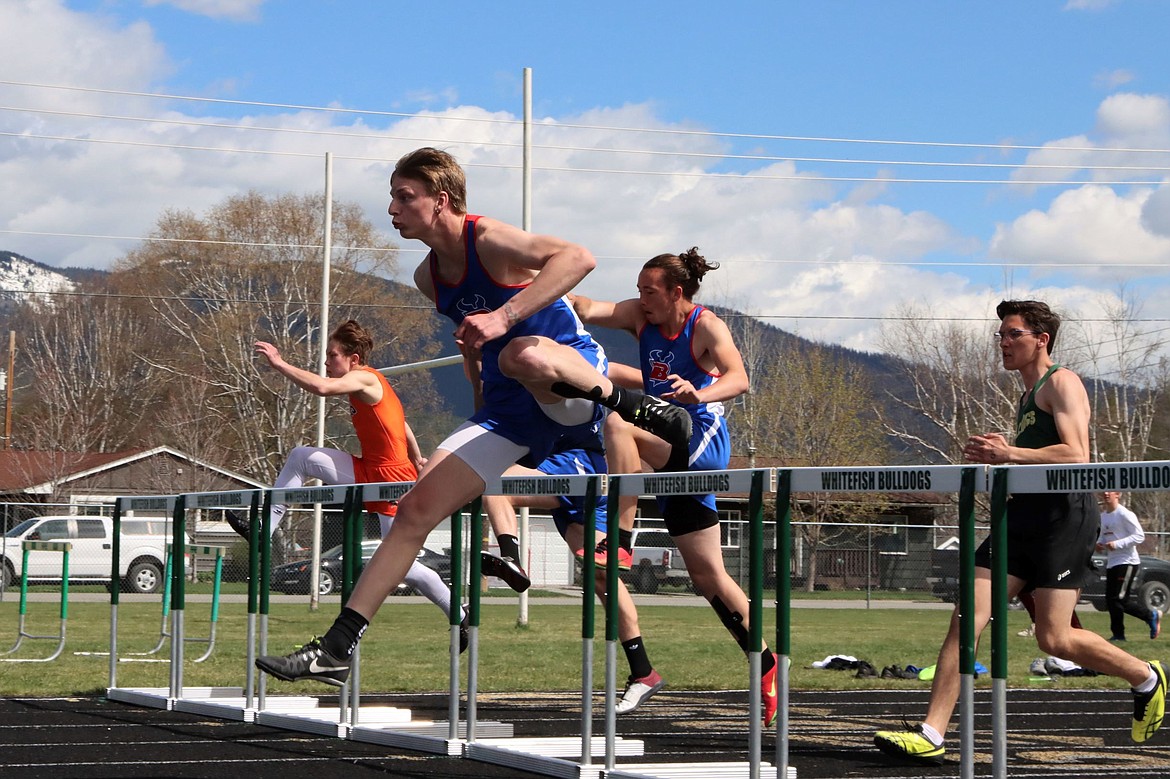 Wyatt Duke races over a hurdle during the 110-meter event. Courtesy Greg Nelson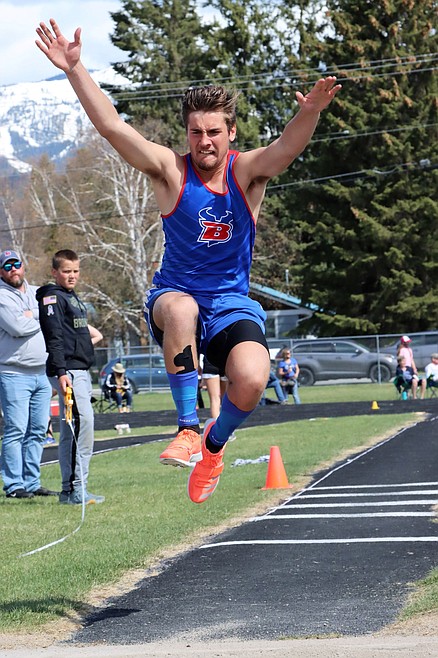 Cormac Benn sends it in the long jump at the Whitefish ARM meet on Saturday. Courtesy Greg Nelson
Previous
Next
by
JEREMY WEBER
For the Eagle
|
May 5, 2021 2:30 AM
After losing their entire junior seasons to the COVID-19 pandemic in 2020, the seniors of the Vikings track team are hoping to lead a talented Bigfork squad to the top of the medal stand at the state meet this May.
Led by senior jumpers Wyatt Duke and Cormac Benn who have both met the state qualifying standards in high jump, the Vikings have qualified for the state meet nine times in six events so far this season, more than any other Class B in Montana.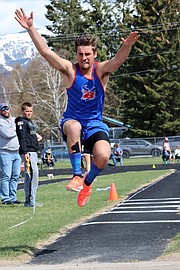 In addition, 18 Vikings are currently in the top 10 across the state in Class B, including Joseph Farrier (who has a Class B best time of 11.27 seconds in the 100-meter dash), Jack Jensen, Isak Epperly, Wyatt Herd, Seth Osborne and Levi Taylor.
With the Valkyries also having seven athletes in the top 10 in their events across the state, Benn says he and his teammates are optimistic about the end of the season meets this year.
"We have a lot of good, young athletes that came out for the team this year and I think this team has a lot of potential," Benn said. "I think we have a real shot of winning state, both boys and girls."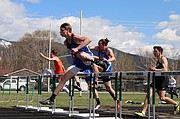 According to Duke, meeting qualifying marks early in the season gives him and his teammates a chance to work on technique in events instead of being under pressure to qualify.
"Now we can focus on the little things, like perfecting our technique by making minor tweaks and changes," he said. "Now we can worry about getting that last tenth or hundredth of a second shaved off or a few more inches added onto your personal best. It's much more fun when you are working on the little things instead of always having to worry about making that qualifying standard."
Duke will be making the trip to state in the high jump for the third time, after finishing second as a freshman and sophomore before missing out on his junior year during the COVID-19 pandemic.
Duke currently holds the second best mark in the state after clearing 6 feet, 9 inches at the Frenchtown meet in April. Duke trails only Huntley Project's Noah Bouchard, who cleared 6 feet, 10 inches at the Laurel meet April 24.
It was Bouchard who beat out Duke for the top spot at state by two inches in 2019.
"Having strong competition is good," Duke said. "It gives you that little bit of even more motivation to do better every time."
A state qualifier in both the high jump and long jump so far this season, Benn got his start jumping in middle school at Ronan, where he broke the junior high record in the long jump as an eighth grader, leaping 18 feet, 9 inches.
"Long jump has been my event all four years in high school. It's an adrenaline rush when I am running and jumping," Benn said. "I don't really have to think about much other than counting my steps to hit my mark."
Benn is also no stranger to the state meet, having finished in the top 10 in four events while at Malta as a Sophomore in 2019. He was also 14th in the triple jump.
With a state title seemingly within their reach this season, both athletes attribute much of their success to the Bigfork coaching staff.
"We have really great coaches. We are lucky enough to have some of the best coaches in the state, and that really helps a lot," Benn said.
The state track meet will be in Laurel May 28-29.
---