Bigfork Sophomore pens 1st place speech for VFW Veterans Day competition
by
TAYLOR INMAN
Bigfork Eagle
|
November 17, 2021 12:00 AM
15-year-old Zoë Sellers wants to remind America that we can accomplish so much more when we work together. This message resonated with the Veterans of Foreign Wars Post 4042 in Bigfork, who awarded her first place in their Voice of Democracy essay competition.
VFW Post 4042 Commander Rob Gambino said Sellers' speech gave him chills the first time he read it.
"She hit the nail on the head as far as what's going on in our society today with the division of different societal groups not really listening to each other, and being divisive in how we need to work together and how we need to listen to each other...you don't hear a lot of kids talking that way today," Gambino said. "It was really refreshing to see someone in high school that can see that's going on and understands that isn't what we need to be doing, we need to be working together,"

The Voice for Democracy is an annual essay competition held nationally by the VFW and judged locally by VFW posts for Veterans Day. Sellers' essay now moves onto the district division where her speech will go up against other winners, and then possibly to the statewide division and the national level of the competition. Gambino said the speech is about patriotism and citizenship, but there's a specific theme every year. This year the theme was "America: Where Do We Go From Here?"
"It's our future, so what do you want to see it become?" Sellers wrote in her speech. "I know I want to hopefully see everybody coming together and fighting for what's right instead of everyone turning their backs when they are needed. As a teenager, I tend to feel like my opinion doesn't matter. I've been through a lot to make me feel that way, and that is so wrong. My opinion matters. Your opinion matters. Everyone's opinions matter. We need to accept that not everyone is going to agree with us. But our voices still matter."
Sellers is a sophomore at Bigfork High School. She said she is a reporter for their school newspaper and has previously sat on student council among other school activities. She currently wants to go to school to become a lawyer, and in the past has considered becoming a representative. When she started to write her speech, she was thinking about those who are struggling through this pandemic and seeing division, instead of people extending a helping hand.
"There's a ton of protests and everything going on, it's weird and a little crazy to see how everyone is in these times of need, like we have this pandemic, we have a bunch of debt and crazy things going on in our country and instead of pulling together and figuring it out, we're divided...we really need to be the ones who step up and say 'oh no, I got it,'" Sellers said.
In her speech, she outlines a clear call to action. She said she believes many assume other people will take up the torch for a cause, or that the government can figure out a problem. But, she said this isn't and shouldn't be the case.
"We are the change, our generation is the future of democracy, the government and the country. If we ever want to move forward and not just get stuck in one spot, we have to be willing to stand up for what we want the world to be like," Sellers said. "If we don't look for ways to do that, or wait for everyone else to make those changes, nothing is going to get done."
She read her speech to a large audience at the high school's annual Veterans Day assembly last week, among other students who gave presentations about the significance of the holiday. She said she doesn't love public speaking, her writings are usually for the school newspaper or a creative project. But, Sellers said she believes Veterans Day is a perfect time to talk about how people can better serve their country, and that talking about being an active participant in democracy is one of the best ways to honor those who were lost and veterans who are still alive today.
"I think veterans play a key part. They are the reason our country is so free, they fought for our rights and our freedoms, so it's kind of pointless for them to go into these life threatening situations if you just aren't going to make a change and let everyone do it for you," Sellers said.
Gambino said this and the support from the community at their chili feed on Veterans Day is what VFW halls and veterans across the country need to operate successfully.
"Everything we do is for veterans and for our community, but we can't do it without the support of our community as well, so bringing the community together to help us support the community, we sort of use it as a funnel to direct that help toward areas where it is most needed. So having the Bigfork Chamber there and getting the word out about what it is we do… it was a great opportunity to show people all of the different programs we're involved with and how we donate our time and the money that we raise for the community," he said.
Sellers ended her speech by asking her fellow citizens to not be stand-up for what they believe in.
"Where do we go from here? Honestly, I don't think there is a single distinct answer, but I know we can only get there by working together, as a nation, a country — a family. America will adapt to whatever life we give it. Only by working together and standing up for one another can we make a future that we are proud of for generations to come. The world is ready for change, we just have to give it what it wants and what it needs."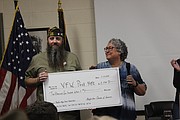 ---