Rumble in the Bay: A classic day in Bigfork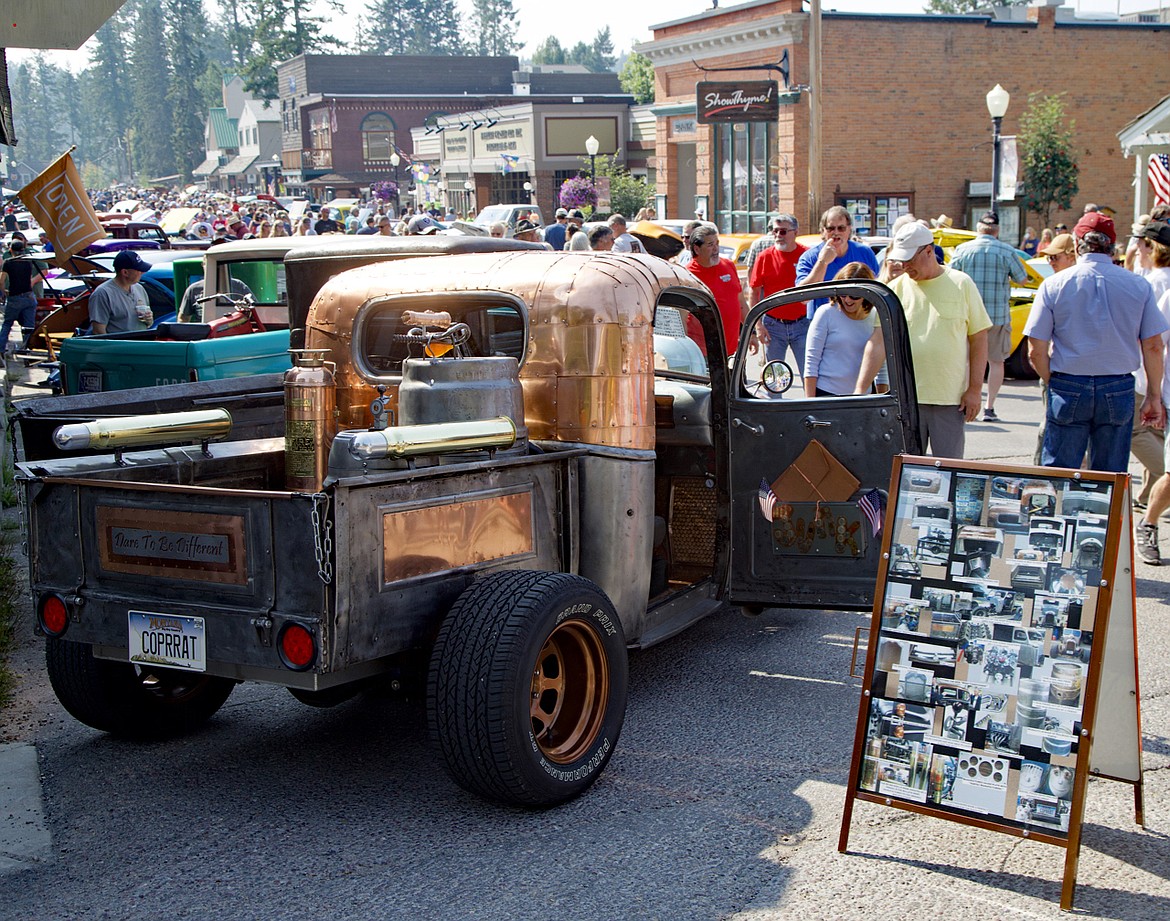 A 1939 Chevy Rat Rad owned by Greg Greene of Kalispell had an eye-catching copper finish. The 13th annual Rumble in the Bay in Bigfork drew a lot of vintage vehicles and a big crowd on Sunday. The event was sponsored by the Bigfork VFW Post 4042 and the Bigfork Chamber. (Kay Bjork photo)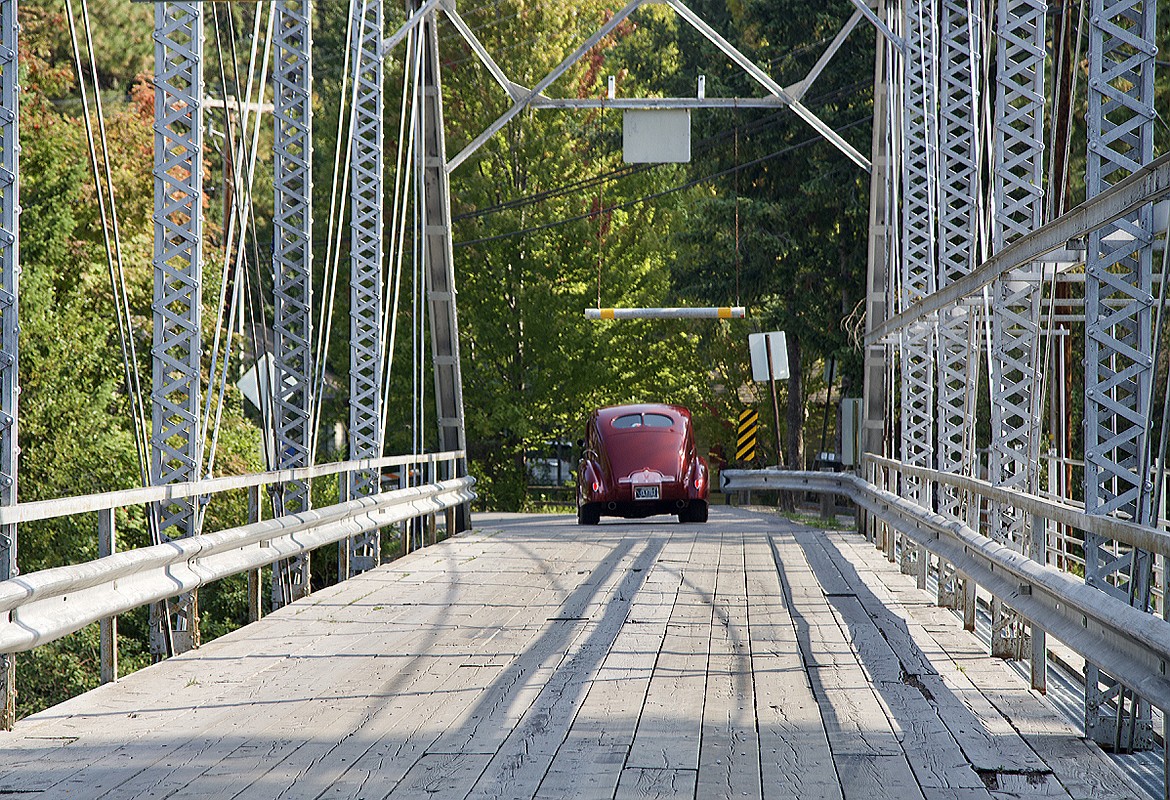 A vintage car crosses the one-lane bridge on the way to the Rumble in the Bay car show. (Kay Bjork photo)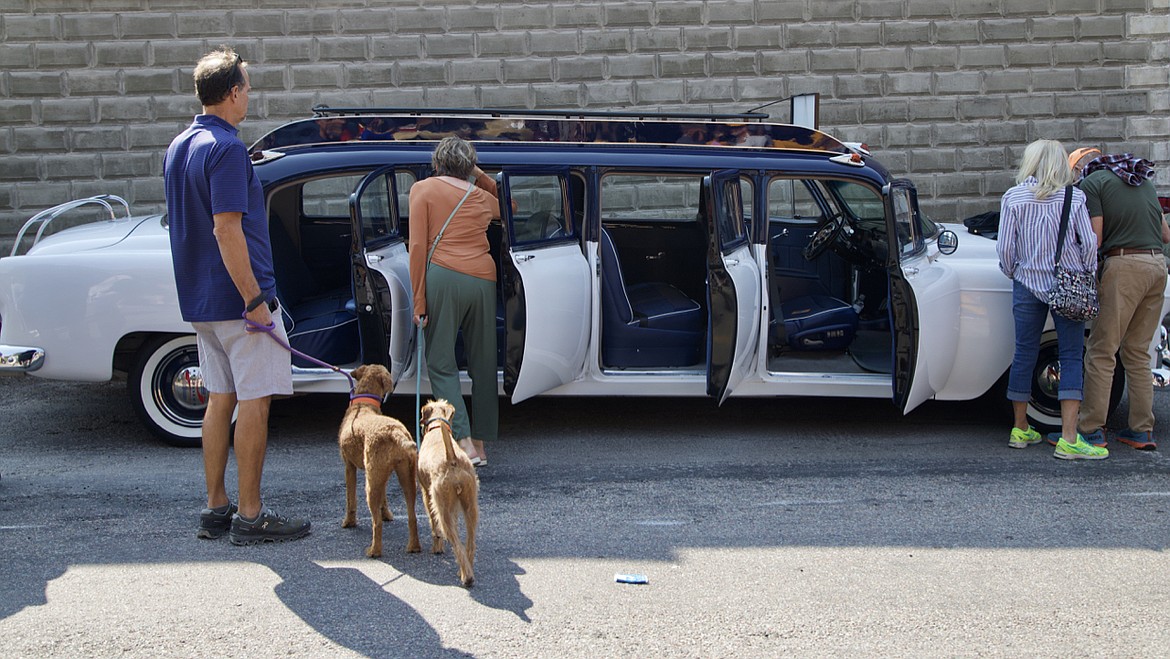 Should we load up? These dogs might be ready to load this handsome limo. (Kay Bjork photo)
Bigfork's Lyle Aklestad Model A 1929 Ford was a real beauty at the Rumble in the Bay car show. (Kay Bjork photo)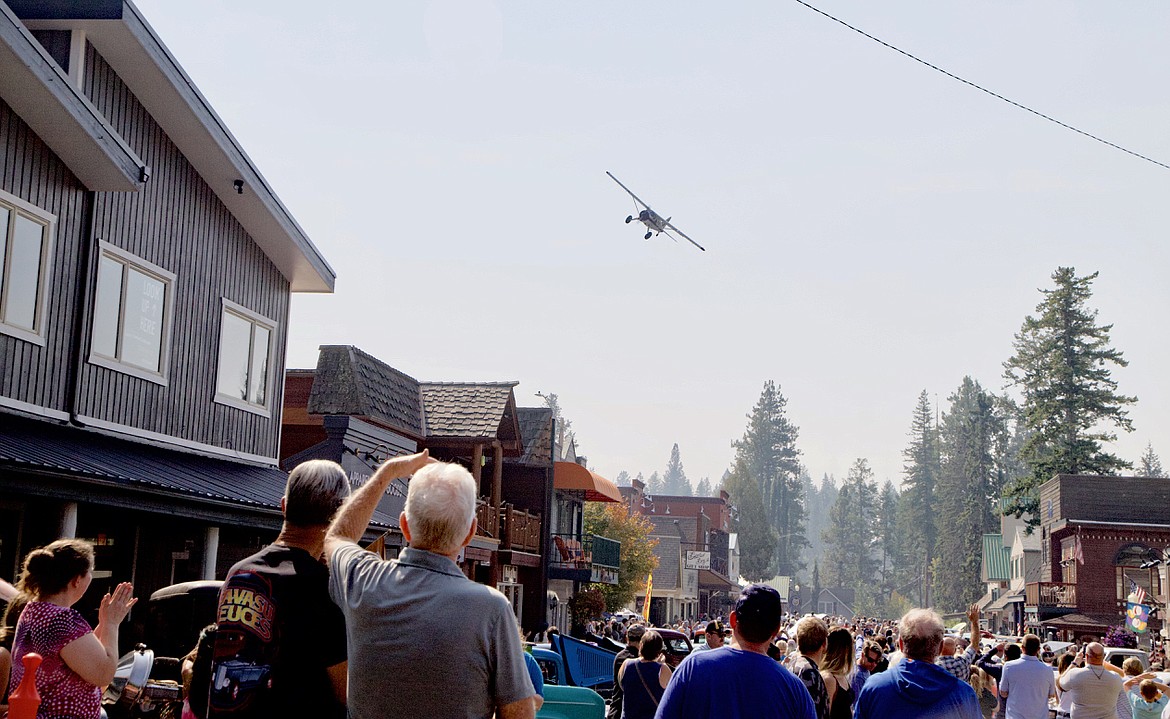 A flyover at noon followed the singing of the national anthem adding a special moment to the VFW sponsored event. (Kay Bjork photo)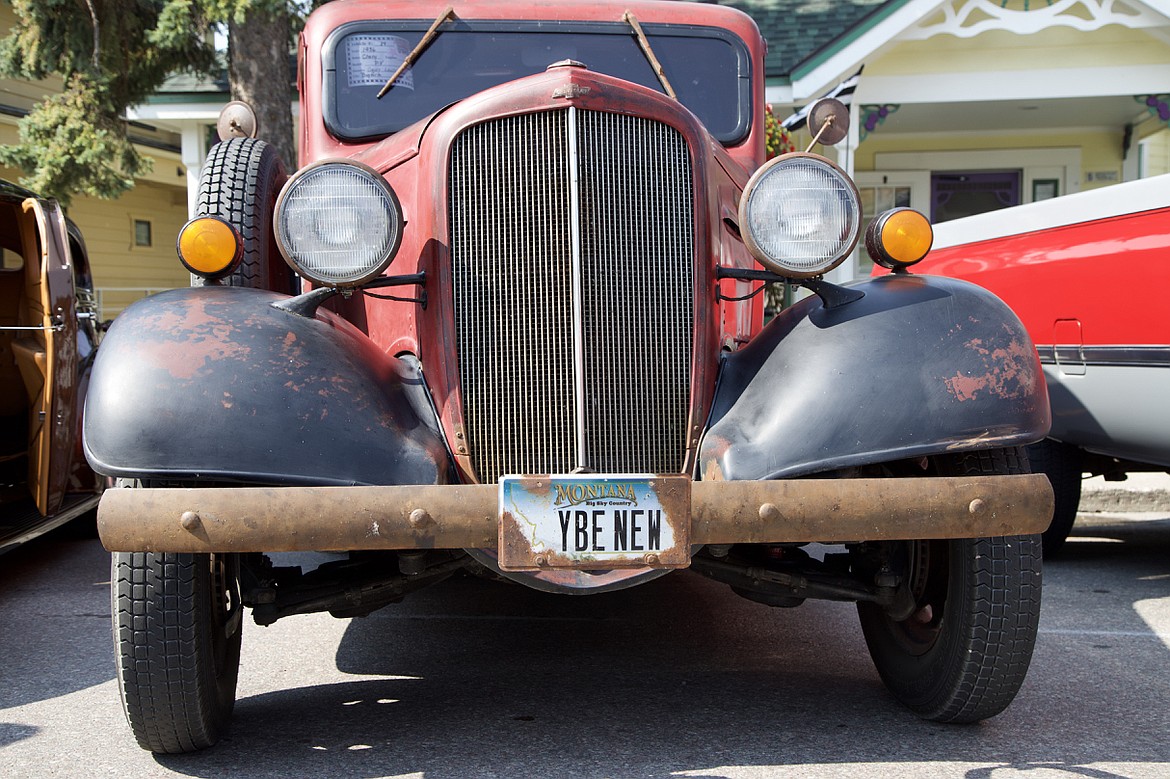 Geoff Landon's license plate on his 1936 Chevy truck makes a good point. (Kay Bjork photo)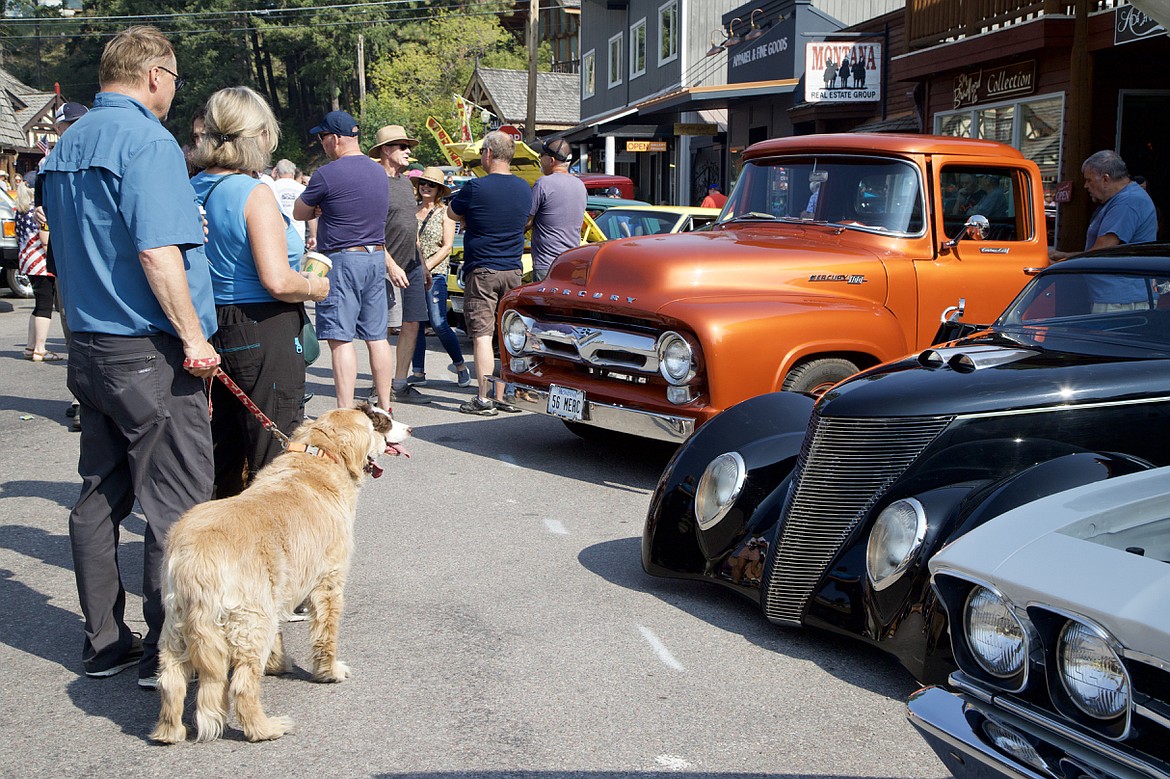 Even the dogs seemed to appreciating the great cars at this year's show. (Kay Bjork photo)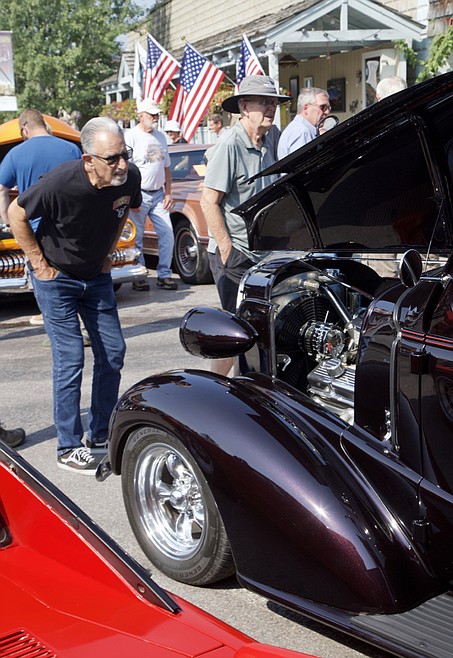 The car show offers the opportunity to see hundreds of vintage cars up close. (Kay Bjork photo)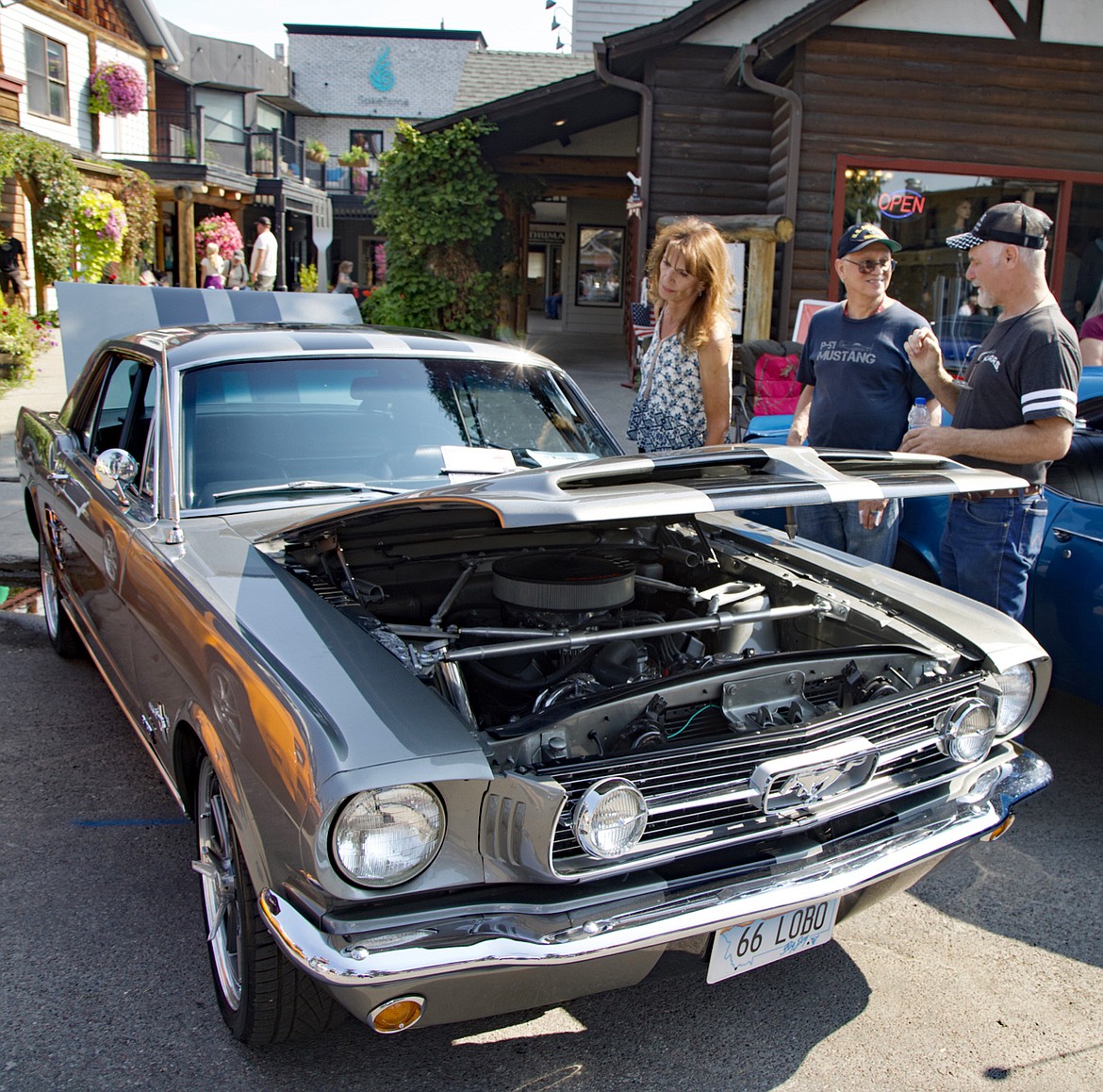 Curtis Wallace of Bigfork brought his 1966 Ford Mustang to the show. (Kay Bjork photo)
Previous
Next
by
Kay Bjork For the Eagle
|
September 8, 2021 1:00 AM
The 13th annual Rumble in the Bay in Bigfork saw a big crowd on a summery day under sunny skies, although they were a tad hazy, as winds shifted and smoke from California fires seeped into the area. That was a minor detail during the Labor Day weekend show, with nearly 200 registered vehicles and hundreds of people attending.
"Registered cars were down a bit, as expected with the Canada border closure, but we were happy with 186 vehicles. The crowds were great and food cars reported record sales," said Bigfork Chamber Executive Director Rebekah King.
This year's car show theme was "The Year of the Convertible," but the event featured a wide variety of vintage cars, trucks and motorcycles. The two-day showcase included a poker run around Flathead Lake on Saturday and the vehicle show in downtown Bigfork on Sunday, co-sponsored by the Bigfork VFW Post 4042 and the Bigfork Chamber. Proceeds from the event benefit the Bigfork VFW's High School scholarship program.
The day was marked by the chorus of car "rumbles," as directed by the emcee. At noon the event took pause and the dizzy movement of the crowd stopped for the presentation of the flags by Scout Troop 1023 and the singing of the national anthem by Robin Gough, whose beautiful voice rang out clear and strong in downtown Bigfork. Then almost before hands dropped from hearts, their heads turned up — to capture the Harley-like sound and the flyover of a 1952 Haviland DHC2 Beaver airplane.
Whether it was in the air or on the ground – it was a pretty classic day in Bigfork.
Rumble in the Bay Results
Poker run around Lake: Joanne Chambers – 4 Queens
Poker Walk downtown: Bobbie Wolfe
Best Convertible: 1953 Buick Skylark – Dean and Linda Eldridge (trophy sponsor – Garden Bar)
Best Engine: 1953 Buick Skylark – Dean and Linda Eldridge (trophy sponsor – Flathead Lake Brewing Company)
Best Stock Vehicle: 2016 Hemi Shacker 392 – John Crose (trophy sponsor – Bigfork Frame Shop)
Best Corvette: 1962 Corvette – James and Ann Davis (Perpetual Trophy in Memory of Pat and Craig Wagner)
Best Muscle Car: 1968 Charger – Kelly Negg (trophy sponsor – Montana Athletic Club)
Youngest Car Builder: 1946 Ford Pickup – Jackson Nelson, 17 years old (trophy sponsor – Lyle Aklestad)
People's Choice Award: 1936 Chevy 2 Door Sedan - Lonnie and Toni Wallace
(trophy sponsor – Tall Pine Lounge)
Best of Show: 1957 Pontiac Bonneville – Rich and Susan Proul (trophy sponsor – Kelly's Auto Body)
---