Sports roundup: Volleyball remains atop district standings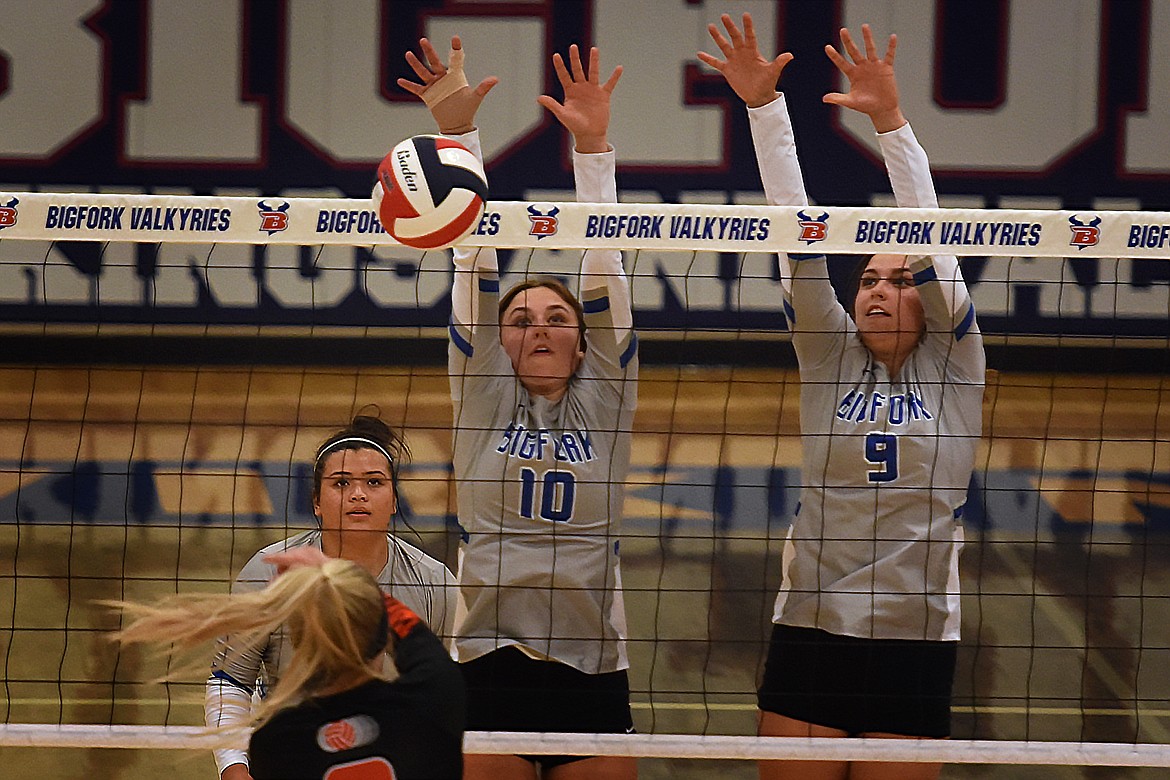 Bigfork's Arianna Saari (10) blocks a Plains attack Monday as teammates Mackenzie Holton (left) and Alexis Saari (9) look on. (Jeremy Weber/Bigfork Eagle)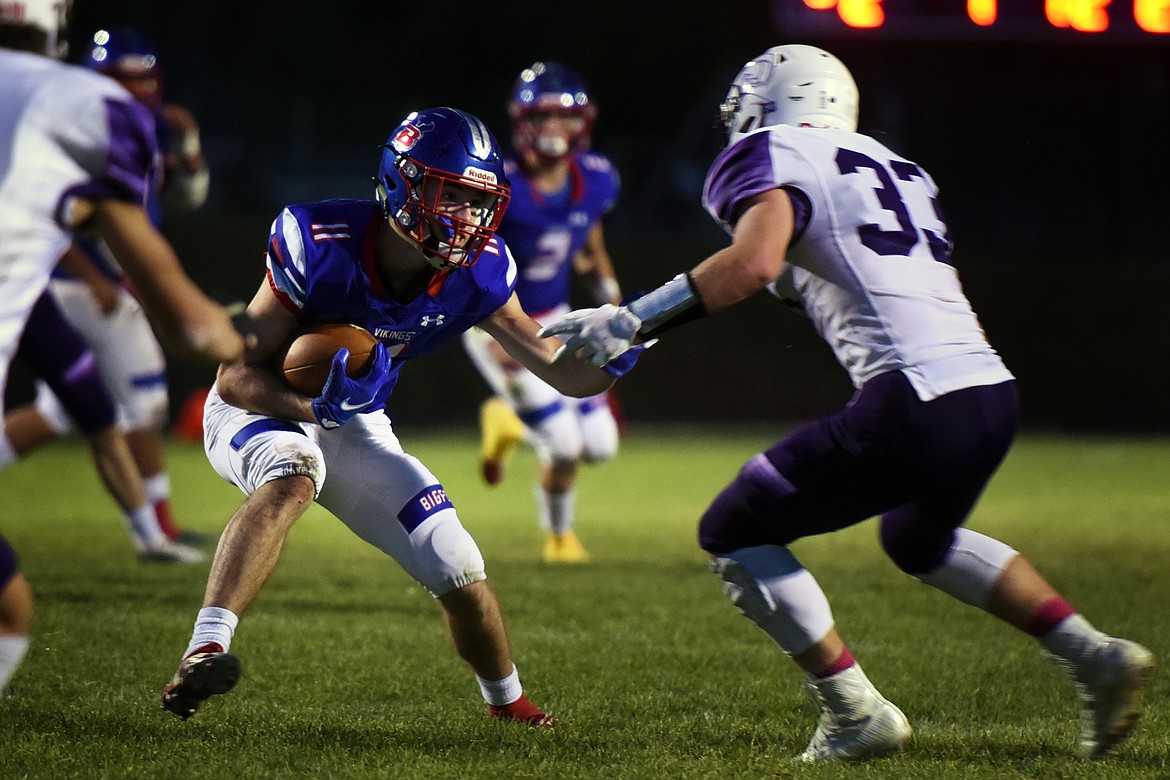 Bigfork's George Bucklin evades Whitehall defenders in the second quarter Friday. (Jeremy Weber/Bigfork Eagle)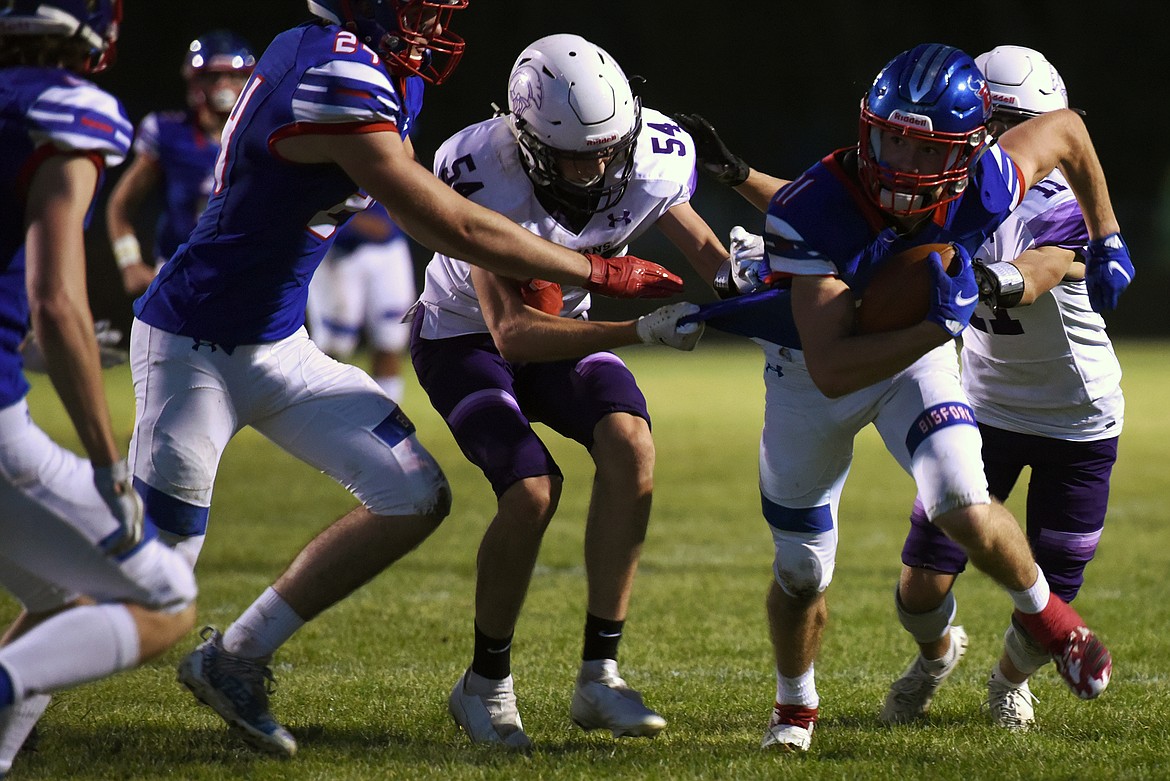 Bigfork's George Bucklin evades Whitehall defenders in the second quarter Friday. (Jeremy Weber/Bigfork Eagle)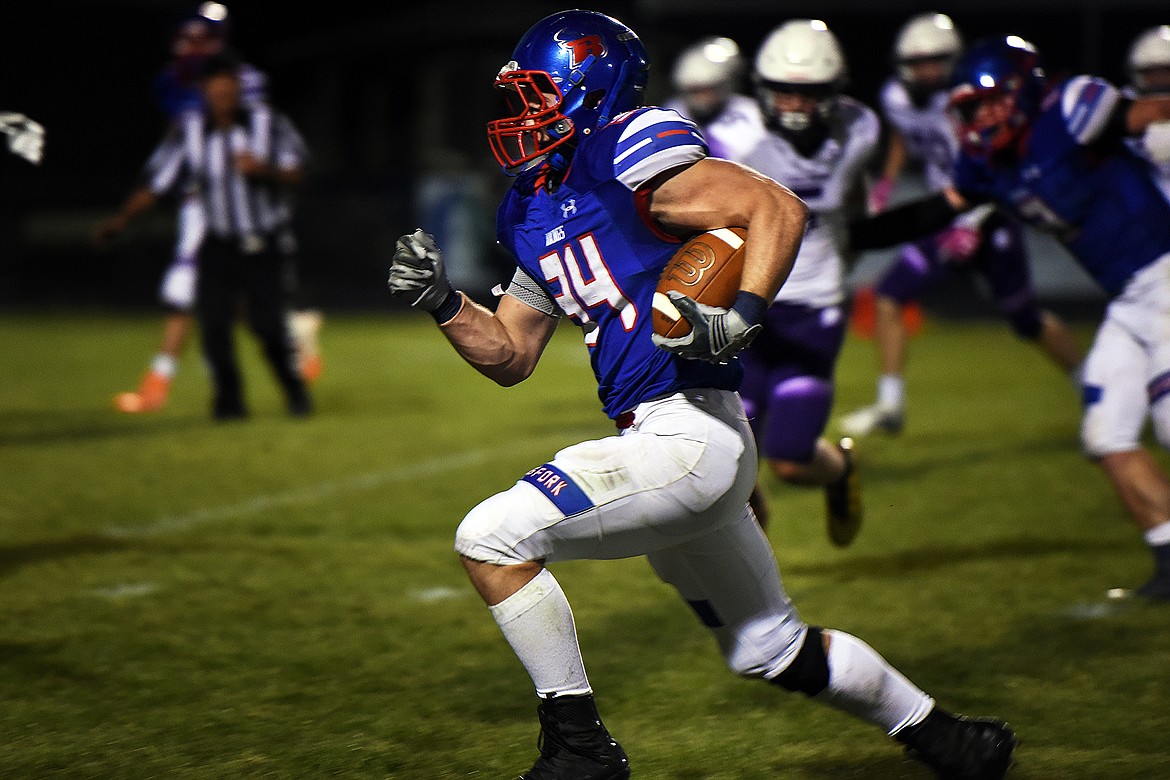 Bigfork running back Joseph Farrier breaks free for a big gain against Whitehall Friday. (Jeremy Weber/Bigfork Eagle)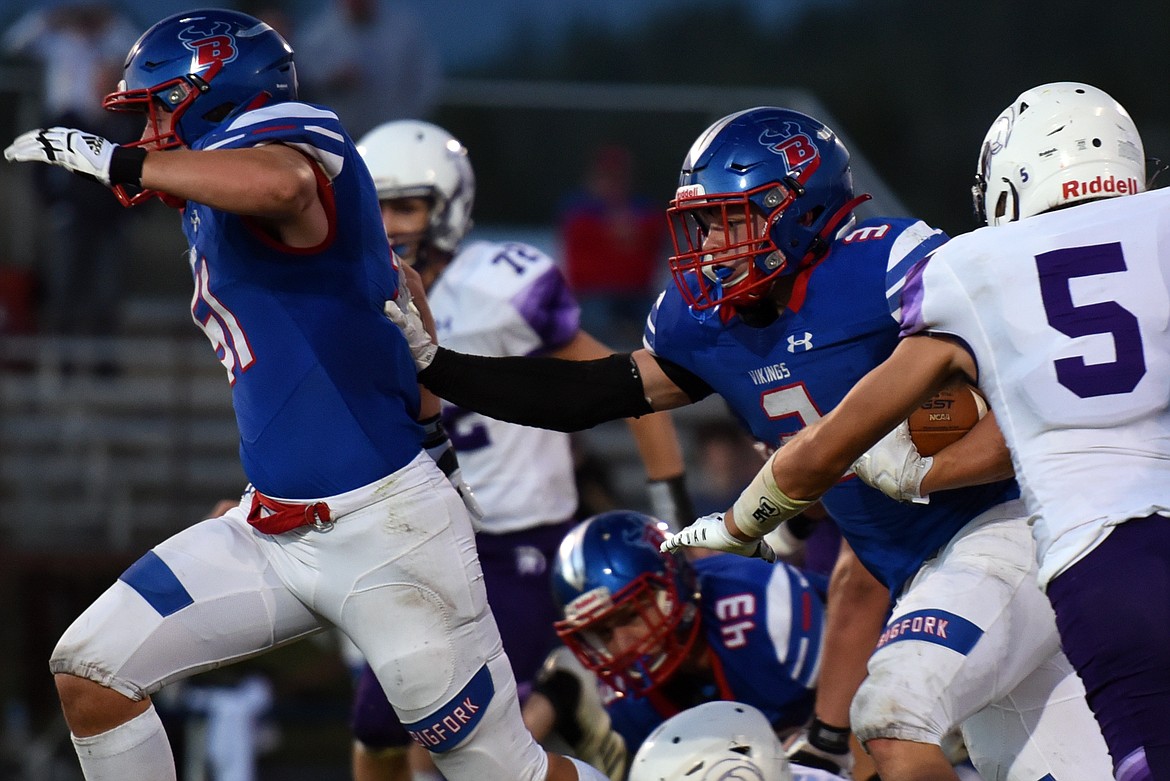 Bigfork running back Levi Taylor runs behind the block of lineman Jordan Betts. (Jeremy Weber/Bigfork Eagle)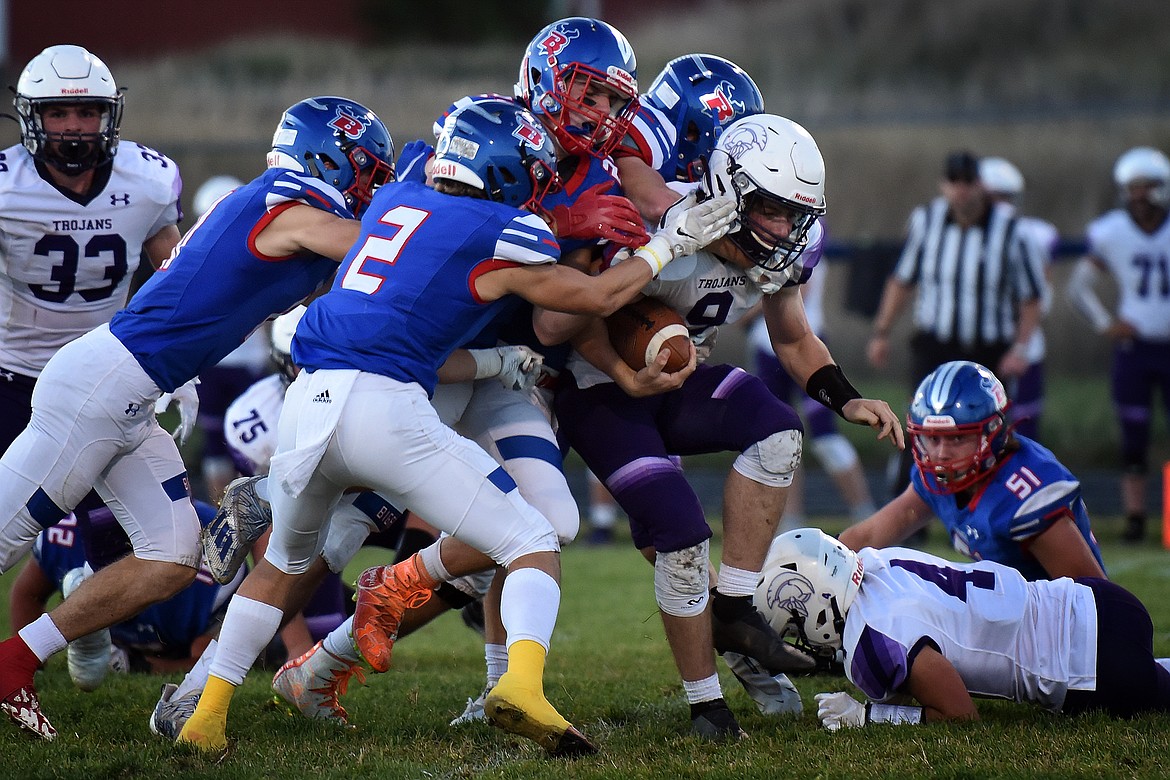 The Bigfork defense swarms Whitehall quarterback Miles Hoerauf in the second quarter Friday. (Jeremy Weber/Bigfork Eagle)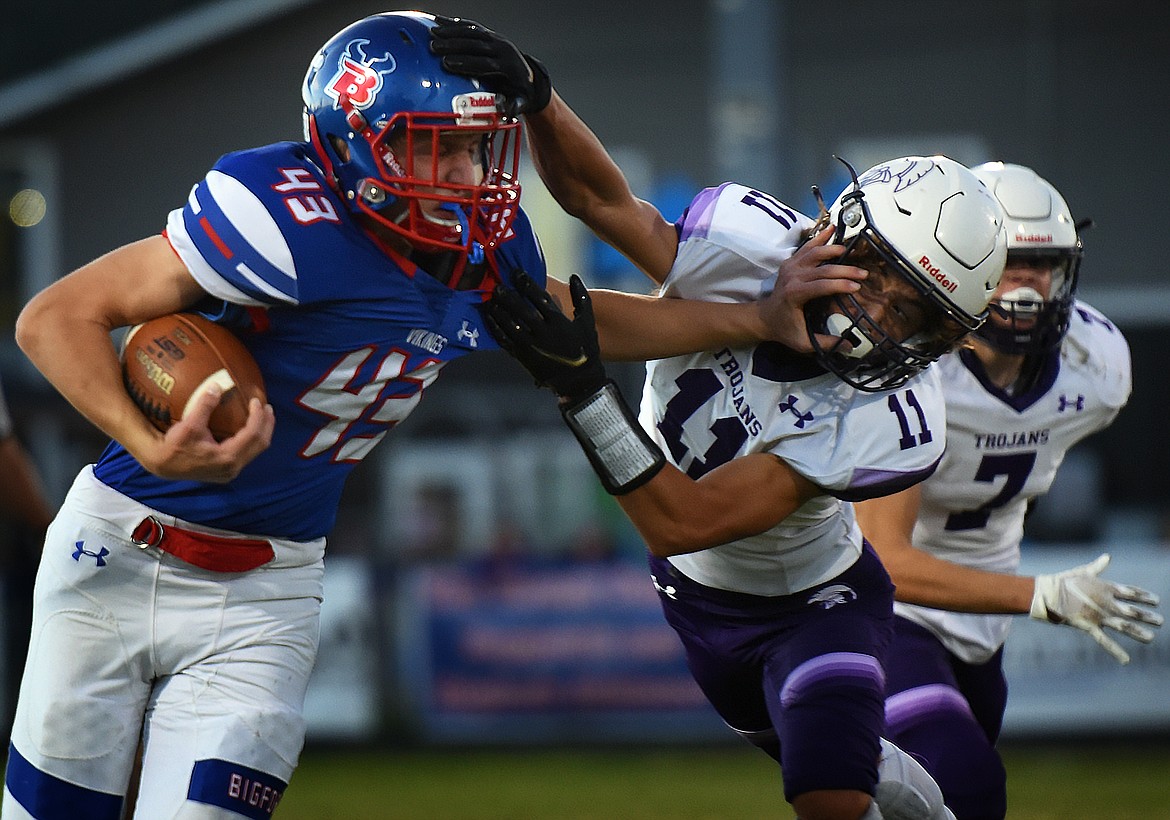 Bigfork running back Wyatt Johnson evades Whitehall defensive back Parker Wagner during the Vikings' 54-6 victory Friday. (Jeremy Weber/Bigfork Eagle)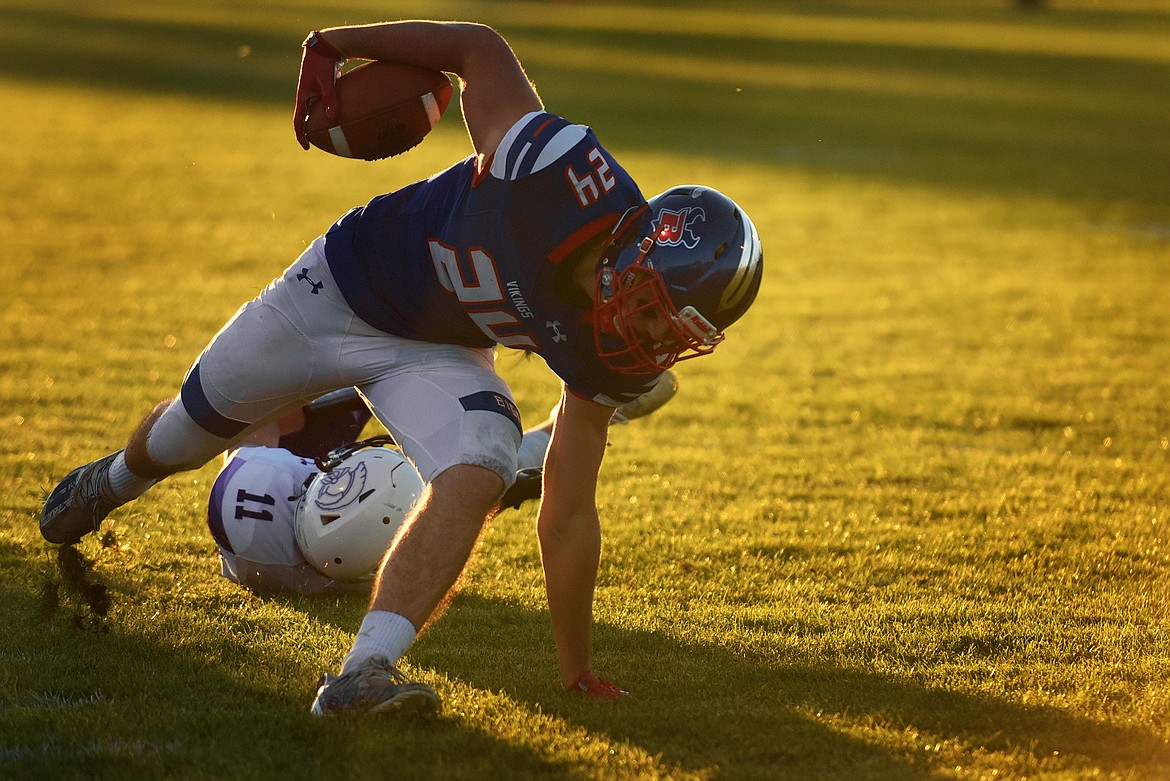 Bigfork wide receiver Dane Hansen keeps his feet after receiving a pass in the first quarter against Whitehall Friday. (Jeremy Weber/Bigfork Eagle)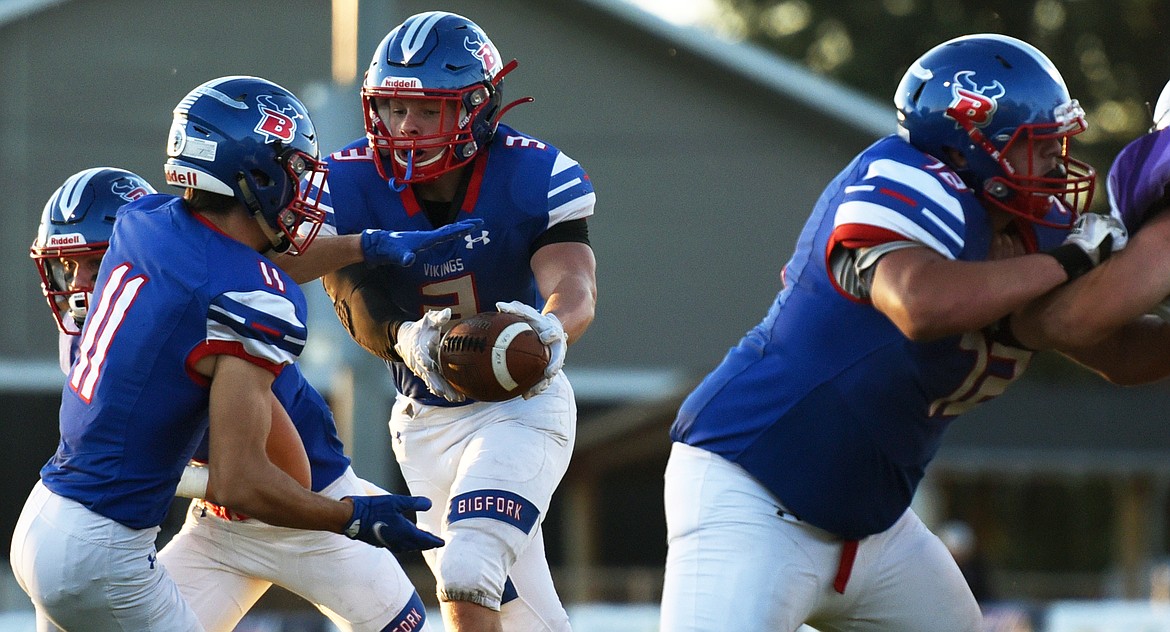 Bigfork running back Levi Taylor hands off to fellow running back George Bucklin in the first quarter against Whitehall Friday. (Jeremy Weber/Bigfork Eagle)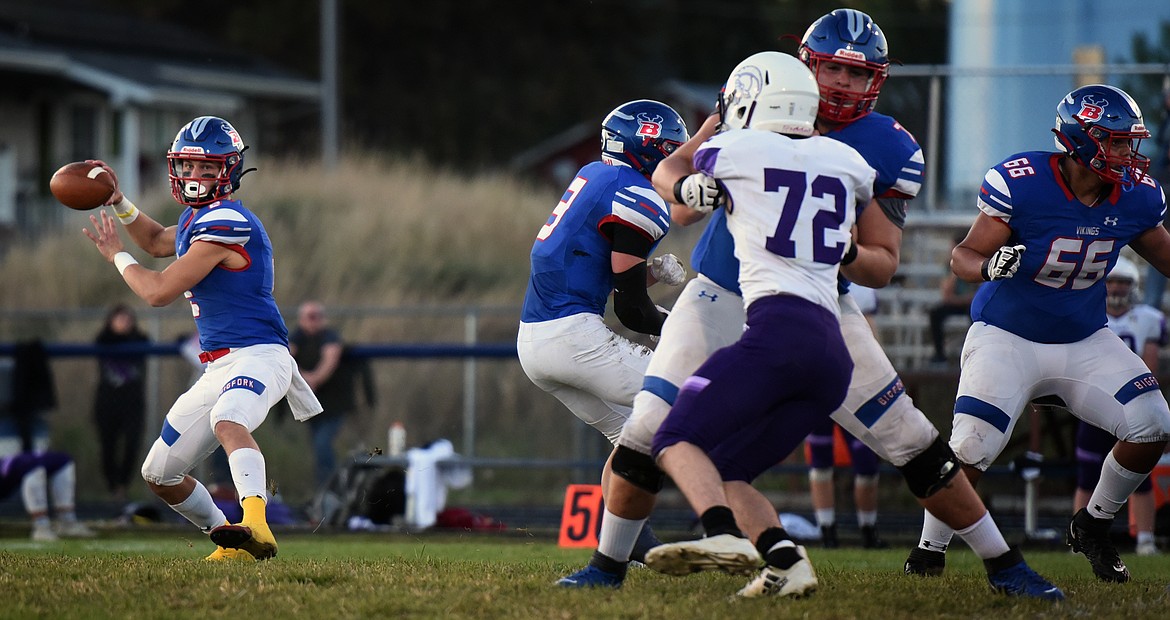 Bigfork's offensive line holds off the Whitehall defense as quarterback Patrick Wallen looks for a receiver Friday. (Jeremy Weber/Bigfork Eagle)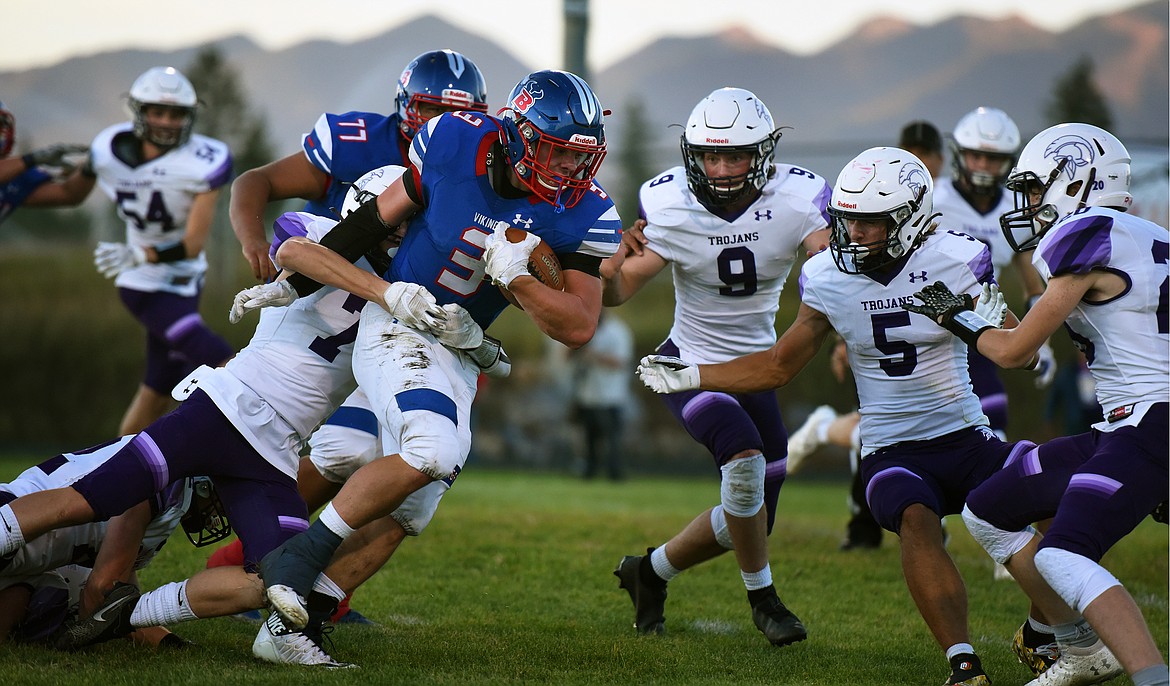 Bigfork running back Levi Taylor breaks away from Whitehall linebacker Michael Reiff in the first quarter of the Vikings' 54-6 victory Friday. (Jeremy Weber/Bigfork Eagle)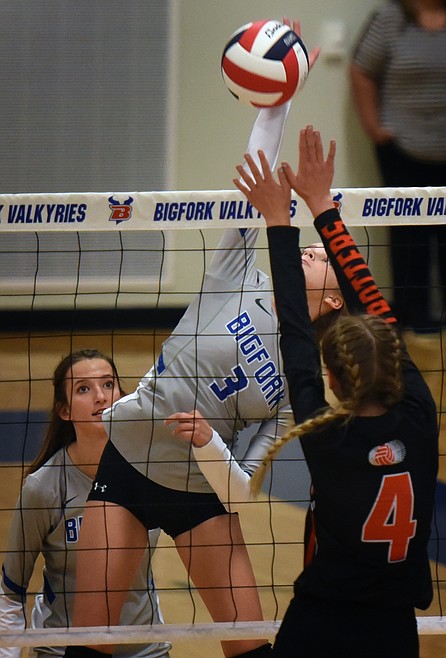 Bigfork's Isabella Ellison sends the ball past Plains defender Kallen Burrows Monday. (Jeremy Weber/Bigfork Eagle)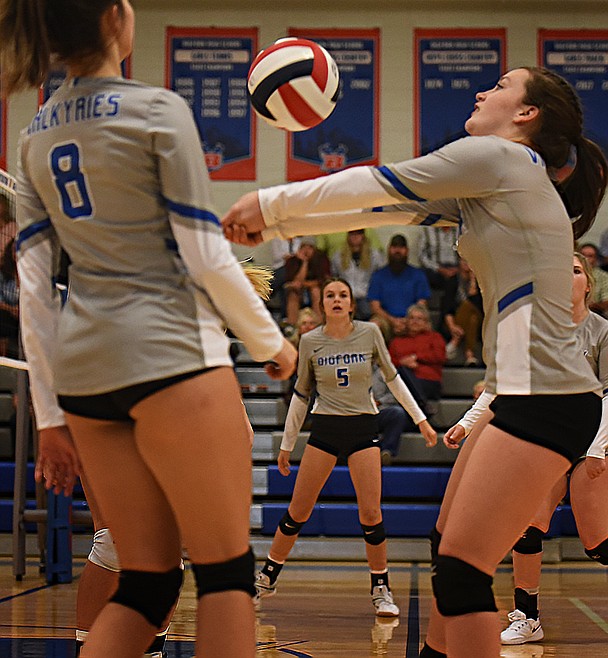 Bigfork's Ellie Jordt (5) looks on as Tessa Troyer steps in front of Zoey Albert (8) to make a play on the ball against Plains Monday. (Jeremy Weber/Bigfork Eagle)
Previous
Next
by
JEREMY WEBER
For the Eagle
|
September 29, 2021 12:00 AM
Another exciting week of Bigfork High School sports saw the Valkyries Volleyball team pick up three wins to stay on top of the district standings while the Vikings football team earned a blowout win over Whitehall to stay undefeated. The Vikes and Vals soccer teams split games against Whitefish and Libby while the cross country took second place in Thompson Falls.
VOLLEYBALL
The Valkyries made short work of Plains and Troy last week and survived a nailbiter at Eureka to move to 4-0 in district play and 5-3 overall this season.
Bigfork allowed Troy and Plains just 28 points each as they swept both teams in three sets, beating the Lady Trojans 25-11, 25-13 and 25-4 September 21 and the Trotters 25-13, 25-9 and 25-6 Monday.
Zoey Albert and Isabella Ellison each had three kills in the win over Troy while Albert also added five aces. Callie Martinz led the Valkyries with six aces and 10 digs while Mackenzie Holton led the squad in assists with seven.
Albert had seven kills and Inga Turner, Alexis Saari and Ellie Jordt added four each in the Valkyries win over Plains Monday. Jessa Newton and Martinz dominated from the service line as Martinz recorded 15 aces and Newton had 11. Newton also led the Valkyries with nine assists in the victory.
The Valkyries got 11 kills from Turner and 10 from Albert Saturday as they survived a two-hour marathon match in Eureka, downing the Lady Lions 25-20, 19-25, 25-21, 13-25, 19-17.
Holton and Newton combined for 27 of the team's 36 assists in the win as Holton led the way with 15 while Newton added 12. The duo also accounted for 11 aces in the contest with Holton serving six and Newton added five.
Albert had 12 digs to lead the Valkyries defense and Martinz added 11 while Turner recorded four blocks.
The Valkyries will look to continue their four-game winning streak at home against Thompson Falls Saturday.
FOOTBALL
The Vikings used a 27-point second quarter to put away visiting Whitehall early Friday as Bigfork amassed 434 yards of total offense en route to a 54-6 victory over the Trojans.
Bigfork got six rushing touchdowns from five different players in the win, led by Levi Taylor's 121 yards and two scores on just 12 carries. Joseph Farrier added 60 yards and a TD while Elijah Thorness, George Bucklin and quarterback Patrick Wallen also recorded rushing touchdowns in the win.
Wallen was 10-12 passing for 136 yards and a touchdown in the win, hooking up with Isak Epperly from four yards out for a touchdown late in the first half.
Dane Hansen led Bigfork's receiving corps with three catches for 70 yards and returned one interception for a touchdown on defense.
The Vikings defense held Whitehall in check throughout the contest, recording four interceptions and holding the Trojans to just 114 yards of total offense.
Epperly had two picks to lead the passing defense for the Vikings while Hansen and Thomas Eberly also had interceptions.
With the win, the Vikings improve to 4-0 this season. Bigfork will look to remain undefeated Friday as they travel to Missoula to face Loyola-Sacred Heart.
Scoring Plays
1st Quarter
BHS 10:48 George Bucklin runs for 7 yards. (Point after kick by Tristan Herd is no good) WHI 9:14 M Hoerauf pass complete to B Wagner for 4 yards. (Point after kick by C Tebay is blocked)
BHS 6:19 Joseph Farrier runs for 9 yards. (Point after kick by Tristan Herd is good)
2nd Quarter
BHS 11:50 Levi Taylor runs for 44 yards. (Point after kick by Tristan Herd is good)

BHS 11:38 WHI J Denny pass intended for B Wagner. Intercepted by BHS Dane Hansen for a Touchdown (Two point conversion run by Patrick Wallen is no good)

BHS 7:14 Patrick Wallen runs for 4 yards. (Point after kick by Tristan Herd is good)
BHS 4:43 Patrick Wallen pass complete to Isak Epperly for 4 yards. (Point after kick by Tristan Herd is good)
3rd Quarter
BHS 9:08 Levi Taylor runs for 5 yards. (Point after kick by Tristan Herd is good)


BHS 0:10 Elijah Thorness runs for 2 yards. (Point after kick by Tristan Herd is good)
SOCCER
The Vikings and Valkyries soccer squads took on the top and the bottom of the district last week as both teams picked up wins over winless Libby, but fell to undefeated Whitefish teams.
Brette Guenzler, Scout Nadeau and Lily Tanko scored two goals each as the Valkyries defeated Libby 6-0 Thursday.
Tanko got the Valkyries on the scoreboard with a goal in the 10th minute before Guenzler gave Bigfork a 2-0 lead on a penalty kick in the 24th minute.
Tanko assisted on another Guenzler goal before the half as Bigfork held a 3-0 advantage at the half.
Nadeau scored goals on assists from Zoey Guffin and Braeden Gunlock in the second half and Tanko added her second goal in the 65th minute.
The Valkyries defense held the Lady Loggers to a single shot in the win.
Asa Barrett scored the Vikings only goal on an assist from Traic Fainter Thursday as the Bigfork boys downed Libby 1-0.
Both Bigfork squads were held scoreless by Whitefish September 21 as the Vikings fell 0-7 while the Valkyries were defeated 0-2.
The Vikes and Vals both sit in third with 2-2 conference records, behind Columbia Falls (3-1) and Whitefish (4-0).
Both teams were in action against Columbia Falls after press time Tuesday and will travel to face Polson Thursday. The Vikes and Vals will celebrate Senior Night against Libby on Tuesday, October 5.
CROSS COUNTRY
The Vikings had three runners in the top 15 Saturday as they earned second at the Thompson Falls Invitational.
Jack Jenson was Bigfork's top runner, finishing fifth with a time of 17:39.41 while Elliot Sanford was close behind, finishing sixth 17:54.44. Ryder Nollan was 12 with a time of 18:09.91.
North Nollan finished 23rd, Colton Ballard was 45th and Colten Wroble was 52nd.
The Vikings finished behind only defending Class A state champion Hamilton and ahead of other Class A competition Columbia Falls and Whitefish.
The Valkyries had just three runners, but Mahali Kuzyk finished 10th with a time of 22:26.45 while Erika Dowling was 25th and Tabitha Raymond was 26th.
Bigfork's cross country runners will be in action at the Mission Shadow Duels in Polson Saturday.
---