Bigfork track teams continue strong start, tennis squads see action at home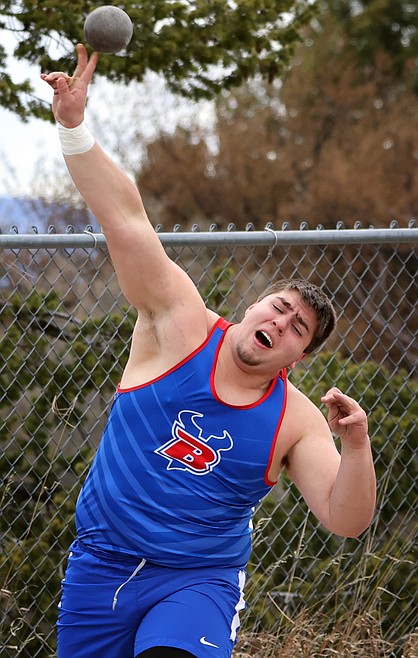 Viking Braeden Guse throws the shot put during Bigfork's home meet April 19. (Jeremy Weber/Bigfork Eagle)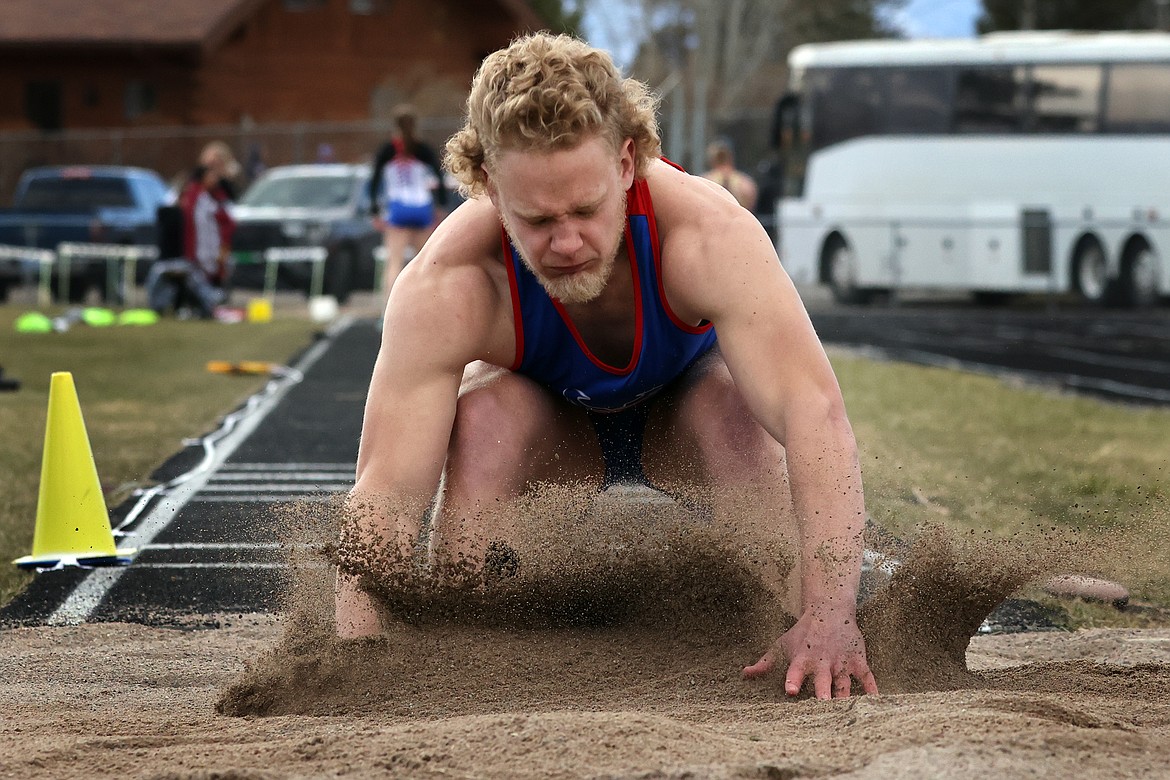 Jackson Abney comes down for a landing in the long jump April 19. (Jeremy Weber/Bigfork Eagle)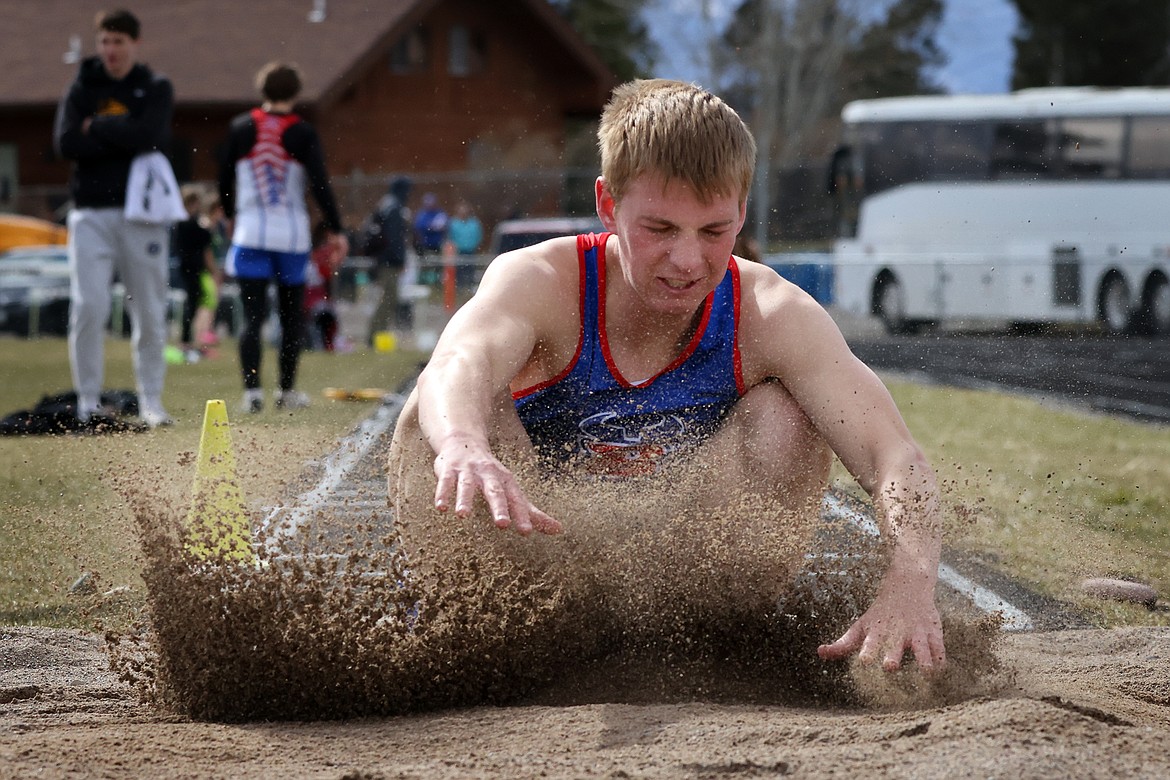 Cole Knopik competes in the long jump at the Bigfork meet. (Jeremy Weber/Bigfork Eagle)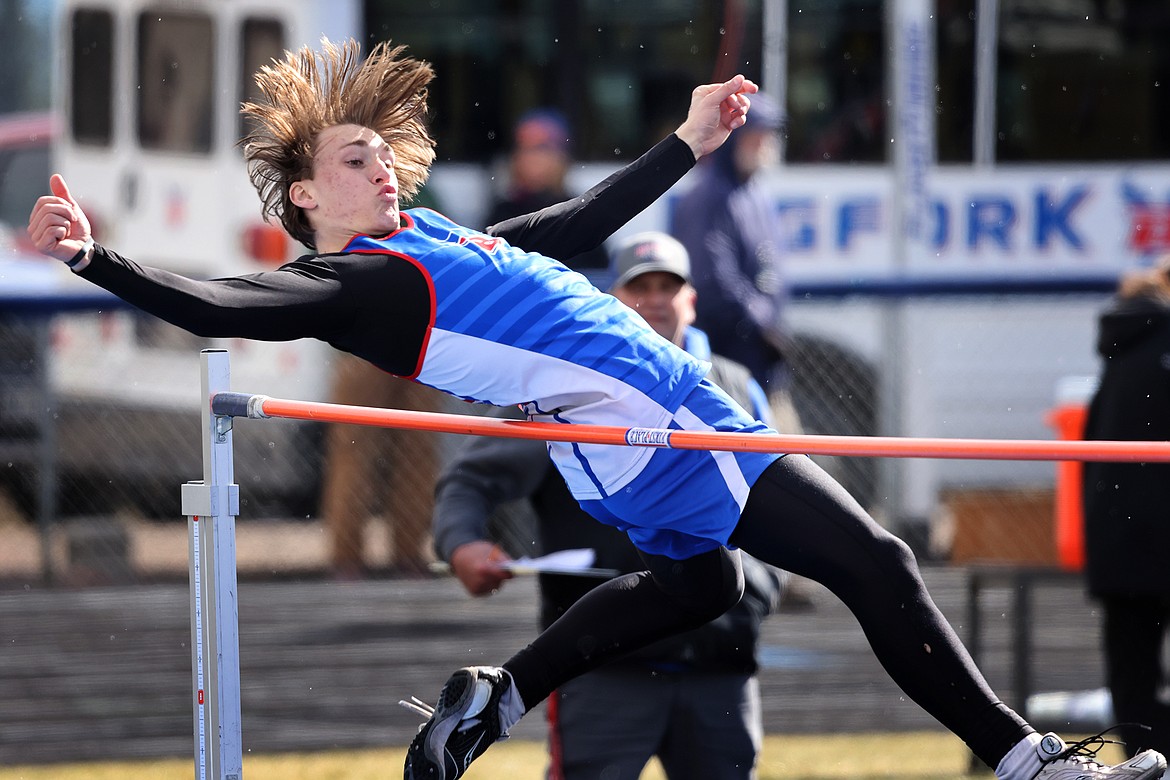 Bigfork's Levi Peterson set a new PR of 5 feet, 4 inches in the high jump at the Vikings home meet April 19. (Jeremy Weber/Bigfork Eagle)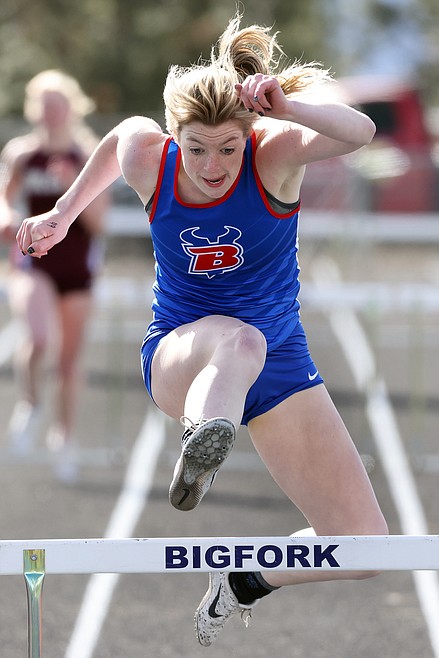 Bigfork's Lily Tanko jumps in the 300 hurdles, where she finished second, at the Bigfork Invitational on Tuesday, April 19. (Jeremy Weber/Bigfork Eagle)
Previous
Next
by
JEREMY WEBER
For the Eagle
|
April 27, 2022 12:00 AM
The Vikings and Valkyries track team continued their strong season last week as they were in action at home Tuesday and at the Seeley-Swan Invitational in Missoula Saturday.
The Vikings dominated their home meet Tuesday, fighting off strong winds to win seven events and finish with 249 points, well ahead of second-place Whitefish's 133.5.
The Vikings took the top four spots in the 110 meter hurdles, led by Isak Epperly's time of 15.69 seconds. Wyatt Johnson took second, Cole Knopik was third and Nick Walker took fourth.
Joseph Farrier was a winner in the 100 meter dash with a time of 11.54 seconds, Elijah Thorness won the 400 with a time of 55.58 seconds and Jack Jensen won the 1,600 with a time of 4:44.84.
The 4X100 meter relay team of Jackson Abney, Trevor Hill, George Bucklin and Farrier won their race with a time of 45.66.
In the field events, Bucklin won the high jump by clearing 6 feet, 2 inches and Levi Peterson used a leap of 19 feet, 9 inches to capture the long jump title.
The Vikings were winners in three events Saturday as they took second at the 26-team Seeley-Swan Invite in Missoula.
Jensen's winning time of 4:39.03 in the 1,600 was the best time posted by a Class B athlete in Montana so far this season while Tristen Herd set a new PR of 11 feet to win the pole vault. Epperly was again a winner in the 110 hurdles with a time of 15.85 seconds.
Bigfork finished with 78.5 points, trailing only Class A Dillon.
The Valkyries won four events and earned 176 points at home Tuesday, taking second place behind Whitefish's 242.
Bigfork took the top four spots in the javelin, led by Madison Chappuis and her toss of 102 feet, 9 inches. Zoey Albert took second, Callie Gembala was third and Autumn Britt was fourth.
Scout Nadeau was a winner in the shot put with a toss of 37 feet, 8 inches, a new PR, and Chloe Raats set a PR of 27.25 seconds to win the 200 meter dash.
Lilly Tanko and Inga Turner both set new PRs in the 100 hurdles as Tanko finished first at 16.54 seconds and Turner was second at 17.14.
The Valkyries finished in second with 88.33 points in Missoula Saturday, behind only Dillon's 102.
The 4X400 meter relay team of Danika Bucklin, Raats, Coralyn Shillam and Afton Lambrecht posted the best time in Class B this season to win their race with a time of 4:19.38 while Bucklin and Lambrecht teamed up with Tanko to win the 4X100 with a time of 51.56 seconds.
Nadeau was the only other event winner for the Valkyries at the meet, winning the shot put with a toss of 34 feet, 7 inches.
Both teams will be in action Saturday in Whitefish.
TENNIS
The Vikes and Vals tennis squads were at home against Loyola and Valley Christian April 19.
The Valkyries took their match against Valley Christian 4-3 as Callie Martinz defeated Emersyn Degroot 2-6, 6-3, 6-1 and Hazel Lowell took down Rosie Rapelje in straight sets, 6-0, 6-4.
In doubles action, Emma Berreth and Anika Ranson defeated Katelynn Bell and Maggie Harvey 6-4, 6-3 and Ashlyn McGill and Cassidy Reichenbach were winners over Molly Harvey and Ashler Howie.
The Vikings had to settle for a 3-3 tie against Valley Christian, getting a lone singles win from Ian McMann over Dawson Hoaglin 6-0, 6-3.
Bigfork got two doubles wins as Caden Leonard and Blane Barrows took down Gabriel Shaffer and Blane Munoz 6-2, 6-1 and Landen Livingston and Logan Livingston defeated Preston Reimer and Keaton Reimer 2-6, 6-3, 6-4.
Macy Pickens got Bigfork's only win against Loyola, defeating Violet Reis 6-4, 6-4.
The Flathead and Bigfork tennis teams duked it out at the FVCC tennis courts Monday with the Bigfork boys edging Flathead, 4-3. The Bravettes and Vals dueled to a 3-3 finish.
Lowell won her singles match for the Valkyries while the doubles teams of Berreth and Ranson as well as Reichenbach and Jade Sisler won their matches.
For the Vikings, Kyle Folwick and McMann won their singles matches while both doubles teams also won their matches.
---