Steps of Justice Crossfit works to show kids 'they can do hard things'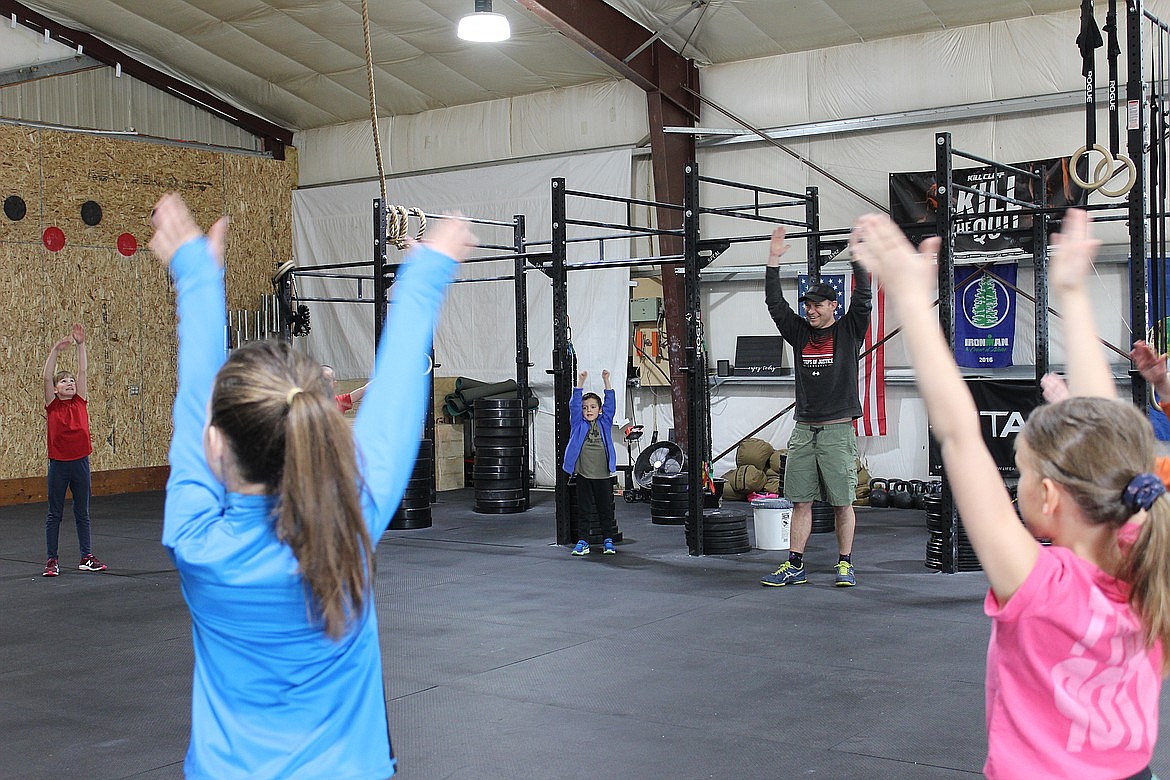 Steps of Justice Crossfit coach Jimmy Karlin leads group stretches before participating in the day's activities. (Taylor Inman/Daily Inter Lake)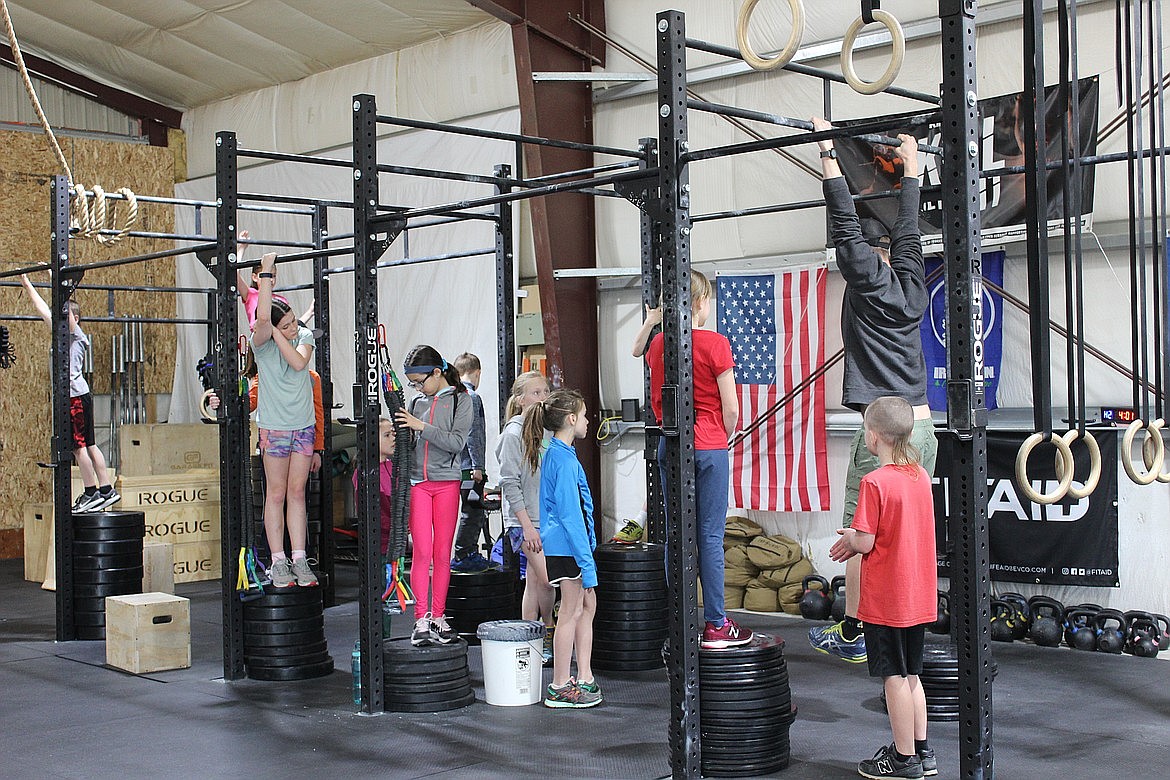 Steps of Justice coach Jimmy Karlin gives kids instruction before they begin their bar hang. (Taylor Inman/Daily Inter Lake)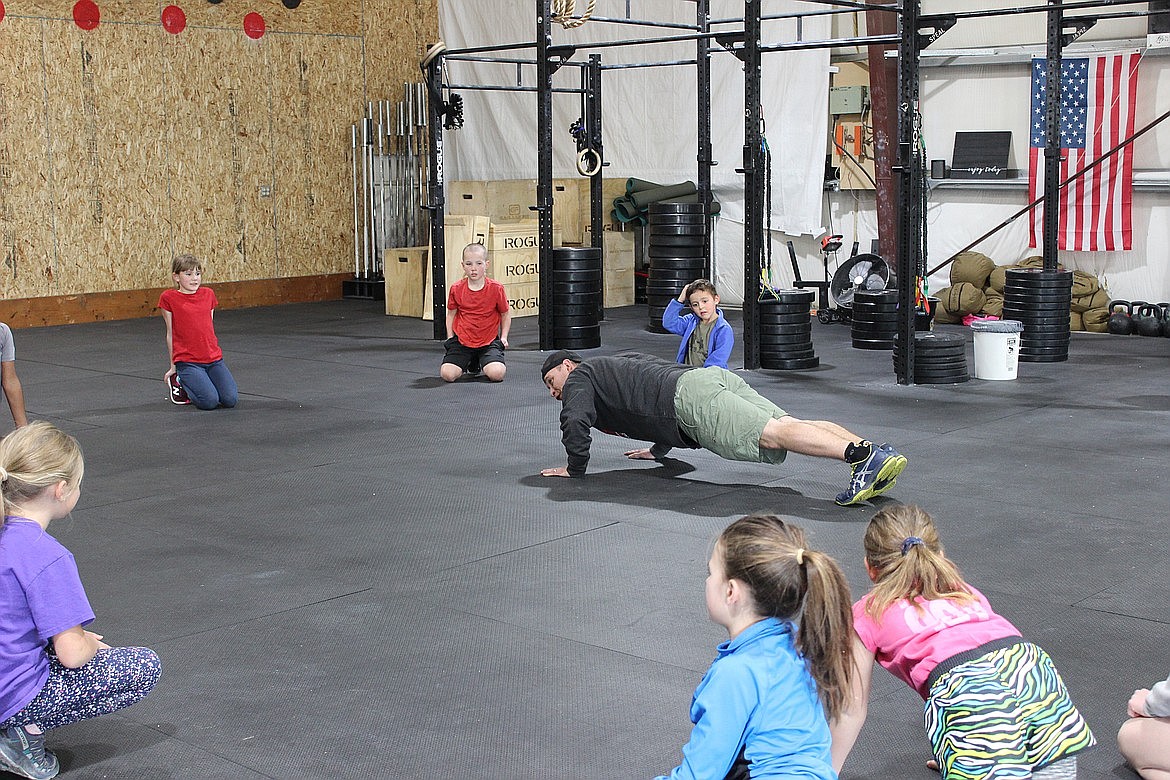 Steps of Justice Crossfit coach Jimmy Karlin shows the proper push-up technique. (Taylor Inman/Daily Inter Lake)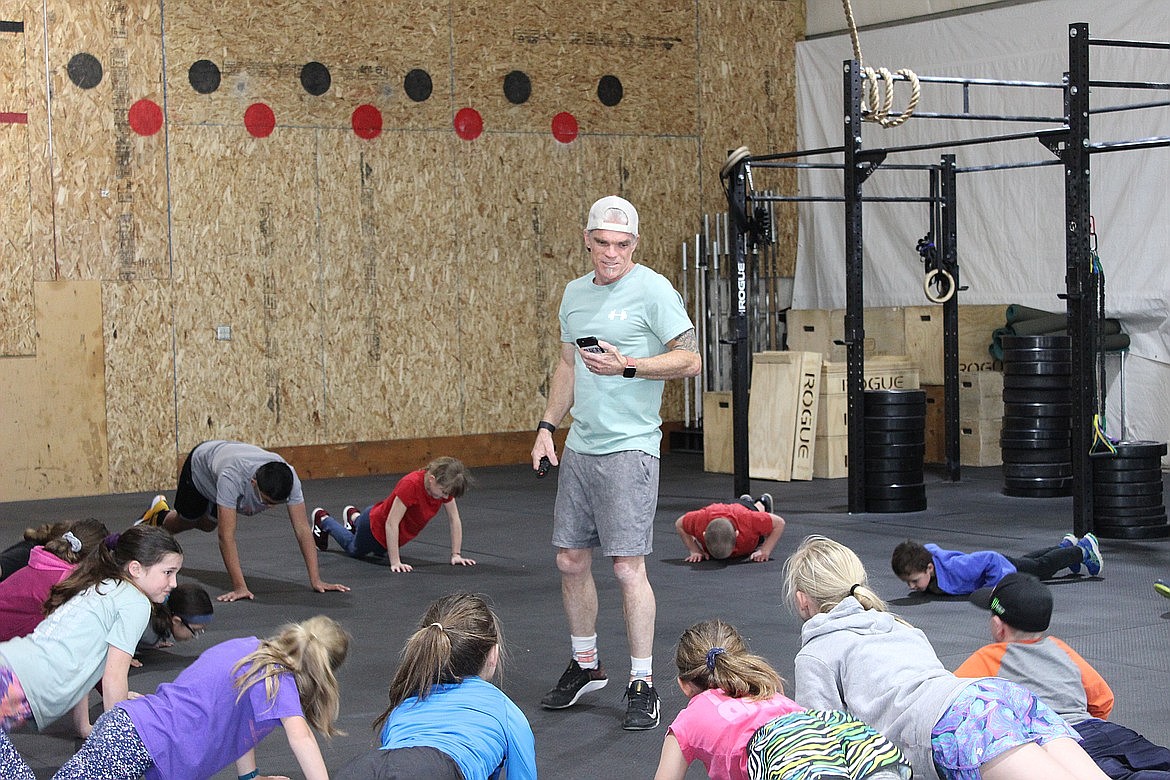 Kids do push-up reps while Steps of Justice Crossfit Founder Phil Cunningham coaches and gives encouragement. (Taylor Inman/Daily Inter Lake)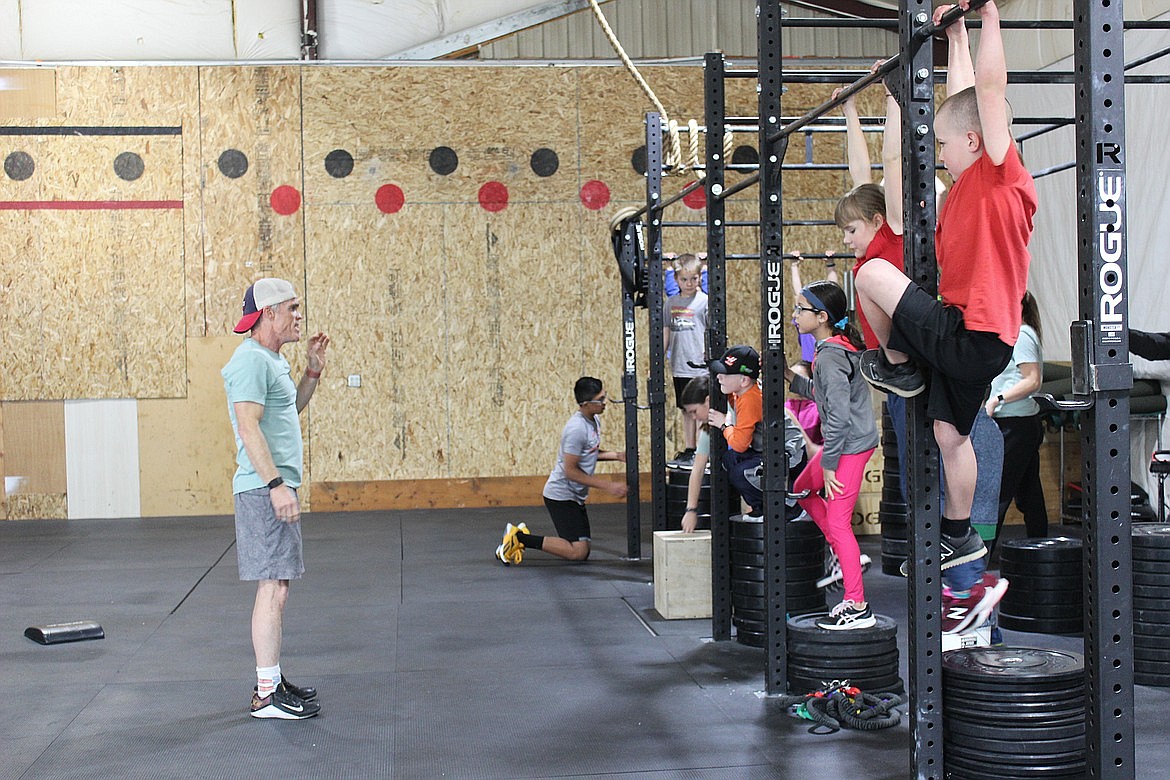 Steps of Justice Founder Phil Cunningham gives kids instruction before they begin their bar hang. (Taylor Inman/Daily Inter Lake)
Previous
Next
by
TAYLOR INMAN
Bigfork Eagle
|
April 27, 2022 12:00 AM
Ready to move and test their limits, more than a dozen kids run into the Steps of Justice Crossfit session in Evergreen.
The youngsters seem excited to tackle the physical challenges they'll face at Ironhawk Gym where the sessions are held. Steps of Justice is a nonprofit that aims to show young people how exercise can help them tackle difficult problems.
The atmosphere remains fun and uplifting as kids between the ages of 6-12 take part in push-ups, bar-hangs and other physically challenging activities.
Steps of Justice Crossfit Founder Phil Cunningham said kids and teenagers can join the program for free — with donations appreciated. He wanted to make the program free so there wouldn't be any financial barriers for families who can't afford it. But, since starting the program they have had no problems getting their needs met.
"Steps of Justice is a Christian nonprofit, which means we run it out of our faith in Jesus. But, we want to serve everyone. So, out of that we said, 'let's just practice generosity,' and we've seen a lot of generosity come in. The gym has been very generous with the rent, we have people who donate stuff for our program and our camp. We just thought if we're charging while everyone else is being generous and giving, it just didn't sit well," Cunningham said.
Cunningham started the program in Evergreen during October of 2020, but the original idea for it began when he and his wife were living in San Diego. It was at this time that he started going to a Crossfit gym.
"It was interesting how my coach helped me see that my body could do things that my mind said it couldn't — like there's no way I could do this workout, but then I would do it. It would be awful and I would be tired, but I did it," Cunningham said.
Crossfit said he likes the program because the workouts are short and difficult, but it comes with a supportive and uplifting community. Since he was working with refugee children from Syria and Africa at the time, he wondered if a program aimed at young people could give them that same feeling of overcoming difficult tasks.
"I said, 'well, if this is helping me process some things and build some mental toughness, what would it look like for some of these kids we are working with?'" Cunningham said.
He started a one hour after-school program where he invited children to come exercise: doing push-ups, sit-ups and squats. Soon, kids started showing up and Cunningham said he noticed a difference in them as they participated.
"They started working and their attitude changed towards things, the way that they spent their time changed and I thought, 'wow, this really works for kids,'" Cunningham said.
It was soon after that he and his wife decided to move to Montana and start a similar program here. He said they wanted to create a space that could serve the community where kids would feel safe. After attending classes at Iron Hawk Crossfit in Evergreen, he pitched the idea to owner Lisa Levdansky, who was excited to facilitate a youth program.
During the start of the program he said there were a lot of long-distance learners and homeschooled kids coming to participate. Cunningham believes Crossfit helped these children process a lot of what was happening with the pandemic at the time and being stuck at home.

"We even talk with parents that say their kid is different because of this— the discipline, the coaching, getting out and having their own space … this is like a playground for kids. So, the more comfortable they feel the more they look forward to coming," Cunningham said.
He believes Crossfit translates well to children because it incorporates elements of play that they are familiar with.
"What Crossfit does is it takes things kids already do, like sit, squat, push, pull, pull-ups, sit-ups and really help build strength in those things. It's more for longevity, and I think there's skills we used to know when we were kids, like how to do a pull-up or how to do a cartwheel that we don't know anymore. I think those are important," Cunningham said.
Cunningham coaches the classes with the help of Jimmy Karlin and Bryan Helmbrecht. He said the program is a team effort and he also appreciates work from their wives and participant's parents.
SHOWING KIDS how they can tackle hard problems is one reason Karlin says he loves coaching. He said he thinks back to his sports coaches growing up and how much they shaped who he is as a person.
"I love getting to see people do things they couldn't do before," he said. "We do assessments every quarter, and we get kids who couldn't do a pull-up when they came to the gym and then they do the first assessment and can do one pull-up then by the second quarter they can do five or seven, they see their numbers go up and they get excited. It's awesome to see that when these kids show-up and they work hard they can do things they previously couldn't."
In fact, that mantra is repeated frequently and written on the whiteboard at the front of the class: "you can do hard things."
THE PROGRAM has grown a lot since its inception, with most of their participants being below the age of 12. Cunningham said their next goals for growth include getting more teenagers interested and "reaching as many people as they can." He said they are looking at creating a class for parents that would include a space for their kids to hangout while they exercise, and they are looking forward to a summer camp that will take place at the beginning of June.
"A one-week camp where each day we'll take elementary schoolers, middle schoolers and high schoolers. One day we will do strength training, gymnastics training another day, cardio one day, and then we'll do a big competition day at the end of the week," Cunningham said.
Visit their website www.sojfit.org or their social media pages to see updates about when it will take place and how to sign-up.
Steps of Justice Crossfit has classes for children and teens at Iron Hawk Crossfit's Evergreen location on Monday, Wednesday and Friday from 3:15- 4 p.m. They offer the same classes at Iron Hawk's Bigfork location on the same days from 1:30-2:15 p.m. On Thursdays, children ages 6-12 have their own class from 3:45-4:15 p.m. and teens follow with a class from 4:30-5:15 p.m. at the Iron Hawk Crossfit Evergreen location. A sign-up form is listed on their website.
---