Elmo Fire threatening 50 structures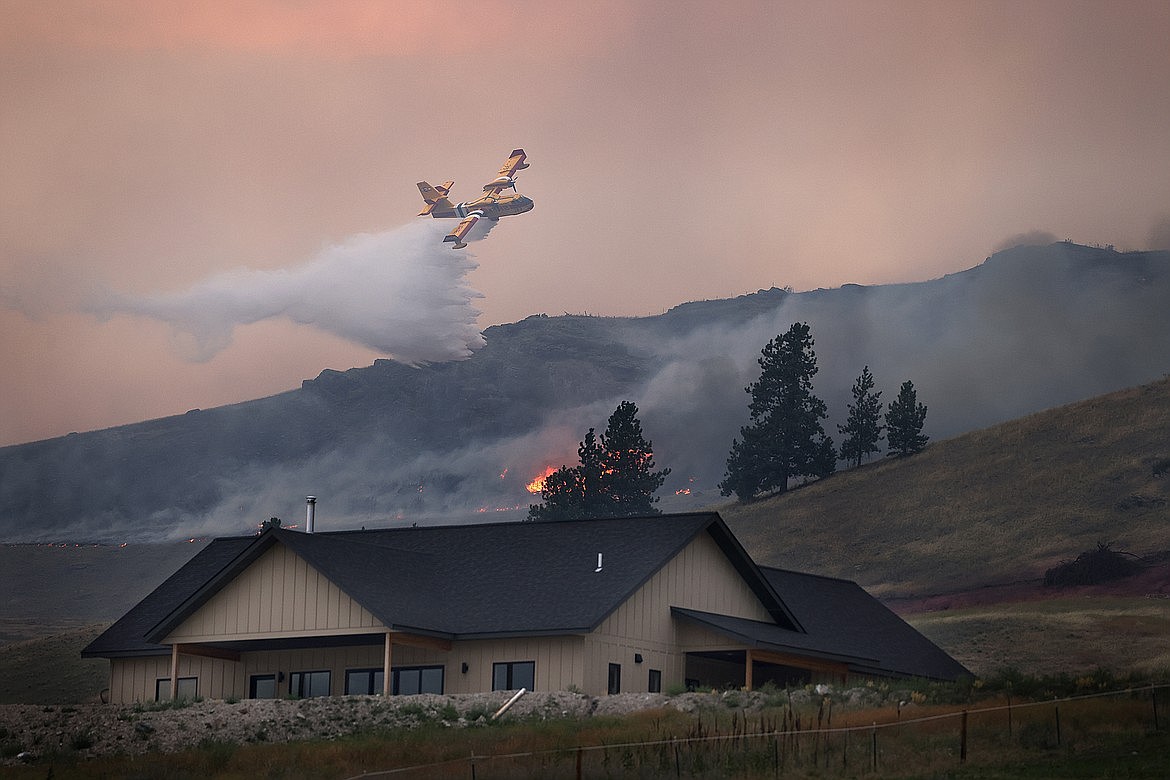 A CL-415EAF super scooper dumps water in an attempt to stop the Elmo Fire from approaching a house along U.S. 93 Monday afternoon, Aug. 1. (Jeremy Weber/Daily Inter Lake)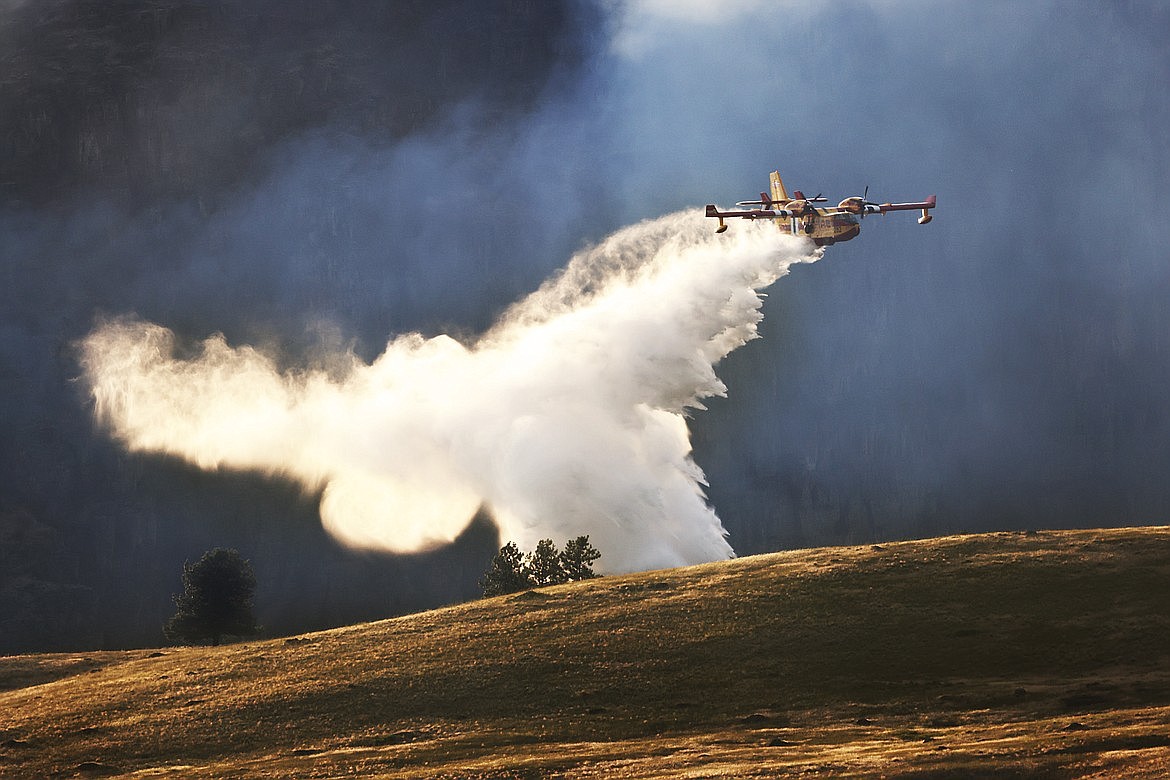 A CL-415EAF super scooper dumps water on the Elmo Fire near Chief Cliff near sunset Monday, August 1. (Jeremy Weber/Daily Inter Lake)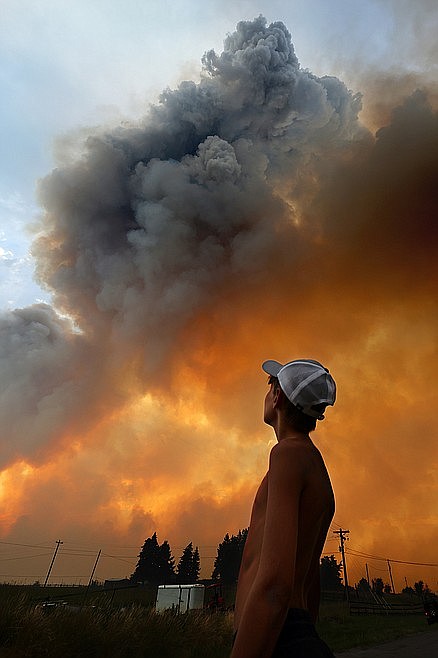 Dayton resident Adrian Jackola watches the Elmo Fire as it approaches the community Monday afternoon, August 1. (Jeremy Weber/Daily Inter Lake)
Previous
Next
by
JEREMY WEBER & MATT BALDWIN
For the Eagle
|
August 2, 2022 11:30 AM
More evacuation orders were issued overnight Monday as winds pushed the Elmo 2 Fire precariously close to U.S. 93 near Chief Cliff, prompting a temporary closure of the major thoroughfare.
The fire west of Flathead Lake had consumed 16,226 acres as of Tuesday morning, an increase of more than 3,000 acres from the previous day. It was 10% contained.
Mandatory evacuations were put in place for Lake Mary Ronan Road, Black Lake Road and the surrounding areas at about 9 p.m. on Monday. Red Cross evacuation centers have been established at Somers Middle School and Polson High School.
U.S. 93 was temporarily closed Monday night to traffic between Dayton and Elmo due to fire activity and thick smoke reducing visibility. Tuesday morning, Montana Highway Patrol was warning motorists to use caution in this area with traffic reduced to a single lane. Parking in the fire area is prohibited.
Gusting winds Monday afternoon pushed the blaze east and north toward Flathead Lake and U.S. 93. The footprint reached Chief Cliff Lane and the west portion of Black Lake Road, and totally surrounded Black Lake.
As many as 50 structures are threatened by the fire. One structure was destroyed Monday.
RJ Brewer owns a home on hill that overlooks Dayton and Flathead Lake. Flight crews were dumping water and retardant near his house Monday as the fire came within 100 yards of his property.
"I'm not going anywhere tonight," he said Monday. "I'm going to be right here watching my house as long as I can. All night, if I have to."
He said he recently received a grant for fire fuel reduction work around his home.
"I spent my whole adult life working on that house and I'm going to be right here if I lose it," he said.
The fire boundary remained about 2 miles south of Lake Mary Ronan. Fire crews were able to establish containment lines on the south flank along Montana 28.
Scooper aircraft and single-engine air tankers were used to douse the fire, but were grounded for a period of time as winds picked up. Air resources were to be used again Tuesday, providing water and retardant drops.
Nearly 300 firefighters are assigned to the fire that is being managed by the John Thompson, Northern Rockies Team 7.
Hot and dry conditions were expected again Tuesday, with afternoon winds from the west bringing gusts up to 35 mph.
The human-caused fire started July 29 and quickly spread into thick timber north of Montana 28.
The cost to fight the blaze was estimated at nearly $900,000 as of Monday.
Meanwhile, another small fire cropped up Monday evening in the Mission Mountains north of St. Ignatius. The lightning-cause Redhorn Fire was less than an acre in size.
In northern Lincoln County, the lightning-caused Weasel Fire was estimated at 146 acres. It's burning the Ten Lakes Scenic Area near the historic Weasel Cabin.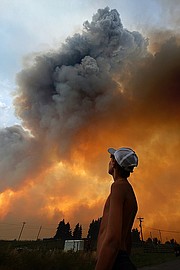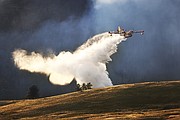 ---