Protestors in Lakeside lambast proposed alpine coaster project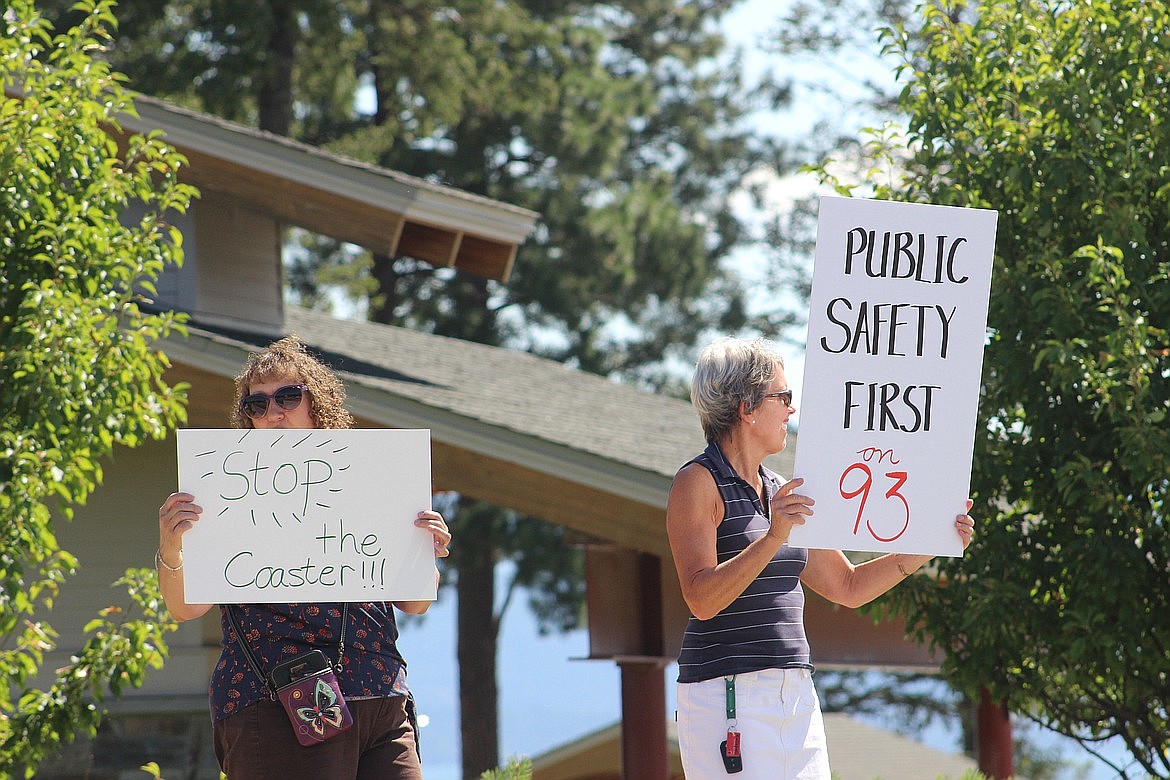 Lakeside residents hold up signs at an Aug. 6, 2022, protest against a proposed alpine coaster project in the area. (Taylor Inman/Daily Inter Lake)
by
TAYLOR INMAN
Bigfork Eagle
|
August 10, 2022 12:00 AM
Concerned residents took to the streets for a second protest in Lakeside over the weekend to voice their opposition to a proposed alpine coaster development just down the road.
Developers Torsten and Jessica Wedel are in the process of building the coaster, which is an amusement ride that sends bobsled-like carts down a track built into a hillside, after a failed attempt to erect one in Lake County last year. The couple's efforts to build the coaster on a piece of property by mile marker 99 on U.S. 93 just north of Lakeside, unveiled earlier this year, have drawn strident opposition from neighbors, partially over traffic concerns.
Saturday's demonstration was organized in part as a "vehicle cruise," with some cars driving continuously through Lakeside adorned with protest signs. Organizer Cyndi Heath said the aim was to force heavy traffic through Lakeside to slow down. One demonstrator escorted people through the crosswalk at a slower-than-average speed while vehicle-borne protesters made a point to stop for pedestrians in an attempt to slow traffic.
"Two weeks ago at our last protest, much to our dismay, very few cars were stopping at the blinking yellow light crosswalk," Heath said. "What was infuriating is when a family of three and a little one in a stroller were attempting to cross and a truck came to a screeching halt while they were in the middle of the crosswalk. So we thought we'll take it up a notch this time and create highway awareness, at least for downtown Lakeside."
Worsening traffic is one of the premiere issues neighbors are concerned about with the coaster project. The Wedels did not respond to a request for comment for this article, but Jessica Wedel has been outspoken about the couple's plans on Facebook. In a post where residents were discussing how the development could worsen traffic and make the highway more dangerous, Wedel responded by saying a left turn lane will be built at the expense of the owner.
"Safety is our top priority and preserving the natural look of the property," Wedel said in part of her response on Facebook.
Heath said it is helpful knowing that the Wedels plan on installing a turn lane, even though she is unclear about how it would be implemented. She said updates like these could inform how concerned residents approach the situation.
While a "Friends of the Flathead Lake Alpine Coaster" Facebook group was launched in late spring, it was shut down shortly thereafter.
Others are frustrated with the lack of communication from the Wedels. Chance Thompson lives in Lakeview Estates, a neighborhood located beside the site of the proposed coaster. He said he was born and raised in Montana and has been working to buy a home here after leaving the state. When he was finally able to do that, word about the coaster development began to spread. He said he's concerned about how the coaster could back up traffic through Lakeside and how it would affect their quality of life as well as impacts to the environment. He said he doesn't know the Wedels and would like to see them have a conversation with the community.
"I have no great sense of who they are. They haven't made themselves present or as much of a face or a voice with us," Thompson said. "Like, can we talk and see if there's ways to do something like this in a way that's fair? But, they just want to do it. They don't care about our quality of life."
The radio silence left Thompson uneasy.
"I don't want to put words or beliefs in their mouth or anything like that, but it just doesn't feel like they care a great deal about the neighborhood. Putting a roller coaster right next to houses isn't OK," Thompson said.
Another resident of Lakeview Estates, Vickie Cariveau, said she is also concerned with safety on U.S. 93 and worries another access point in an already busy area could be too dangerous.
"A park is fine, this is just not the right place … This is our community, we don't need this in the community," Cariveau said.
She pointed to Volunteer Park, a popular public space in the Lakeside area, saying it met residents' needs.
"We have a beautiful park, we have natural resources right here that we all enjoy," Cariveau said.
Heath said the roughly dozen protesters gathered in Lakeside were not against seeing an alpine coaster in the Flathead Valley, just not next door.
"If they went to other recreational amusement areas that are in the north valley, they would fit right in," Heath said. "They could come in conjunction with the Blacktail Mountain and that would enhance that ski hill, possibly as a year round destination. So, the objective is we are not against the alpine coaster opening, but would like it to go somewhere else where it's much safer."
The developers had their Highway Access Permit revoked this summer after the Montana Department of Transportation cited "a change in use that was noted from what property owners disclosed on the original application." According to the Missoulian, a temporary Highway Access Permit was recently issued.
---