Mother-daughter team shepherds local youth through the ins and outs of raising pigs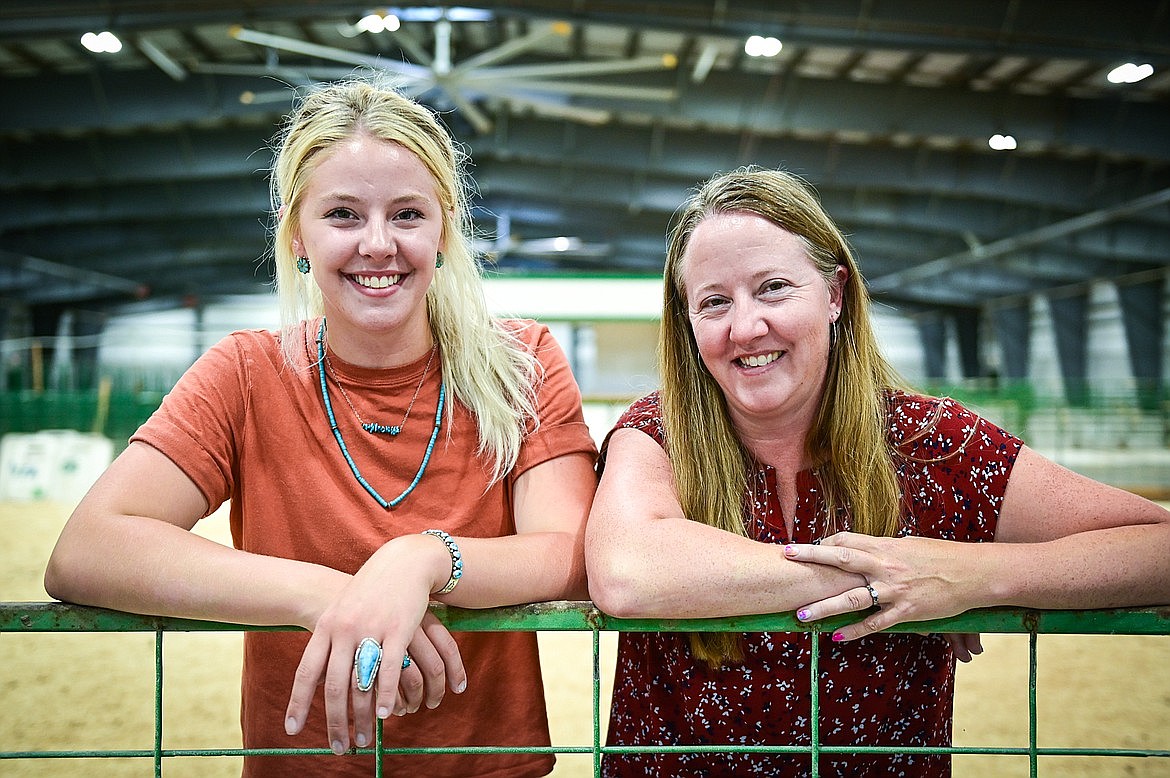 Morgan and Michelle Baker inside the Trade Center at the Flathead County Fairgrounds on Tuesday, Aug. 9. (Casey Kreider/Daily Inter Lake)
by
DERRICK PERKINS
Hagadone News Network
|
August 17, 2022 12:00 AM
About a year ago, Michelle and Morgan Baker watched as more pigs than they could recall receive white ribbons at the Northwest Montana Fair and Rodeo, meaning they were unfit for sale.
For the youngsters who had spent months raising the hogs in anticipation of seeing them judged and hopefully sold at market as part of 4-H or FFA, it was potentially a moment of deep disappointment. For the Bakers, a mother-daughter team with years of experience raising swine, it stood out as an opportunity to educate.
"We tried to make it not necessarily positive, but a life lesson," Morgan Baker said.
"A learning experience," added Michelle Baker, Morgan's mother.
Life isn't fair and, occasionally, neither is raising hogs.
Michelle and Morgan Baker serve as swine superintendents at the annual fair, meaning they oversee the hog barn, ensuring both children and animals stay safe and making themselves available to answer questions and hopefully attract newcomers.
Nearer and dearer to their hearts, though, is their involvement as it allows them to shepherd children through the ups and downs of raising ready for market hogs.
"Mom and I are along for the ride with all the kids," Morgan said. "We try to be there and do our best to support them."
THE TWO make it a mission to get to know each youngster in the lead up to the fair. That way the kids know the pair's faces and hopefully feel comfortable asking questions.
"We try to be super hands on," Michelle said. "That's the whole point of 4-H, to learn animal husbandry."
Hogs fetch a decent price at the yearly auction, but that owes more to the generosity and unwavering support of the community, the two said. While children who see their animal sold receive a lump sum of usually several thousand dollars, the Bakers deemphasize the cash return and focus on education.
"We're there to guide them," said Michelle, who also participated in 4-H as a child. "You're not just doing this to cut a check."
Bidders, which usually include a stable of local businesses, understand that as well, Michelle said. They look at the purchase of an animal as an investment in the kids and the program.
"They're buying animals above market prices," Morgan said. "[They are] buying a project rather than an animal. They know the kid has put blood, sweat and tears into it."
While the program is a year-round commitment — participants are expected to attend monthly meetings and perform service work in their community — the pig raising aspect starts in the late winter. Piglets are born in January and February. They go home with their new owners starting in March and April. As swine committee members, the Bakers help to make sure those homes are ready for the incoming animals.
Children are encouraged to spend the next couple of weeks bonding with their animals. When school lets out and free time expands, participants learn to walk their pigs and build a routine with them. They also need to take care in feeding them, hoping to get them to between 220 and 295 pounds in weight.
It's in July that the two usually find their phones ringing off the hook with questions related to weight management as the fair looms ever larger on the horizon.
For many of those children, it's their first time caring for another living being, Morgan said.
It's a learning experience and not always pleasant. Those aforementioned life lessons sometimes include learning when to call the veterinarian.
"It can be hard sometimes," Morgan said.
FOR MORGAN, though, raising pigs has been a lifelong joy. She remembers developing an interest in hogs at a young age. Her babysitter was in 4-H and had a pig, she said.
Morgan was 7 when her parents brought up the idea of doing it herself. She was overjoyed.
"Taking a pig to the fair is the ultimate experience as a 7 year old," she said. "I never looked back. That was 13 years ago and I never looked back."
She also remembers the dearth of resources to help with raising a market ready hog. She could lean on her mother, who grew up around farm animals and participated in 4-H as well, but participation was more competitive, she recalled.
"It was hard to figure out how to be successful," Morgan recalled.
The money earned at auction also played a bigger role. As she and her mother took on leadership roles, they decided to try and change the focus. They also share their knowledge of raising animals with anyone interested.
"We knew we needed to give back," Morgan said. "We're going to do our best to provide that [knowledge] to someone else."
The proceeds Morgan earned from participating in 4-H turned into seed money, which went into her college education and building a barn. She has since ventured into business — raising pigs, what else — with her mother.
This week, the two are prepping for what Morgan described as the "Stanley Cup of raising pigs," the hog show. Judging begins 8 a.m., Aug. 17, though the pair again highlight the learning experience over the end results.
"The end of the show day, [the kids] still walk away successful," Morgan said. "The ribbon doesn't matter to us. It's the time and effort."
News Editor Derrick Perkins can be reached at 758-4430 or dperkins@dailyinterlake.com
---