Valkyries return four starters from last season's squad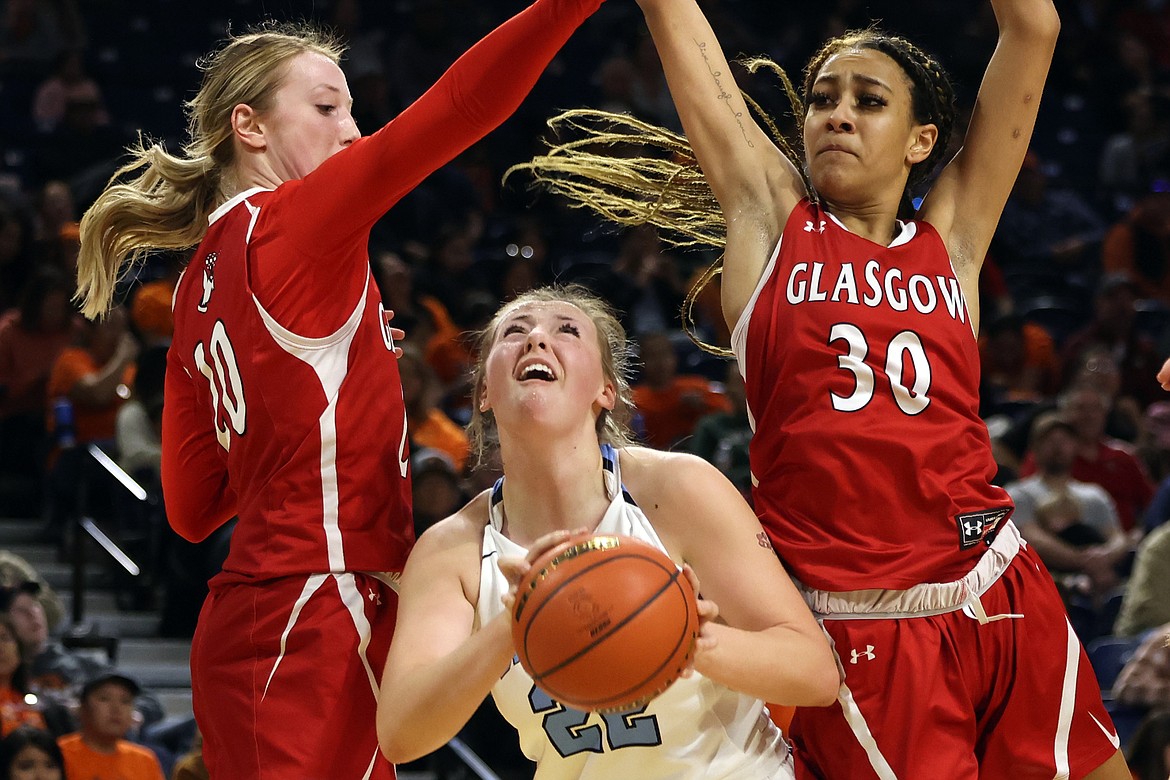 Senior Scout Nadeau is one of four returning starters for the Valkyries this season. (Jeremy Weber/Bigfork Eagle)
by
JEREMY WEBER
For the Eagle
|
December 7, 2022 12:00 AM
After taking third place at the State B basketball tournament in March, the Valkyries will be setting their goals even higher as the 2022-23 season gets underway this weekend.
"I feel like we were one of the youngest teams that was at state last year, so I am pretty excited about that. We are going to have a lot of experience coming back this season and I think we will have great chemistry," head coach Courtnee Gunlock said. "We are really trying to build on what we were able to accomplish last season. I feel like we already have a lot of experience on what we plan to run this year."
Experience is something the Valkyries will be heavy on this year as they return seven players from last year's squad, including four starters in Braeden Gunlock (an All-State selection as a freshman last season), Maddie Chappuis, Ava Davey and Scout Nadeau.
The Valkyries also return their first two players off the bench from a season ago in Callie Gembala and Ellie Jordt.
With so many returning players, Courtnee Gunlock says the team should have no trouble picking up where it left off last season.
"We are going to look pretty much the same," she said. "Obviously we want to get out and run up and down the floor as fast as we can because our speed is going to hurt people. Transition is going to be our game as much as we can. I don't feel like we really have to change a lot. It all seemed to work really well for us last year."
The biggest new wrinkle for the Valkyries this season will be the addition of freshman point guard Paeten Gunlock to the starting lineup alongside her sister, Braeden.
"Paeten has to deal with a bit of a learning curve, but she is not quite as laid back as her sister, so she's going to be just fine once she gets herself established," Courtnee Gunlock.
With more than a week of practice behind them, Courtnee says there have been some pleasant surprises as the Valkyries get ready to open the season at the Class A Tip Off in Frenchtown this weekend.
"Maddie is really shooting well and is looking more confident out there. I'm hoping she can step up and be more of an offensive threat for us this year," she said. Callie is also looking good and should play a little more on the wing for us this season and Ellie has been showing her leadership skills."
The Valkyries open play in Frenchtown Friday morning as they take on Stevensville at 10:30 a.m. and will also face Butte Central at 7:30 p.m. Saturday.
Cortnee Gunlock says her team is ready to get the season started
'It's going to be fun. All five starters can shoot from the outside and can handle the ball. We are going to move the ball around and find the best shots. As for defense, I think our 2-3 zone is going to be pretty hard to beat with as much size as we will have this year. We will play some man along with that zone and maybe do a little trapping," she said. "Our goal is to simply get better than we were last year so we can play in the state title game this year instead of for third or fourth. We just need to stay healthy and injury free."
---