Bigfork Senior McColl Miller said cheer keeps her dancing after injury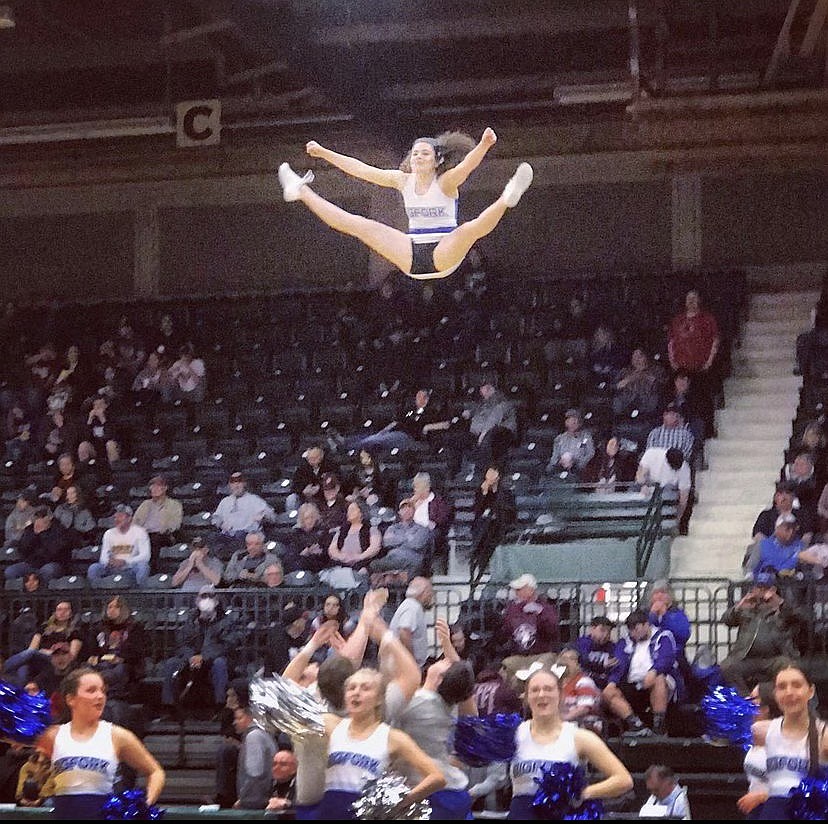 McColl Miller performing as a flyer while cheering at a recent Bigfork High School basketball game.
by
TAYLOR INMAN
Bigfork Eagle
|
January 5, 2022 12:00 AM
Senior McColl Miller was recently named Athlete of the Month by the Bigfork High School newspaper in December. She said she's been cheerleading since she was a freshman and loves the sport because it allows her to dance after an injury took her away from ballet.
"I was in ballet for six years, and then I injured my hip and couldn't do it anymore, it was just too strenuous," she said. "I had a bunch of cousins in cheer, so I could hang out with them and still dance with the cheer team,"
Miller also enjoys stunting, which includes tumbling, flying basket tosses, and other one and two legged stunts in performances. She believes her team is diverse, with many different members serving in different roles like stunters, flyers and bases. She said confidence is one thing cheer teaches people.
"That's the most important thing in cheer really, if you mess up and you're confident, people can't tell," Miller said. "And it teaches you how to have a presence, and really how to perform,"
She said the team practices three days a week and performs at games on the weekends. There is quite a bit of physical demand in the sport, and she said they spend a lot of time conditioning their abs and legs to be able to perform the stunts during floor routines.
"Once you get good muscle for core and abs, it's all about coordination and those kinds of fine balance muscles too, the ones you use to stabilize yourself, it's also good to have some flexibility," Miller said.
Miller also plays tennis and even still dances ballet from time to time. Coming from an artistic family, she said she enjoys being around the arts and music. She said after she graduates she wants to cheer at Montana State University and go to school for ultrasound technology.
Bigfork Cheer Coach Emily Fenner described Miller as a "rockstar." Miller said she was surprised, but said it felt nice to be appreciated.
"The opportunity it's given me to dance even though I had that injury and it's given me an opportunity to be closer to my cousins and the other girls on the cheer team," she said.
---