Valkyries down Columbus to advance to consolation semifinals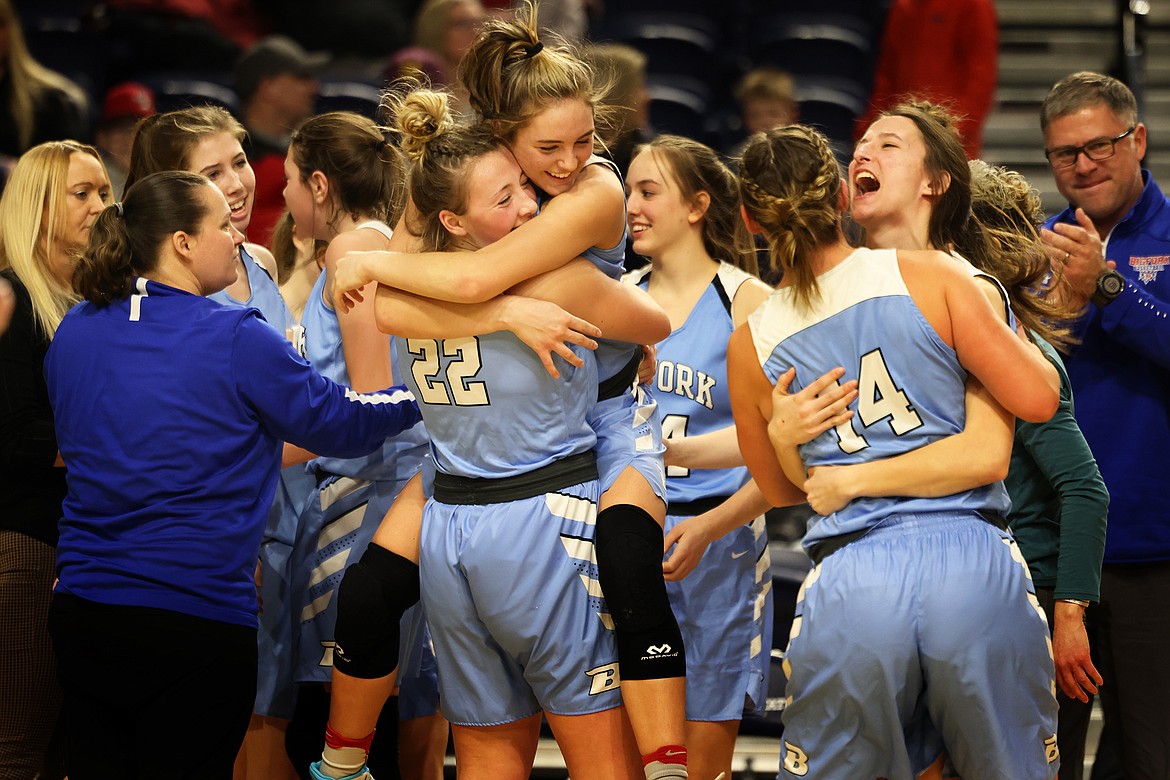 The Valkyries celebrate after earning the Bigfork Girls first win at the 2022 state tournament in Bozeman Friday morning. Bigfork downed Columbus, 48-44. (Jeremy Weber/Bigfork Eagle)
by
JEREMY WEBER
For the Eagle
|
March 10, 2022 10:25 PM
The Valkyries survived a scare from Columbus to earn their first win at the 2022 Class B State Basketball Tournament Friday morning, downing the Cougars 48-44.
Down by as many as three in the fourth quarter, the Valkyries got a clutch three from Ellie Jordt and a pair of last-minute free throws from Madison Chappuis to secure the victory and advance to the consolation semifinals Saturday morning.
Braeden Gunlock led the way for Bigfork in the win with 16 points and eight rebounds while Emma Berreth poured in 13 points and seven boards.
Bigfork used a 14-0 scoring run to grab a 16-4 lead after one quarter and led by as many as 15 late in the first half, but the Cougars battled their way back and tied the game at 36 on a three from Natalie Gairrett with 4:41 to play in the fourth quarter.
A free throw from Izzie Gurie put the Cougars up 44-41 with 1:50 to play, but Jordt banked in a three from the left wing to tie the game with 1:24 remaining, her only basket of the game.
A free-throw line jumper by Chappuis with 49 seconds to play gave the Valkyries the lead for good and her conversion of both free throws on a one-and-one opportunity with 18.3 seconds remaining secured the victory for Bigfork.
The Valkyries will face the loser between Colstrip and Harlem Saturday morning at 9 a.m.
Bigfork - 16 10 8 14 - 48
Columbus - 4 12 16 12 - 44
BIGFORK: Braeden Gunlock 16, Emma Berreth 13, Madison Chappuis 6, Ava Davey 4, Scout Nadeau 4, Ellie Jordt 3, Callie Martinz 2.
COLUMBUS: Hannah Obert 12, Molly Hamilton 12, Katelyn Hamilton 11, Natalie Gairrett 5, Izzy Gurie 4.
---