Valkyries volleyball earns first state tournament trip since 2005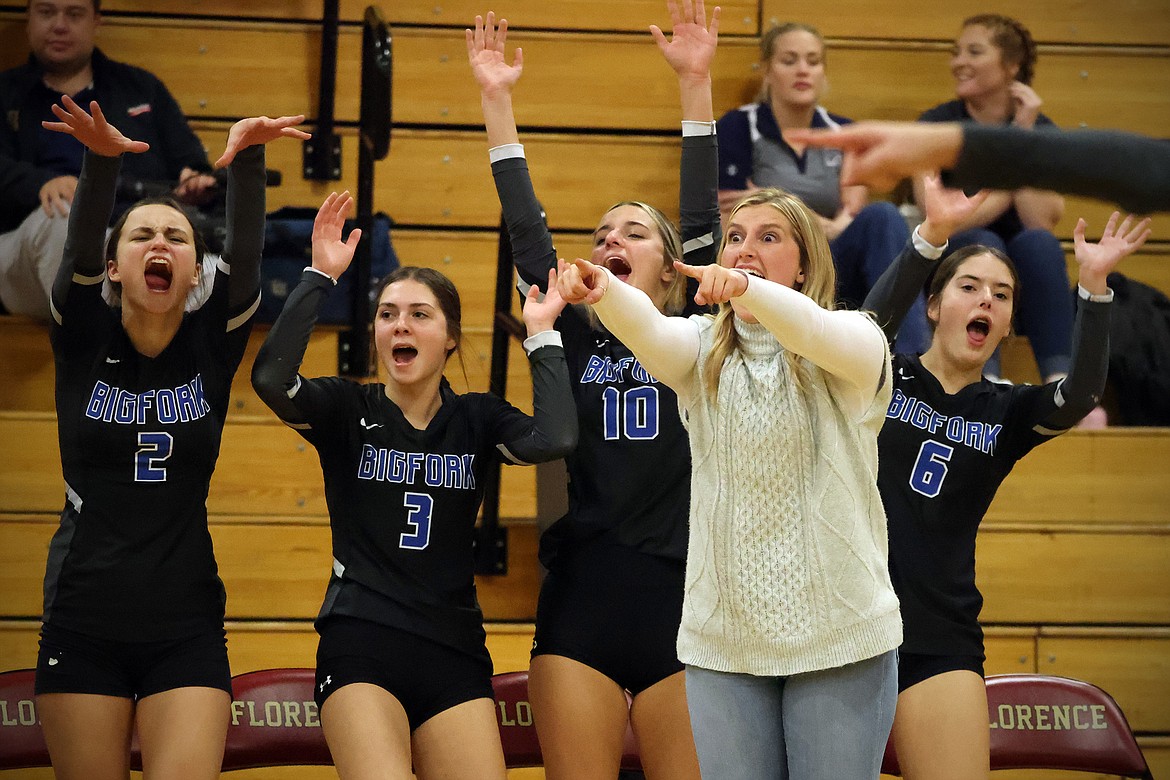 Valkyries head coach Ariel Stallknecht celebrates a point along with Garcie Saari (2), Keni Wade (3), Natalie Vick (10) and Taylor Howlett (6). (Jeremy Weber/Bigfork Eagle)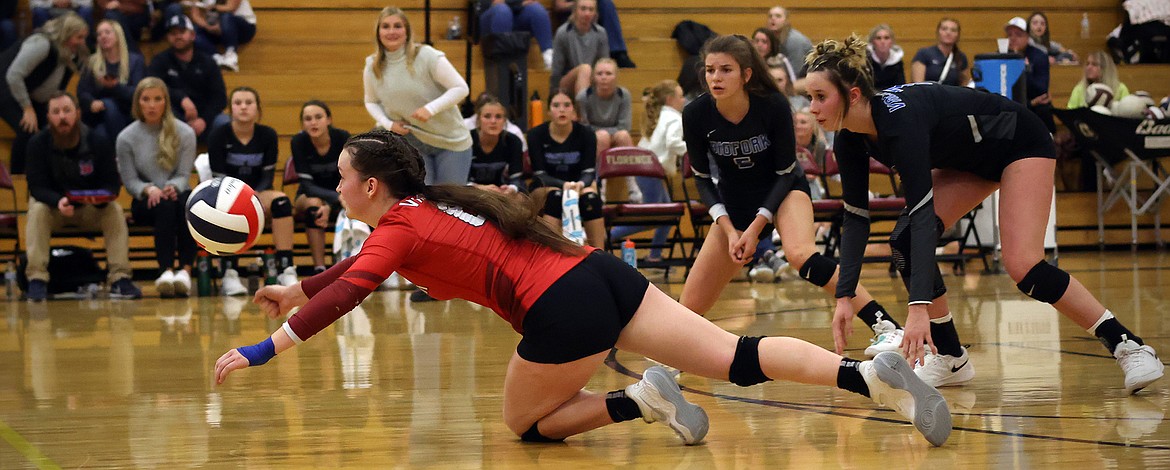 Tessa Troyer makes a diving dig for the Valkyries Friday as teammates Ellie Jordt (5) and Ava Davey (7) look on. (Jeremy Weber/Bigfork Eagle)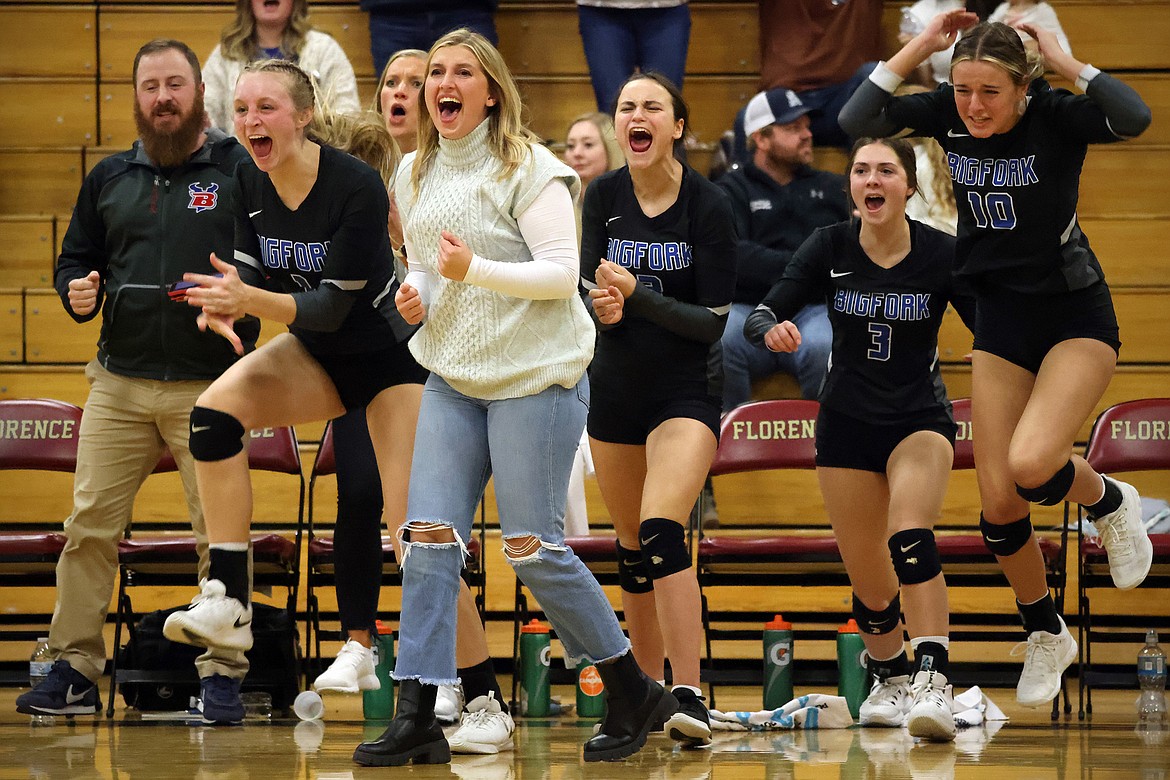 Head coach Ariel Stallknecht and the Valkyries bench celebrate after the final point of the divisional semifinal Friday. (Jeremy Weber/Bigfork Eagle)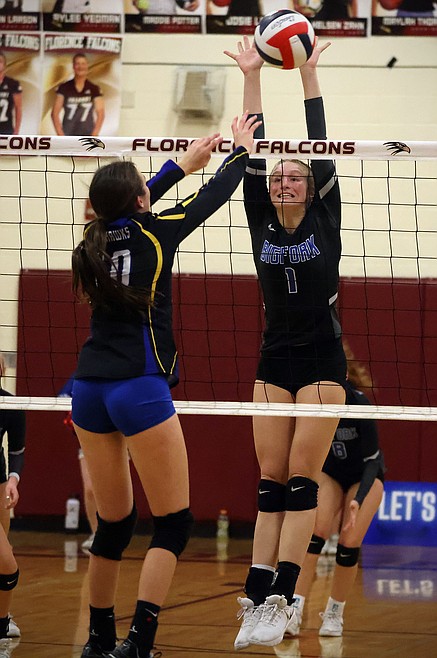 Inga Turner battles Ellie Baxter of Thompson Falls at the net Friday. (Jeremy Weber/Bigfork Eagle)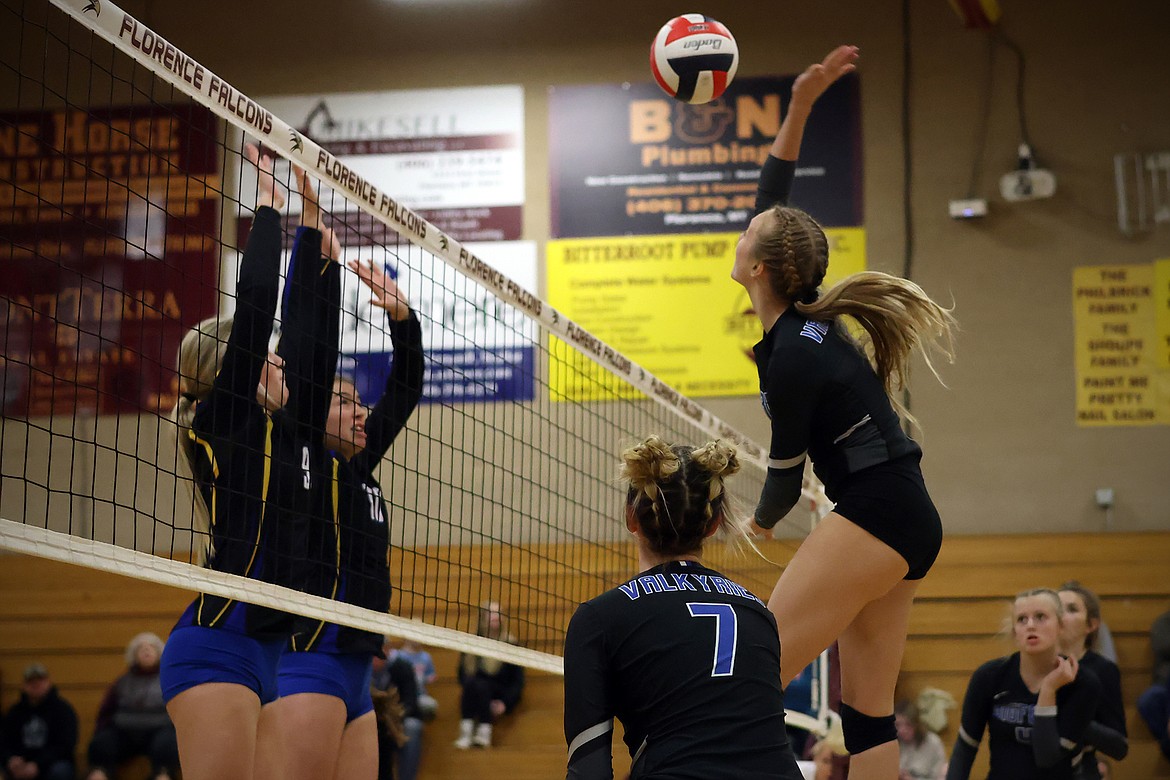 Inga Turner rises high above the net for a kill against Thompson Falls in the Western B Divisional Volleyball Tournament in Florence Friday. (Jeremy Weber/Bigfork Eagle)
Previous
Next
|
November 9, 2022 12:00 AM
The Valkyries volleyball team will be making a trip to the state tournament in Bozeman for the first time since 2005 after finishing second at the Western B Divisional Tournament in Florence over the weekend.
Bigfork came into the divisional tournament with only one loss this season and won their first three matches in Florence before dropping two in the championship to Thompson Falls to finish second.
A No.2 seed in the state tournament, Bigfork will open play at the Brick Breeden Fieldhouse on the campus of Montana State University against fellow No. 2 seed Shepherd at 4:00 p.m. Thursday.
Bigfork got 13 kills and two blocks from Inga Turner in the opening round of divisionals against Arlee as the Valkyries swept the Scarlets 25-14, 25-14, 25-23.
Zoey Albert added 11 kills, 8 digs and an ace in the win while Ellie Jordt and Ava Davey had 13 digs each.
Piper Linson finished with 33 assists, 6 digs and 3 aces in the victory.
Linson recorded 26 assists and added 7 digs for the Vals against Deer Lodge as Bigfork earned another sweep, 25-23, 25-20, 25-15.
Albert finished with 13 digs and 10 kills in the win while Jordt added 11 digs and Tessa Troyer had 10.
Turner and Jordt had 4 blocks each in the match while Davey and Piper Lee added 2 each.
The Valkyries survived a tough test in the semifinals against Thompson Falls, downing the Lady Hawks in four sets to qualify for state, 25-21, 25-13, 16-25, 25-17.
Turner finished with 18 kills and three blocks in the win while Davey added 13 kills, 14 digs and a block. Albert finished with 14 kills, 22 digs, 2 aces and a block and Linson added 43 assists and 10 digs. Troyer also had 22 digs in the win.
Turner and Albert each had 13 kills and Linson had 36 assists as Bigfork fell to Thompson Falls in five sets in the first finals matchup 16-25, 25-17, 25-21, 16-25, 12-15.
Turner was the only attacker with double digit kills in the final against Thompson Falls with 12 while Linson had 31 assists as the Valkyries were swept for the first time this season, 21-25, 21-25, 15-25.
This story was originally, mistakenly published with the text from Vikings football coverage from last week. It has been updated to include the intended story.
---