June M. Anderson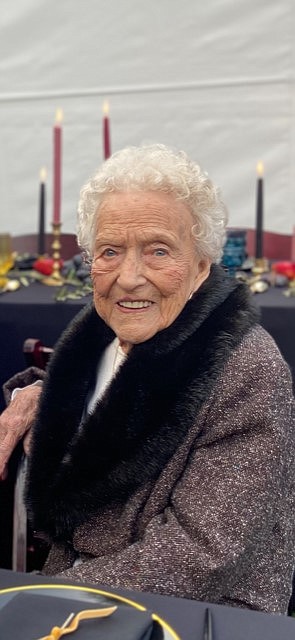 |
November 23, 2022 12:00 AM
June M. Anderson, 94, of Bigfork, Montana, passed away on November 9, 2022 surrounded by her loving family.
June was born on March 21, 1928 to Esker (Mutt) Moore and Gertrude (Shorty) Moore in Craig, Colorado. She came into the world prematurely, and was placed in a shoebox by the wood stove to keep her warm. With little confidence that she would survive, no birth certificate was even issued. But as we know, June was determined and strong willed from the very beginning and she thrived. Brothers Vaughn and Jack were born soon after and their family was complete.
Junes' family followed jobs in the oilfields and spent a short time in Wyoming and Texas; then in May of 1932, they landed in Cut Bank, Montana. June spent her childhood and highschool years in this prairie town nestled against the backdrop of the stunning Rocky Mountain Front. Times were tough and so was she. June's early years were spent homesteading and were quite primitive. From riding horses, raising livestock, working the land, and even bathing in a metal washtub, June was part of a tougher generation.
June worked at the Cut Bank Drug Store through her high school years. For more than half a century she stayed in close contact with many of her classmates. At the age of 19, June took a job at the Ben Franklin store; there she met Andy Anderson and his son Dudley.
June and Andy were married May 6th of 1949. They moved to Bigfork, Montana to begin their lives together. They purchased the Bigfork Mercantile and the adjoining house on Bigfork Bay where they lived and raised their family. They welcomed their first son, Bruce in the summer of 1950 and another son, Bart two years later. In the spring of 1958 they had their daughter, Barbie. The Anderson family made lasting memories through hard work, family fun, sports, and community involvement.
June and Andy's love story was sadly cut short when he passed away in 1972. June persevered, at just 44 years old, she stayed active in the community, and surrounded herself with family and friends. During this time of great sorrow, June opened her heart and her home and Mike Wolstein joined the family. A teenage diamond in the rough, he needed Big J, just as much as she needed to love and care for him.
June ran the Bigfork Mercantile for a few more years and then went on to work for Radice Real Estate. In her 60's she became a baker for Bigfork school. With nine grandchildren scattered throughout the school, June loved being a close part of their lives and a supporter of all their activities. She kept everyone well stocked with fresh bread and cinnamon rolls until she retired at the age of 75.
June was the salt of the earth and a pillar of the community. When she saw a need she was there. She was proudly involved in the work of the Lutheran church. She also served as an active member of several organizations including the Eastern Stars, the Rebekahs, the Lady Lions, and the PTA. June loved to see active youth in the community, and started the Valkyrie Baton Twirlers, took tickets at games, and supported the Boosters Club.
June was an unwavering friend to many and was always up for an adventure. Once she finally got a birth certificate, she traveled with and to see many close friends. June also enjoyed family cabin trips, attending sporting events, and cheering on her many grand and great grandchildren. She could smell out a good horse and made the best applesauce in town.
June set a beautiful example of how to live a life of honor and service to others. She faced each day with positivity and a heart filled with gratitude. We will forever carry our precious memories of her in our hearts.
June was preceded in death by her husband Andy Anderson, her son Bruce Anderson, her brother Vaughn Moore, and her Greatgranddaughter Natalie Wright.
June is survived by: Dudley and Joyce Anderson, Ann Anderson, Billie Anderson, Bart and Pam Anderson, Mike and Bobbi Wolsten, and Barbie and Keith Grinde.
June's legacy also lives on in her many grandchildren. Eric Klemencic, Amy and David Boyce, Erika and Matthew Wright, Fletcher and Stephanie Anderson, Andi Anderson, Chad and Jennifer Anderson, Darbi and David Cameron, Frannie and Taylor Quiram, Joe and Carly Wolstein, Kara and Ben Gronley, and Jill and Aaron Parish.
And her many great grandchildren: Floyd, Madison, Jakob, Isabella, Abigail, Nikolas, Will, Dexter, Weston, Keira, Ruthie, Reese, Quindy, Raya, Carson, and Case.
June's celebration of life and reception will be held at the Bethany Lutheran Church in Bigfork, on Saturday, November 26th from 11:00 to 2:00. A private family gathering will follow. In lieu of flowers, the family requests support for the Bigfork Booster Club, an organization supporting community youth that June felt strongly about. Donations can be made at Glacier Bank of Bigfork. 8251 Highway 35, Bigfork, MT, 59911. (406)751-7778.
---