Football, Volleyball remain perfect, Valkyries soccer shocks Whitefish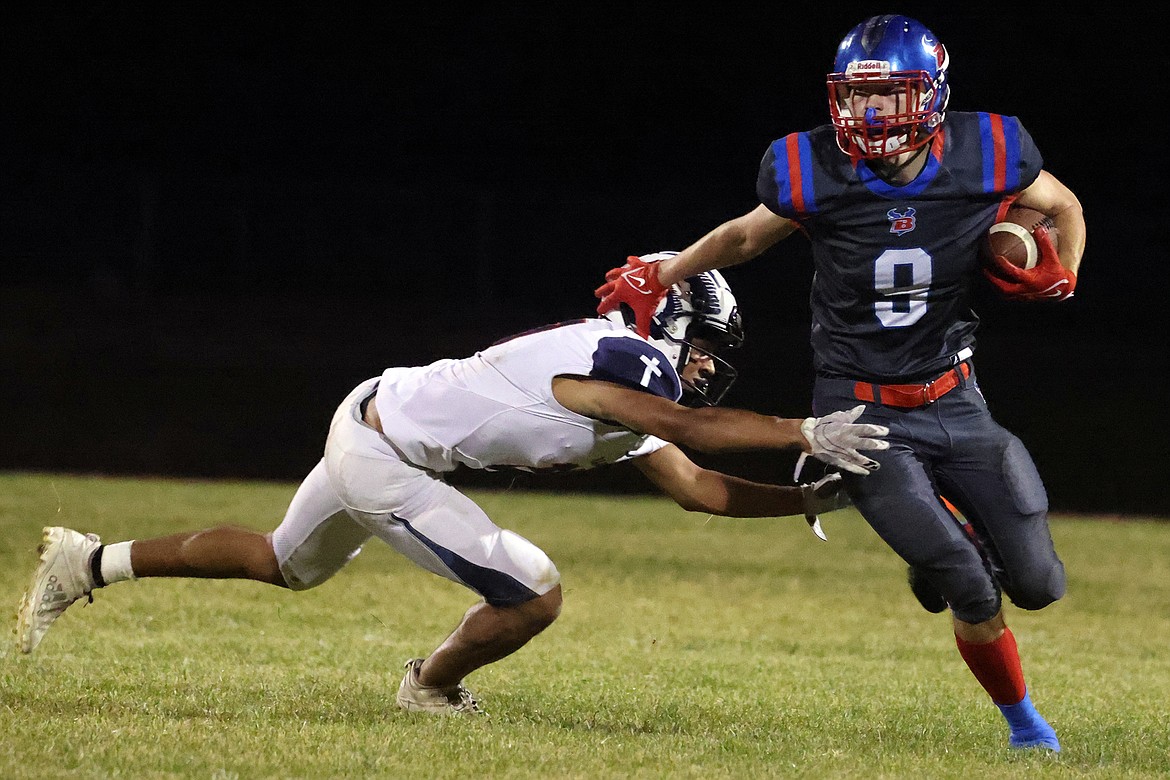 Isak Epperly evades a Loyola defender on a punt return during the Vikings 47-14 Homecoming win Friday. (Jeremy Weber/Bigfork Eagle)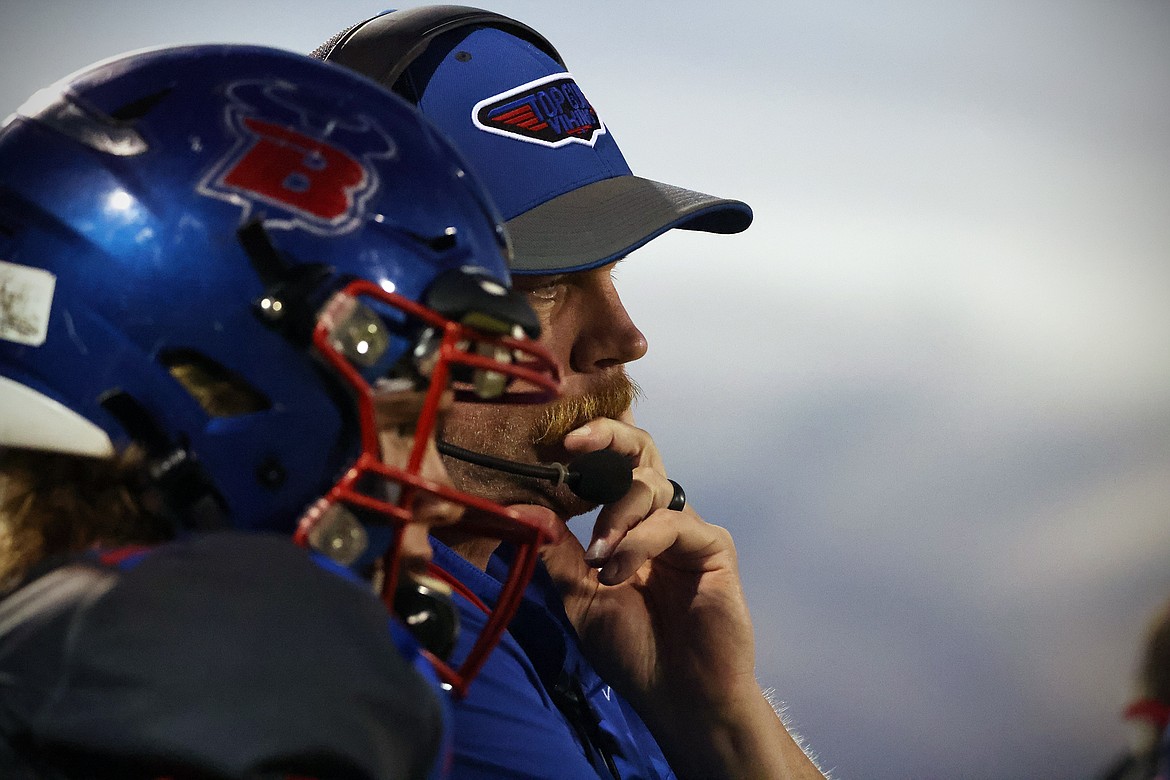 Bigfork head football coach Jim Benn and quarterback Tristen Herd discuss strategy on the sideline in the first quarter Friday. (Jeremy Weber/Bigfork Eagle)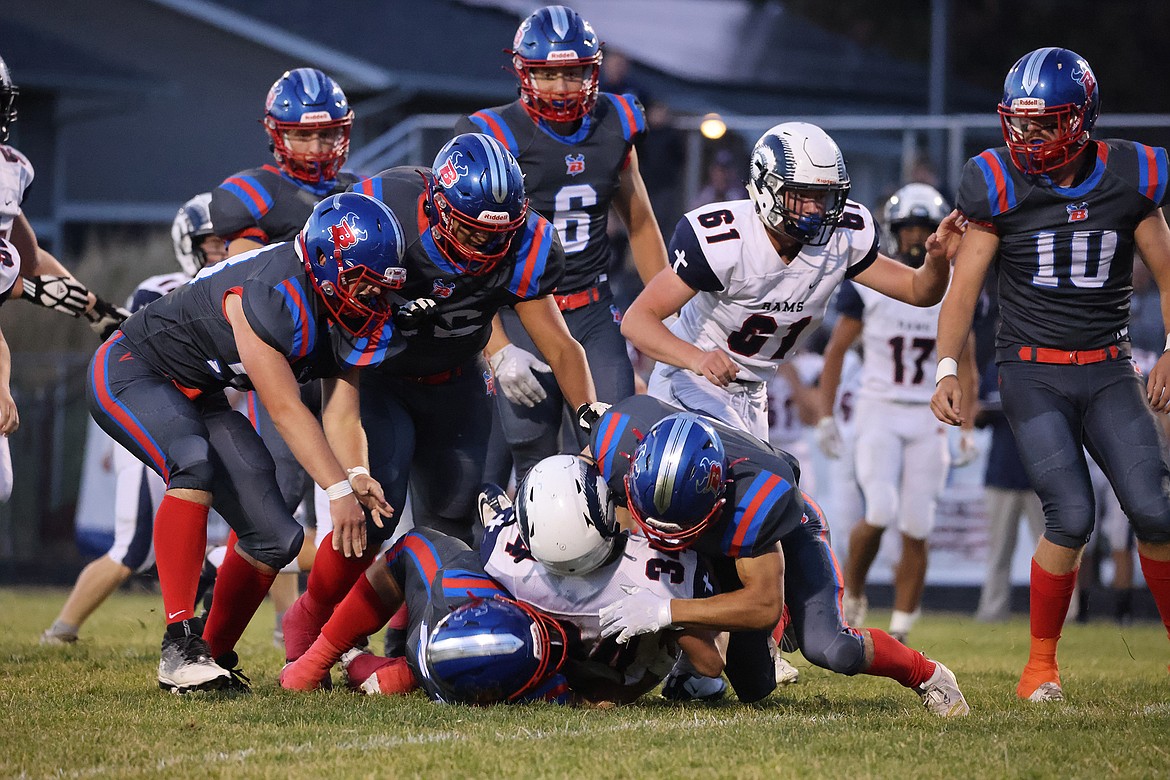 The Bigfork defense takes down a Loyola runner Friday. (Jeremy Weber/Bigfork Eagle)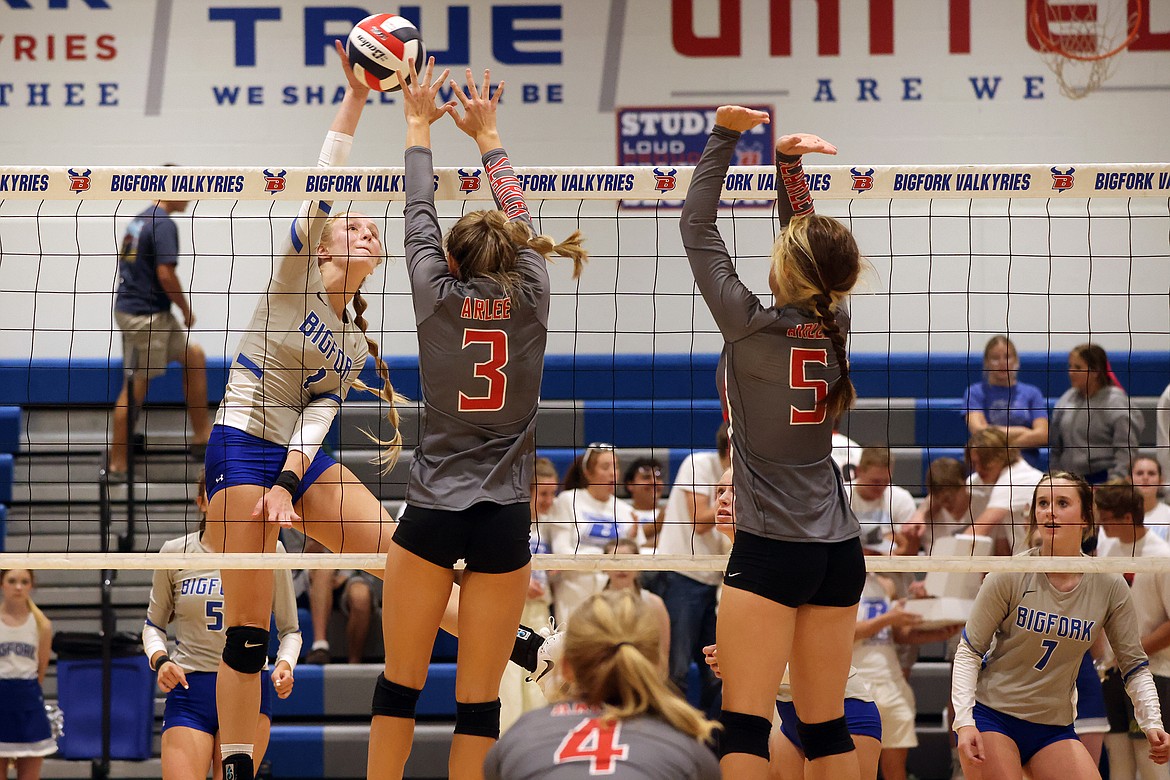 Inga Turner goes up for one of her 14 kills against Arlee Saturday. (Jeremy Weber/Bigfork Eagle)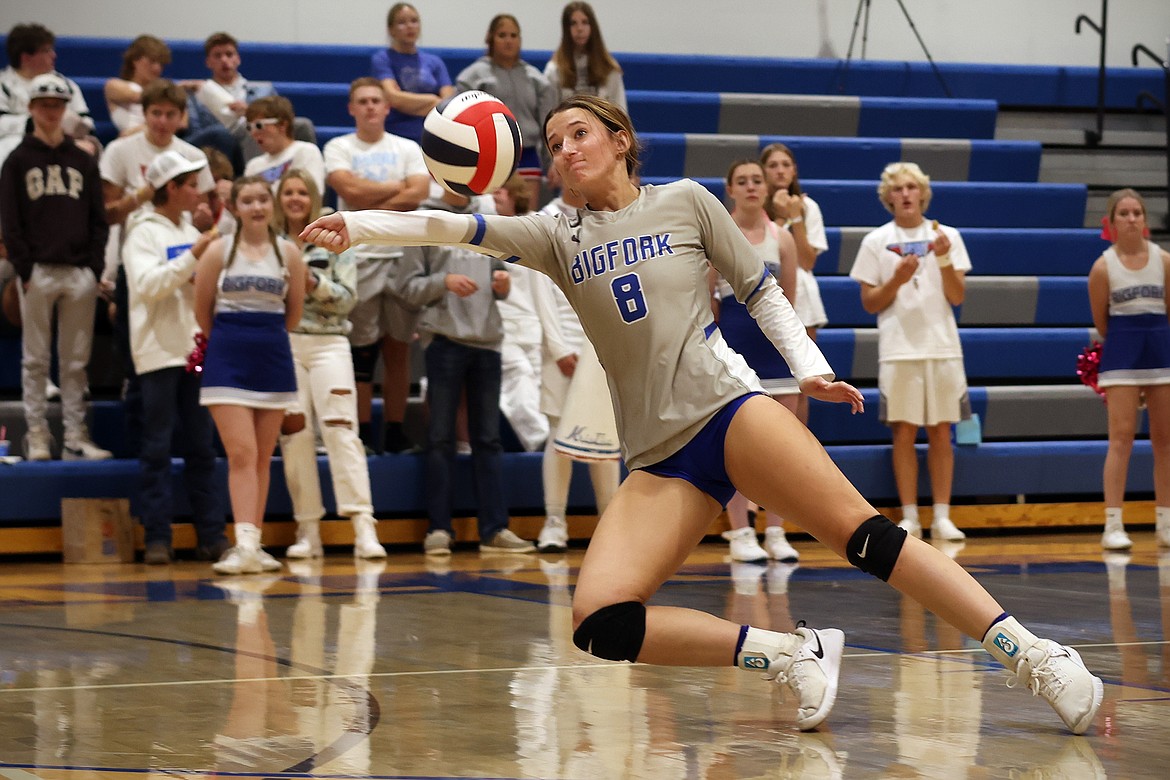 Zoey Albert makes a lunging dig against Arlee in the Valkyries Homecoming game Saturday. (Jeremy Weber/Bigfork Eagle)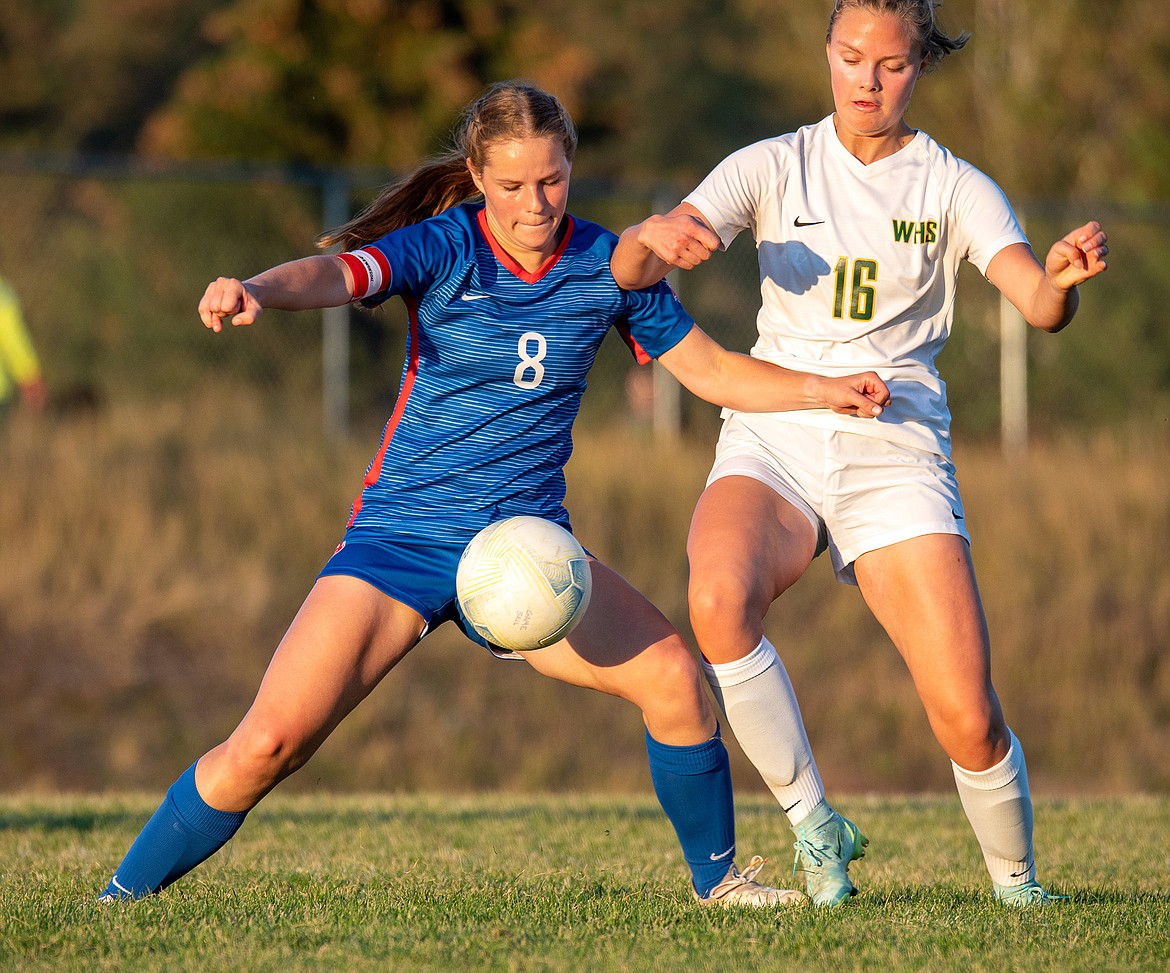 Danika Bucklin holds off a Whitefish defender in the Valkyries 4-1 win over the Lady Bulldogs Tuesday. (Kristy Pancoast photo)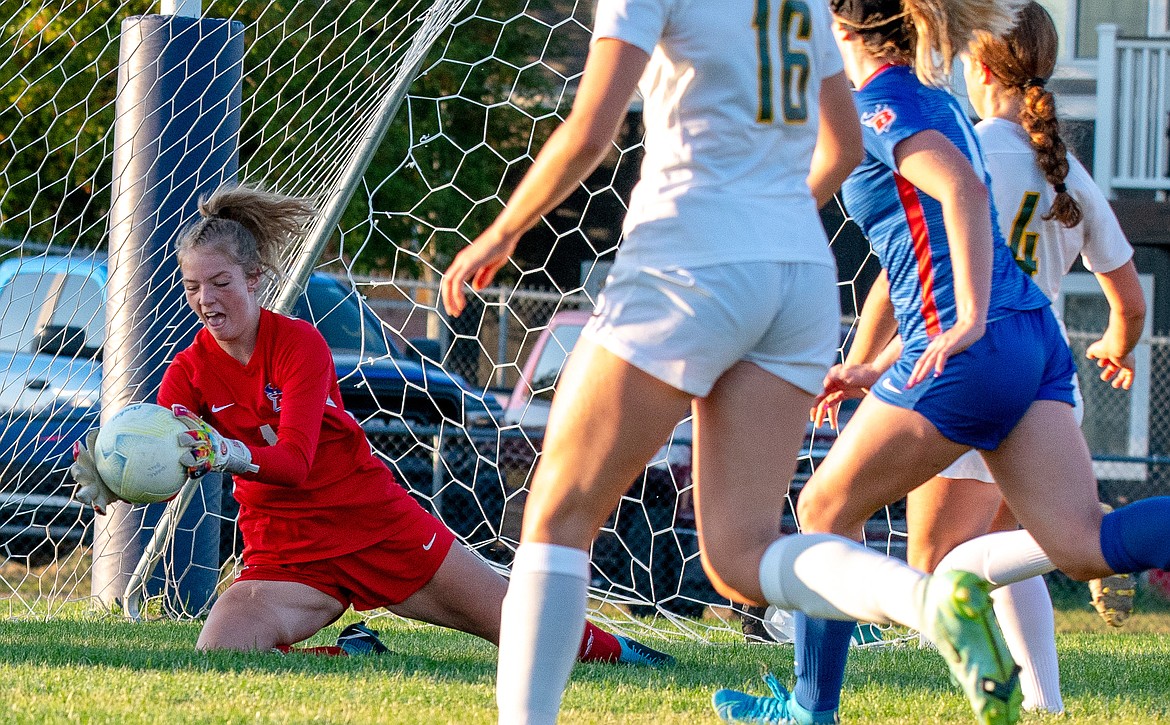 CeCe Panor makes a save in the Valkyries 4-1 win over Whitefish Tuesday. (Kristy Pancoast photo)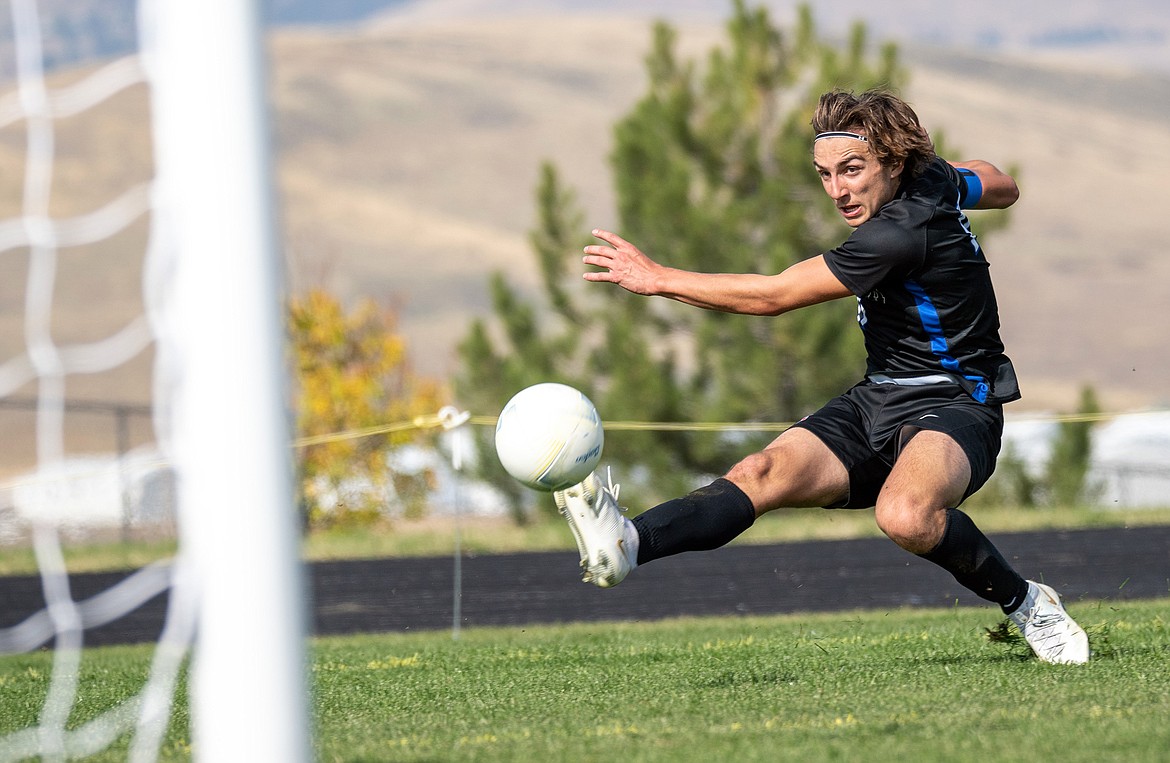 Landon Byerman takes a shot against Polson Saturday. (Kristy Pancoast photo)
Previous
Next
by
JEREMY WEBER
For the Eagle
|
October 12, 2022 12:00 AM
The Vikings football team remains perfect this season after picking up a convincing Homecoming win over Loyola-Sacred Heart Friday, 47-17. Bigfork (6-0) picked up 436 yards of total offense in the win while holding the Rams to just 194 as six different Vikings found the end zone. Joseph Farrier scored twice on the ground for the Vikings on runs of five and 14 yards while Wyatt Johnson also ran one in from 18 yards out. Tristen Herd completed six of his 11 passing attempts for 149 yards and two touchdowns, a 33-yard strike to Cole Knopik in the first quarter and an 87-yard bomb to Nick Walker in the fourth. Bigfork also got a pair of defensive scores as Isak Epperly and Bryce Gilliard each returned interceptions for touchdowns. Farrier led the Bigfork rushing attack with 134 yards on 15 carries while Johnson added 57 and Jackson Nelson had 48. Nick Walker caught two pases for 100 yards to lead the Vikings in that category while Knopik finished with 33. Mani Baldi led the Bigfork defense with six tackles, including a sack, while Nelson had 5.5 and Ethan Rodriguez had five. Walker also had a sack for the Vikings. The top-ranked Vikings will face a tough test Friday as they host the No. 3 Florence-Carlton Eagles in a rematch of last season's Class B state final.
VOLLEYBALL
The Valkyries volleyball team also remains undefeated in regular season play after picking up wins over Troy and Arlee to push the team's regular season winning streak to 11 this season and 14 overall. Bigfork got seven kills each from Ava Davey and Piper Lee and six more from Inga Turner Thursday as the Valkyries swept Troy on its home court, 25-13, 25-9, 25-8. Piper Linson assisted on 19 of Bigfork's kills and served five aces in the win while Tessa Troyer led the defense with 12 digs. Things were a little tighter at home Saturday as the Valkyries swept Arlee in Bigfork's Homecoming match, 25-12, 25-15, 25-18. Turner led the way with 14 kills in the win while Davey and Lee each had seven. Linson finished with 31 assists on the Valkyries 38 kills and added 15 digs. Ellie Jordt finished with 14 digs and Zoey Albert added 12. Bigfork dominated at the net as Turner finished with two blocks and Jordt, Albert and Lee added one each. The Valkyries were at home against Columbia Falls after press time Tuesday and will play at Eureka Thursday and Plains Oct. 18.
SOCCER
The Valkyries celebrated homecoming in style Tuesday as they knocked off previously undefeated Whitefish, 4-1. Brynn Bagley scored the only goal of the first half to put Bigfork up 1-0 at the break before the Valkyries' offense came alive with three more goals in the second half. Paeten and Braeden Gunlock each scored goals in the second half, as did Scout Nadeau, as the Valkyries picked up the historic win. The Valkyries got goals from Paeten Gunlock, Danika Bucklin and Nadeau Thursday as Bigfork won in Libby, 3-2. Bigfork closed out the regular season at Polson Saturday, using two goals from Paeten Gunlock and one from Nadeau to down the Lady Pirates 3-0. The Valkyries will host Columbia Falls at 5 p.m. Wednesday, with the winner earning the right to host Corvallis in the opening round of the Class A playoffs. The Vikings dropped their Homecoming matchup with Whitefish 5-1 with the lone goal coming from Jeremiah Pilskalns. The Vikings also fell 6-4 at Libby on Thursday despite getting a hat trick from Landon Byerman and another goal from Pilskalns. Pilskalns also scored the lone goal for the Vikings Saturday as they fell to Polson in the final match of their season, 3-1.
CROSS COUNTRY
Bigfork's cross country runners were in action in Helena and Pablo last week as they competed at the Capital City 7 on 7 and Mission Shadow Duels. With the Vikings competing in seven separate races in Helena, Bo Modderman was 25th in his race at 19:10.01, North Nollan took 31st in his at 19:57.26, Noah Hamilton-Dixon was 19th in his race with a time of 18:47.19, Colton Ballard was 29th in his at 20:14.15, Ty Anderson took 21st in his race at 19:33.56 and Elijah Albert was 27th in his race with a time of 21:07.18. The Vikings took eighth at the Mission Shadow Duels in Pablo Saturday as Sean Cotman was 14th, Sam Ayers was 39th, Nic Gustavson was 40th, Bradley Wood was 66th and Liam Schimmerlman was 74th. For the Valkyries, Erika Dowling was 13th and Madeline Pomeroy was 55th. Bigfork's runners will be at Western B/C Divisions in Thompson Falls today hoping to earn a trip to State in Missoula Oct. 22.
---