Margaret Fire sees growth in the Swan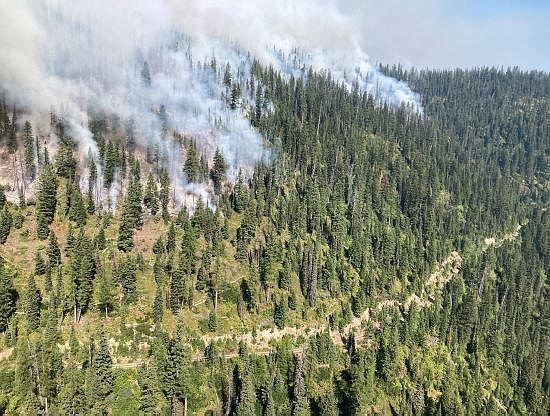 The Margaret Fire burning on September 6, 2022. (photo courtesy of Inciweb)
by
TAYLOR INMAN
Bigfork Eagle
|
September 7, 2022 11:00 AM
The lightning caused Margaret Fire is burning just north of Wheeler Creek in the Hungry Horse Reservoir, 13.5 miles east of Bigfork. The fire is reported to be around 472 acres as of September 6. It is burning on the ridge north of Margaret Lake.
Fire activity was observed moving east/northeast along the ridgetop and backing down the slope on the south side. The fire has burned down to Forest Service Road 895E in multiple locations. The smoke column may be visible at times from the Flathead Valley and from the Hungry Horse Reservoir.
There is a crew of eight personnel working on the fire. They were in the area on Tuesday to continue assessing fire growth in relation to values at risk and update public information.
Given the fire location, steep rocky terrain, and limited access, the strategy will be point protection of values at risk. FS Road 895E Forest Creek Road is closed to public access at this time. An official closure order will be posted as soon as it is available.
Hungry Horse Ranger District will continue to patrol this fire from the ground and air, keep the public informed on changes in fire activity, and evaluate the need for additional trail, road, and area closures.
The Margaret Fire was first detected by aircraft on August 22.
---