Sports roundup: soccer travels to Billings, volleyball wins first two, cross country in action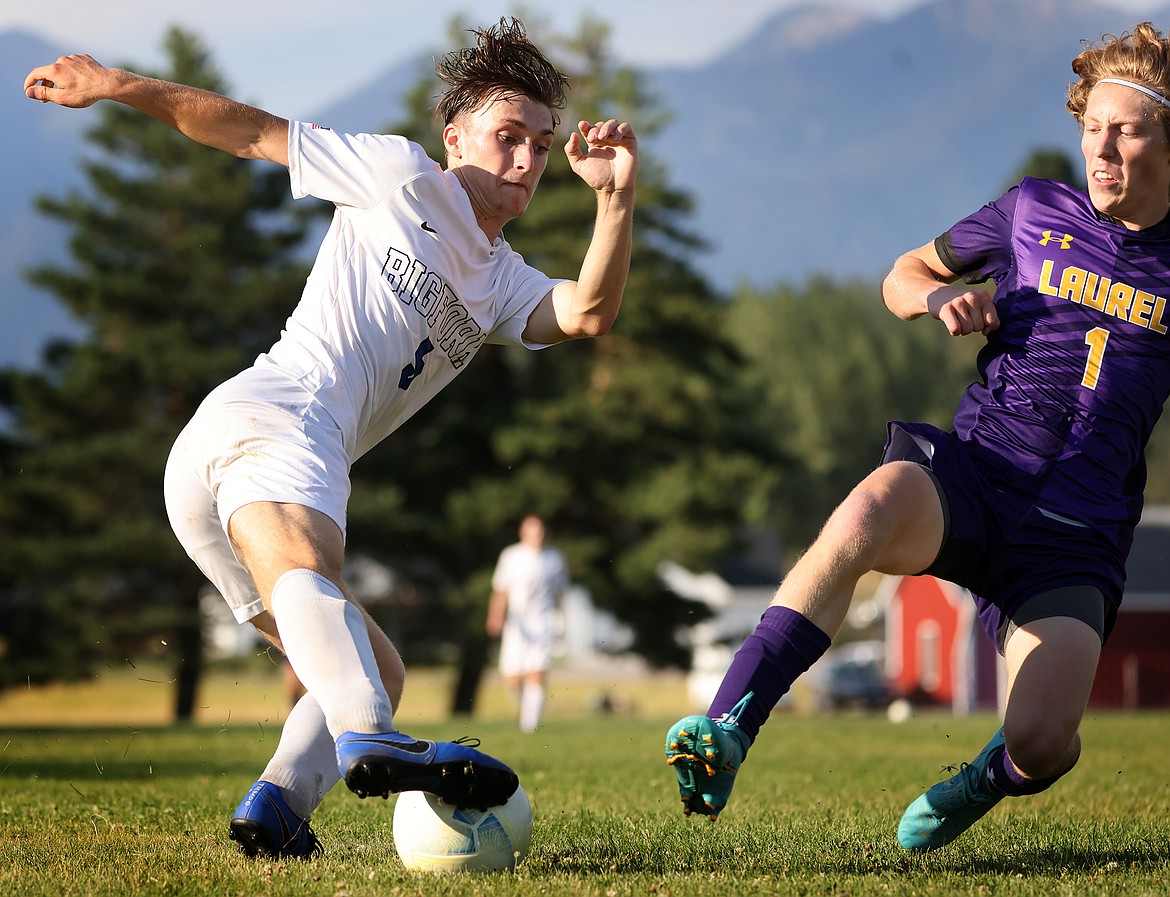 Levi Peterson stops on a dime to move the ball past a Laurel defender Aug. 26. (Jeremy Weber/Bigfork Eagle)
by
JEREMY WEBER
For the Eagle
|
September 7, 2022 12:00 AM
The Valkyries soccer team split a pair of games in Billings over the weekend, falling 3-0 in a tough match against Billings Central Friday before cruising past Lockwood 6-2 Saturday.
While the Valkyries fell to Billings Central Friday, head coach Park Schara said his team came away with some valuable lessons against a squad he thinks could be the best in the state.
"The final score is not really indicative of how that game went. It was very closely contested throughout and I think Billings Central is the team to beat in Class A this year," Schara said. "I think we now know where we need to be and we know we should be in it at the end of the season. We learned in our first few games that we have a real shot to be contenders this season."
The Valkyries bounced back with a 6-2 win against Lockwood Saturday, getting all six goals from different scorers against the Billings school in its third year of existence.
Braeden Gunlock got the Valkyries on the board first with 31:44 remaining in the first half before Callie Gembala scored on an assist from Gracie Johnson at the 28:02 mark to give Bigfork a 2-0 lead.
Lockwood scored to cut the lead to 2-1, but Johnson assisted Paeten Gunlock for another Bigfork goal with 21:35 to play in the half to increase the lead to 3-1.
Lockwood answered with a goal late in the half to make the Bigfork lead 3-2 at the break, but it was all Valkyries in the second half with goals from Scout Nadeau, Johnson and Piper Buzzell. The Johnson goal came on an assist from Lone Plummer.
The Valkyries, now 2-1-1, will be at home Friday as they host Columbia Falls.
"It's going to be a good match. Records don't matter. Nothing matters. When Bigfork and Columbia Falls get together, it's a free-for-all," Schara said about the matchup. "It should be fun."
The Vikings fell to Billings Central 9-1 Friday with the lone Bigfork goal coming from Caleb Riedesel.
Bigfork bounced back with a 3-2 win at Lockwood Saturday with goals from Oscar Lee, Hunter Miland and Jerimiah Pilskalns.
VOLLEYBALL
The Valkyries dominated the first two matches of the season, sweeping both Loyola and Florence-Carlton.
Bigfork got 10 kills from Zoey Albery, eight from Isabella Ellison and seven each from Ava Davey and Inga Turner against Florence-Carlton Thursday as Piper Linson added 17 assists and Jessa Newton had 11.
Bigfork took the first set 25-18 and took the next two 25-22 and 25-20.
Ellison added 17 digs in the win while Albert had 15 and Davey finished with 14
Bigfork opened the regular season at home against Loyola Aug. 30, taking all three sets, 25-18, 25-10 and 25-14.
Turner led the Bigfork attack with 13 kills and Albert added 10 while Linson recorded 16 assists and Newton had 12.
Defensively, Davey finished with seven digs and Turner had two blocks.
Davey also served three aces in the win while Linson, Turner, Ellison and Ellie Jordt added two each.
The Valkyries will be at home Friday as they host Anaconda and Saturday against Deer Lodge. The team will be at Mission Tuesday.
CROSS COUNTRY
The Vikings and Valkyries runners were in Cut Bank Friday for the Mike Reynolds time trial.
The Vikings were down three veteran runners in Jack Jensen, North Nollan and Sean Cotman (who were playing for the Vikings soccer team in Billings) Friday but still managed to earn a 6th place finish at Cut Bank and were the top-placing Class B team.
Sean Cotman had the best time for Bigfork, finishing 29th at 20:05.89 while Bo Modderman was just behind at 31st with a time of 20:06.50.
While the team is off to a good start in their state title defense, head coach Ryan Nollan says he is trying to keep the mood light around the squad.
"Overall, I think the team has potential to be back in the mix again this year. We aren't trying to put any pressure on them, though. It's a new team and we need to figure out what we want to accomplish this year," he said. "If we keep working and nobody gets injured, we should be right in the mix to be in the top five again and maybe add another trophy for the trophy case."
Tabitha Raymond had the top finish for the Valkyries, coming in 14th at 23:38.77 while Erika Dowling was 27th at 25:32.71 and Madeline Pomeroy finished 94th with a time of 37:24.12.
Bigfork's runners will be at Rebecca Farm in Kalispell for the Flathead Invitational Friday.
Cut Bank results:
Vikings
29 Sean Cotman 20:05.89
31 Bo Modderman 20:06.50


35 Ty Anderson 20:21.86
44 Colton Ballard 20:54.19

56 Noah Hamilton-Dixon 21:34.11


61 North Nollan 21:50.60


70 Nic Gustavson 22:32.08

71 Elijah Albert 22:33.57

84 Sam Ayers 23:42.12

117 Bradley Wood 27:02.11

133 Liam Schimmelman 32:58.91

Valkyries
14 Tabitha Raymond 23:38.77
27 Erika Dowling 25:32.71

94 Madeline Pomeroy 37:24.12

---