Sports roundup: Vikings crush Conrad 55-6 to improve to 2-0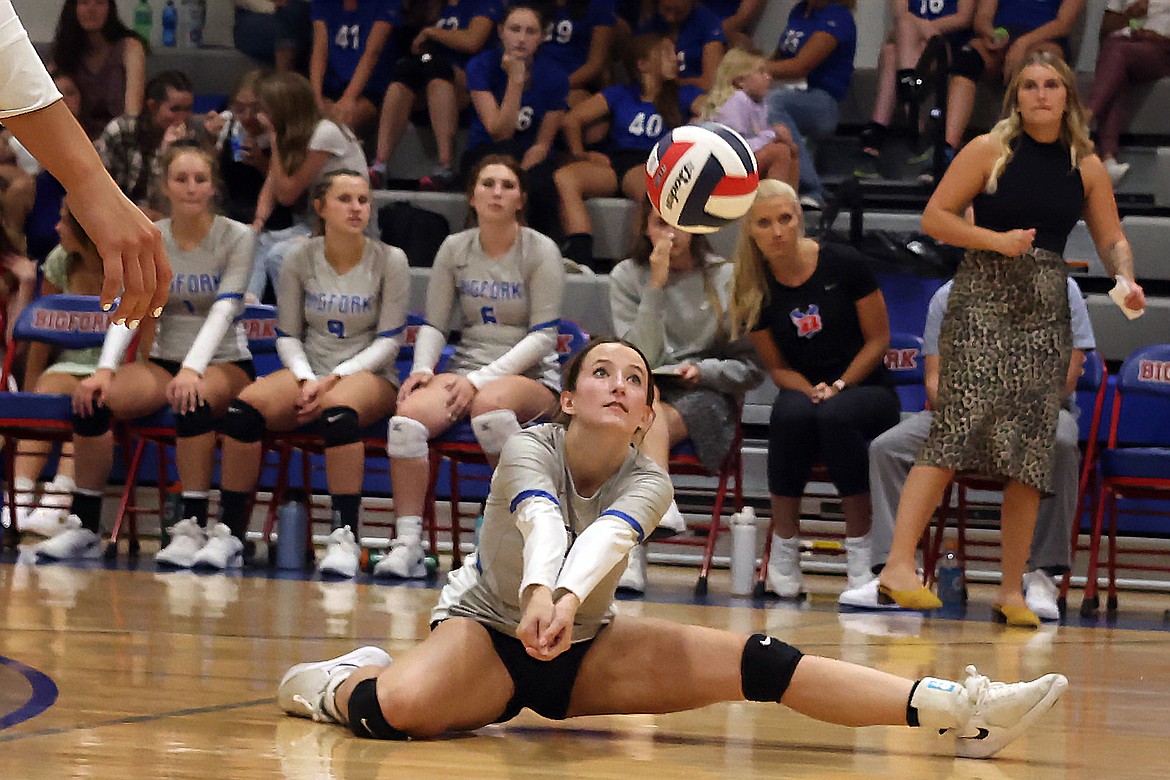 Zoey Albert stretches to make a dig in the Valkyries win over Anaconda Friday. (Jeremy Weber/Bigfork Eagle)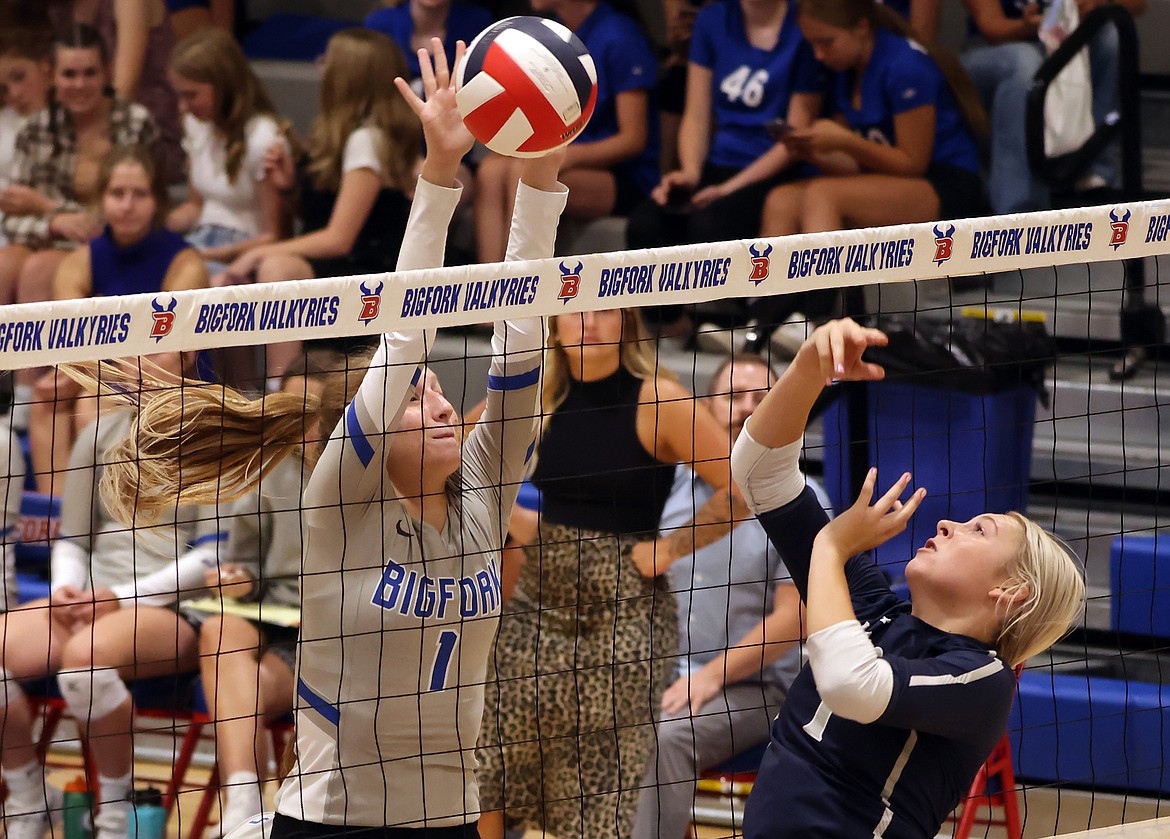 Inga Turner rises above the net to block an Anaconda attack in the Valkyries sweep of the Copperheads Friday. (Jeremy Weber/Bigfork Eagle)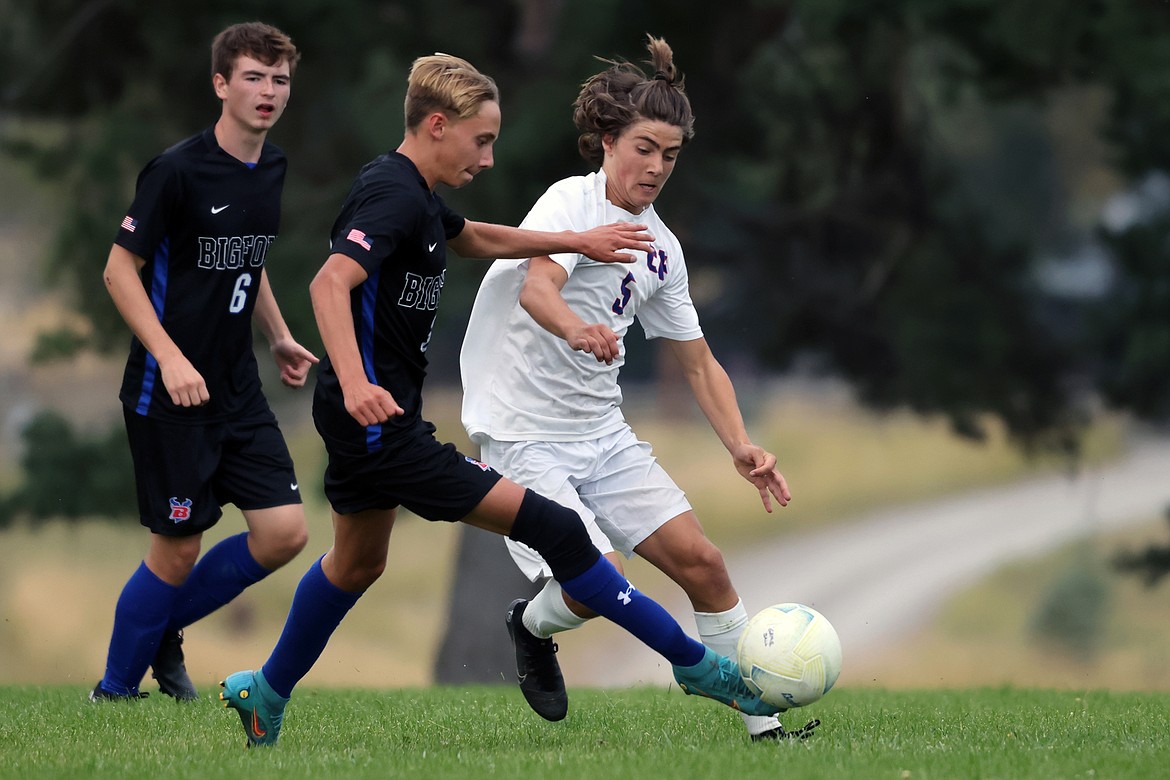 Bigfork's Jack Jensen kicks the ball away from Columbia Falls defender River Wolford Thursday. (Jeremy Weber/Bigfork Eagle)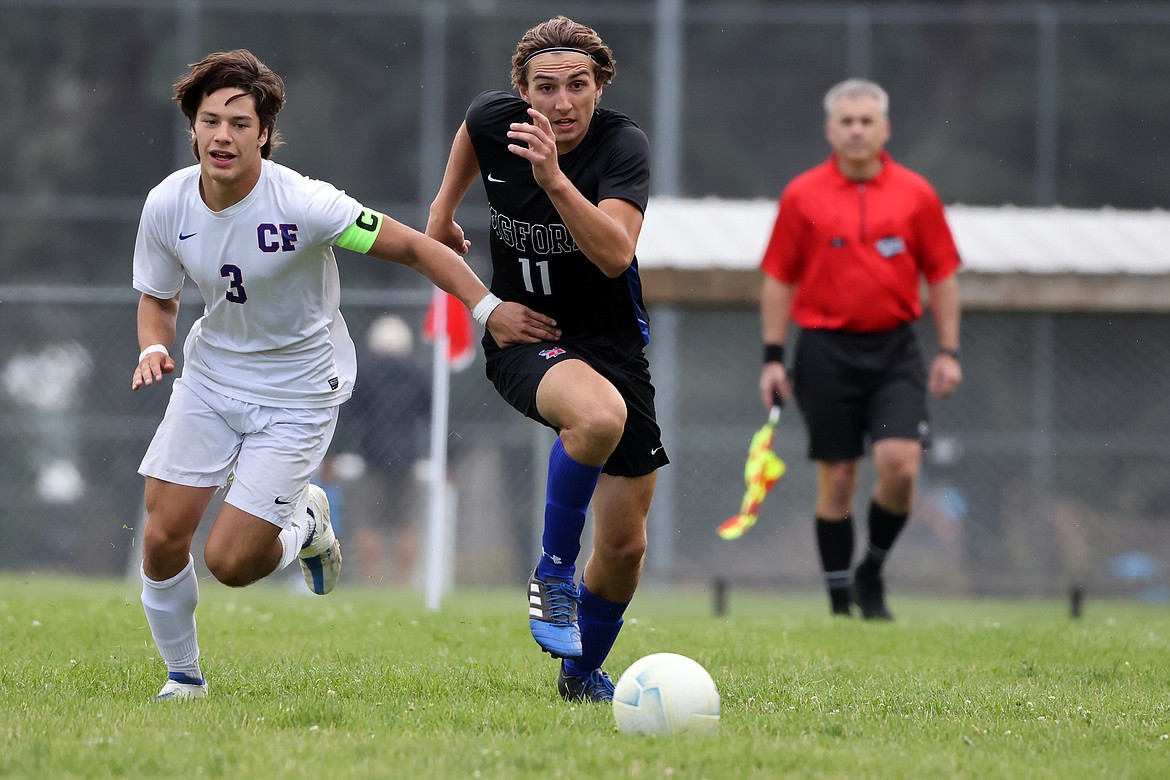 Bigfork's Landon Byerman races Columbia Falls defender Josiah Kilman to the ball Thursday. (Jeremy Weber/Bigfork Eagle)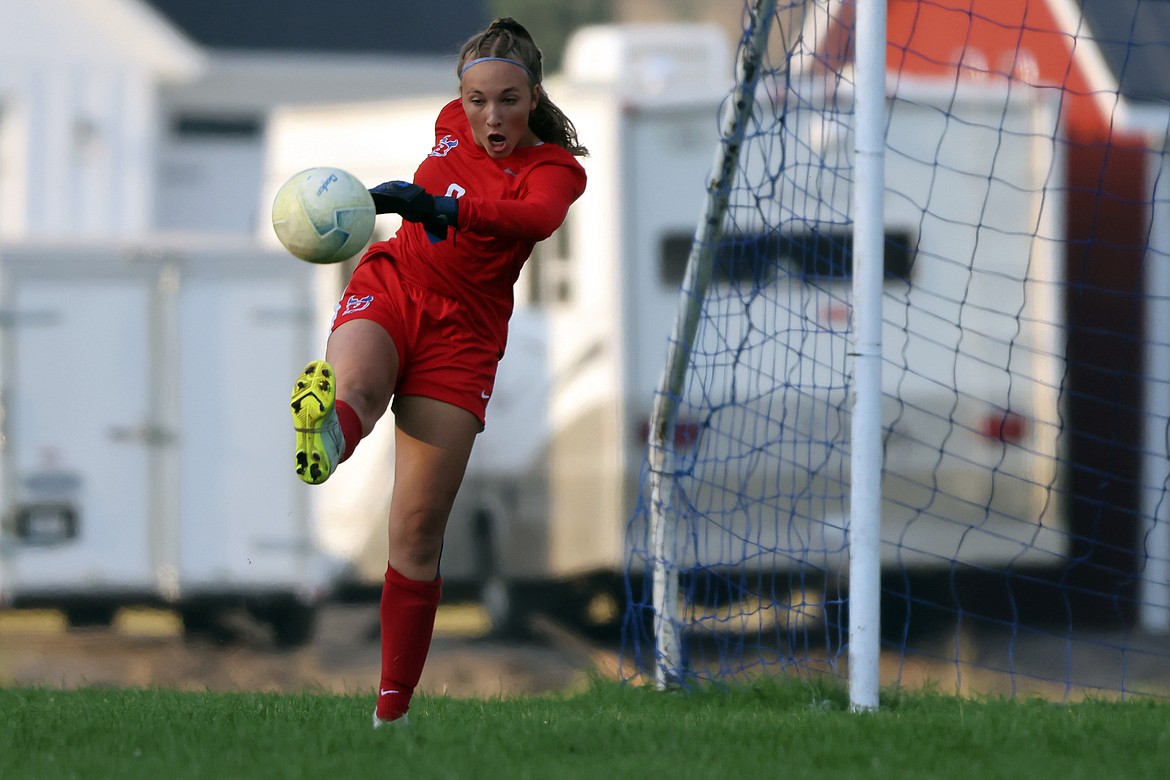 Bigfork keeper CeCe Panor puts the ball back in play after making a save against Columbia Falls Thursday. (Jeremy Weber/Bigfork Eagle)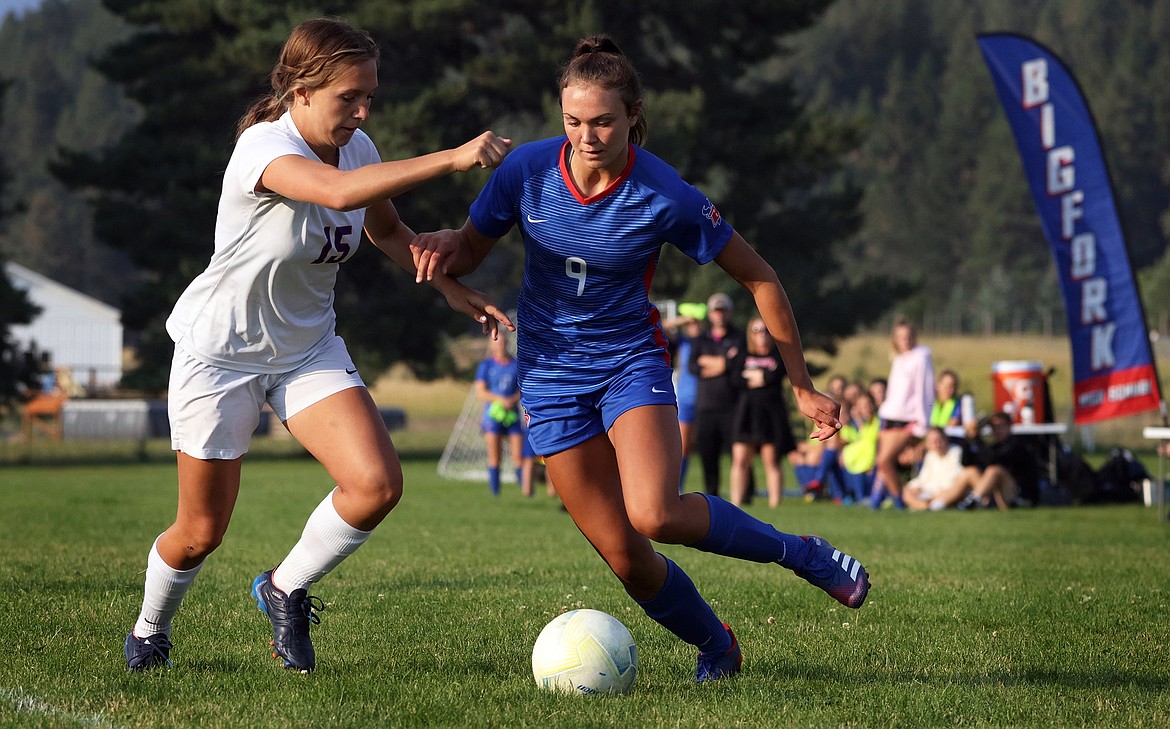 Bigfork's Paeten Gunlock moves the ball past Columbia Falls midfielder Kenzee West Thusday. (Jeremy Weber/Bigfork Eagle)
Previous
Next
by
JEREMY WEBER
For the Eagle
|
September 14, 2022 12:00 AM
The Vikings football team made short work of the Cowboys in Conrad Friday evening as Bigfork jumped out to a 34-0 lead after one quarter on the way to a 55-6 victory.
Bigfork once again used a balanced attack to earn the win, finishing with 259 yards on the ground and another 160 through the air for a combined offensive total of 419 yards.
"Balance is not always necessary to be successful, but we are more of a dual threat this year than we have been in the past," head coach Jim Benn said. "That's a bit easier to do when you have tall kids on the ends that can catch."
Quarterback Tristen Herd completed five of his seven passing attempts in the contest for 160 yards and two touchdowns while a balanced running attack was led by Joseph Farrier's 82 yards and a touchdown on six carries.
Farrier, Herd, Wyatt Johnson, Jackson Nelson and Isak Epperly all reached the end zone on the ground for the Vikings in the victory while Farrier and Cole Knopic each on the receiving end of Herd touchdown passes.
Asher Knopic led the defense with 4.5 tackles while Troy Alford and Abe Ochs each added 3.5.
"We were able to get a lot of the younger kids in the game in the second half to gain some experience," Benn said. "That is really going to help our program down the line."
The Vikings will play their first home game of the season Friday as they host an 0-2 Cut Bank squad that played tough games against Eureka and Florence-Carlton to open the season.
"They may be winless so far, but they have been tested," Benn said about the matchup. "This should be a good test for us heading into conference play."
SOCCER
The Valkyries soccer team scored a big win at home Thursday, using two late goals from Scout Nadeau to knock off Columbia Falls, 3-1.
"I don't remember us ever beating Columbia Falls before," head coach Park Schara said. "This is huge for us. They are a good program that has done great things."
Sydney Mann got the Wildkats on the board with an early goal, and the 1-0 score held up until the second half, when Paeten Gunlock tied things up.
The Valkyries relentless attack wore down the Wildkat defense in the second half as Nadeau scored in the 71st and 78th minute, to secure the win for Bigfork.
"We wanted to play our game," Schara said. "Our goal is always to be physical and be patient to let our fitness be a big part of the game. We work hard to be in shape and we often shine a lot in the second half because of our endurance."
The Vikings came up short in their matchup with the Wildcats, falling to Columbia Falls 7-0.
Both Bigfork teams were in action at Polson Tuesday after deadline.
VOLLEYBALL
The Valkyries have still yet to lose a set in the regular season after sweeping both Anaconda and Deer Lodge over the weekend.
Bigfork got 13 kills from Inga Turner and 10 more from Zoey Albert Friday as the Valkyries took down the Copperheads, 25-20, 25-10, 25-13.
Piper Linson assisted on 25 of the team's 37 kills and added six digs in the win while Albert led the squad with 10 digs.
Isabella Ellison served five aces for the Valkyries while Turner finished with three blocks.
It was more of the same Saturday as the Valkyries made short work of the Lady Wardens, downing Deer Lodge 25-17, 25-18, 25-18.
Turner again led a balanced Bigfork attack with eight kills while Albert had six, Ava Davey added five and Ellison recorded four.
Linson finished with 13 assists while Jessa Newton added nine, Linson and Albert each had 10 digs, Linson and Davey both served three aces and Turner and Davey both had two blocks.
The team will have a full schedule this week, taking on Mission Tuesday after deadline, hosting Plains Thursday and another home game against Troy Sept. 20.
CROSS COUNTRY
The Vikings ran their way to an 11th place finish at the Flathead Invite at Rebecca Farm Friday, led by Jack Jensen's 14th place finish with a time of 17:19.69.
Sean Cotman was 62nd, Bo Modderman finished 63rd, North Nollan was 71st, Noah Hamilton-Dixon was 72nd, Colton Ballard was 74th and Ty Anderson finished 98th.
For the Valkyries, Tabitha Raymond finished 33rd with a time of 22:11.75 while Erika Downing was 50th at 23:41.56.
Bigfork will be at the Mountain West Classic in Missoula Saturday.
---